Apple has recently released iOS 13.7 for all iPhone users.
The exciting thing is, the update was earlier rolled out only for beta testers, but now iPhone users can also update their devices.
I was really excited about the integration of the COVID tracking tool announced by Apple earlier this year.
The major advantage of this new update is that users will not be required to use apps for activating the COVID-19 exposure notification.
Yes, it's true!
Google and Apple - the two tech giants have come together with COVID-19 Exposure Notification API.
This API was rolled out with iOS 13.5.
Using the API, it became possible for the users to track COVID-19 patients and their contacts in most countries.
However, the new tool remained inaccessible.
It didn't work due to the guidelines levied by Apple and Google.
According to the guidelines, users were required to download an app from their public health authority to get the COVID exposure notifications on their devices.
However, now with the recent iOS 13.7 update, users are not required to install an app to access the notification API anymore.
1. How Does 'Exposure Notification Express' Work?
iPhone users can now start the COVID-19 Exposure Notifications from the Settings Menu without any need to download an app.
To receive the COVID-19 related notifications from the health authorities, users have to agree to the public health agency's terms & conditions.
Once you agree, your iPhone will commence sourcing information with Bluetooth's help and notify you about the potential COVID exposure.
It works in the same way as the Aarogya Setu app works in India. (More of that later in the write-up!)
Once you opt-in for the notifications, the iPhone can determine when you are less than 6 feet away from others by your phones swapping encrypted tokens.
The system then sends out Bluetooth beacons and listens from them, but it no longer requires an app.
In case you come in contact with someone who tests positive, you will receive a notification.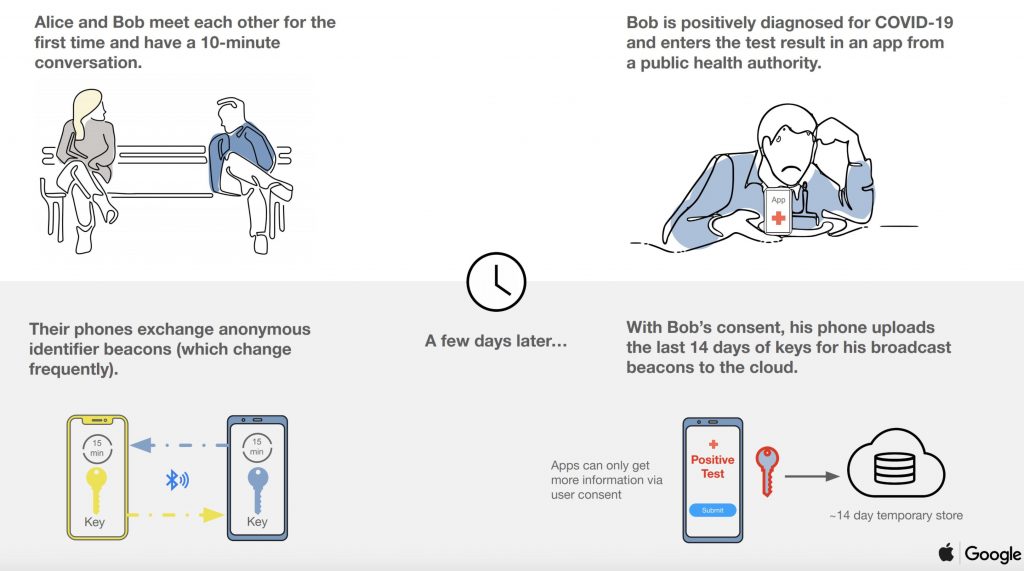 If you do not have an official public health authority app installed, the system will directly prompt you to download it and advise the next steps to be taken.
You can even use the app to report in case of being diagnosed yourself; albeit with your consent and your beacons will be added to the positive diagnosis list.
However, your identity will not get disclosed to anyone.
The important part is, these notifications are entirely based on whether you opt-in for them or not.
You do not have to do it in case you do not want to. In such a case, both your location and identity will not be shared.
Apart from this, iOS 13.7 also consists of new Emoji stickers and iCloud Drive Folder sharing from the Files app.
2. Steps to Get This Update
Go to your Settings.
Click on "General."
Next click on "Software Update."
The new iOS 13.7 update will be visible to you.
Download and install it.
3. What Users Can See When They Opt for 'Exposure Notification Express'?
When the iPhone users opt for 'Exposure Notification Express' in a state or other territory that employs this extension to Apple and Google's operating system, they will get notified that the service is available.
Simply tap to confirm permission, and the users will be able to turn on the feature without any need to download an app.
On an initial level, public authorities in Nevada, Washington, DC, Maryland, and Virginia will have the new system.
Apple and Google expect other states to add this functionality.
When the user is in a region where this feature is available, their iPhone or Android phone will continue to see their current tracing technology.
However, they will do it in a way as specified by the public health authority to warn you about the exposure.
In case the criteria are met, the phone will showcase a warning.
The iPhone will also have particular advice provided by the authority, like directing the user to the correct places for testing and treatment, moving forward.
4. The Tech Giants Both Google and Apple have Consulted with Health Officials
Apple and Google representatives have informed that the system's extension has been done to make it simpler and quicker for users to opt-in.
It has been done following the consultation with health authorities.
Larry Hogan, Governor of Maryland, quoted, "Exposure Notifications Express will come in handy to save lives and greatly enhance our contact tracing operation and advance our statewide COVID-19 recovery."
5. Reasons for Aarogya Setu not Using 'Exposure Notification Express'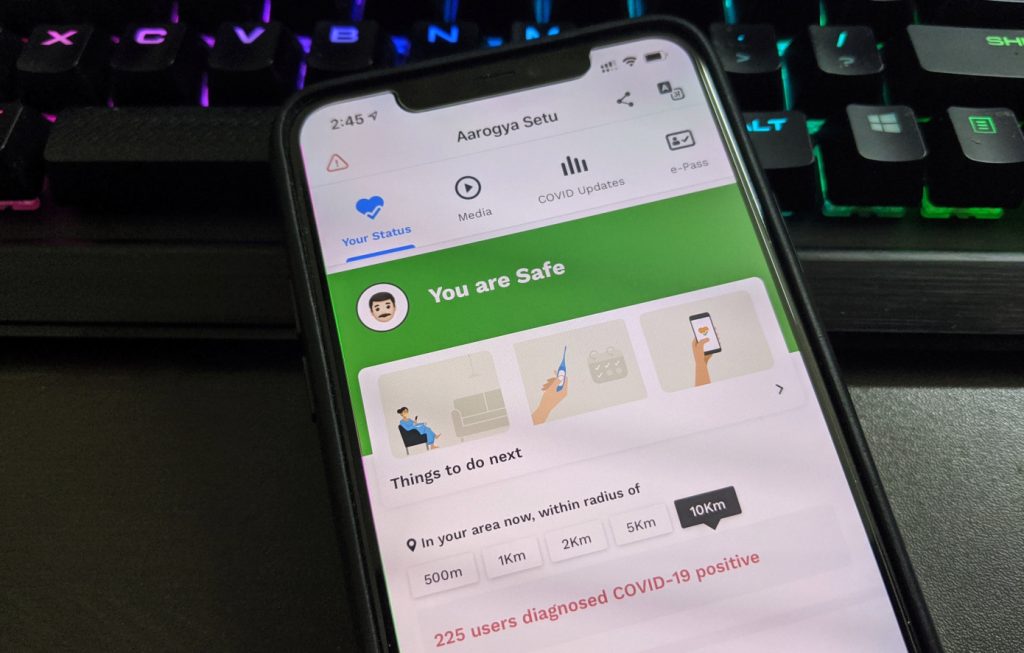 The 'Exposure Notification Express' can be seen by both Android and Apple iPhone users in India but are not usable.
The API from the 'Exposure Notification Express' is not being employed by Aarogya Setu.
The reason being, the Apple-Google solution strictly prohibits the employment of location data of users.
Aarogya Setu utilizes this and even Bluetooth data to track users coming near people at risk.
Also, the Aarogya Setu app needs users to enter a few personal details like phone number, name, etc.
Whereas, 'Exposure Notification Express' incorporates stringent privacy protocols and doesn't let contact tracing apps record users' personal details.
This is one of the significant reasons for Aarogya Setu in India not using 'Exposure Notification Express' in Android and iPhone devices.
Final Thoughts
The recent iOS 13.7 update has been a real game-changer especially in times of COVID-19 pandemic.
It can warn users about potential COVID-19 threats looming large in their surroundings.
The good news is, it does that without requiring any installation of an external app. Isn't that wonderful?