The Internet of Things (IoT) has made it possible to set up a smart home easily.
Today, you can execute some of the top home automation ideas that help you remotely control your lighting, climate, media, alarm, and even your home security system.
The best home automation system goes one step further than simply creating a connected home, making it feel like an automated house, which is truly smart.
Imagine: You're in transit to get back home from work, and at a distance from home, your home thermostat turns from an energy-saving 85 degrees Fahrenheit to a crisp 67 degrees Fahrenheit.
As you unlock your door, the amazingly cool home automation system sends a notification to your other gadgets: Your lights turn on, your blinds automatically pull up, and your music system starts playing your favorite, calming music - all this without even touching a button.
This is the ultimate home automation experience. And it's going to "WOW!" people in the years to come!
What is Home Automation, and How does it work?
In simple words, home automation is the process of automatically controlling electronic devices in your home. These devices are connected to the internet, which enables you to control them remotely. With the help of home automation, devices can trigger one another so that you do not have to control them manually with the help of an app or voice assistant.
For example, you can put on your lights at a fixed timetable so that they turn off automatically when you go to sleep. In addition to this, you can have your thermostat turn the A/C up approximately an hour before you return from work so that you do not have to return to a stuffy house.
Home automation makes your life more convenient. It also saves you money on heating, cooling, and electricity bills.
Now let's find out - how does home automation work?
Home automation works with the aid of a network of devices that are connected to the internet through different communication protocols. It can be through Wi-Fi, Bluetooth, ZigBee, etc. The devices can be managed from a distance with the help of controllers, i.e., a voice assistant like Alexa or Google Assistant.
Now, many of these IoT devices have sensors that detect changes in temperature, motion, and light so that users can get information about the device's surroundings.
Home automation works on three levels:
1. Monitoring : Monitoring is all about enabling the users to check in on their devices remotely with the help of an app. For example, someone could see their live feed from a smart security camera.
2. Control : Control means that the user has complete control over these devices on a remote basis. It can be panning a security camera to see more of the living space.
3. Automation : Automation is where you set up devices to trigger each other, like having a smart siren go off whenever an armed security camera detects motion.
How To Set Up Home Automation?
Here are a few steps to set up home automation and experience cutting-edge technology.
1. Connect to power
To make your smart home up and running, you will need the power to function. Depending on the model you opt for, you can hook it up to power with the help of an AC adapter or just install rechargeable battery packs. I would recommend you to have backup batteries at your disposal so that your house stays functional even in case of a power failure.
2. Connect to a fast and reliable internet
Most of the smart home automation ideas hook up to internet routers through an Ethernet cable. However, some are a bit more contemporary and will need a password to hook up to the wireless routers.
3. Installation of the application on your smartphone
You can access most of the latest home automation ideas right from your smartphone through an app. You simply need to download and install the relevant app on your smartphone.
4. Setting up an account
The app will guide you through an easy-to-follow process to set up an account. Always ensure that you secure it with a strong password.
5. Add smart devices
Then, follow easy on-screen instructions to add smart devices to your home automation system.
6. Schedule scenes and triggers
A scene can be defined as a series of actions that can be scheduled to happen at a given time. For example, a bedtime scene might involve your electrical appliances and lights turned off and your smart doors closing at 9:30 pm. You can even trigger-control scenes. A prime example of that is, a motion sensor may cause a light to turn on when it detects an unlocked door.
7. Setting up of alerts
Once you set up alerts, you'll receive a text or email notification whenever a specific event like a movement or an open window is detected.
Top Seven Home Automation Ideas of 2021
Here are some of the top smart home automation ideas of 2021 that you should implement today.
1. Amazon Echo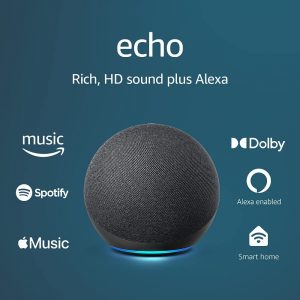 The Amazon Echo is one of the leading hubs for cool home automation. It employs Amazon's proprietary Alexa voice-powered technology. The good news is that Echo can work as a stand-alone device. It can connect to a cloud-based service to provide music, set up alerts and the frequency, ask questions, provide music, or even request weather and traffic reports.
In addition to this, Amazon now provides a range of product variations. You can buy the original Echo, the smaller Echo Dot for the more budget-conscious, and the new kids' edition.
You can also now use Echo Spot as a smart alarm clock, Echo Show to act as a small portable TV and even an Echo Auto for a car. All of this is accompanied by Alexa's built-in technology.
How does Amazon Echo work?
Amazon Echo might look like a cylindrical Bluetooth speaker, and that's the beautiful part. The device comprises built-in omnidirectional speakers that play music and other sounds.
This is how it works.
Echo connects to the internet through your home Wi-Fi network. It always stays on and listens for the magic word to wake it up. Once it hears it, the device gathers the voice commands and sends them to a natural voice recognition system in the cloud known as Alexa Voice Service.
This service interprets the voice and sends it back with an appropriate response. The device comes with an array of microphones that can easily pick up your voice across the room, even while there's music around and other environmental noise.
$99.99
2. Smart Water Sensor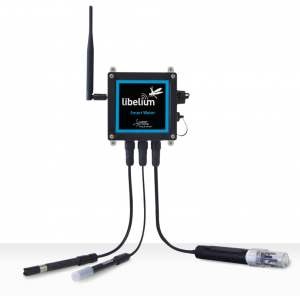 It's a natural tendency of every human being to protect their homes from fire, carbon monoxide, and theft. But have you ever thought about water leaks? Floods and water damage can be devastating for homeowners, which can result in serious damage. To protect your home, you need to employ a cool home automation system as a smart water sensor.
It's one of the ultimate home automation ideas that can be employed with or without a smart home hub. If they detect water leaks, they notify you through your smartphone, even if you're miles away from home.
Smart water sensors can even record water temperatures to stop freezing pipes or picking up on mold within your pipes. To get the right results, you need to place the sensors in a location where water damage is likely to occur. It can be in your bathrooms, under the kitchen sink, or even in the laundry room.
How does a smart water sensor work?
In most water sensors, an inherent sensor and a transmitter are placed in a specific sensor range to send any alerts of any leaks it ascertains. It ascertains the presence of water once it touches the exposed metal probes, a part of the device. Under such conditions, the sensor measures the electrical conductivity between the probes and the water present.
It then completes a circuit and sends off an alarm to signal to you with the help of an app on your smartphone, or if a professional alarm monitoring firm is monitoring the installation, it'll send the signal straight to them.
If you want the water sensor to send the alert to other people while you're far away from your home, it is possible to add them to receive the alerts of any leaks. This way, you can prevent further damage swiftly.
3. Logitech Harmony Hub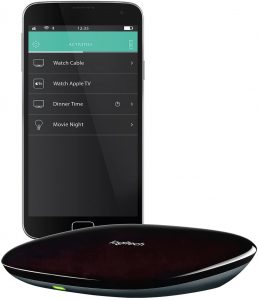 Although not a universal remote, the Harmony Hub allows you to connect your home. It is one of the ultimate home automation ideas that can be employed with a smartphone app as a remote. You can even buy it as a package with the Harmony Companion remote or the 950 (the package of hub and remote known as the Harmony Elite).
With the help of the hub, you can connect your Wi-Fi network and control devices through Bluetooth for the PS4 users.
(Note: The PS4 can still not be turned on without pressing the button on its front or with the PS button on the controller,)
As it's connected to your Wi-Fi network, it can even be used to control smart home devices on your network like lighting, security, etc. The other great thing about this product is its compatibility with Alexa for voice activation.
How does Logitech Harmony Hub work?
It's straightforward to set up your hub. Download the Logitech Harmony Hub mobile app on your smartphone. Then, simply launch the app, and it will automatically try to find out compatible connected devices. If there are other devices that you wish to add, merely enter the brands and model numbers for these devices.
The mobile app can guide you through how Logitech Harmony Hub smart device functions. In case you have a previous Harmony remote and wish to copy the settings from that remote to your hub, you can do that too.
$89.95
4. Google Nest Hub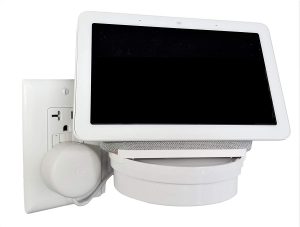 Google Nest Hub is, perhaps, the best home automation system that you will ever get at a reasonable price. It comes with a smart speaker with an attached touch screen. Its smart display adds a different layer of interaction with a voice assistant.
You can even use it as a control panel for connected devices. You can use it as a security camera to check who or what's ruffling across your home territory through its footage. Use it as a video intercom with a doorbell camera or tap to turn on lights in another room/adjust your thermostat.
How does Google Nest Hub work?
Google Nest Hub works on Wi-Fi. It connects to your existing router to give you a strong Wi-Fi connection across your house. The idea is to basically put several "nodes" across your home to act as a single network.
The primary node connects directly to the modem, i.e., the router provided by your Internet service provider. However, you need to switch off the router's own wireless coverage. Next, you power up the other nodes in optimum positions around the house and set it up employing a dedicated Google Home app.
Once that's done, you'll get a Wi-Fi signal everywhere across your home, from the bathroom to your basement. You can consider Google Nest Wi-Fi as an expandable system for better coverage. Instead of one router, multiple routers work in unison to deliver a fast network throughout your home.
$19.99
5. Thermostat Automation System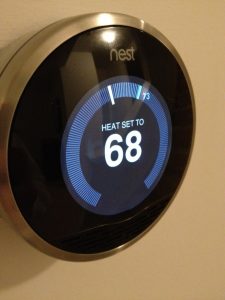 The thermostat automation system is one of the best smart home automation ideas that you'll ever see. With the help of such a product, you can auto-enable your thermostat to switch to energy-saving mode when the windows are open for more than 15 minutes. This is especially useful for window open-close sensors. For this, you'll need a smart thermostat along with a compatible hub.
Set the window sensor to trigger and set the hub to hold on for roughly 15 minutes when the window opens. Also, make sure that you set the hub to energy-saving mode in case the window remains open after 15 minutes.
How does the thermostat automation system work?
Smart thermostat automation systems typically comprise three essential components: the first part plugs directly into the HVAC system. This part directly interacts with the second component, the thermostat control. The final part that makes up a "smart" thermostat is the smart thermostat app you can download from your smartphone, mobile device, or computer.
These three components enable you to adjust home temperatures from any given location, irrespective of whether you are sitting on your couch or are lying on a beach, thanks to its wireless internet connection.
6. Wink Hub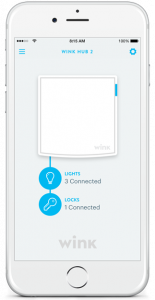 Wink Hub 2 is a cool home automation system that has been designed for the mainstream consumer. The good thing is, you can use Amazon Alexa with it. It comes with its own voice command options that you can activate through the Wink Hub app.
With the help of this app, homeowners can also monitor and control all their smart devices, irrespective of the communication protocol they use. Apart from that, the Wink Hub 2 has been designed in such a way that you can directly connect it to your modem or router through an Ethernet connection. This helps the homeowners to get a stronger internet connection. It also enables the Wink Hub to function more efficiently and swiftly.
Wink hub allows homeowners to access and monitor all their smart home devices on a single app. This way, the Wink app enables a more natural and more efficient administration of different smart home technologies.
How to set up Wink Hub 2?
Start the Wink app on your mobile device and sign in using your email address and password. If you're a first-time user using the Wink app, tap "Sign Up" to create an account.
Navigate to the "Add a Product" page. Next, select "Wink Hub 2".
Put the ethernet cord into your Hub 2 and then place it into your router. In case you're not using the ethernet cord, plug in your Hub 2 and put it in your desired location.
Follow the instructions provided in the app for adding Wink Hub 2. Once you find the internet connection, you can add the Wink Hub 2 to your account. If you've already added your Wink Hub 2 using an Ethernet connection, you can always change it to Wi-Fi by assessing the Wink Hub 2 setting.
Press the "Add to Wink" button. Once your Hub is added to your Wink account, you'll receive a 'success' message. By default, the name on your Hub will be "Wink Hub 2," which you can rename by tapping. Otherwise, hit on "done" to continue. After adding the latest Wink Hub 2 to your account, it will, by default, update your firmware. Keep this in mind: Without the most up-to-date firmware installed, the Hub and your application may not be able to communicate correctly with the products you're trying to connect.
$99
7. Smart Kitchen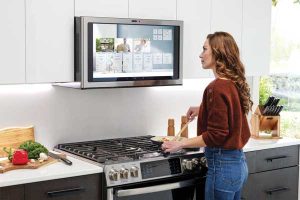 As technology has advanced, we are moving towards smart home automation ideas. The major attraction towards smart kitchens is to start connecting devices and applications to the IoT. In the future, we may have a refrigerator that knows what food it contains, a stove that can be set to preheat while you head home, or additional sensors and interfaces that can make kitchen life more manageable.
How to set up a smart kitchen?
You can set up a smart kitchen by adding smart appliances like smart speakers, i.e., Amazon Echo or Google Home. Or a smart display like the Google Nest Hub or Echo Show. Next, you need to fix automation lights. Also, do not forget to add smart ovens. For hands-free, measured water, add a smart faucet.
Concluding Thoughts
These are some of the top home automation ideas of 2021. Utilize these ideas while devising your modern home automation needs, and I can assure you that you will not be disappointed with the end result.
To read the current happenings in the field of technology and innovation, keep checking this section.