According to the World Health Organization's Global Status Report on Road Safety 2018, Head injuries happen to be the leading cause of death and major trauma for two - and three-wheeled motor vehicle users. They suggest that correct helmet usage can lead to a 42% reduction in the risk of fatal injuries and a 69% reduction in the risk of head injuries.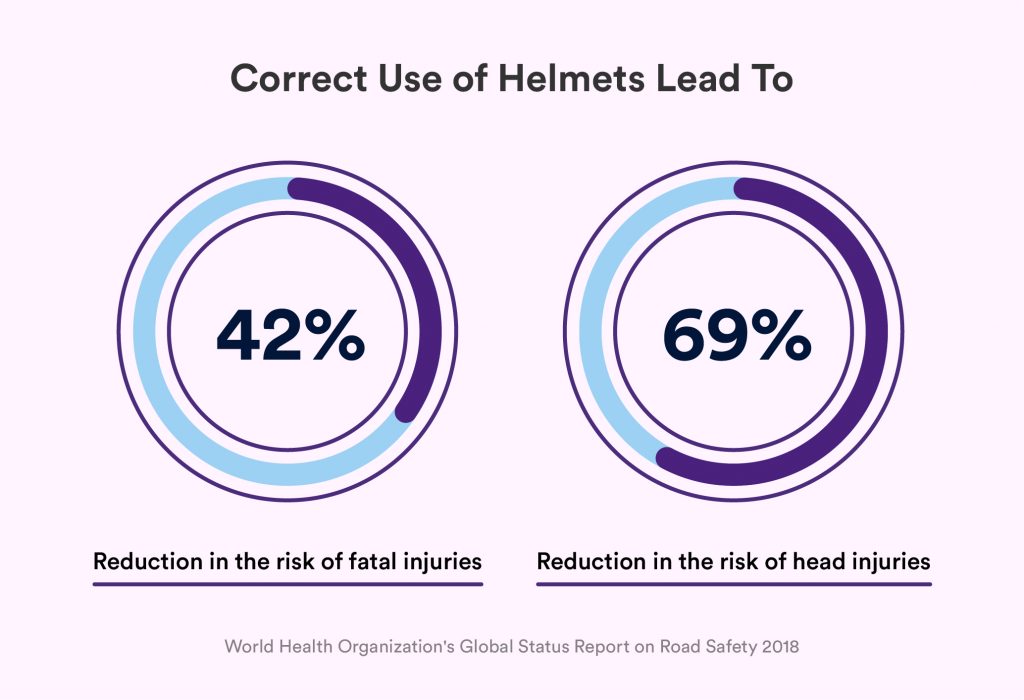 And, correct helmet usage mandates having a correct and effective helmet in the first place.
With our world getting smarter and more connected, we also need to drive smarter. And driving smarter doesn't just mean smart cars! It also means smart driving accessories like smart helmets. Smart helmets are a boon for riders of two-wheeler vehicles. They help riders drive smarter and efficiently in more than one way and also enhance the overall on-road experience.
What is a Smart Helmet?
A smart helmet is a device that makes a traditional helmet look dumb.
Smart helmets have added features that can help riders drive safer, and more efficiently and enhance their driving experience.
Smart helmets can include some or all of these features:
Bluetooth connectivity
WiFi Connective
Voice assistance
Make, Accept and Reject Calls
Connect with smart devices
Connect with other smart helmets and riders
FM radio
Intercom
Heads-up Display
Emergency Buttons
Tracking systems
Cameras
Audio Alerts
GPS Connectivity
Better Hardware
We can use batteries or solar power to charge smart helmets.
Benefits Of Using A Smart Helmet
Three main benefits of smart helmets are as follows:
1. Driver Safety
Smart helmets have upgraded hardware. They mostly use EPS padding in the inner lining that is more shock-proof.
Smart software allows for SOS buttons, tracking riders, and sending automatic alerts to emergency contact during an accident.
2. No need to keep the smartphone handy
Audio alerts and HUD display deliver information regarding whether and navigation inside the helmet.
Smart helmets have an FM radio, intercom system installed within. You can also make, accept and reject calls, all from a single touch or voice command.
3. Enhanced Driving Experience
Enjoy the benefits of voice assistants while driving.
See the rearview video in the HUD display. Listen to audio alerts for turn-by-turn navigation.
Stay connected with multiple riders with smart helmets.
Experience a great music system in the helmets.
Top 8 Smart Helmets of 2022
Here are the top 8 smart motorcycle helmets to look out for in 2022.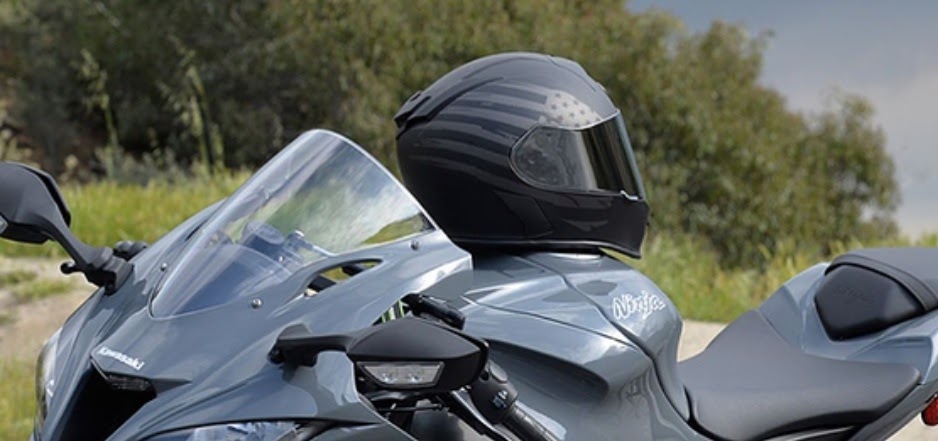 These smart motorcycle helmets feature a dual-density EPS system superior to all other types of helmet paddings available. Here's what EPS means:
Unlike other types of padding, EPS or Expanded Polystyrene does not bounce back after absorbing a compressing impact. This helps in providing the rider with a greater amount of protection than another padding like rubber.
Because when rubbery padding is compressed, the material bounces back and delivers some if not all energy to the very area we are trying to protect. Thus EPS does not re-bounce the impact back to your skull.
The advanced polycarbonate shell is engineered to protect the driver by lessening the shell's weight and dispersing impact energy.
According to their website, they are the only helmet in this price range to offer an optically-correct flat panel shield.
It also uses TORC's new smooth-lock drop-down internal sun visor system that allows you to drop the sun visor on the go smoothly.
The feature that makes this helmet smart is that it includes a Blinc Bluetooth system that easily connects with iOS and Android phones and allows riders to...
Tune into FM radio
Get turn by turn navigation
Dial, Make, Answer, and Reject Calls
Connect with other Bluetooth helmets, amongst other things…
Furthermore, it has a talk time of 12 hours, stand by time of 150 hours. It even allows connecting two phones, as dual speakers, and noise cancellation functions.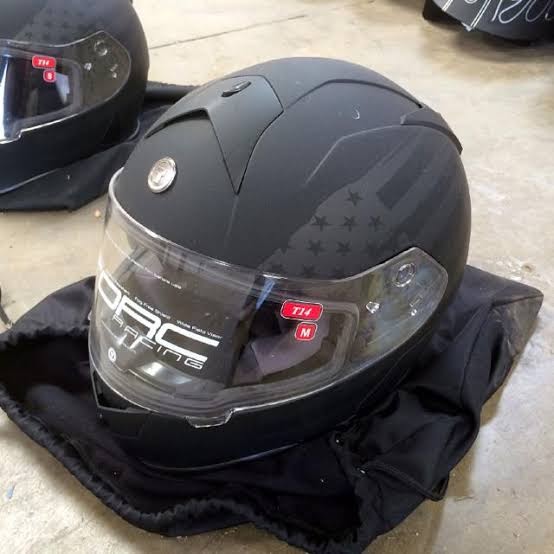 Features
Blinc Bluetooth system
EPS lining
Not only meets but also exceeds DOT standards
Available in multiple sizes from XS to 2XL
Has DOT approved Certification for the US, and ECE and CC for Europe and China, respectively
Retractable drop down internal sun visor
Laser controlled cool max interior
Removable and washable antimicrobial sweat-wicking cheek pads and linear
Specifications
| | | |
| --- | --- | --- |
| 1 | Helmet Style | Full face |
| 2 | Helmet Shape | Oval |
| 3 | Helmet Shell | Advanced thermal polymer alloy |
| 4 | Helmet Shield | Scratch-resistant and fog-free with dropdown sun visor |
| 5 | Helmet Weight | 5.15 pounds |
| 6 | Bluetooth | 3.0 |
| 7 | Size | XS - 2XL |
Price
$209.99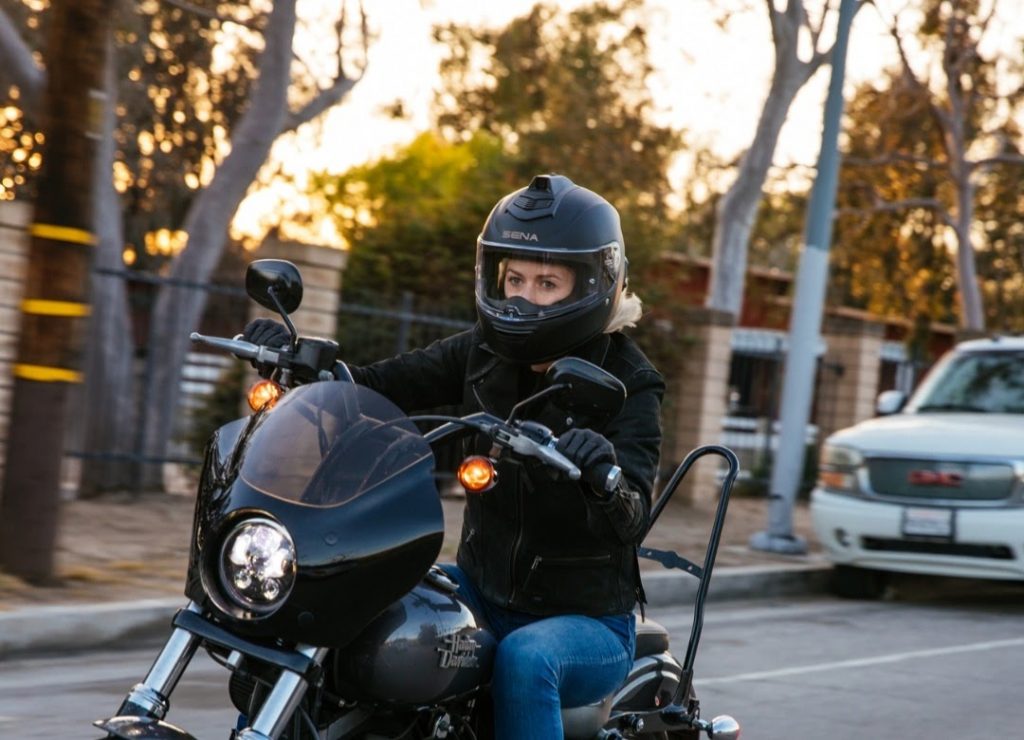 Sena Momentum Inc Pro is the most loaded and advanced of all Sena Helmets.
These smart motorcycle helmets with Bluetooth are the design helmet design for modern-day needs. We live in the age of social media where we are hyper-connected to the world, and information is shared freely in abundance, more so through video!
These smart helmets come in with inbuilt mounted high-definition video cameras. Sena's helmet cameras are powered by their proprietary Prism Tube WiFi QHD cameras, which easily records in 2K Quad HD quality and 1440p:30fps.
The Prism Tube QHD WiFi Camera can be attached to the smart helmet in two ways on all motorcycle helmets and not just Sena Helmets. The camera boasts a wide 125° angle of view that also allows for 360° spherical adjustment lens rotation along with a 25° camera tilt to capture an even wider variety of shots.
It also allows a looping video recording time of 2 hours. Since Momentum Pro is WiFi-enabled smart helmet, you can instantly access footage on your smart device.
Note that the recording starts with one glove-friendly slide.
Riders often suffer the continuous wind noise while riding full throttle, which at its worst can cause tinnitus, stress, and fatigue. The Sena Momentum Inc Pro has noise control technology that cancels the noise and allows riders to stay alert and focused.
It also allows you to smartly listen to music while chatting with other riders. The advanced audio system lowers the music automatically for you to hear the other riders' voices clearly.
It also allows you to clearly hear external noise or ambient noise when needed, without needing to remove the helmet.
Features:
Around 20 hour talk time
Built-in speakers & mic
Group intercom with up to 7 riders at a time within a mile-long range.
Advanced noise control that reduces the effect of ambient noise during a voice call
Quad HD: 30fps full HD: 60fps mounted camera
Voice-command-enabled
Certifications: for lectronics - CE, FCC, IC, and for Helmet - DOT
Remote cmControl compatible
Dedicated apps for an enhanced experience
Specifications
| | | |
| --- | --- | --- |
| 1 | Helmet Style | Full Face |
| 2 | Helmet Shape | Oval |
| 3 | Helmet Shell | Composite Fiberglass Shell, 2 shells |
| 4 | Helmet Shield | Scratch-resistant, UV resistant, Pinlock ready, and Pinlock 120 max vision, with optional smoke resistant screen |
| 5 | Helmet Weight | 7.5 pounds |
| 6 | Bluetooth | 4.1 |
| 7 | Size | XS - 2XL |
Price
$700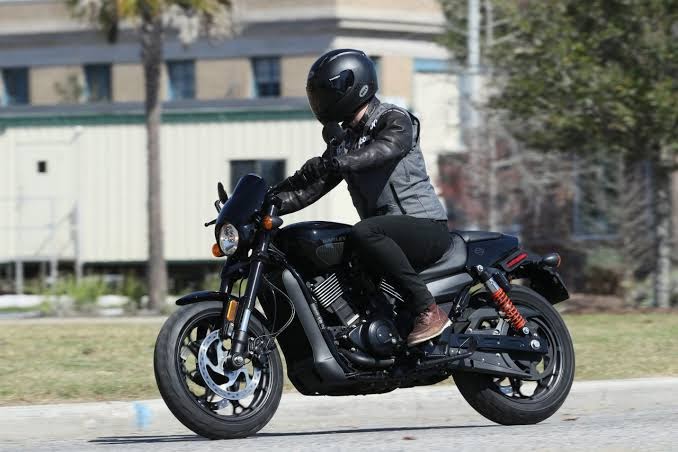 When it comes to Harley-Davidson, the brand name makes all the difference. Harley Davidson has been one of the most popular cruiser bike companies since the early 1900s. It happens to be the second bike manufacturing company, along with Indian, to survive the great depression in the United States partly because of its loyal following.
Who hasn't heard about the motorcycle club Hell's Angels and their Harley bikes or the hit show Sons of anarchy?!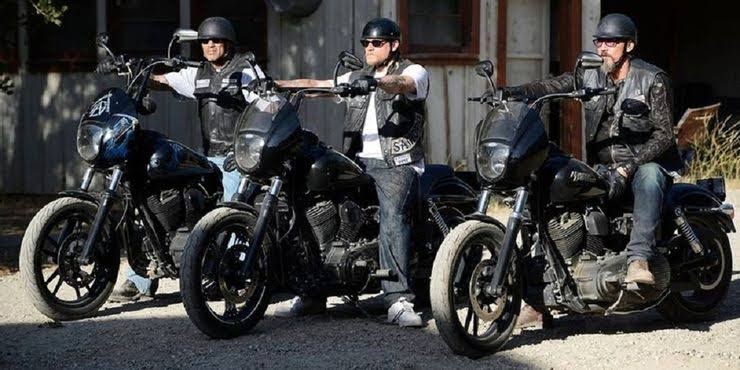 A still from Sons of Anarchy, the crew on their Harleys and not-so-smart helmets.
This massive brand following of Harley Davidson affects brand perception and eventually the sales of the smart helmets made by Harley Davidson.
Harley-Davidson is also manufacturing smart helmets. The two most popular smart helmets are Harley Davidson Boom™ Audio No 1 and Harley Davidson Boom™ Audio No 2.
These helmets are marketed as it is and are also famous for the sound quality they offer.
The Boom!™ Audio N02 is a Full-Face smart helmet. This smart full-face motorcycle helmet, just like other smart helmets, is ready to use and requires no complicated setup. One does not need to fuss with any wires, position speakers, or purchase batteries separately to start this smart helmet.
The Harley Davidson smart helmet comes with two modules -- 1 Bluetooth® and 1 Mesh. With the integrated Bluetooth® technology, a rider connects up to 4 riders. And with mesh intercom technology, you can connect up to 16 riders in private mode (nearly unlimited in open mode).
Another amazing thing with these smart Harley-Davidson is that riders can also enjoy music on the built-in FM radio and Intercom with up to eight other riders.
Since these smart helmets are Bluetooth-enabled, one can pair their mobile device for easy navigation, play their favorite playlist, and make and pick up hands-free calls.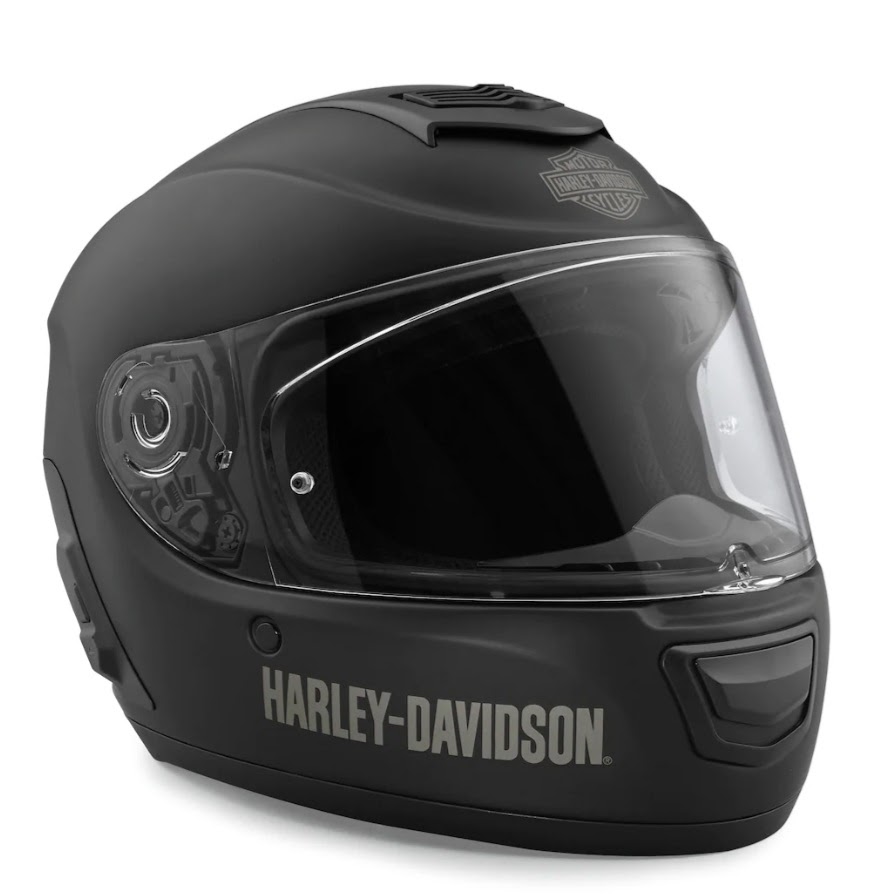 Features:
30k Mesh and Bluetooth combined technology
Ability to connect with a large (16) number of people
Meets DOT safety standard FMVSS 218.
Specifications
| | | |
| --- | --- | --- |
| 1 | Helmet Style | Full Face |
| 2 | Helmet Shape | Oval |
| 3 | Helmet Shell | Fiberglass composite shell. D |
| 4 | Helmet Shield | Anti-scratch |
| 5 | Helmet Weight | 3 pounds |
| 6 | Bluetooth | 4.1 |
| 7 | Size | XS - 2XL |
Price
$550
According to their website, they claim to be the only dual-monitor HUD system in the market. CrossHelmet's bifocal display offers a great picture quality even in the worst lighting conditions. The rider can see essential riding information on the monitor, such as their rearview video, route directions, weather, and time. It is highly customizable per rider's convenience. This smart helmet is something you would find in a sci-fi movie. Having critical information displayed on the screen can allow you to finally not need your smartphone to look at the directions while driving.
Their advanced noise control system can increase and decrease the environmental sounds as per the rider's need.
The camera gives a 360° view and displays what's happening in the rear on the front display.
The left earpiece has an integrated, discrete touch panel to enjoy smart helmet benefits on the go easily.
Additionally, LEDs mounted on both sides of the smart helmet decrease the possibility of accidents while riding at night.
And finally, Crosshelmets have a dedicated app for a better experience.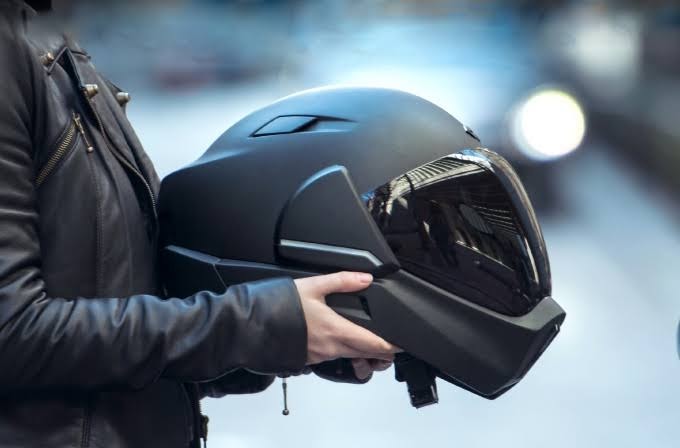 Features:
Display on helmet Shield to show important information
Has DOT, ECE, JIS, and safety certifications
Dedicated app
Smart Aesthetics
Specifications
| | | |
| --- | --- | --- |
| 1 | Helmet Style | Full-Face  |
| 2 | Helmet Shape | Oval  |
| 3 | Helmet Shell | LEXAN Polycarbonate + ABS |
| 4 | Helmet Shield  | Scratch-Resistant, UV resistant Viser with Clear, Tinted, Photochromic color options |
| 5 | Helmet Weight | 4.23 pounds |
| 6 | Bluetooth |   |
| 7 | Size  | Medium - Large  |
Price:
$1799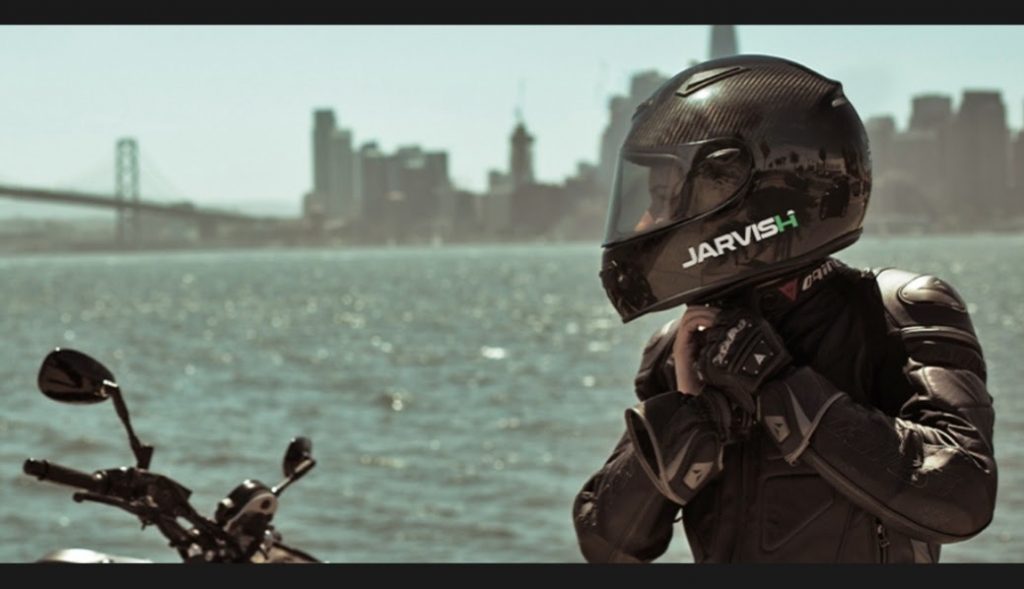 Image Source
Sounds familiar with Iron Man's AI assistant Jarvis, doesn't it? And let me tell you -- I don't know if Jarvis inspires the name of these helmets - Jarvish, but while you use it, you will definitely feel so.
(Considering you have watched Iron Man!)
Jarvish X smart helmet is another interesting pick for smart helmets. Riders can connect Jarvish X with leading voice assistants like Google, Alexa, and Siri to help the rider with navigation, music, and other things.
Realizing the importance and predicting the widespread use of connected devices, former employees of company Hon Hai or better known as Foxconn, left no stone unturned to create or state-of-the-art connected devices for bike riders. And as a result, they founded Jarvish.
These smart helmets comprise of:
An inbuilt 2K HD camera
A sensor to detect if the helmet is worn OGS surrounding HD sound system
An advanced voice control system
Wireless charging module, and
HUD (Head-Up Display) to browse information while riding.
What stands out here is the HUD display like the Crosshelmets.
What is interesting about the smart helmet is, Jarvis has developed its very own voice assistant specifically designed for riding scenarios. Furthermore, the smart company has also worked with the world's largest mapping software company to create its own navigation system.
Additionally, by using the dedicated app, Jarvish smart helmets can be used effectively by the riders, and the rider can stay alert through its voice alerts regarding:
Riding Speed
Speed Camera warnings
Weather forecasts
Location of Gas Stations,
Location of Charging stations, and obviously
The Navigation Data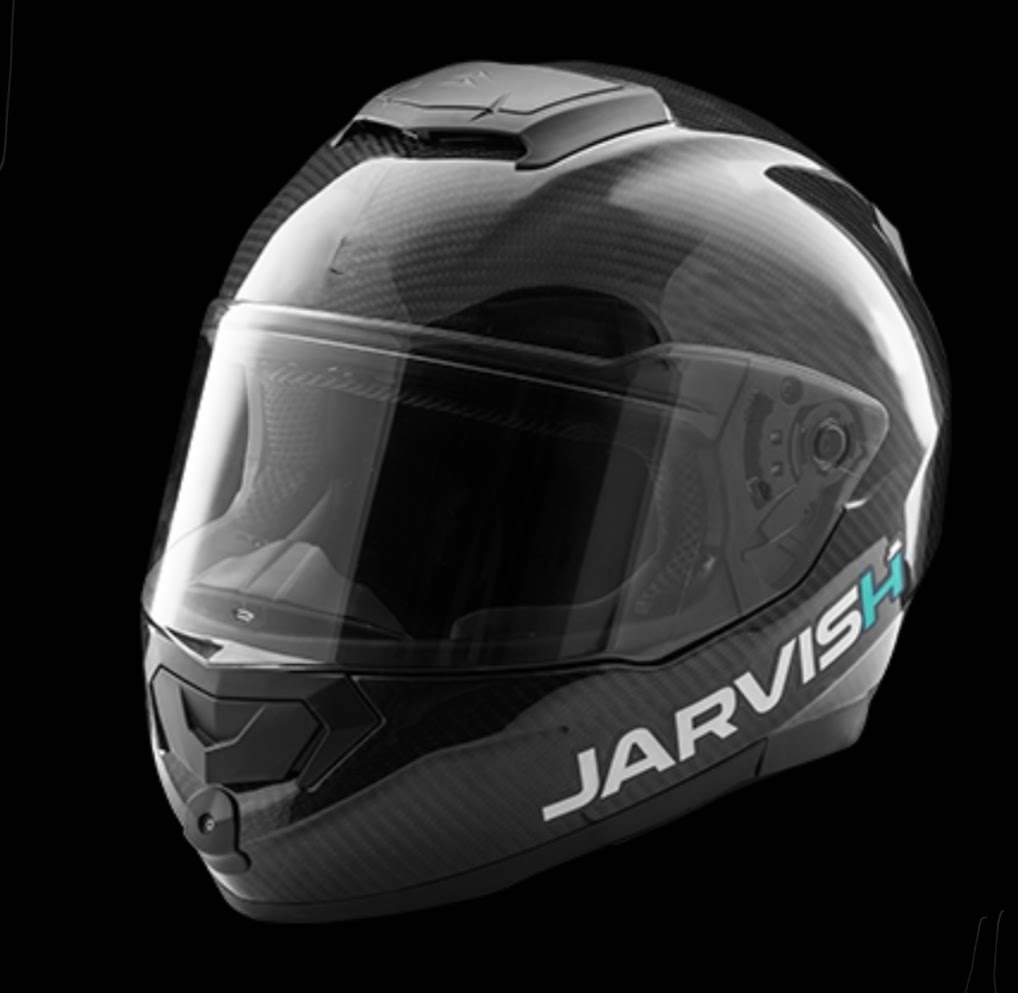 Features:
Certifications: IPX6, NCC, DOT, FCC, CNS
One JARVISH X could connect to another JARVISH X and a smartphone.
The rider can make or reject a call, start and stop video recording, play FM, etc. through voice commands
Video and Music playback time 5 hours
3D sound effects
Fireproof & explosion-proof battery
Own navigation system
Own voice assistant
Dedicated App
Specifications
| | | |
| --- | --- | --- |
| 1 | Helmet Style | Full-Face |
| 2 | Helmet Shape | Oval |
| 3 | Helmet Shell | 12K pure carbon fiber shell |
| 4 | Helmet Shield | Scratch-Resistant, UV resistant Viser |
| 5 | Helmet Weight | 3.85 - 4.1 pounds |
| 6 | Bluetooth | 4.1 |
| 7 | Size | Medium - Large |
Price: $899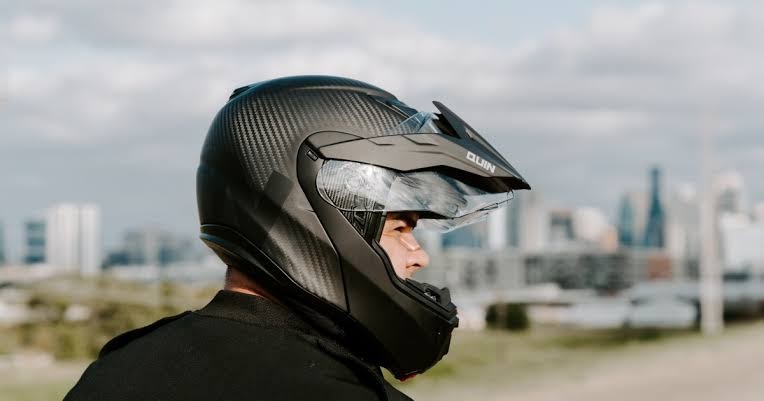 These smart helmets are exclusively designed for safety during road accidents, with their proprietary Intelliquin Crash Detection system that is integrated with the helmet's hardware.
Every Quin smart helmet comes with an embedded chip, proprietary circuitry, and corresponding algorithm for detecting and measuring a crash's intensity.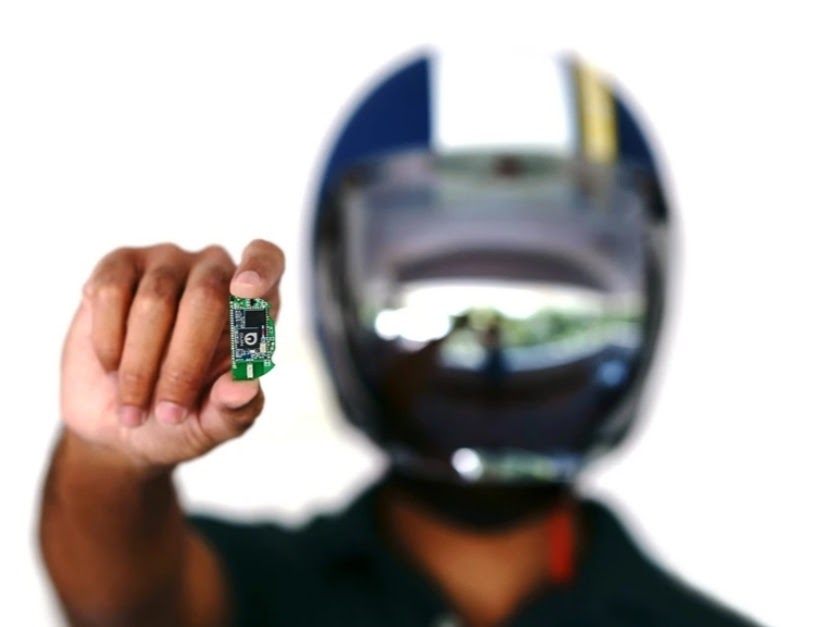 When a rider, unfortunately, meets with an accident, three alerts will be sent automatically to the decided emergency contacts in the form of a Push Notification, Email & SMS.
Note that, Intelliquin is smart enough to disable notifications for false alerts for the times when helmet drops. Users can disable alerts manually during the pre-alert countdown.
Another proprietary technology of theirs is IntelliQuin SOS Beacon. It provides live-tracking of a rider who on-the-move and needs help! The SOS Beacon is supposed to manually trigger a rider when they cannot pullover and need help. For instance, an SOS beacon is useful when issues like crime, road harassment, or poor weather conditions occur.
During the time of distress rider Just needs to tap the call button thrice! This will trigger a Push Notification and Email to 3 emergency contacts with the rider's live location.
Speaking of hardware, the shell is made of a Gloss Carbon Fiber body and has a Lightweight, dual-density patented "ConeHead" polystyrene liner to absorb impact in the best way.
Features
This helmet is ECE, and DOT certified and meets or exceeds the AMA, CRMC, FIM, and RACE sanctioning standards for racing
6-8 hours of non-stop usage or up to 60+ hours of standby time.
Universal Bluetooth
Integrated microphone & speakers
SOS Beacon
Crash Detection
Open & Closed Lock Position
Removable Peak Visor
Drop-Down Internal Visor
Specifications
| | | |
| --- | --- | --- |
| 1 | Helmet Style | Full-Face |
| 2 | Helmet Shape | Oval |
| 3 | Helmet Shell | Gloss Carbon Fiber body, Proprietary Carbon Fiber/Kevlar Construction |
| 4 | Helmet Shield | UV coated clear visor, (dark smoke visor available separately) |
| 5 | Helmet Weight | 2.79 pounds |
| 6 | Bluetooth | 4.0 |
| 7 | Size | XS - XXXL |
Price
$669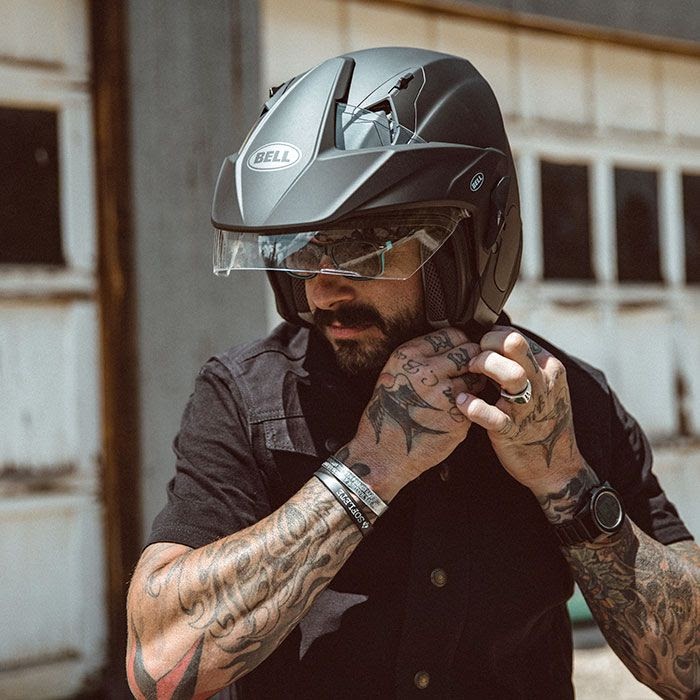 Bell Helmets are one of the most popular Helmet brands in the world. They are also the best motorcycle helmets with Bluetooth. When it comes to smart helmets, they offer two types of Bluetooth Motorcycle Helmets:
1. Qualifier DLX MIPS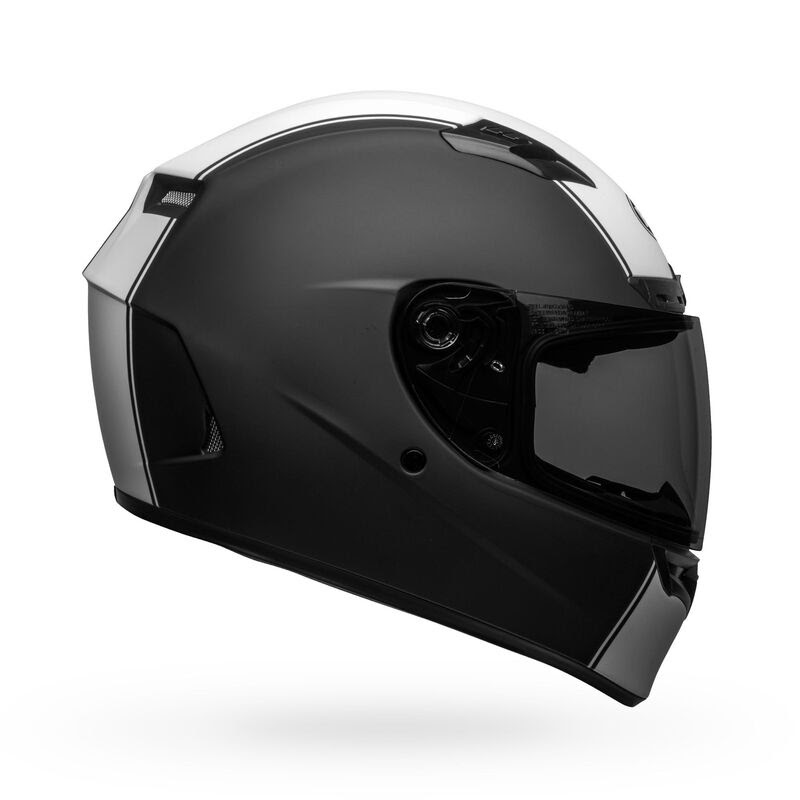 2. Mag 9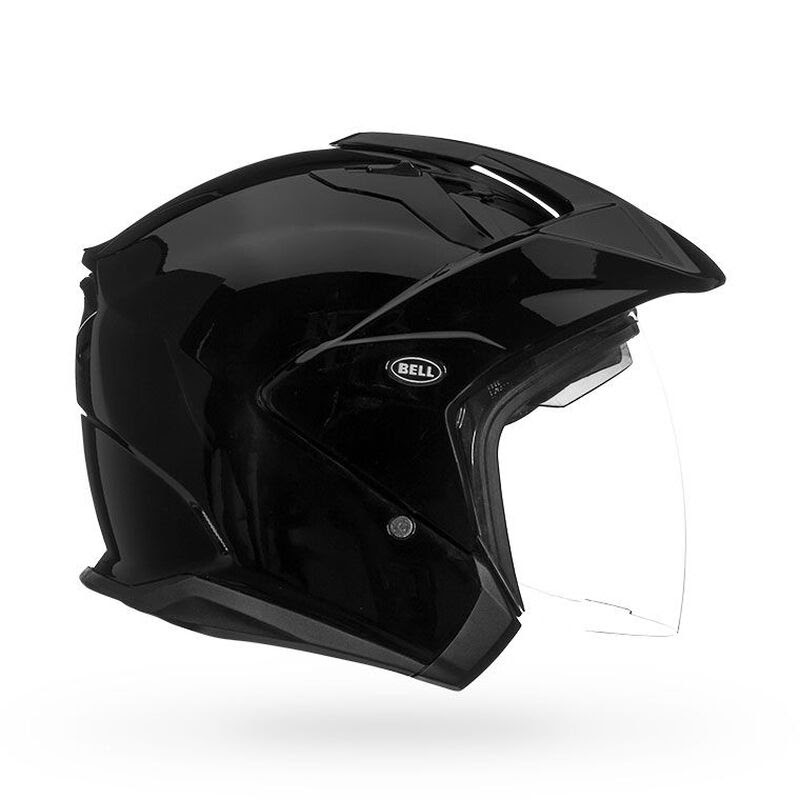 The differences between these two Bell Bluetooth motorcycle helmets are:
Qualifier DLX MIPS is a Full-Face helmet, while Mag 9 is Open-Face.
Qualifier DLX MIPS comes with the MIPS technology that stands for multi-directional impact protection system. MIPS is a leading slip-plane technology designed to absorb the rotational forces inside a helmet during a crash for the riders' safety.
Qualifier DLX MIPS comes with only speaker pockets and the MIPS technology, while MAG 9 comes with Bluetooth, Stereo, and Intercom.
These helmets are made of state-of-the-art polycarbonate abs and are lightweight. They come with an anti-bacterial inner lining, the padding dries up quickly, and good ventilation stops fungi or bacteria from growing in the helmet.
In the Mag 9 series of smart Helmets, one can connect with Bluetooth, Stereo, and Intercom. Just note that these smart helmets support Bell-specific Sena SMH10 Bluetooth and Cardo Scala rider Q1/Q3 Stereo headset and Intercom. If one already has a Sena SMH10 unit, a Bell-specific clamp and Boom need to be installed by the rider. If one already has a Cardo Scala rider Q1/Q3 unit, a Bell-specific adapter will be required.
Features:
DOT Certification
Lightweight polycarbonate Shell
Removable and washable anti-bacterial interior
Padded wind collar to deplete external noise
Aerodynamic design for exceptional stability
Adjustable ventilation system best comfort and cooling
Integrated speaker pockets
Click Release technology for a fast, easy, and tool-free shield change
Contoured cheek pads for excellent fit and comfort
Specifications
| | | |
| --- | --- | --- |
| 1 | Helmet Style | Full-Face and Open-Face |
| 2 | Helmet Shape | Oval and Round |
| 3 | Helmet Shell | Lightweight Polycarbonate / ABS Shell Construction |
| 4 | Helmet Shield | Click release shield for fast, easy, and tool-free shield replacement. the shield is an anti-fog, anti-scratch, and UV-protected shield |
| 5 | Helmet Weight | 3.3 - 3.5 pounds |
| 6 | Bluetooth | Bell-specific SENA SMHh10 Bluetooth |
| 7 | Size | SM: XS and SM HelmetsMD: MD and LG HelmetsLG: XL, 2XL, and 3XL Helmets |
Price:
Mag 9 - $189.85
DLX MIPS - $257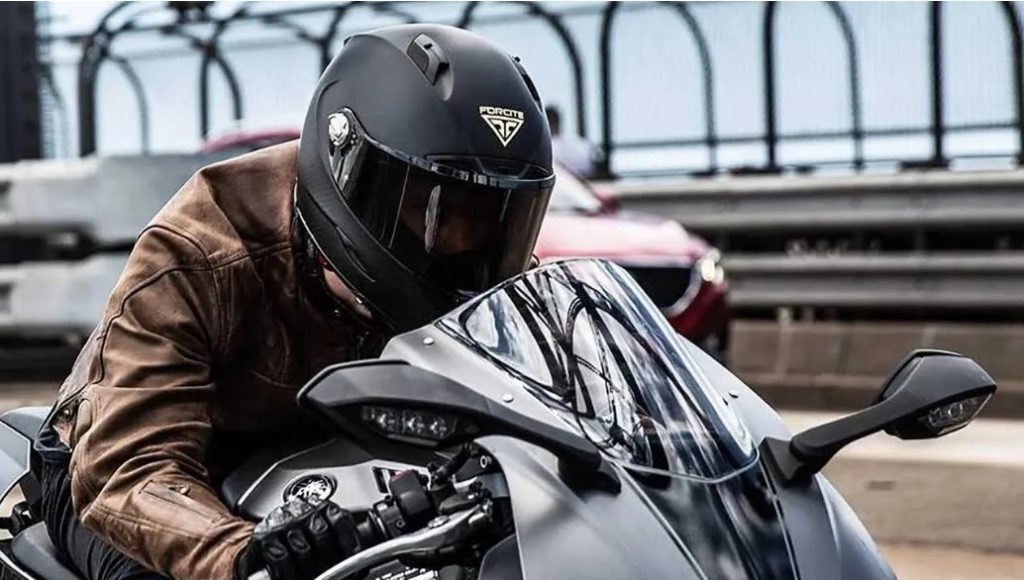 These helmets are made in Australia and shipped to the USA and Europe. They are so high in demand that they get sold out too soon!
Forcite Helmets has also won Gold in the Good Design Awards!
These smart helmets use critical data to forecast information regarding upcoming riding conditions.
This information is instantly displayed in your Forcite App and delivered to you while driving. There is a low-light LED display and audio warnings inside the helmet. The app also allows you to alter the number of notifications you receive.
Additionally, the ultra-thin removable speakers deliver very clear audio alerts unaffected by external noise.
Furthermore, the Bluetooth controller allows the rider to:
Control music
Volume levels
Incoming calls, and
Use the phone's voice assistant while on the go.
These smart helmets come with a wide-angle Sony IMX line sensor (HD 1080P 60FPS) camera that offers HD video recording footage across all weather and conditions. The Sony camera is water-sealed, tough, hail-proof, and aerodynamic.
Another exciting feature of the camera is that you can Start / Stop recording of the integrated camera with one touch and instantly wipe all footage from the installed SD card just give a long touch.
Features:
ECE Certification, DOT
Smart video recording and deleting option
Anti-bacterial bamboo liner with emergency pull tags & channel for eyeglasses
8 vent system with optimized channel airflow
Multiple colored LED displays inside the helmet
Micro SD card compatible ( not included ) They recommend a 128GB class 10 card
Access to phone's voice assistant
Great aesthetics
Specifications
| | | |
| --- | --- | --- |
| 1 | Helmet Style | Full-Face |
| 2 | Helmet Shape | Oval |
| 3 | Helmet Shell | Real carbon fiber shell composite |
| 4 | Helmet Shield | UV400 rated retractable sun visor, and Anti-fog included Pinlock |
| 5 | Helmet Weight | 3.6 pounds |
| 6 | Bluetooth | 5.0 |
| 7 | Size | XS-XL |
Price:
$1005
The Future of Smart Helmets
According to GrandView Research, The global smart helmet market size was valued at USD 372.4 million in 2018 and is expected to expand at a CAGR of 18.6% from 2019 to 2025.
And why wouldn't this be so?
In the age of IoT and big data, where things are getting smarter and connected, having smart driving accessories directly impacts the day-to-day lives of humans.
It would not be long before we see roads lined with smart cars and bike riders swooshing by the electric charging stations in their smart helmets.