Smart electronic gadgets are the windows that bring artificial intelligence and  IoT into our daily lives, enhancing the way they do daily activities. 
Smart washers and dryers, smart locks, smart glasses are the newer IoT devices  in AI-enabled technology like voice enabled bots like Siri, Alexa, and Google Home.
Siri and Alexa aren't the only AI applications that enhance the way we live. Smart washers and dryers, smart locks, and smart glasses are also great technologies that allow us to live smarter.
In this blog, we will particularly discuss which smart washer and dryer to buy in 2021.
1. What is a smart washer and dryer?
Smart washer and dryer is an IoT-enabled electronic home appliance for doing exactly what an ordinary washing machine does but in a far more efficient way. 
The thing that makes washing machines smart is that smart washers and dryers can be connected to your WiFi and operated through your smartphone. 
A smart washing machine with a dryer can help you to do your laundry with the convenience of a smartphone app. For instance you can start and stop the smart washing machine through your phone. Interestingly it also has a feature called auto-dosing, wherein the smart technology automatically detects the load and chooses the right amount of detergent to pour, all you have to do is add detergent once a month.
2. What smart washers and dryers do?
The smart features of a smart washer and dryer alert you whenever a load is washed and needs to be transferred to the dryer. This is done using smart diagnosing issues, tumble features, and using your phone or voice controls.
3. Criteria for choosing a best smart washer and dryer 
Consider these remote collaboration features when looking for the best smart washer and dryer for your family:
Remote control from smartphone : helps you start or pause your wash, choose cycles, monitor the remaining time, and receive finishing alerts on-the-move.
Auto-dosing : should have the feature to let you fill up the smart washer and dryer with detergent at a certain schedule. The smart washer will automatically detect the amount of detergent required for a specific load.
Capacity : choose the capacity as per your family size. Smart washers come in several sizes, some letting you wash up to 12kg of laundry in a single load. 
New technology : should have compatibility with voice control systems and eco bubble technology.
Troubleshooting help : Solve common machine hardware or software problems through the app.   
9 Smart Washers and Dryers to buy in 2021
Here are the best smart washers and dryers of 2021 for you to choose from.
1. Samsung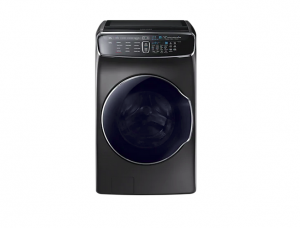 Samsung is leading the top smart washer and dryer race with its V60M9900AV 6.9 Total cu. ft. FlexWash™ Washer. This Samsung smart washer dryer has two washers, one front-loading washer and dryer set for normal use and the other top-loading washer for delicates or baby clothes. It is one the best washer and dryer combo in the market. Here are the key features of this front loading washer and dryer set.
Key Features
FlexWash technology with two washers for two separate loads
Total capacity of 6.9 cu. ft. with 5.8 cu. ft. for front load and 1.1 cu. ft for top load
Allows laundry monitoring with Samsung Smart Home App
Thorough cleaning cycle to keep washer and gasket fresh
Pros
This smart washing machine has a flawless luxurious look with a fingerprint-resistant finish. 
PowerFoam technology to pre-dissolve the detergent for thorough cleaning of clothes
Five customizable levels and 11 cleaning cycles for all types of clothes
Internal water heater with temperature north of 153°F for effective sanitization
Cons
Relatively costly as compared to other washers giving similar features
Stain removal quality is moderate at the said price
This smart washer and dryer does not have a sanitize cycle for the small washer.
Pricing
Leading the trail,  Samsung 6.9 Total cu. ft. FlexWash™ Washer is priced at $1699.
2. LG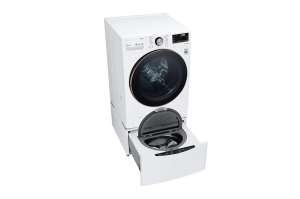 With a sleek look, brilliant performance, and powerful cleaning, LG - 4.5 Cu. Ft. High-efficiency stackable Smart Front-Load Washer stands second amongst the best smart washers and dryers. With TurboWash 360°, you get faster cleaning of larger loads with high performance. It has built-in AI sensors that detect the fabric to switch on to the correct settings. Here are the key features of this front loading dryer and washer set. 
Key Features
This smart washing machine gas a 4.5 cu. ft. ultra-large capacity. washer
TurboWash 360° technology for thorough clean in 30 minutes
ThinQ mobile app for controlling the smart washer
AAFA Certified smart washer with an Allergiene cycle that uses steam
Pros
Stylish look with tempered glass and scratch-resistance
LG direct drive motor 10-year limited warranty
NeveRust stainless steel tub to avoid coins from ruining the fabric
SpeedWash cycle to clean small loads in just 15 minutes in this smart washer and dryer
Cons
Low-frequency noise when it spins faster
Hard to catch and comparatively flimsy door
Errors in connecting the smart washer with the app
Pricing
The current pricing of this smart front-loading washer and dryer set is $999, with offers to save $250.
3. Whirlpool
Whirlpool stands third amongst the best smart washers and dryers with its 5.3 cu. ft. Smart Capable Top Load Washer. In this smart washing and drying machine you get a built-in dual temperature faucet and a pretreat brush for scrubbing, pre-soaking, and washing the clothes in the same place. You can also manage laundry and create customized cycles from your smartphone and stay connected always. This smart washing machine also ranks as the best washer and dryer combo in the market.
Key Features
Load and Go Dispenser to add detergent only once per 20 washes
Active Bloom wash action to customize the cleaning action according to the load
Automatic pre-soak options for automatic start of cleaning once soaked
Control and customize laundry in your washing and drying machine with your smartphone app
Pros
EasyView, full-width slow-close glass lid to check the load while washing
Energy Star certified to save your money and conserve natural resources
36 wash cycle options and eight washer options in this smart washer and dryer
Wi-fi, app, remote access, and voice-controlled laundry management
Cons
Occasional unpleasant rattling noise from the smart washer
Errors in washing heavy loads
Unresponsive control panel 
Pricing
One of the best top load washers, this Whirlpool smart washer and dryer is currently available for $1099.
4. GE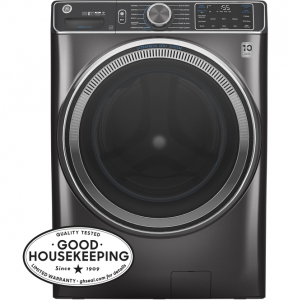 Another best washer and dryer combo is by GE. With 5.0 cu. ft. capacity, this GE Smart Front-Load Energy Star Steam Washer has also made it to the top smart washer and dryer list. This smart washer offers perfect cleaning with a SmartDispense UltraFresh vent system with OdorBlock to eliminate  wet odor with multiple features. Here are the key features of this smart front loading and dryer set.
Key Features
UltraFresh Vent System with OdorBlock toremove excess moisture and prevent odor
Microban antimicrobial technology built into the gasket, draining system, and dispenser
SmartDispense technology with an intelligent dispenser that can hold up to 32 loads
One step wash and dry feature for small loads 
Pros
This smart washing machine has a built-in wi-fi to get real-time updates as notifications on your smartphone
Sanitize and allergen cycle to kill 99% of bacteria and dust mines
Dynamic Balance Technology to provide a quiet wash
Reversible door for washer and dryer
Cons
Random violent shaking in the wash cycle on a few occasions
This smart washer and dryer is not suitable for smaller loads.
Software upgradations required for smooth functioning
Pricing
The GE Front-Loading Washing and Dryer set, with its stylish looks and outstanding performance, is priced at $1199.
5. Electrolux

Electrolux Front-Loading Washer and Dryer set is one of the smartest washers with SmartBoost technology for effective washing. With the perfect steam that rises from the bottom, all the dirt and stains dissolve and go away. This 4.4 cu. ft. is more effective than its other competitors because the Luxcare wash and adaptive dispenser dissolve the detergent first for efficient cleaning. 
Key Features
SmartBoost technology that premixes the detergent with water before the cycle starts   
World's first adaptive dispenser that works with all kinds of detergents
Perfect steam technology to remove any types of stains
Luxcare washing system with temperature control, practical wash actions, and smart load sensing
Pros
15-minute fast wash for deep cleaning required items
Sanitize option to kill and remove 99% of bacteria
StainSoak feature to say goodbye to pre-treat
Energy STAR certified for high-quality energy-efficient cleaning
Cons
No app or voice controls for the smart washer
Price is relatively higher compared to similar front-loading washer and dryer sets
Size is comparatively smaller for a smart washer and dryer
Pricing
This smart washer with an elegant look and effective cleaning action is priced at $1399.
6. Maytag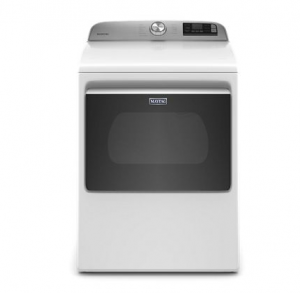 One of the most efficient heavy-duty smart washers and dryers is the Maytag Smart Capable Top Load Electric dryer. It comes with an extra power button for faster drying, extending time, heating, and tumbling. With various optional features for smart electric drying such as remote start, cycle notifications, and more, this is one of the best top load washers.
Key Features
Extra power button to boost drying power by extending time, heat, and tumbling
Advanced moisture sensing for drying loads evenly
Maytag app that allows laundry management remotely
This smart washer and dryer comes with a latch-free hamper door.
Pros
Quick-dry cycle for drying smaller loads
'Wrinkle Prevent' feature to avoid clothes from getting wrinkles after drying
10-year limited parts warranty for drive motor and drum
Reliable with heavy-duty hinges for opening and closing
Cons
Issues with electrical panel
Lint clogs the bottom of the dryer, vent hose, and exterior dryer
This smart washer and dryer makes occasional loud noises.
Pricing
This Maytag Smart-Capable Top Load electric dryer with an extra power button is priced at $899.
7. Miele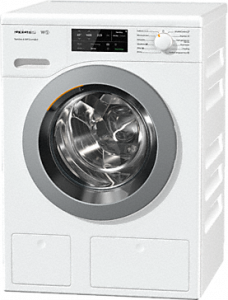 Among the smart washer and dryer, Miele has made its place with its WWF 060 WCS WifiConn@ct. This front-loading washer and dryer set comes with features such as capsule dispensing and 'Miele@home' for smart cleaning and effective performance. This washer comes with a stainless steel tub and honeycomb drum for gentle laundry care. 
Key Features
Honeycomb drum for perfect laundry care
Intelligent washing with automatic load control
Capdosing for perfectly adding detergent, fabric conditioners, and additives using capsules
Manage your laundry remotely and cleverly with Miele@home
Pros
Scheduling laundry care with delay time and 'time left' display
Multiple language support
11 smart washing programs for different types of loads
Saves up to 47% of energy costs
Cons
Slightly overpriced for same size smart washers
Pricing       
This Miele Smart Washer with energy-efficient washing and drying is priced at $1499 all-inclusive.
8. Amana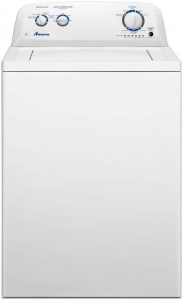 Being one of the best top load washers among all the smart washers and dryers, Amana 3.5 cu. ft. Top-Load Washer with dual action agitator ensures thorough cleaning of loads. This large capacity washer rolls clothes from the bottom of the basket to ensure efficient cleaning. With a durable porcelain tub, you can stay rest assured about the delicate and sensitive fabric. 
Key Features
Dual-action agitator for a thorough, even cleaning
Late lid lock allows any leftover item to be thrown in before the spin cycle
Deepwater wash option for adding more water to get spotlessly clean clothes
It's large capacity washer that helps to take on any size of the load
Pros
Durable porcelain tub to protect delicates and fabrics
A slower spin cycle for the delicates and gentle wash
Extra-rinse option to remove any left-over detergent
5 temperature settings and 8 wash cycles
Cons
Slight scraping noise while agitating
No remote access to manage laundry in this smart washer and dryer
Pricing
The Amana smart washer with dual action agitator and 3.5 cu. ft. is priced at $499 only. 
9. Speed Queen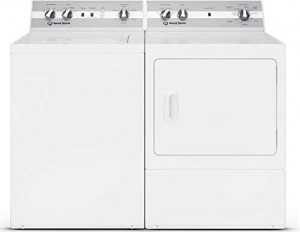 Speed Queen's combo of smart washer and dryer, Laundry Pair TC5000WN 26" Top Load Washer and DC5000WE 27" Electric Dryer, has made it to this list of top smart washers. This pair is perfect for your home as Speed Queen is a renowned player in this industry for the last 25 years. 
Key Features
Durable and long-lasting smart washers and dryers 
Multiple technologies to save energy and money
Moisture sensing for stopping the load when they are dry in this drying machine
Eco-cycle that uses an advanced heating algorithm for saving energy
Pros
Heavy-duty wash performance due to driving motors
Best washer and dryer combo has comparatively faster wash cycles
Speed Queen is known for its quality and heavy-duty components
Best 3 years warranty for entry-level models, and upto 7-year warranty for high-end models
Cons
The electric dryer in the combo doesn't work properly at times 
This smart washer and dryer has a traditional and unimpressive look
Pricing:
You will be able to get your hands on this classic top load smart washer and dryer for around $1200.
Wash away to the future! 
The Internet of things(IoT) is one of the most promising applications of AI because it allows us to replace the image of Ironman working with Jarvis when we talk about technology to -- us normal people, doing everyday things in a smarter manner. 
We hope this article takes your washing woes away. And if you have no issues with doing laundry with a regular washing machine, trust us - a smart washer and dryer is still one of the finest investments you'll make.