What is a 3d pen?
A 3D pen is like a 3d printer that is held and operated by a hand. You can create any shape that you want using a 3D drawing pen. The latest entrant to the world of arts and crafts, a 3D pen is a revolutionary way of creating art in the third dimension through the use of technology. Since their introduction, 3D pens have grown in popularity among artists - after all, this technology is as close as you can get to manifesting your thoughts and ideas in the real world!
How does it work?
The working of a 3D printing pen is simple. It consists of a plastic filament that is heated at a certain point till it melts to a certain consistency. This melted plastic comes out through the nozzle of the pen. That is when you move your hand to create the designs that you want. The plastic cools off and hardens in no time, taking on the shape that you gave it.
Getting the right kind of 3D drawing pen, plastic and so on is very important to creating really beautiful works of art. In this article, we will show you some of the best 3D pens we have come across so that you make the right choices.
But first, how expensive are they?
The simplest answer to this is the classic "it depends on the quality". As it is, 3D pens usually can range from $14 to even as much as $150 or beyond, depending on functionality, quality, etc. You must also consider brand name when it comes to cost because obviously, a branded 3D pen is more expensive. So keep this range in mind when you are planning to buy your 3D pen, but also remember that 'branded' does not always mean great quality.
Keep an open mind, do your research, figure out what features you are really looking for, and you are sure to find the right 3D pen for you. These 11 that we have mentioned should be of some help.
Top 10 3D pens of 2021
If you are wondering which 3D pen to pick, then this list should help you get started. These are our picks of the best 3D pens of 2021.
1. OODLER PRO
The 3Doodler Pro+ is an all-in-one package for any 3D pen ideas you may have. After all, they do say they are the best in the market - so it goes to say that you can expect only some of the best features possible in a 3D pen in this one.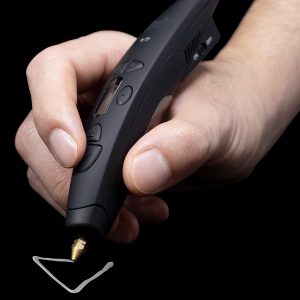 Here are some of the key features of this super-advanced 3D printer pen.
Features:
Higher precision thanks to ergonomic optimization, temperature controls and speed controls.
Removable nozzles
A highly advanced 3D pen that makes it one of the best 3D pens for engineers and architects.
Allows modification of ideas with greater ease.
Temperature control and fan settings let you work easily with materials such as wood, copper, bronze, ABS, PLA and nylon.
Temperature and fan speed are displayed on an LCD- screen.
Pros
Has all the features that you would expect from the latest 3D printing pen.
Advanced features lead to better, more accurate results.
Professional 3D pen meant for use even in most serious and professional projects.
Cons
Maybe a little too complicated - you may not be able to even know its full potential.
Very expensive
Price
This 3D drawing pen is on the super-expensive side, currently priced at $199.99, excluding shipping, on Amazon.
Visit this website to purchase MYNT
2. MYNT
The MYNT3D is a great 3D pen if you are looking for something that offers great functionality at an affordable price. This 3D pen offers temperature control and multiple speed options along with an OLED display that lets you monitor the temperatures that you are working with.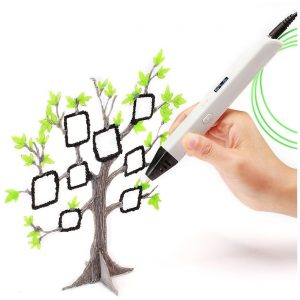 The MYNT3D is also a great option for use by engineers and artists alike, thanks to its advanced, state-of-the-art technology. 
Features
Speed and flow regulations are available.
1-degree increments for a temperature range between 130 and 230 C are available for optimum precision.
Multiple 3D pen filament options.
Recharge with battery power banks possible.
Pros
Easily replaceable nozzle.
Ergonomic design optimized for ease of use and maneuvering.
Super light and convenient to carry around.
You can use bronze and wood-infused filaments as well.
The stylus is found to give pretty accurate and good results.
Easy to use.
Cons
Not too many features.
The design may seem a little bulky to some.
Price
Although MYNT3D does not have too many features, it definitely has all the essentials. And at $59.99, it is a pretty affordable 3D pen as well.
Visit this website to purchase MYNT
3. SCRIB
The SCRIB3D P1 3D printing pen is a highly versatile, super useful device that finds applicability across a number of areas - be it professional, artistic or even at home just for fun. Its versatility makes it one of the best 3D pens to use at home for even repairing minor daily damages around the house.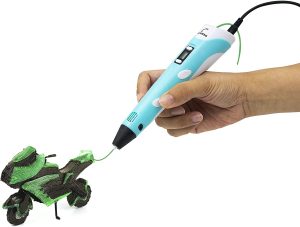 Coming with multiple color options, the SCRIB3D P1 is backed by the amazing support and customer care, overall giving its customers a very happy and satisfying experience.
Features
One of the best 3D pens for beginners.
The ready-to-use kit offers either of these options - 3 colors (15 meters) of PLA plastic or 10 colors (60 meters).
This 3D printer pen works on a plugin adapter.
Designed especially for use at home, and as a fun family task.
Pros
This 3D doodle pen is easier for beginners and comes with proper instructions as well.
The color and length options can help you keep occupied for a very long time.
The ceramic nozzle is designed for higher safety, better results and reduced clogging.
The stepless speed adjustment mechanism makes switching between speeds easier.
Cons
Not meant to be used as a professional 3D pen - so, not a great option for engineers, architects, or heavy-duty artwork.
Needs a power source.
Price
Unsurprisingly, this 3D printing pen is not too expensive and can be purchased at about $41.52.
Visit this website to purchase SCRIB
4. SkyWriter
The  SkyWriter 3D pen is a sleek device that has especially been ergonomically designed to fit beautifully into the users' hands, enabling better more accurate artwork possible.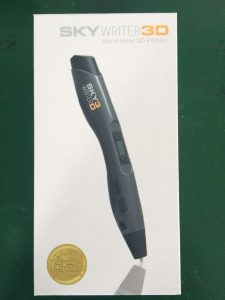 This 3D pen is specially engineered for beginners and for lighter artwork, as well as for children and school projects. The controls and operations are easy, but without any compromise on the quality of the output.
Features
Lightweight
Works with ABS or PLA filament
8 digital speed controls
LED display
Pros
Super light - just about 55 grams. Said to be one of the lightest 3D pens in the world.
This 3D pen has a clog-prevention nozzle.
Continuous extruding is possible with a single press.
The easy control design makes it handy for all groups of users.
Cons
Slightly pricey for the features it has.
Filament options are limited.
Price
The Skywriter 3D pen is priced at $99.99. Although it has fewer features, it is still a great option for all-around purposes and for all kinds of users.
Visit this website to purchase SkyWriter
5. Simo MultiPro
The 3D Simo MultiPro is a 3D doodle pen that means business. An upgrade from an earlier version, the 3Dsimo Mini, this 3D pen has been engineered to offer much more than just the basic artistic features. It comes with added attachments such as a soldering iron, foam cutter, sharpener and so on.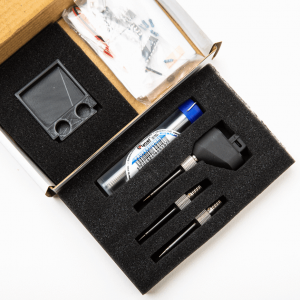 These amazing features make the 3Dsimo Mini a pretty amazing 3D pen that can be used for serious work by professionals such as architects, engineers and so on.
Features:
Detachable tool heads.
Bluetooth compatibility.
LCD screen
Speed and temperature controls
Pros
One of the best things that set the 3Dsimo Mini apart as a really good 3D pen is its attachments that can really be up to your art game.
Anti-burn nozzle.
Built-in Bluetooth that you can be connected with your Android/IOS devices.
This 3D doodle pen also has USB compatibility.
Cons
Since this 3D printer pen was designed for serious business, you will have to be a little careful with it.
Has to be connected to a power source.
Price
The 3Dsimo Mini is slightly more pricy than the other 3D pens in this series starting at about $99 for the 3-in-1 option. The price goes up to $199 depending on the features that you want to go for.
Visit this website to purchase Simo MultiPro
6. Scribbler Duo
Now if you are looking for taking things to a whole new level, then you will definitely fall in love with the Scribble 3D pen varieties. Why? Because apart from all the usual features you would expect from the best 3D pens out there, this one also offers a dual nozzle option!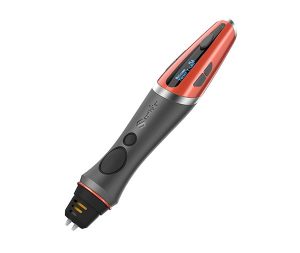 With the Scribbler Duo, you can actually use two colors at the same time simultaneously. This is apart from the other great features that the Scribbler Duo has to offer, making this the perfect device for both, professional as well as personal use.
Features
Speed and temperature control are available.
Multiple filaments options
Ceramic nozzle
OLED display screen
Pros
Dual nozzle technology
This 3D doodle pen has been engineered for application across a variety of purposes - professional as well as personal.
Cost-effective
Apart from the usual PLA and ABS, you also have other 3D pen filament options such as wood, copper and bronze.
Ceramic nozzles are always a pro when it comes to 3D pens.
The wide range of temperature and speed settings promise better precision.
Cons
This 3D printer pen may not be as sophisticated as the other options out there - but for its price, it seems to be a pretty amazing choice. We cannot seem to find any cons yet. However, do let us know if you yourself have any to share.
Price
At $110, this pen is neither too expensive nor super cheap. However, for its features, it is priced perfectly. In other words, you would be getting your money's worth. 
Visit this website to purchase Scribbler Duo
7. Seven Tech
Now, what if apart from the features of the 3D pen itself you are super concerned about the quality of the 3D printer pen - and we mean, more than usual? The 7Tech 3D Printing Pen is the right choice for you in case you don't want to leave even a little leeway about quality.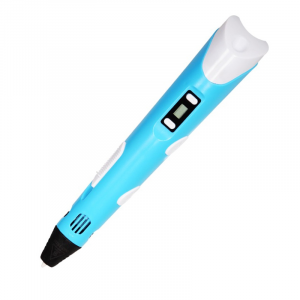 Each 7Tech 3D Printing Pen comes to you after passing through some quality checks by 7Tech. This 3D pen is engineered for use in all situations - by both adults as well as children.
Features
Auto shut-off and sleep.
Ceramic nozzle
Powered by an adapter
Display for temperature
Pros
We just love the quality assurance on this one. Apart from the quality checks, the device goes through, the company also offers 24x7 customer support.
Has features simple enough for a beginner, as well as useful enough for a pro.
The design has been optimized for the comfort of holding easily.
Cons
Cannot be used without being connected to a power source.
Not too many 3D pen filament options available.
Price
At $22.99, this pen is quite an affordable 3D pen.
Visit this website to purchase Seven Tech
8. DigiHero
The DigiHero 3D pen is a simple yet super-useful 3D pen that is perfectly suited for use by children. This pen has been designed for extra safety and for special results when used for arts and crafts. In fact, the company even says that this 3D pen will be useful to develop the spatial skills of children.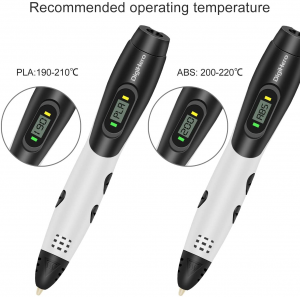 Features
Has filament feed button, on/off switch and indicator light.
PLA and ABS are compatible.
Automatic standby mode after 3 minutes of not being used.
Ceramic nozzle.
Pros
The design has been optimized for ergonomic perfection.
Special heat dissipation design prevents hurting due to heat.
Non-clog technology ceramic nozzle.
The body has a non-slip surface, making it easier to use for longer periods of time.
Their corn-based plastic filament is non-toxic.
Cons
May not give the best results for highly professional projects.
The filament options are very limited.
Has to be connected to a power supply.
Price
At about $97, this 3D doodle pen can prove to be a highly economical gift for children. It has all the useful features at this price.
Visit this website to purchase Digi Hero
9. AIO Robotics Full Metal Premium
The AIO Robotics Full-Metal Premium 3D pen has all the classic features that good 3D pens are supposed to have. Although this 3D pen is not engineered for use for any particular group of people or purpose, it is better used for classroom education.
The features are ideal for beginners or students of engineering and architecture. It is also a more affordable option on the list, which makes it perfect for those who are looking for something that is mid-range with classic features at an affordable cost.
Features
OLED display
Speed and temperature monitoring are available
Compatible with only PLA
This 3D printer pen has ROHS, CE, and FCC certification.
Pros
Temperature can be adjusted by degrees.
Ergonomically designed
Ultra-slim stylus
Cons
Only PLA option available for 3D pen filament.
Not necessarily a professional 3D pen.
Price
At $78, this may not be a better deal than most 3D pens we have listed here. The features are basic, but pretty much do all the basic functions that you would want a 3D pen to do.
Visit this website to purchase AIO Robotics
10. Myriwell Wireless Charging
The Myriwell Wireless Charging 3D pen is an amazing 3D pen that has been designed for all kinds of uses. The design is perfect for comfortable use, and also for long hours of doing artwork. One of the most unique features of this 3D pen is how user-friendly and child-friendly it is.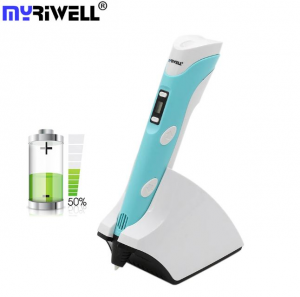 It works at one of the lowest temperatures among other 3D pens. The flame-resistant exterior, adds to the overall safety features of the pen. 
Features
Adjustable speed and temperature levels.
Crystal clear LED display
Battery-powered
Ceramic nozzle
Pros
A biodegradable PLA filament was used.
Easy to use even for beginners
This 3D pen has been enhanced to give a more stable performance despite operation at low temperatures.
The ceramic nozzle lets you avoid damage due to heat.
Wireless technology lets you use the 3D pen anywhere, anytime.
Cons
May seem a bit too pricey for the features.
Price
At $119, you may find that this 3D pen is not exactly cheap. However, it is still a great device if you are looking for something that delivers great results, and yet, is a simple and easy-to-use device.
Visit this website to purchase Myriwell
Conclusion - Looking at the Future
If you love working with 3D pens and are wondering what is next, then you would be delighted to know that the upcoming generation of this technology would involve writing or making art in the air! Yes, this is possible by using light-induced solidification of photoactive resin-based inks that are used along with the LED technology that was developed by Nobel winner, Qingyun Deng. This technology will eliminate the current limitations 3D pens have - such as burnt plastic odor, injuries/damage due to heat, power consumption, etc.
Right now, this light-based technology has not yet become very popular and is still being fine-tuned. Until then, go for our picks of some of the best 3D pens in the market today and bring your 3D pen ideas to life.
Additionally, the next generation of 3D pens would have IoT sensors integrated into them so they would learn from their own creation.