A 'smart' LCD mirror that makes you work out.
A 'smart' baby night lamp.
A 'smart' customizable air sitting cushion that adjusts according to your needs.
These are some of the most ingenious examples of the future of IoT applications. Basically, the traditional use of IoT is no longer restricted to smartphones, laptops, computers, etc. IoT is being integrated with anything and everything, giving rise to an army of smart, inter-connected devices that put human comfort and convenience at its core. Before we look at the top IoT trends, let's cover the basics.
What Is IoT Technology And How Does It Work?
The Internet of Things — also known as IoT — refers to interrelated physical devices or 'things' that can be connected to the Internet. These 'things' are often embedded with software, devices, chips, sensors, and other emerging technologies in order to facilitate the collection and exchange of data with other devices over an Internet network without requiring human-to-human interaction.
Here's how an IoT system works:
Step 1: The sensors/devices in the IoT system gather the required data from their environment.
Step 2: These sensors/devices "talk" to the Cloud through varying forms of connectivity (think: cellular, WiFi, satellite, Bluetooth, etc.) with the sole objective of transferring the data to the Cloud.
Step 3: The software then processes the information to perform an action (without user intervention). For example, for a 'smart' home lock, the lock could send out security alerts in the case of an intruder. The data is typically sent to the user in the form of emails, SMS, notification, etc.
Step 4: In cases where human intervention or input is required, they can use a user interface (such as a smartphone) to perform desired actions or make adjustments. Naturally, the information, in this case, is sent in the opposite direction: Staring out from the user interface, moving to the Cloud, and then going back to the sensors/devices.
Benefits Of Leveraging IoT Technology Solutions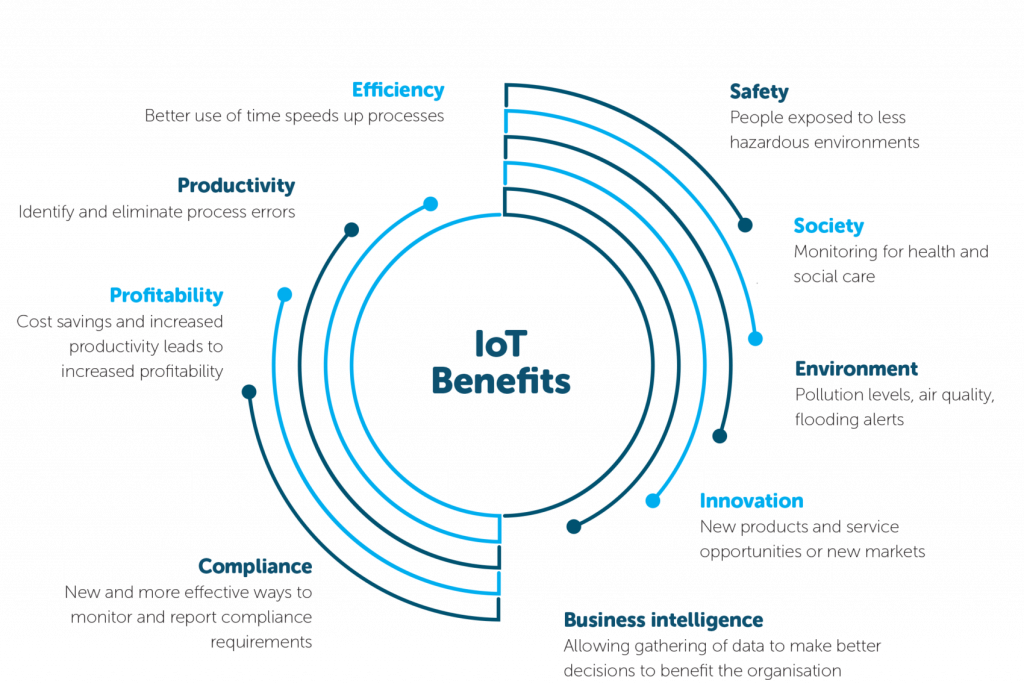 According to the Business Insider Intelligence's Global IoT Executive Survey, IoT can boost a business' bottom line in three ways by:
Increasing productivity and efficiency, with over 62% of respondents opting for IoT solutions to automate parts of employee workflows.
Lowering operating costs, with 29% of respondents opting for IoT implementation to lower labor costs.
Providing greater visibility into business processes and offering valuable information in real-time.
Offering opportunities to expand to new markets and developing new product offerings that allow remote monitoring and asset tracking - a must-have, especially during Covid times.
We've looked at what IoT entails in addition to understanding its wide-ranging benefits. Now, let's move onto the future of IoT and analyze its defining trends in various sectors and industries such as security, retail, healthcare, education, among others.
Top 15 Trends That Will Redefine Our IoT Future Experiences
A. General Overarching Trends
1. The Global IoT Spending will Top 1 Trillion Dollars by 2023
According to research by the International Data Corporation (IDC), the global spending on software and hardware around the Internet of Things (IoT) is projected to reach $1.1 trillion by 2023. Additionally, the total number of Internet of Things (IoT) connected devices will reach 21.5 billion units worldwide by 2025: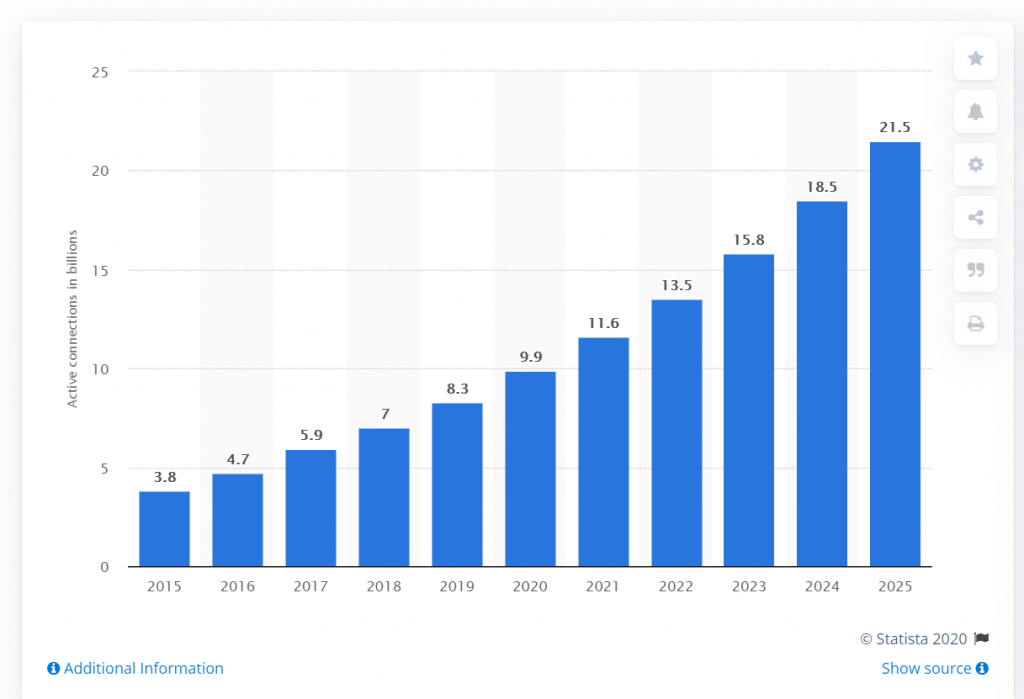 2. Promising IoT Future with 5G Network
The increased spectrum and bandwidth of the 5G network will provide a big boost to IoT execution as users will be able to control more devices via remote IoT applications. Combining the expertise of IoT and 5G, a 5G-powered IoT system will give rise to better smartphones, tablets, wearables, etc. in addition to laying a rock-solid foundation for smart cities, enhanced healthcare, efficient manufacturing, among others.
According to Bill Menezes, a senior principal analyst at Gartner, the primary benefits of 5G with respect to IoT applications include:
Significantly faster data throughput (peaking as much as 4Gbps)
Collaborative and streamlined support for massive machine-type communications
Ability to offer ultra-reliable, low-latency communication (as low as one millisecond) in real-time
3. The Era of AIoT is Upon Us
"80% of all enterprise IoT projects will include an AI component by 2020." - Gartner
Artificial intelligence has penetrated our everyday lives and how - from biometric phones and smart lighting systems to robot healthcare service providers and voice assistants, AI is exploding. But where does IoT fit into the big picture?
Let's say you've set up a voice-controlled smart home security system (an application of AI) that continually gathers critical data about your preferences and tracks your patterns of usage. This machine learning-based system records real-time data and stores it in the Cloud (an IoT application). Machine learning works similarly to an IoT system as it continuously 'learns' from past experiences without the need to program them manually. Notice how AI and IoT work in conjunction to give you the best of both the worlds in the form of AIoT.
To put it in simpler terms, IoT devices can be thought of as the digital nervous system, whereas AI IoT applications function as the 'brain' of a system. Needless to say, the future of IoT is AI-led.
4. Smarter Home Routers will Provide More Secure Data Collection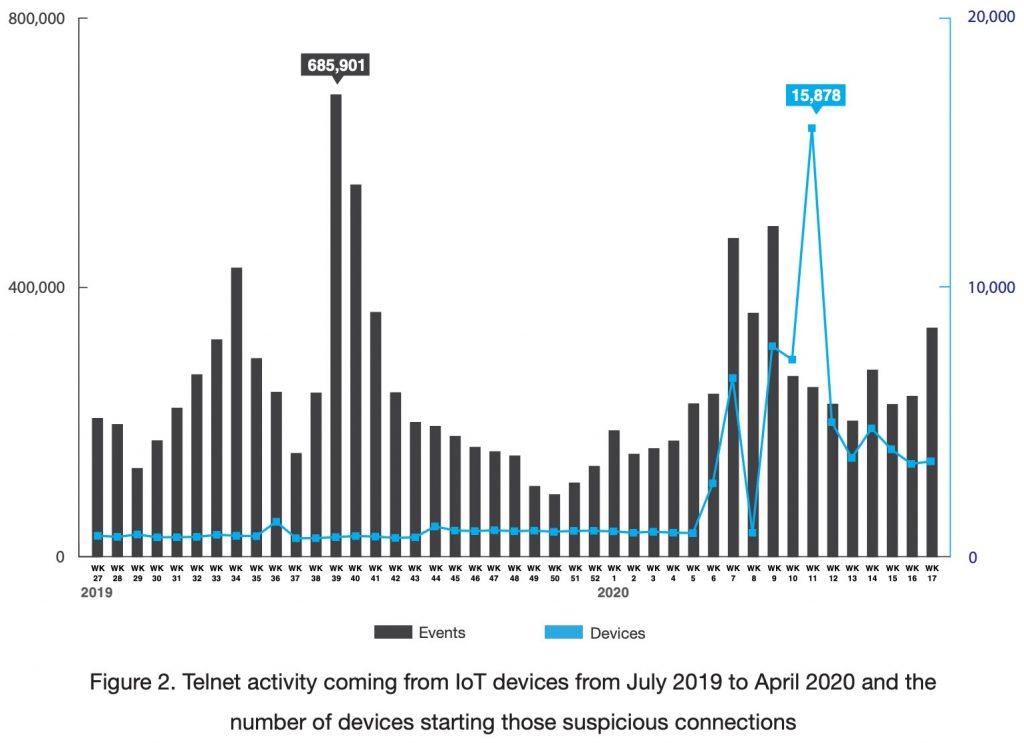 Typically, customer-centric IoT devices don't have security software installed on them, making them susceptible to attacks. This is especially troubling today since most people are relying on the home network to get their work and studies done in an effort to adhere to social distancing measures.
A home router can eliminate some of the cybersecurity danger as it can offer added protection. Users can make use of features such as password protection, firewalls, etc. to offer an extra layer of security. Going forward, router developers will be seen innovating products that offer robust security.
5. Smart Cities As a Concept is Gaining Traction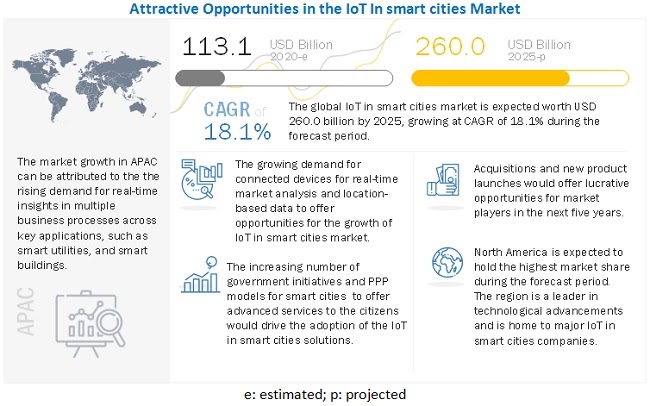 Governments and enterprises the world over are deploying IoT applications to tackle some of the most difficult urbanization challenges - from managing traffic and lowering pollution to ensuring optimal use of infrastructure and keeping the city safe and clean. The central idea is to automate and manage data in a remote capacity through a host of interconnected devices such as video camera surveillance systems, air quality monitors, trash collection via smart garbage cans, etc.: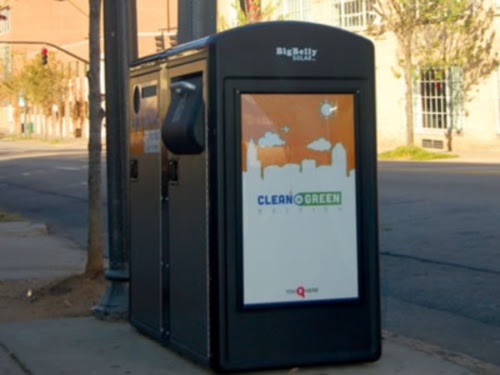 6. Smart Homes Automation will Continue to Gain Momentum
Smart homes as a concept have found many takers, particularly since customers today want the three S's - satisfaction, safety, and security - in a home. From optimizing energy consumption to providing voice-first technology, smart homes are riding the IoT wave: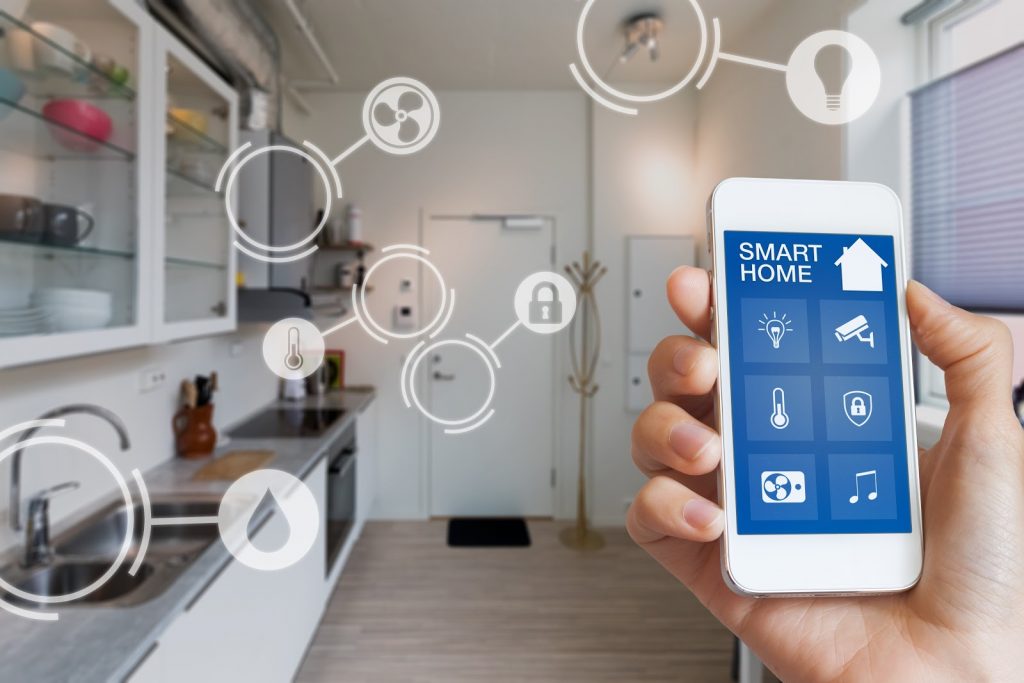 B. Internet of Things Future in Security
7. Security and Privacy Concerns with IoT Devices
There's no doubt that with the rising number of IoT devices, data security and privacy concerns are also heightening. In fact, recent research offers some eye-opening statistics into the need for fool-proofing the future of IoT in security and privacy:
Around 98% of IoT device traffic is unencrypted, meaning that your personal and confidential data is heavily exposed while on the network.
Approximately 57% of IoT devices are susceptible to medium- or high-severity attacks.
A staggering 83% of medical imaging devices run on unsupported
operating systems.
Clearly, going forward, enterprises and government organizations will need to place greater emphasis on establishing better security protocols that support their IoT systems and significantly reduce the possibility of new attacks (like cryptojacking) and offer users more control over their data.
If you would like to read a more deep diver around IoT infrastructure, this blog by Elluminatiinc is a good place to begin with.
8. Blockchain will Emerge As a Reliable Solution for Data Protection
Blockchain is one of the most effective IoT technology solutions to tackle IoT-related security and scalability issues. Basically, a community of users can easily and securely record and share information as well as money between IoT devices. This intuitive IoT technology is increasingly being used by financial institutions, entrepreneurs, governments, and manufacturers. Here are the top-3 benefits of using blockchain for IoT: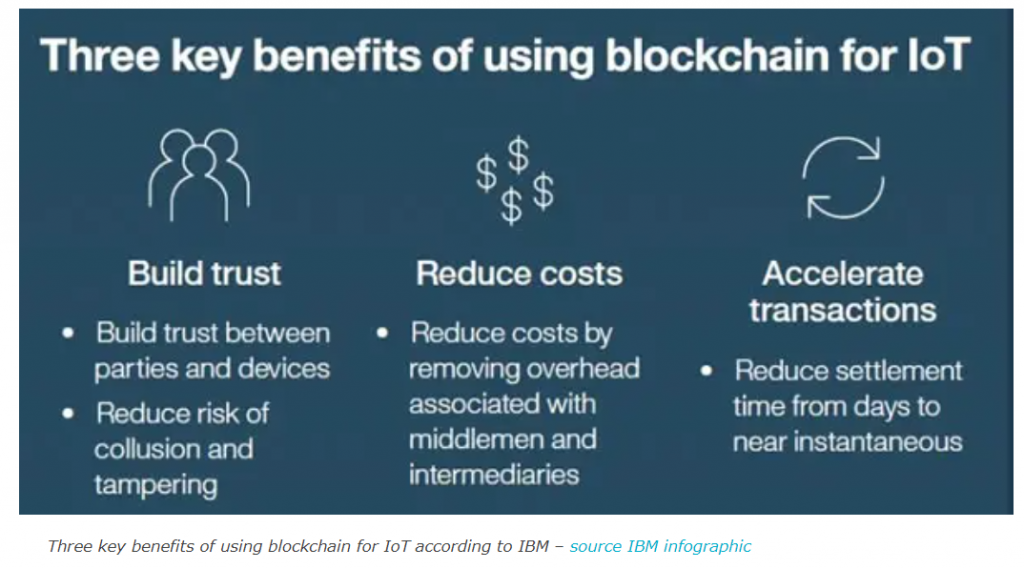 C. Internet of Things Future In Manufacturing
9. Smart Cars
5G-powered IoT devices will transform the automotive industry with the evolution of driverless cars and hyper-connected vehicles. These connected vehicles will be able to analyze your data and connect with other IoT devices as seamlessly as possible.
Automobiles until now have not been conferred the 'smart' status; however, IoT is bound to change that. Take Elon Musk's Tesla, which boasts of level 5 self-driving functionalities and is soon to hit the grounds. According to Musk, "autonomous cars are worth 5 to 10X ones that aren't."
10. IoT Enabled Predictive Maintenance
Predicting the potential damage (think: equipment failure, operational delays, etc.) of your manufacturing process using insightful and real-time data can prove to be a game-changer for your organization. This is where an IoT-led predictive maintenance solution comes into play. It is especially useful for optimizing the manufacturing process as manufacturers can make more informed, data-led decisions and work smart. Plus, these machine learning solutions - embedded with ultrasonic and vibration sensors - can help monitor and manage equipment while identifying data patterns and predicting machine outcomes: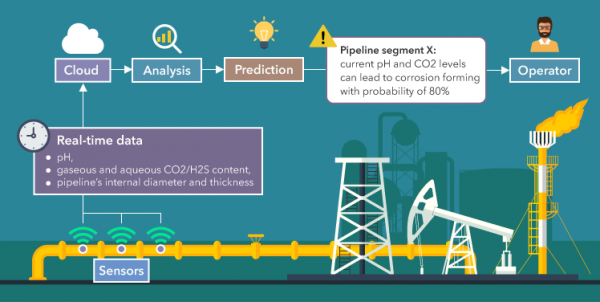 D. The Future Of IoT In Education
11. IoT Solutions for Education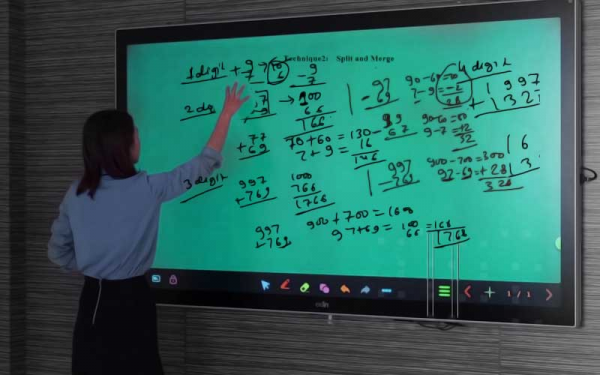 E-learning solutions have always been looked at with a skeptical lens by teachers and parents alike. However, the right kind of IoT-powered EdTech tools and solutions can turn the tide in favor of technology. Here are the top-3 benefits of IoT in education:
Enhances the school management process by tackling paperwork, monitoring supplies, and ensuring proper fund distribution.
Enables real-time data collection, which the teachers can use to boost classroom engagement and drive student performance.
Ensures that the teachers have access to global professional training tools, best practices, and tips. This brings up the quality of education and helps the students in turn.
E. Internet of Things Future In Healthcare
12. Digitization of Healthcare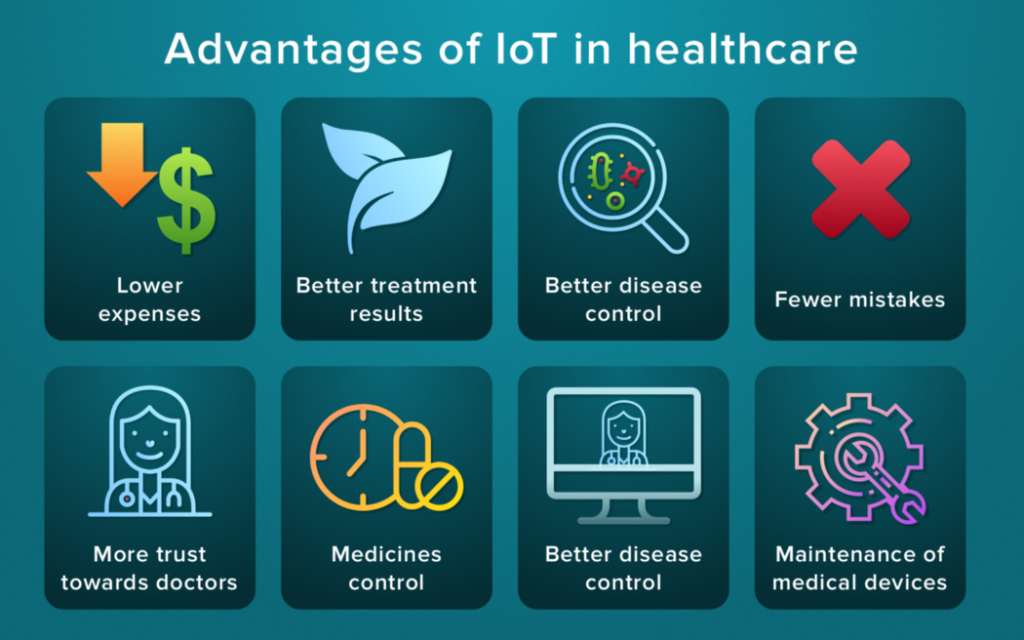 The future of IoT in healthcare seems shiny and bright. IoT-powered devices have empowered healthcare professionals to engage in remote patient monitoring - an asset in the ongoing pandemic. Moreover, wearables such as fitness bands, glucometer, etc. enable patients to access superlative customized care as these devices work 24x7 to offer useful features such as calorie count, appointment reminders, blood pressure checks, among others: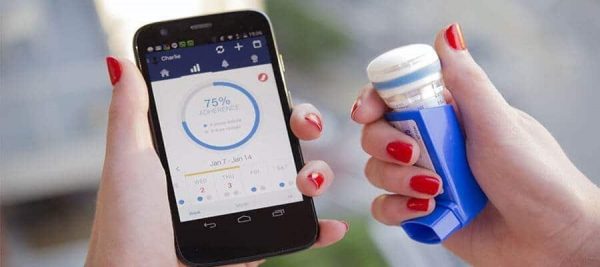 13. Better Hospital Management with IoT Devices
IoT powered devices are emerging as a hospital's lifeline and leading the charge in healthcare as it allows the hospital staff to track medical equipment like wheelchairs, defibrillators, etc. in real-time. Additionally, the staff can monitor where and how the medical team is placed across different locations to optimize and streamline the healthcare process and ensure that the patient outcome is highly-efficient and satisfying: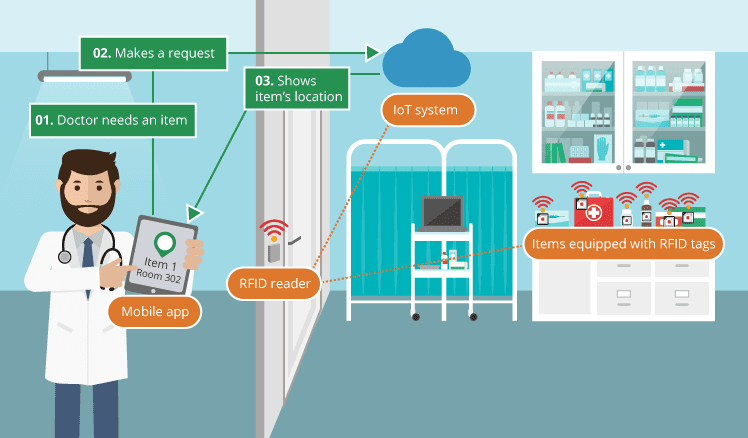 F. Internet of Things Future In Retail
14. IoT in the Retail Sector
The market value of IoT in retail will grow to $94.44 billion through 2025.
IoT and retail are a match made in heaven, with the former all set to innovate the retail industry in the coming years. A seamless IoT integration can empower retail companies to:
Build customized and successful marketing campaigns based on user data and customer behavior
Streamline inventory management
Lower operational costs
15. Customer Experience Optimization is the Future of IoT in Retail
Using IoT devices allows retailers to gather useful data about customers in real-time. This, in turn, helps them to create segment-based customized communications and build a stronger relationship with the user. IoT-enabled sensors can monitor a customer's habits and share actionable insights with the sales and marketing teams.
Take, for instance, Target's example, which makes use of IoT-empowered beacons to gather customer data and roll out hyper-personalized content. Plus, the customers can download the 'Target Run' app on their smartphone and get relevant product recommendations: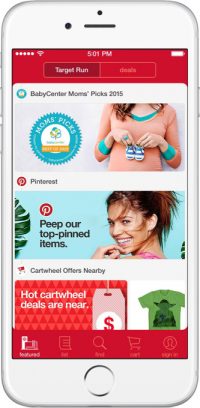 Wrapping Up: Where's The Future Of IoT Headed?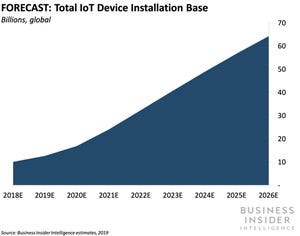 All things considered, the potential of the Internet of Things devices is enormous and remains untapped. For all practical purposes, IoT can be thought of as a connector between technology innovation and business goals. IoT is not so much about simply deploying fancy technology; it is about extracting real-time benefits across sectors, industries, and individual use cases to ensure that your enterprise-customer relationship remains as honest, seamless, convenient, and interconnected as ever. Thoughts?