According to the National Home Education Research Institute, over 1.6 million Americans are currently home-schooled. Not only that, but 47% of the country's parents are not satisfied with the quality of K-12 education. Kids don't feel any better as well.
Here's what statistics show:
70% of students feel bored at school all the time.
80% of surveyed kids feel constant stress.
75% of school-attenders answered a 'How are you doing' question with a negative reply.
The reasons for this could be:
Non-engaging way of teaching
Burnt out teachers
Safety concerns of parents
Unimaginative and dull pedagogy
The solution? A digital transformation in school administration through the Internet of Things.
What is the Internet of Things (IoT)?
IoT is a network of objects (hardware and software) connected through the internet with sensors and software to transact data and information back and forth.
We have IoT technology practically across all aspects of our lives. And we can't necessarily see all the IoT devices, but we do experience their benefits.
Although we can't see it, we're experiencing their benefits. IoT benefits for businesses, governments, and common people include optimized shipping times, smart home security systems, better healthcare technology, games with motion sensors, and smart traffic lights. 
According to Deloitte Insights, IoT will improve many aspects of our lives like the economy, competitiveness of businesses, sustainability, and, more importantly, education.
Revolutionizing Education with IoT
One significant aspect of our lives that IoT technology will transform is education. IoT devices are changing the way we process and absorb information for the better.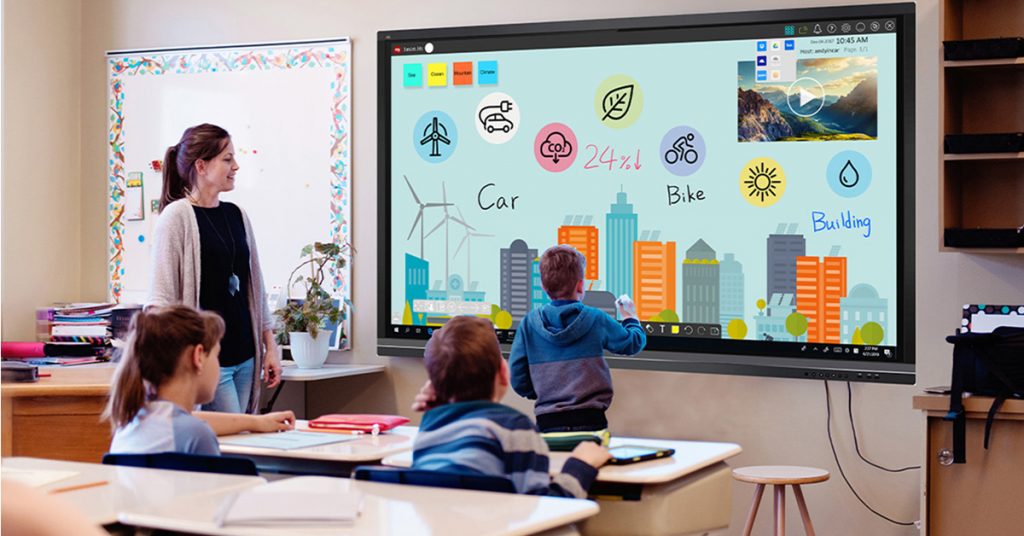 A recent study by Microsoft and London-based YouGov stated that 60% of parents were optimistic about the role of smart classroom technology in their child's life. And, 86% of parents also stated that their children would benefit from using technology in school.
It will be particularly easy to start enjoying the benefits of IoT technology in the education sector partly because students are very used to being around smart devices. This could be the first positive sign of a successful transformation in education.
Source: eMarketer
But smart devices and Smartboards in classrooms are just the first steps. The potential has no limits. Here are the major Internet of Things benefits.
Automate attendance
Record a students location on campus
Blocking exists when one tries to leave at an odd time
Create digital ID cards for students
Expand smartboard functionality to be more interactive
Improve sensors in the HVAC system for temperature and weather control
Increase the efficiency of lighting, and implement predictive maintenance for school equipment and infrastructure.
Create a cashless environment at school
Transcending the traditional way of teaching and studying
Keeping parents in the loop from assignment marks to kids' journey in the school bus
Let's discuss all of these Internet of Things benefits in detail.
6 Benefits of IoT in the Education Sector
Here are the Internet of Things benefits in the education sector.
1. Better Use of Smartphones and Tablets
There is no separating kids from their smart devices these days. Kids, now more than ever, have access to smart devices, and their screen time has increased significantly. While parents and guardians should monitor children's screen time, there are also significant benefits of kids using smart devices when it comes to education.
IoT devices use many software and sensors, in addition to smart devices, to create smart classrooms for students. With IoT, schools can create a smart infrastructure where students can use their smartphones or tablets to participate in the class and log in to their learning software.
Students can enjoy the screen size of their tablets, and they can make the best virtual notebooks and textbooks for them. They can mark important paragraphs, doodle, make little notes on their digital textbooks amongst hundreds of other things.
Major Internet of Things benefit is it gives students the gift of learning in more than one way. Students can move beyond the traditional desk-and-blackboard onto a smart classroom environment using their smart devices and learn through videos, webinars, discussions, debates, and group activities all administered over the Internet through internet connectivity.
PROMETHEAN WORLD
Seattle, Washington
Promethean is a good Internet of Things example. They design interactive displays that combine natural writing technology with multi-touch and dry-erase features. It also includes a cloud-based lesson delivery software.
Palmer High School from Colorado deployed Promethean's system in its English tutoring and media centers for students to better interact with the study material.
2. Higher Student Engagement
The attention span of kids has significantly decreased after the advent of social media. The shorter a piece of content requires your time, the shorter your attention span gets. Endless browsing through Facebook and Instagram feeds does this to young brains.
While regulation to social media time can help, making teaching more engaging for kids is the need of the hour. Internet of Things benefits kids to increase their attention span and learn things quickly.
Since IoT uses the internet, it allows students and teachers with myriad avenues to study and interact with each other.
Take an example of interactive teaching software.
An interactive teaching software can as opposed to traditional teaching uses:
Visual storytelling
Sounds and animations
Simulations of scientific phenomena
Quizzes, and
Dialogues amongst other things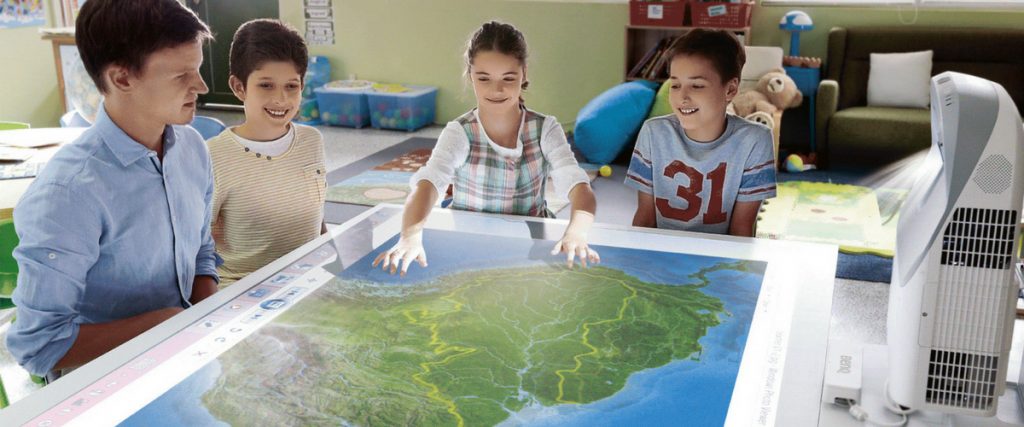 This takes the student learning experience on a higher level; not only will the kids grasp concepts faster but also be able to recall them for a longer amount of time. Students can also get instant feedback on their knowledge through quizzes.
3. The Ultimate Support for Specially Abled Students
The major Internet of Things benefit is that it can create an inclusive and functional environment for specially-abled kids.
With the help of IoT, school administration can meet the special educational needs of autistic students, have ADHD or other learning disorders, or have any other disability.
Schools can create special teaching programs according to their special needs. For example, they can create a "read text" option for students with an impaired vision wherein such kids and get their textbooks read out to them.
Furthermore, IoT can also identify the parts where kids find it difficult to understand. They can then make changes in the study material accordingly. Internet of Things benefits teachers by allowing them to create custom interactive learning modules for kids finding it difficult to do well in studies and also for specially-abled kids.
With IoT, specially-abled students can catch up with the rest of the kids since they get the extra attention they require.
Snap Core First
Redmond, United States
Microsoft is leveraging AI and IoT to help special kids become more engaged and active in their learning. The technology giant company uses its app Snap + Core First, a symbol-based communication app, to help special children with language and speech disorders to express themselves quickly and clearly.
This intuitive and engaging symbol-based app has a variety of a full range of text to speech voices, pre-designed button layouts, free cloud storage backup, and smart assistants.
4. Automation for Teachers
This IoT benefit makes the lives of teachers easier as well, along with the lives of students.
IoT enables automation in the classroom, which allows teachers to focus on freeing up their time. Automation can help with high-frequency repetitive tasks of teachers like grading close-ended answers and taking attendance. It also helps them teach students in an interactive manner to grab their attention and effectively make them learn concepts.
Rather than being distracted by taking notes during a class, thanks to IoT, smart microphones can transcribe the teacher's daily lessons, which can be shared as digitally printed notes. The microphone can also record and save the audio for students to playback everything later on when they need to revise.
Furthermore, IoT saves teachers the headache of students not following up with tasks like assignments. It automatically updates students' digital planners when the teacher announces the word assignment through the smart microphone, leveraging the voice recognition technology.
KALTURA
New York, New York

Another example of the Internet of Things is Kaltura. This is a video management and creation tool for teachers that enables them to create, edit, and deliver live or on-demand high-quality videos to any device. This software helps teachers to increase interactivity in their teaching content to improve the overall learning experience.
5. Smart Cards and Access Control for Student Safety on Campus
Another essential internet of things application is ensuring the safety of students on school campuses. With the help of RFID technology and IoT-enabled access-control devices, it is possible to track each student's location and control their movement.
This can be done by providing students with RFID wristbands or smart ID cards. So, as soon as they enter school, their presence will be registered. Their location can be tracked for the entire day as well, which is critically helpful in an emergency. The Internet of Things benefits schools when it comes to the kids' physical security; if students decide to play truant, access-control devices can be used to lock doors, thus preventing them from exiting.
Additionally, linking access-control to the internet means that schools can keep the parents automatically updated on their child's location.
This will also help school administration and parents effectively track students' attendance and punctuality reports, which will be produced automatically and accessible in real-time.
MAGICARD
Weymouth, U.K.
Magicard is a good example of the Internet of Things that enables an access-control system. Their printers make various student smart cards that can be presented to a reader and linked through IoT to an access control system.
These smart cards can be used for physical access to facilities, record time and attendance, photo ID with a hologram, monitoring data like coursework, e-learning resources, printers and Internet, loyalty, and membership. It is helpful in payments for vending machines, printing, photocopying, etc.
6. Mitigating Issues Involving Physical Cash
Another Internet of Things application is creating a cashless environment. The cashless environment at schools provides a host of benefits. Apart from preventing students' need to carry cash, it also makes school administration run smoother.
For instance, canteen staff will not have to indulge in bartering lunch money. This will result in the queues becoming smaller, and service gets sped up. Additionally, the cash won't go missing or get stolen.
This is a photo from 2016 of one of the schools in the East Ayrshire Council area where all the schools have adapted to digital payments for their meals.
There is an additional fear amongst parents if their kids indulge in illegal substances or activities at the campus. Keeping track of their money is a full-proof way to quell that anxiety.
As all payment collection terminals will be connected to a central system over the internet, school administrators can have real-time monitoring and reporting of all transactions made throughout the day. IoT, therefore, mitigates all need to tally up money at the end of each day as this is done electronically.
BLACKBOARD
Washington, DC.
Blackboard offers what they describe as a "connected learning experience and support network" for schools. It is a digital learning environment designed to personalize the educational experience. Among other things, it keeps parents, students, and others updated with the latest grades, attendance, events, journey to and fro from home and school in the bus, and news of the child.
The company's Blackboard Mobile Credential support allows children to add their student ID to their iPhone or Apple wallet to enjoy secure access to campus buildings and pay for all campus services.
Conclusion
It is not a long time from now that IoT benefits will be understood and experienced across all the schools. In a way, the internet of things benefits every individual kid, parent, school staff, and teacher in a positive way, directly. In the near future, every single school and classroom will implement the latest in IoT and EdTech. Internet of Things benefits in the education sector will profoundly impact the entire nation's growth and how we, as modern humans, move further.
IoT will bring about a much-needed revolution in the education industry. The internet for things benefits will range from better student engagement, no lunch queues, more interactive teaching methods, improved school security, freedom from traditional classrooms to more time for teachers to relax between grading papers.