Smart medical devices are the application of IoT in healthcare. 
According to Data Bridge Market Research, the global smart medical devices market will grow up to 21.37 billion dollars by 2027.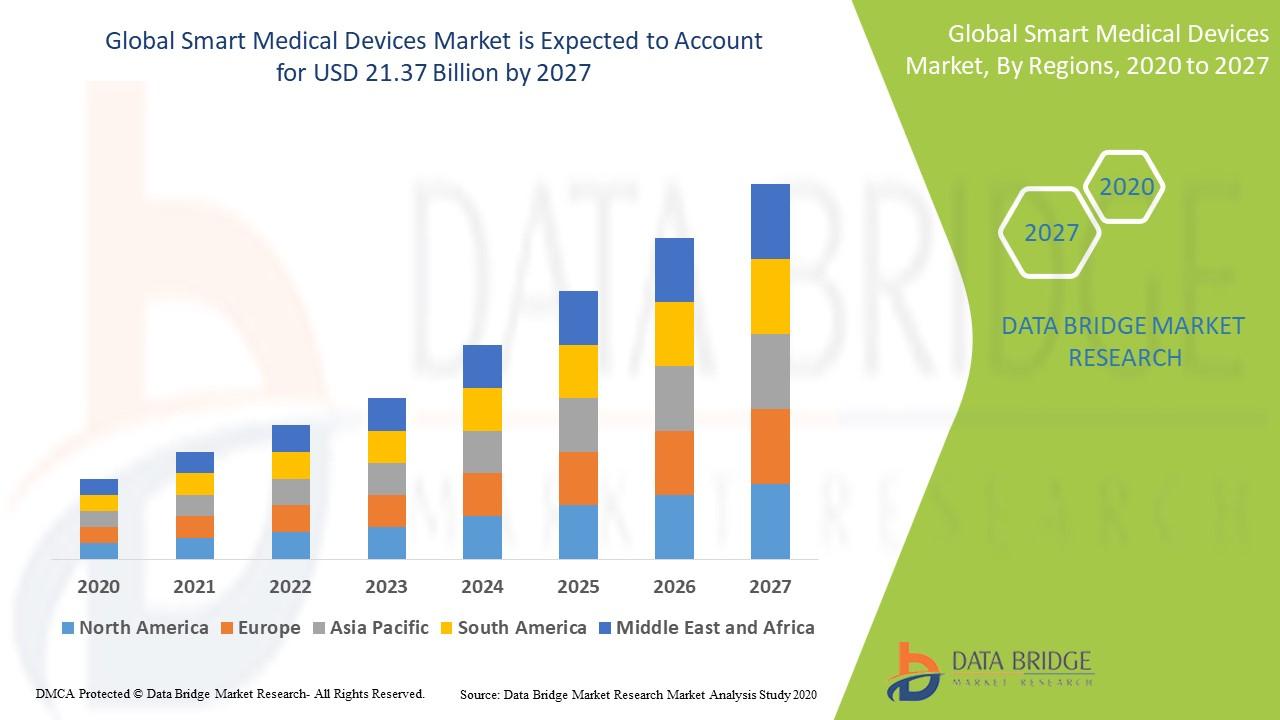 Smart medical devices and smart medical systems are the future of healthcare. They mitigate several problems that impede delivering good healthcare to people worldwide. Along with smart medical devices, smart healthcare devices also add to human life's quality and longevity. 
These smart devices are synonymous with smarter living.
Here are some of the disruptive and breathtaking smart medical device examples that in a way, go on to show the golden era of human healthcare.
1. TytoHome, Remote Health Examination Kit by TytoCare 
TytoHome is the futuristic replacement of the basic medical healthcare devices people have at home, like thermometers and stethoscopes. TytoHome is a smart medical device kit that allows you to remotely consult with a trusted healthcare professional to monitor health, conduct a guided health check-up with BYOD healthcare, and get a diagnosis and a treatment plan, all at the convenience of your home.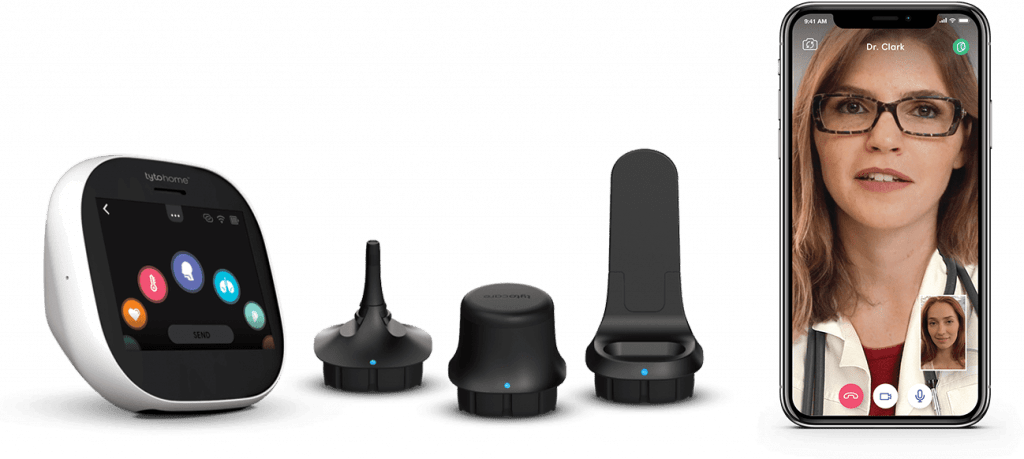 This telehealth smart medical system consists of a digital camera and thermometer. This at-home diagnostic kit also includes accessories like a tongue depressor for examining your throat, an otoscope for ears, and a stethoscope for the heart, lungs, and abdomens.
These smart medical devices sync to the TytoCare app, making your consultation go beyond a phone or video chat by providing vital health data to doctors. The TytoCare trusted doctors are available round-the-clock.
Price: $299.99 or $25/mo
2. LARQ, Automatic Water Purifying Water Bottle 
Impure and unhealthy water cause a host of diseases like diarrhea, cholera, dysentery, typhoid, and polio. 
LARQ is a US-based company that allows you to purify water from rivers or human-made sources. Their proprietary PureVis™ technology uses a UV C-LED chip that eradicates up to 99.9999% of germs, bacteria, protozoa, and other harmful bio-contaminants without using toxic chemicals like Mercury.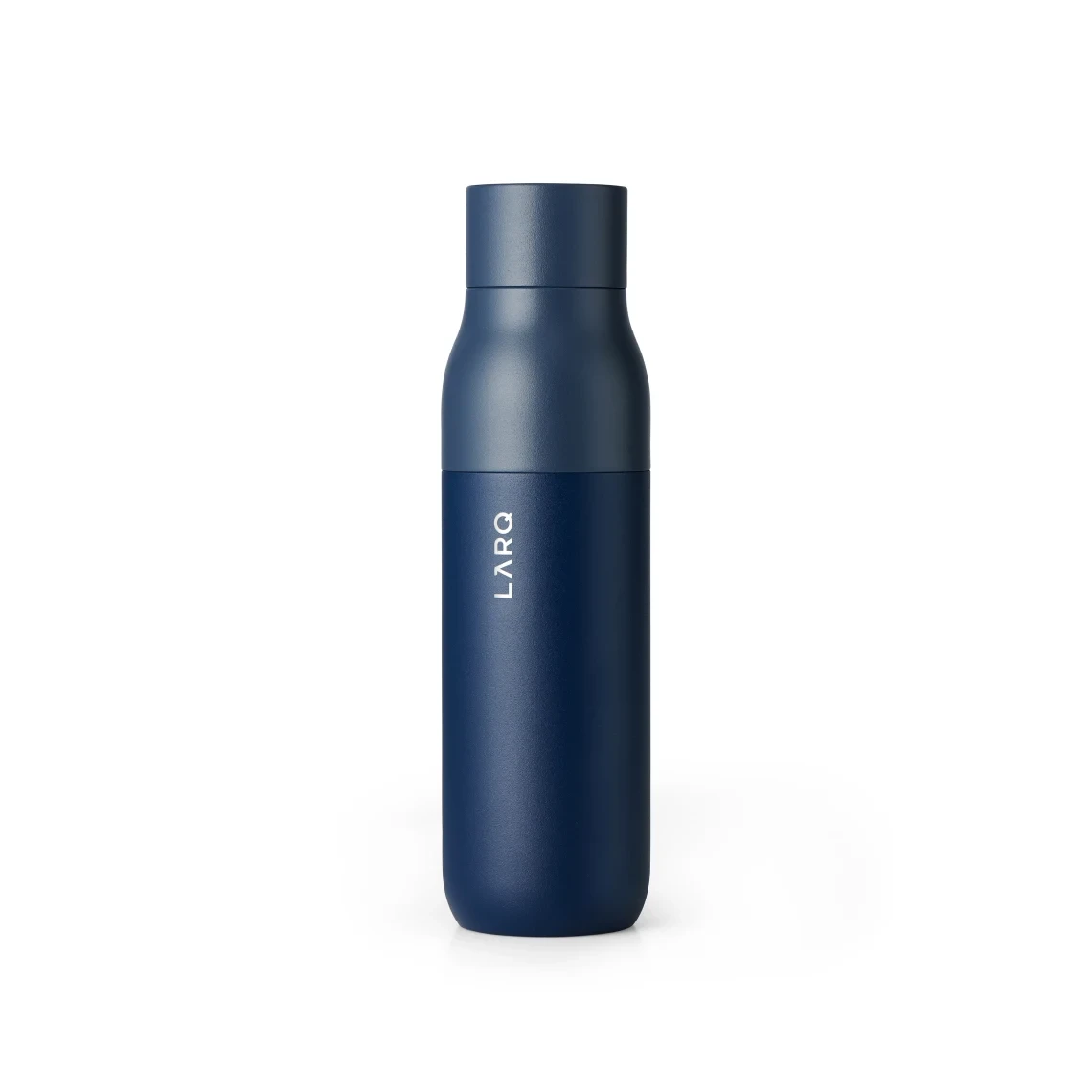 LARQ automatically purifies water of all harmful contaminants in 2 to 3 minutes and also makes it stink-free. See where LARQ bottles stand in comparison to regular bottles, bottles with filters, and Mercury-based UV pens.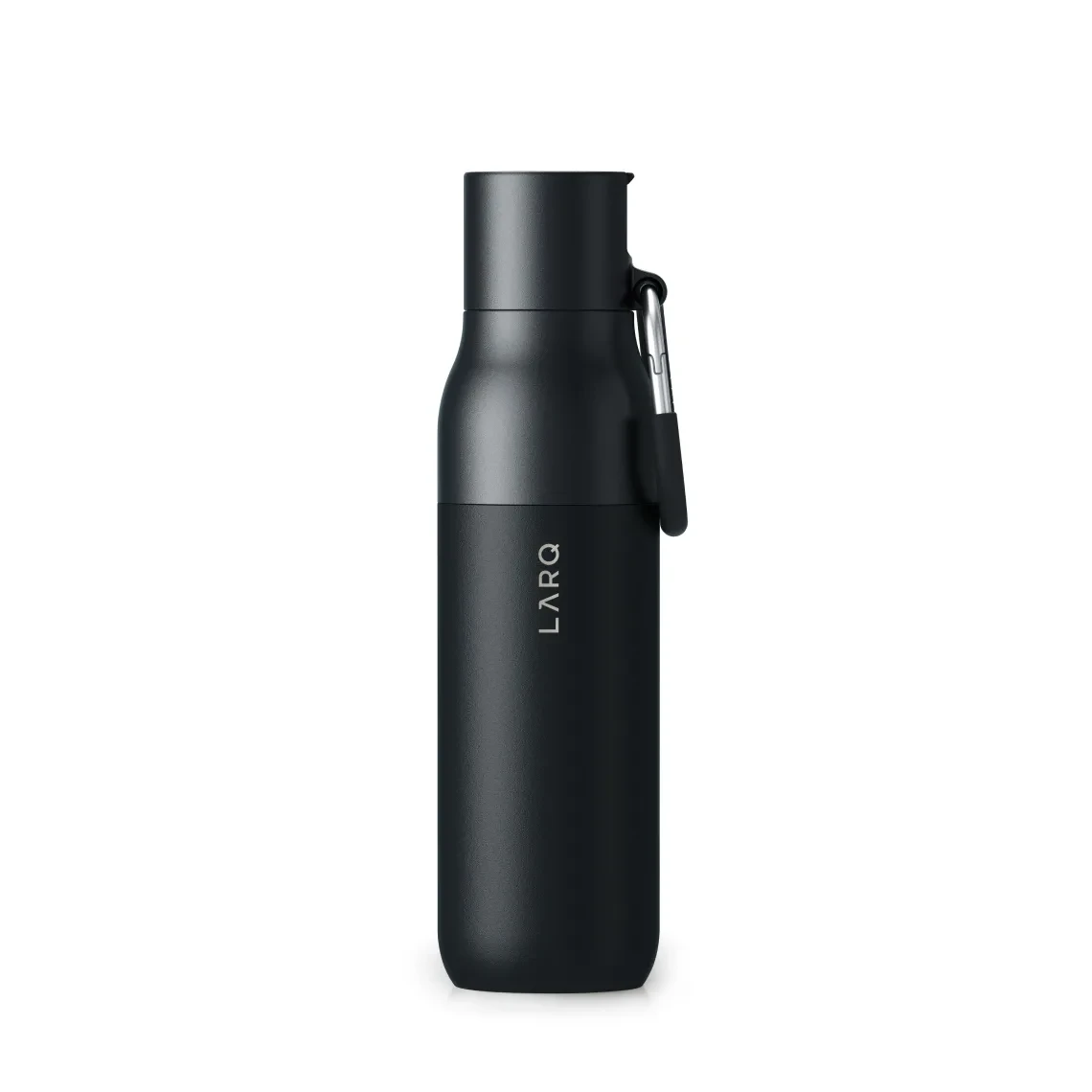 This smart device can come in quite handy while traveling, where finding bottled or purified water could be a challenge. Considering the hazards related to drinking contaminated water, LARQ is a fine smart medical device example.
The purification system runs on rechargeable batteries that last for 1-2 months. 
Price: The price varies between $78 to $118 per bottle.
3. ADAMM, Smart Healthcare Monitoring System for Asthma 
Asthma is a chronic condition that afflicts millions of people worldwide. According to the CDC, "Asthma is under-diagnosed and under-treated."  
Most people with asthma don't know they're having an attack until it's in a pretty advanced stage, which is unpleasant, not to mention dangerous. It makes interventions such as medication and stopping the triggering activity less effective.
ADAMM Intelligent Asthma Monitoring is a wearable technology from Health Care Originals that prevents a bad asthma attack by identifying an oncoming asthma attack before the symptoms appear.  
This smart healthcare monitoring system can be stuck to a patient's torso, wirelessly monitor any respiratory symptoms, and transfer that vital data to the phone through Bluetooth or healthcare professional.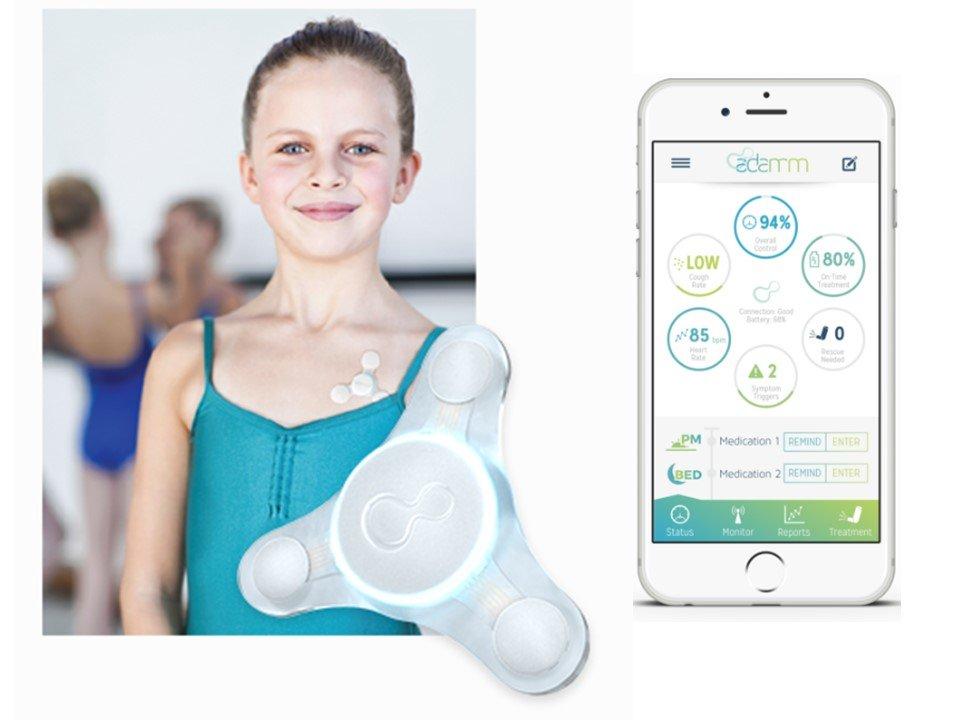 The wearable also vibrates whenever your symptoms deviate from your norm, notifying you or your doctor of the deviation so that you can prevent an on-going asymptomatic asthma attack.
This smart medical healthcare solution also gives timely reminders to patients to take their asthma pump, record voice notes, amongst other things. 
This smart medical device is soon to be launched. 
4. iHealth Smart Wireless Glucose Monitoring System by iHealth Labs 
Another smart medical device example is iHealth Smart. It is a 510(K) Approval and CE Certified smart blood sugar monitoring system. It is a futuristic smart take on traditional glucometers. 
With this smart medical wearable, a diabetic patient can see their sugar levels as a digital logbook in the iHealth app. The data is represented in easy-to-understand, color-coded data, charts, and graphs. 
This smart healthcare solution makes testing sugar levels very easy. It is a detachable dongle that latches onto your iPhone's or other smartphones' bottom.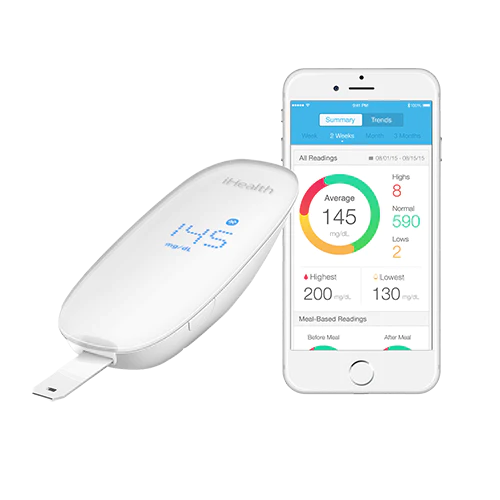 You then take a sample of your blood on one of the iHealth's test strips. Now slip the strip into the dongle. The iHealth app registers your glucose level and shows it to you in a color-coded format. 
Price: $29.99
5. Ara, Smart Toothbrushes by Kolibree 
The people at Kolibree lead with the belief that smart objects have an important place in our daily lives. This is more true when it comes to healthcare and connected devices. 
Kolibree is one of the first companies to bring smart medical devices to dental healthcare. 
Their smart medical device is Ara, the first electric smart toothbrush. It can analyze your brushing habits with your iPhone or any other smartphone. It helps you monitor the frequency of brushing your teeth, easily offers access to advice from oral healthcare professionals, and even keeps track of children's missing teeth.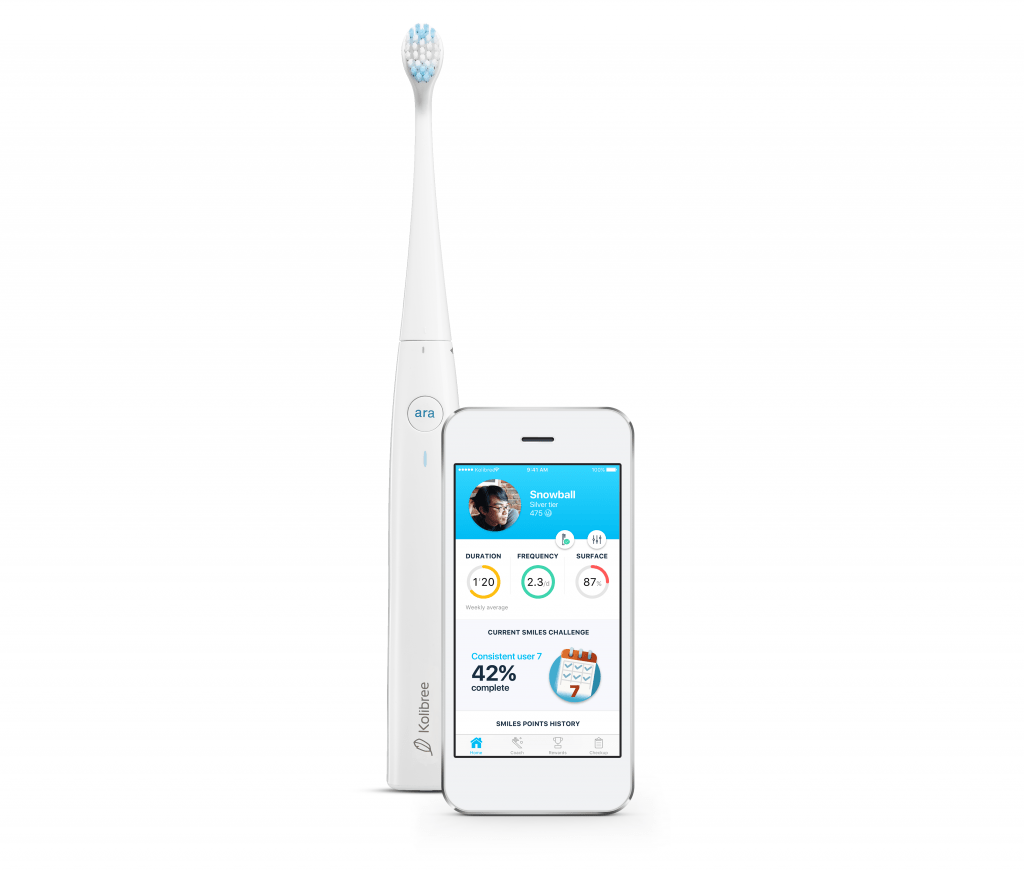 Its gentle, smart vibrations do not harm the sensitive gums of kids. Ara also happens to be the lightest electric-connected toothbrush on the market (2.5 Oz).
This smart healthcare solution is equally designed, if not more, for children. For instance, a game feature for kids helps them learn good dental hygiene. 
Price: £129.00
6. Tellspec, Food Ingredients Analysis 
Tellspec develops and produces innovative, intelligent sensors and data analytics solutions to analyze foods and medical specimens rapidly.
They promise to be the global leaders in ML-based cloud spectroscopy (the branch of science concerned with the investigation and measurement of spectra produced when matter interacts with or emits electromagnetic radiation) for data analysis.
TellSpec is a biotech product that can analyze your meal's ingredients or whatever you point it at and send this information to the smartphone app. You point the hand-held device at the food and see the results on your app. It also conducts food fraud detection in the same way.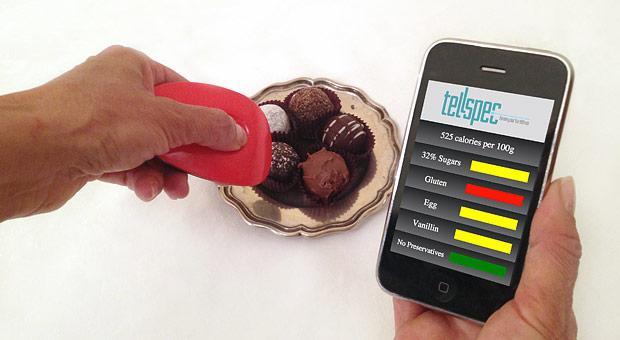 This smart medical device is a disruptive piece of technology for people who live with certain allergies like nut allergies, have celiac disease, are lactose intolerant, are diabetic, or want to lose or gain weight. 
Price: $1,899
7. Kinsa, Smart Thermometers 
Apart from monitoring your temperature, the app also enables you to keep track of changes and pass on whatever information you have to your physician.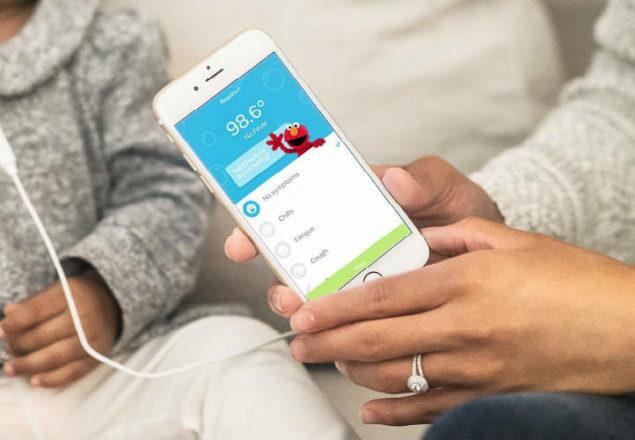 During the coronavirus pandemic, Kinsa thermometers have been helping big time. They send the data of patients to the healthcare providers even before the patients reach the hospital. 
Here are the features of Kinsa smart thermometers.
Precise guidance based on age, fever, and symptoms to know if you need to visit a hospital or isolate at home regards to coronavirus
Kinsa allows you to know the danger in your area by gathering information on a particular illness's levels spreading in your locality.
It helps you keep a log of your family's health for your reference and show to a doctor when you visit one.
Create personal accounts to access your health history across several devices.
Set reminders to take medicines on time. 
"Ellie the Elephant" game on the screen to keep kids still for a fast and accurate reading 
Price: $27.99 and $39.99
8. FoodMarble 
FoodMarble's website reads nice and clear, "Take the guesswork out of eating."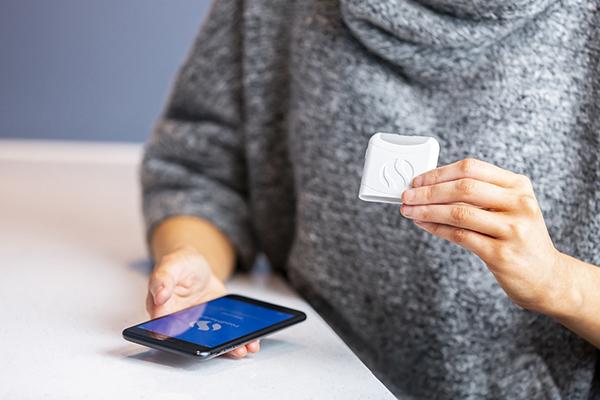 And it's function does the same. FoodMarble is one of the most disruptive smart healthcare monitoring systems. FoodMarble helps people figure out what works best for their digestive system without resorting to trial and error that never guarantees results. 
Did you know digestive problems do not exhaustively mean acidity? Digestive diseases result in nearly 200 million sick days, 50 million visits to general physicians, 16.9 million absentees at school, 10 million hospitalizations, and nearly 200,000 deaths yearly.
For FoodMarble to work, you must enter what you ate and when in the app and blow on a connected device.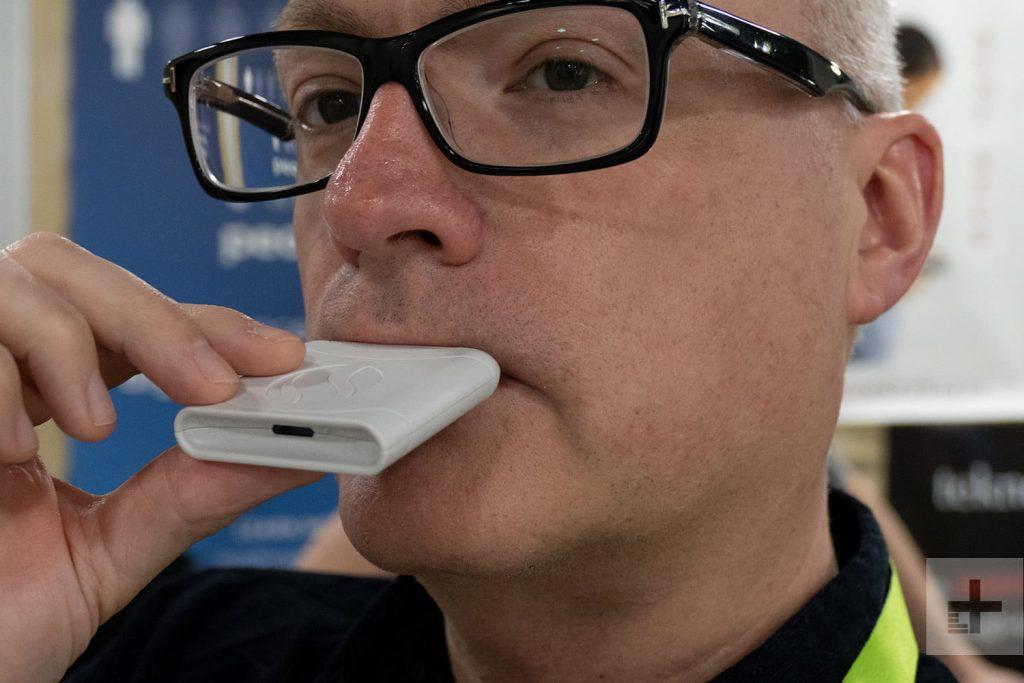 This smart healthcare device uses hydrogen breath testing, a technology practiced in some of the leading hospitals today. Here's how it works.
When the food isn't digested fully by the stomach, the stomach bacteria try to break it down. This process releases small amounts of hydrogen, which is then absorbed into your bloodstream. This is then transferred to your breath through the blood in your lungs, which is then detected to see what kind of food you're not able to digest. 
Conclusion 
All the technological advancements that happen in society have the same end goal--the well-being of humankind. The well-being of humankind means the well-being of their mental health and physical health. 
When it comes to Technologies transforming healthcare, Clearly, IoT is the pulse of healthcare. Artificial intelligence and Machine Learning are taking successful strides toward making human healthcare more potent than ever before. 
These smart medical devices and smart medical systems only go on to say one thing we are in the golden age of human healthcare.