What is Big Data Analytics
Big data analytics is an advanced analytic technique of extracting useful information by analyzing various big data sets. It helps identify underlying patterns, predict market trends, and consumer preferences for the businesses to make actionable data-driven decisions.
The big data analytics market will reach $103 billion by 2023. (Source: Wikibon)
Poor data quality costs the US economy up to $3.1 trillion yearly. (Source: IBM)
Using big data, Netflix saves $1 billion per year on customer retention. (Source: Statista, Inside Big Data)
And big data analytics tools are the ones that facilitate this.
What are the main Big Data Benefits?
The main big data benefits as experienced by businesses are as follows.
Help make data-driven decision
Saves time and resources
Mitigates business errors and risks
Empowers all business verticals
Criteria for selecting Big Data Analytics Tools
The following big data applications help in selecting a Big Data Analytics tool.
1. Analytic Capabilities
A big data tool should help you leverage artificial intelligence and machine learning to process business data into actionable insights.
2. Integration
An ideal big data analysis tool should seamlessly integrate into all the business process tools and streamline all business silos.
3. Data Import & Export
A standard Big Data Analytics tool should help seamless migration of massive volumes of data to and fro from on-premise servers or cloud architecture.
4. Data Visualization
It should allow users to translate complex big data sets into helpful and understandable data visualizations. It should also create business-applicable reports, visualizations, and dashboards based on discoveries inside the data sets.
Top 10 Big Data Analytics Tools of 2022

Now that you have known the basics about how to choose the right big data analytics tools. Here are the top 10 Big Data Analytics tools of 2022 that I recommend: 
1. SAS 
SAS is a leading enterprise big data tool, SAS translates your business data into intelligible insights that would help you make data-driven business decisions.
Its easy-to-use analytics, automated forecasting, and data mining capabilities enable businesses with data-driven insights to quickly overcome challenges and scale growth.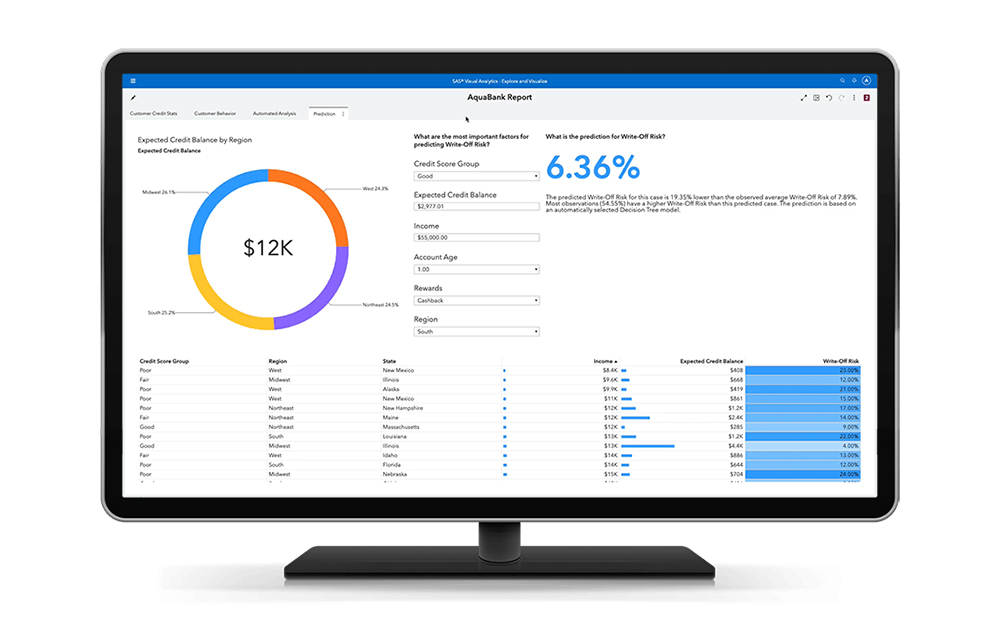 SAS's slogan is simple and explains the big data tool's motto: "Identify what's working. Fix what isn't. And discover new opportunities."
Features:
Help you achieve better, cleaner data, regardless of data volume or type
Processes data through an intuitive interface with no coding or SQL skills required
Loads data preparation functions in parallel and processes them in memory
Built-in analytics to profile, monitor, and standardize data for data accuracy and completeness
2. Oracle Analytics: 2nd Best Big Data Analytics Tools by SelectHub
This big data tool was ranked in 2nd position for the best tools business intelligence industry for 2022 by SelectHub Analysts.
Oracle Analytics helps businesses gain 360° business intelligence with augmented analytics to help your organization grow by leveraging unique insights provided through data.
This big data software uses embedded artificial intelligence and machine learning for data analysis of data across your organization so you can make informed predictions and better decisions.
Features:
Its self-serve analytics helps the workforce access data easily, discover insights, and collaborate with the team
Embedded machine learning analyzes data across organization smarter and more accurate
Offers data visualization, scenario modeling, enterprise reporting, and mobile analytics—in the cloud, on-prem, or through a hybrid model
3. Splunk Enterprise
Splunk enterprise is another example of a big data analytics tool that helps businesses leverage the power of data and transmute it into actionable insights.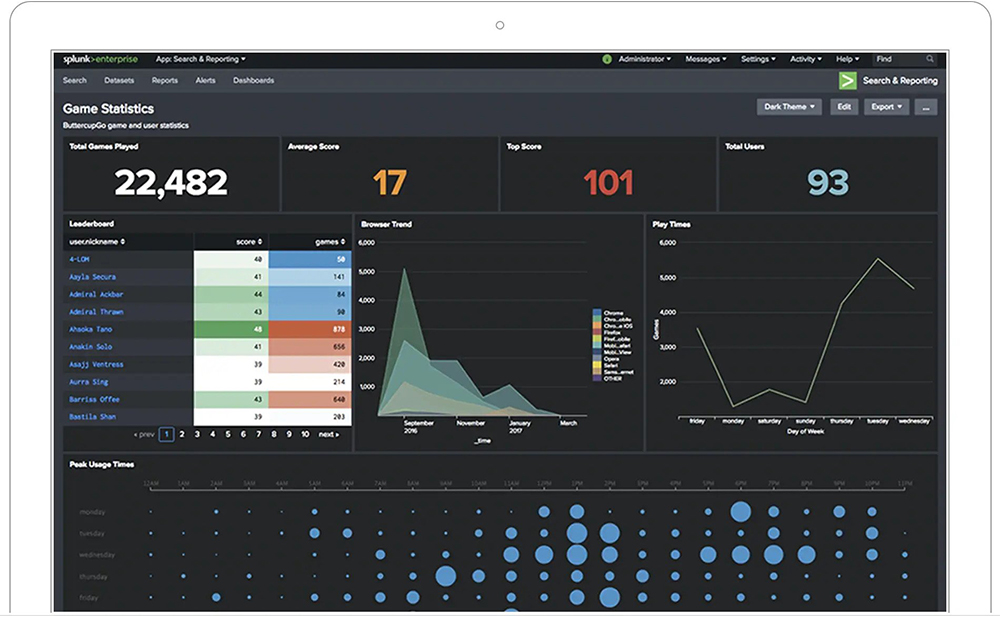 This big data software raises the power of Artificial Intelligence and embedded machine learning to make data errors redundant and increase their accuracy and completeness.
Here are some of the features of this big data tool.
Features:
Automates collection, indexing, and alerting of machine data that are critical to your operations for real-time visibility
Uncovers actionable insights from all your data — no matter the source or format
Leverages machine learning and artificial intelligence for predictive and proactive business decisions
4. Azure HDInsight
HDInsight is a big data analytics software by Microsoft Azure. You can experience the seamless functioning of popular open-source frameworks like Spark, Apache Hadoop, and Kafka—using Azure HDInsight. This big data analytics software is an enterprise-grade service for open source analytics with viable pricing.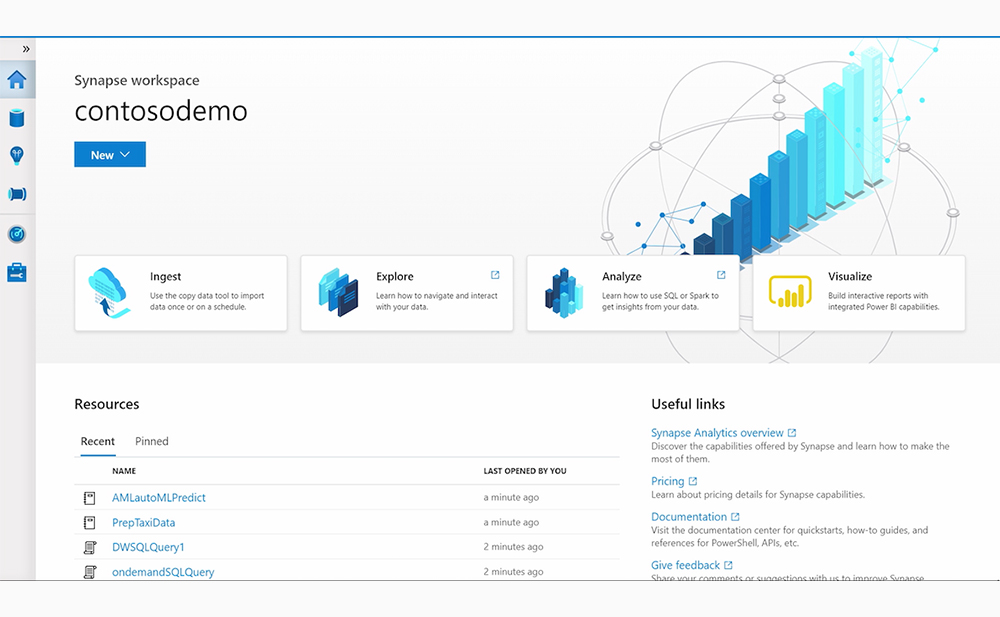 HDInsight allows businesses to process huge volumes of data effortlessly and has all the benefits of a global broad open-source software.
Features:
Trustworthy analytics with an industry-leading SLA
Provides optimum enterprise-grade security
Protects data assets and extends on-premise security and governance controls to the cloud
A platform for developers and scientists
Hassle-free integration with leading software
Deploy Hadoop in the cloud without any up-front cost
5. NetApp
NetApp is an emerging player in the big data analytics tools category! This end-to-end big data software helps businesses from smartly storing data over the cloud to analyzing it into actionable insights.
With this big data software, you can lower license fees, hardware costs, and overall TCO by as much as 50% by increasing resource utilization and eliminating unnecessary data copies.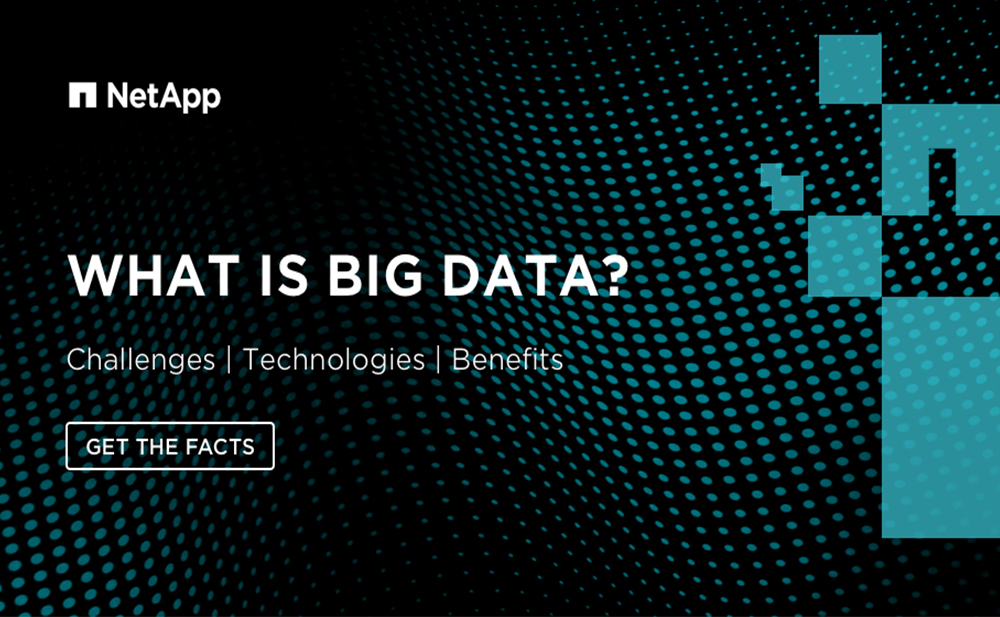 Furthermore, it stores new, unstructured data and keeps it available—so your Splunk, Hadoop, and NoSQL workloads are always running.
Features:
Reduces capex and opex with optimum storage efficiency
Allows you to access storage in minutes for SAP, Microsoft SQL, Oracle, VMware, and other business apps
Deploys enterprise apps on NetApp storage systems, commodity servers, or in the cloud
Saves businesses from data loss, accelerate recovery with superior data protection
Protects your sensitive company and customer information with built-in big data security
6. Lumify
Lumify is another big data tool with innate capabilities like data fusion, data analysis, and visualization platform enablement. It allows businesses to establish new connections and maintain relationships in their datasets through an array of analytic options. 
These analytic options include full-text faceted search, dynamic histograms, graph visualizations, interactive geospatial views, and real-time collaborative workspaces.
Strategically designed for cloud-based architecture, this enterprise big data tool works optimally for Amazon's AWS environment and is compatible with almost all the on-prem cloud environments.
Features:
It creates 2D and 3D graph visualizations with a variety of visually appealing layouts
Offers an array of options to analyze the links between different entities on a graph
Has specific ingest processing and interface elements for videos, images, and even textual content
Its proprietary spaces feature allows you to organize work into a set of projects, creating different workspaces
This big data tool is built on proven, scalable big data technologies
7. Qlik
Qlik Sense is a big data analytics platform for modern, self-service analytics that helps in data literacy and data discovery for all types of users across an organization.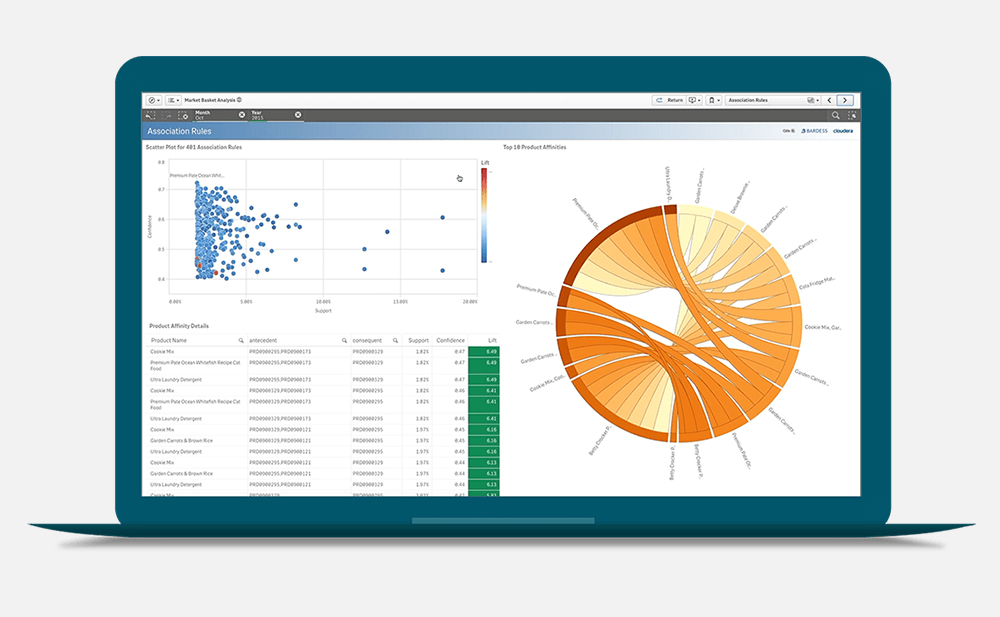 It supports the complete range of analytics use cases like guided analytics apps and dashboards, self-service visualization and exploration, custom and embedded big data analytics, mobile analytics, and reporting.
And it administers this within a governed, multi-cloud architecture that delivers maximum trust, scale, and flexibility for the organization. This big data tool offers an enterprise analytics platform that empowers everyone.
Features:
Quickly integrates data from Hadoop, NoSQL, Microsoft SQL Server, Amazon Redshift, Google BigQuery, and others
Advanced profiling to automatically process different data types such as geography and date/time
Provides a centralized "build once, deploy anywhere" environment to maximize collaboration and reuse of data
Allows the workforce to explore massive volumes of data and make decisions
8. Apache Spark from IBM Analytics
Apache Spark of IBM is a powerful open-source big data tool. It provides over 80+ high-level operators that help in building parallel apps easily.
Features:
It helps to run an application in the Hadoop cluster speedily. Up to and 10x faster on disk, and 100x faster in memory
Provides lighting Fast Processing Support for Sophisticated Analytics
Enables you to integrate with Hadoop and existing Hadoop Data
Provides built-in APIs in Java, Scala, or Python
9. Looker
Looker is another example of a big data analytics tool that is most sought after for its easy-to-use interface. It helps businesses with end-to-end big data solutions like data platforms, data modeling, locker blocks, data connections, and data actions.
This big data technology has offered its big data technologies to clients like The Economist, Twilio, and King.
Here are some of the features of this big data tool.
Features:
Connects with Snowflake, Redshift, BigQuery, as well as other 50+ supported SQL dialects
Allows you to create dynamic dashboards for in-depth analysis.
Offers workforce access to reliable data and supports better reporting.
Set an altering system for reduced sales to fraudulent orders to ETL failures.
Looker's SQL Runner allows analysts to quickly see what is in their data and send less technical users explorable reports.
Browse over 100 pre-built analytics templates on Looker's Block directory to help you accelerate your data modeling pace
10. Vertica
Vertica promises to be the fastest, most advanced analytics big data tool.
Clients like Cerner, Etsy, Intuit, Uber, and others use its SQL Data Warehouse.
Vertica is a combination of the power of a high-performance, parallel processing SQL query engine with advanced analytics and ML (machine learning) that helps you leverage the true potency of your data.
This big data tool removes performance and capacity constraints and handles the massive data volumes and demanding workloads.
Features:
Supports any major cloud deployment for fast and reliable read and write for multiple data formats
Machine Learning and Advanced Analytics
Supports Machine Learning to transform the way your data analysts and scientist interact with data
Future proofs your analytics with the freedom to deploy anywhere – on commodity hardware, across multiple clouds, and natively on any Hadoop distribution
Bridges the gap between high-cost legacy EDWs and Hadoop data lakes with fast ANSI SQL query execution at big scale
Conclusion
According to New Vantage, 97.2% of organizations are investing in big data and artificial intelligence. In the sea of data, where every individual produces a massive amount of data every day, analyzing them could give businesses a clearer idea of their needs and cater to them better. Furthermore, big data application helps leverage data, which helps businesses make smarter predictions and take the right business decisions.
We hope this exclusive list of big data tools will help you create a data-driven business space.