Does your job require regular sharing of files, documents, and other communications with clients and other team members? Are you in need of a tool that can assist you in managing your projects and improving your productivity? If you do, then this article is just for you!
There are statistics which validate that the biggest project management challenge facing most businesses (62%) is capturing time/costs against projects. According to PricewaterhouseCoopers, which reviewed 10,640 projects from 200 companies in 30 countries and across various industries, only 2.5% of the companies successfully completed all of their projects. The bad news is, out of them, 39% of projects fail due to lack of planning, resources, and activities.    
So, what is the best remedy for this problem?
According to the Project Management Institute (PMI), 80% of high performing businesses understand the value of project management. Project management is the art of managing multiple projects. Additionally, according to Management Study Guide:, Project management encompasses recognizing requirements, putting across clear and achievable goals, maintaining a proper balance between the competing demands from different stakeholders and finally ensuring that the ultimate business purpose is achieved.
Top Project Management Tools to Accelerate Your Business Goals
Now that you have understood the importance of project management in your organization, let's look at the top project management tools that can help accelerate your business goals.
1. Asana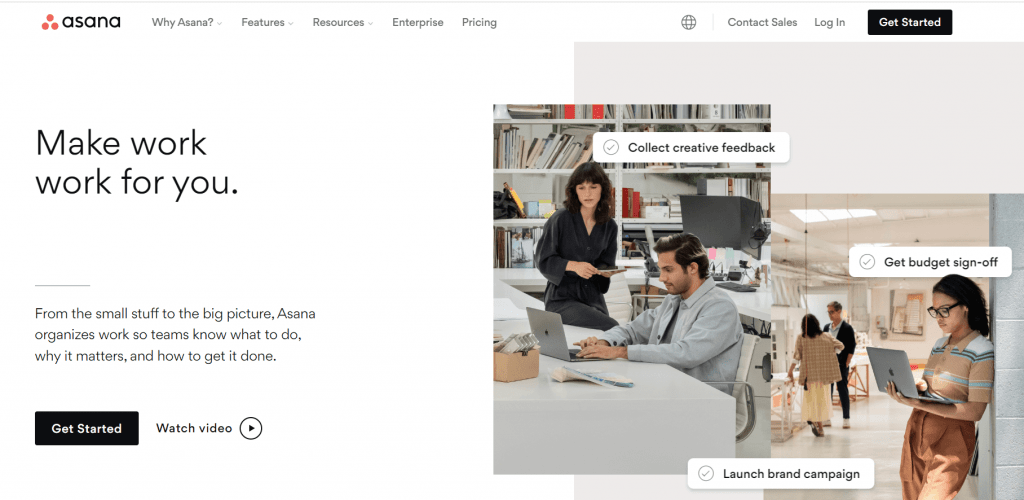 The amazing thing about Asana is that it integrates elements of project management, file storage and collaboration. Thus, it assists in managing projects across the team without the need for email. It is a meaningful project management tool that has immense potential. 
It consists of everything that a project manager wishes in a tool, like task lists, shared team calendars, Kanban boards, Gantt charts and team communication. And the amazing part is, all this is very easy to learn and understand.
In case if the developers at Asana decide to integrate other critical features like project reports and budgets, it can become the best project management tools ever available in the market. Until then, this tool is recommended for internal teams that do not need any financial management or comprehensive reporting.
Salient Features
Divide your work into tasks and then assign them to your team members
Sort your tasks into projects for roadmaps and timelines
Review milestones and then adjudge your team's progress
Get regular notifications about project updates
Use project dashboards to get a quick overview
What makes it Special? 
It is a very user-friendly tool with a simplistic layout. If you have a small team with not too complex projects, get it today.
2. Trello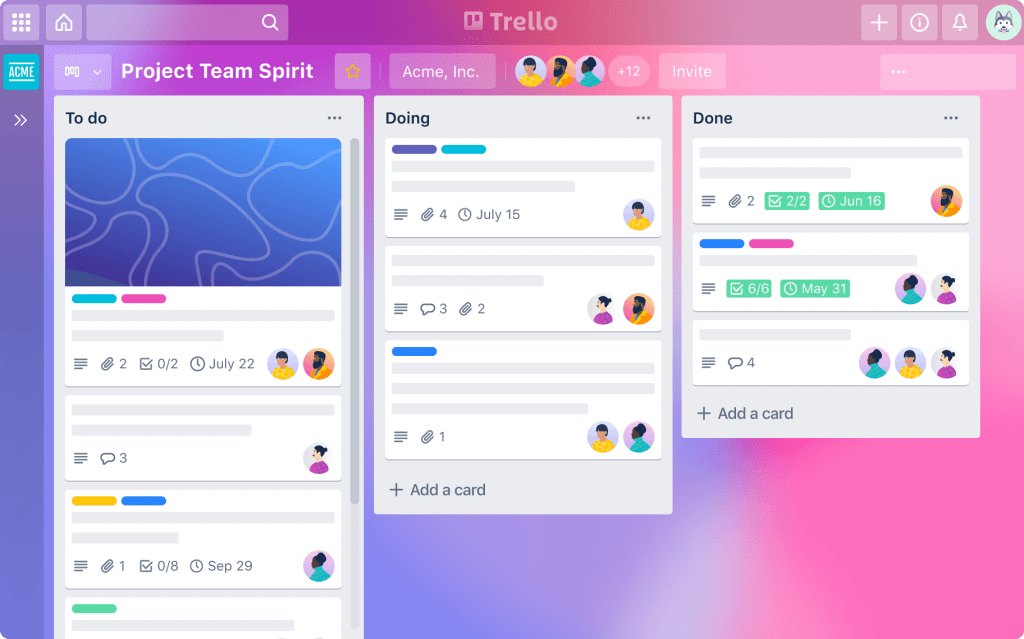 Trello is one of the popular project management tools that visualizes project tasks with the aid of a cardboard-like dashboard. You can use this project management tool for managing short-term daily tasks. It is commonly used by agile software development teams and other departments like marketing, sales, support and HR.
With its help, a project manager can easily define projects, their requirements and the workflow to ensure that the project gets completed in a planned sequential manner. It comes in the form of a free subscription along with a professional package comprising strict privacy and administrative settings for large corporations. 
Salient Features
Simplistic task management on cardboard
Gives you the luxury of creating unlimited task lists
Effortless sharing of files and images
Organize your lists by date or priority
Enables commenting for smooth collaboration
What makes it Special?
Trello has earned its name from startups to Fortune 500 companies. It provides one of the effective ways for teams to collaborate on any project.
3. GanttPro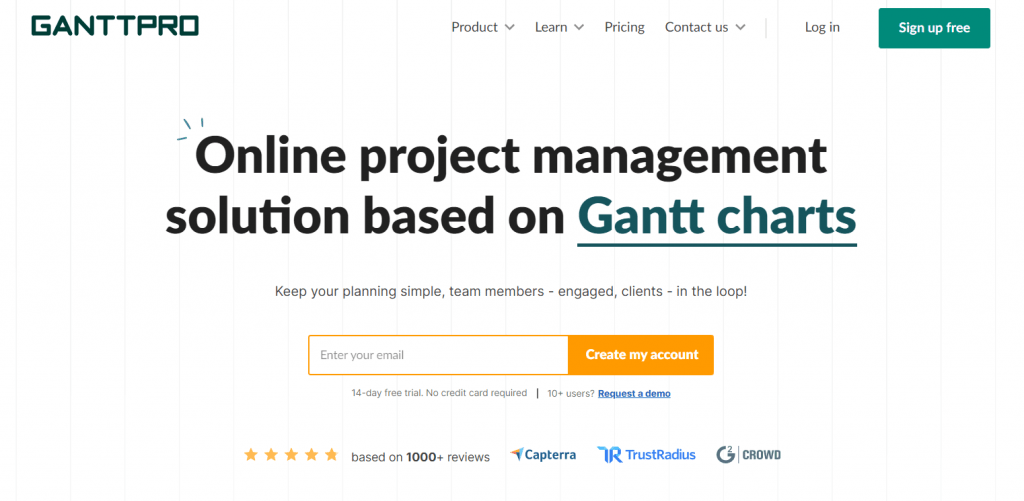 GanttPro is one of the intuitive tools that you will ever get for project planning. Managers can quickly learn this tool which gives them the chance to start working on a new project and collaborate instantly. It is a holistic project management tool that divides projects into tasks and subtasks to ensure precise estimates and effective resource management.
This highly-flexible and agile tool is a huge success with most global organizations and is one of the most efficient ways to keep your projects on the right track.
Salient Features
Plan views
Task management
Collaboration
Import & export
Team & resources management
Time management
Templates
Budget tracking
Custom settings
Other
What makes it Special?
GanttPro is much more than a tool to provide a Gantt chart for planning.  You can use it for any of your project needs like team collaboration through comments, attachments & mentions, resource management & resource workload, time logging, auto-scheduling, etc. All of this accompanied by the drag & drop simplicity and a visually appealing interface. 
4. Wrike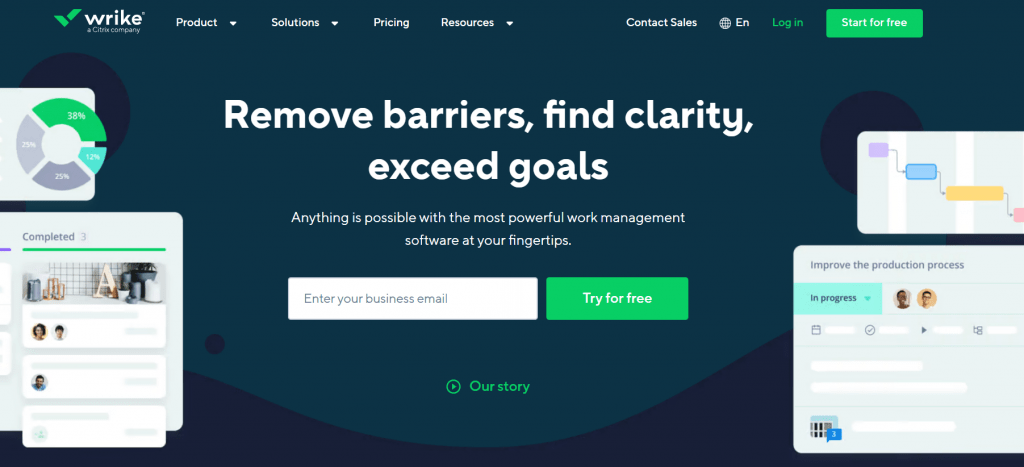 Wrike is an online project management and work collaboration platform that allows teams to deliver their project with great speed and efficiency. It gives you access to view the status of all your teams' projects with real-time reports. You can manage your projects easily using Kanyan boards, Gantt charts, time tracking, team communication and file sharing. The amazing thing about Wrike is, it is very easy to understand.
Salient Features
Organized file management
Seamless communication
Collaborative editing
Easy time tracking
Reporting using real-time data
Visual timelines
Resource management
Efficient task management
Native mobile apps
Customizable workflows
What makes it Special?
Wrike provides a visual timeline planning  which can come in handy to view the project schedule and to set task dependencies to keep your team informed about the different moving parts of a project.
5. Monday.com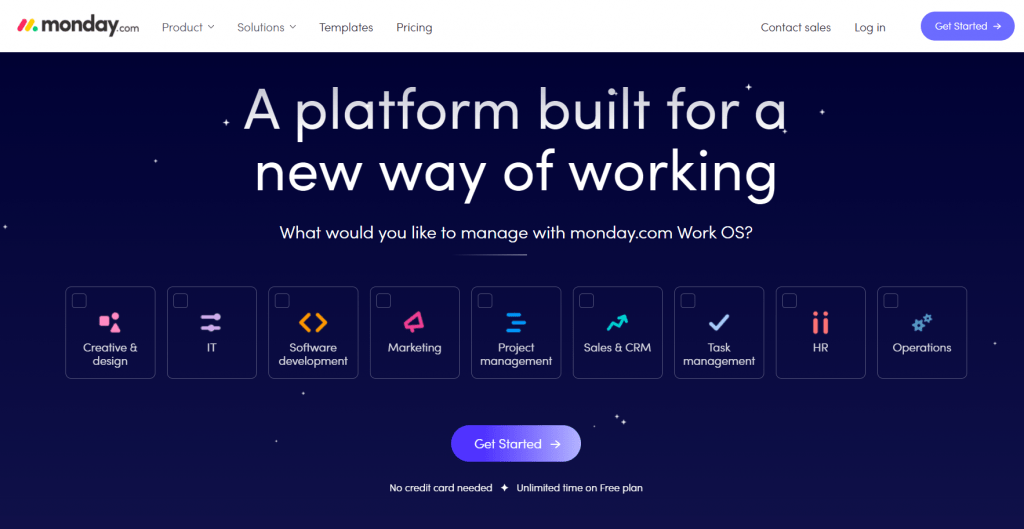 Monday.com consists of all the concepts that you have already seen in other project management tools. However, it does it one step better than them. The good news is, it does not take long to learn this tool. It consists of a wide array of features and multiple types of task tracking styles. All this makes it perfect for almost all kinds of projects and teams. 
Salient Features
Easy access to activity logging
Tracking of due date
Regular updates on email
Integration with PipeDrive
Carries out regular updates;
Keeps a track of project completion time
Ensures user access control
What makes it Special?
Monday.com utilizes the concepts already present in other project management tools in a much better way. It consists of a simple learning curve and a wide array of features which makes it a perfect option for all types of projects and teams.
6. Podio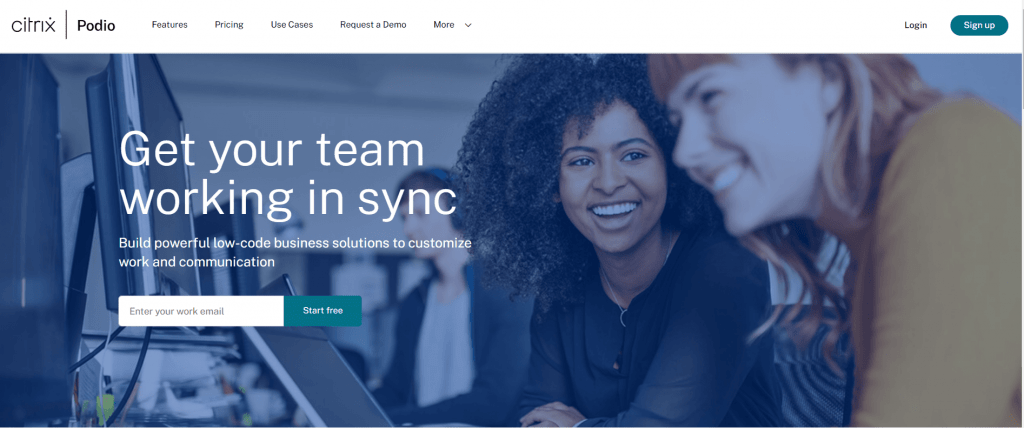 Podio is a highly customizable and flexible online hub for work and team communication. It is perfect for those managers who have some experience with the software but are looking for lots of functionality on a limited budget.
Salient Features
Performs task assignment, file attachment and provides discussion details within the solution
Ability to share encrypted & large files in a hassle-free manner
Automates the project budget tracking, sales pipelines, etc.
Consists of visual dashboards to get comprehensive overview of the company
Provides workflow automation
What makes it Special?
The workflows feature in Podio allows project managers to conditional logic to Podio apps. 
7. Paymo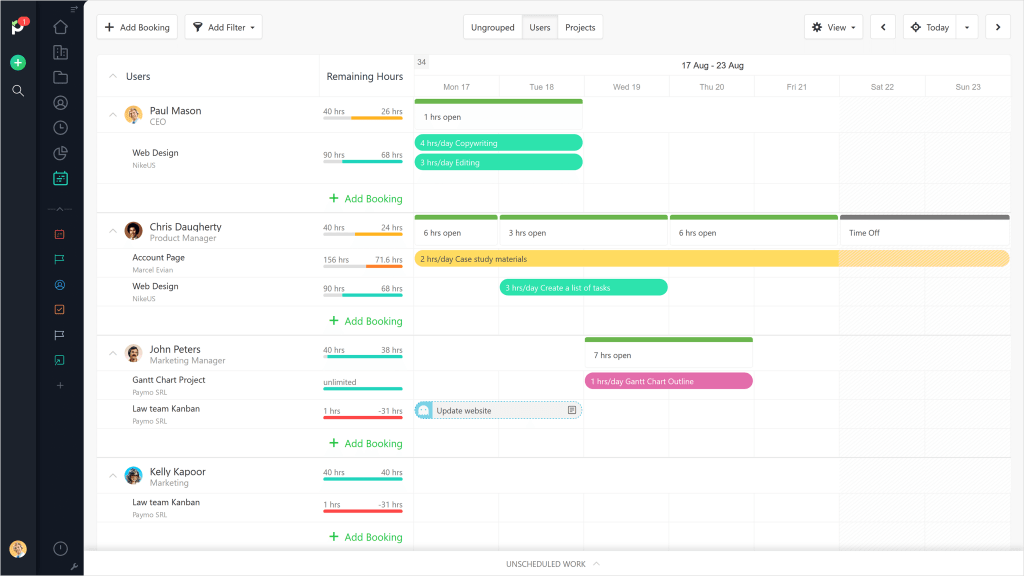 Paymo is your perfect project management tool that consists of work reporting, project management and time billing all comprised in a single software.
 Salient Features
Track the time devoted to tasks and projects
Keeps the work reports complete
Consists of a dashboard to check the team's performance
Prompts you to bill customers for completed tasks
Consists of an integrated project accounting feature
What makes it Special?
When you opt for Paymo Plus, it is possible to automate your time tracking completely. Simply download the desktop app and keep a track of your PC usage. At the end of each day, it even categories all your time entries.
8. Coschedule
CoSchedule is an ingenious project management tool that allows you to manage your content marketing activities effortlessly. Not only does it have a free Headline Analyzer feature through which it scores headlines based on different parameters and helps you craft one that is eye-catching but it also is an editorial calendar software that assists in organizing your tasks, writing projects, social media scheduling, content creation, etc.
Co schedule makes it possible to manage and publish all your blog content and social promotion from a single place. 
Salient Features
Free headline analyzer
Editorial calendar
View your entire schedule at a single glance
Simple drag and drop calendar functionality
Integrations with popular tools like WordPress, Chrome, Google Analytics and all social platforms
Best Scheduling feature
Integrated discussion threads & browser notifications
What makes it Special?
If there was ever a tool that could help you with content management then it has got to be Coschedule. It provides custom workflows for the entire team so that they stay accountable.
9. Evernote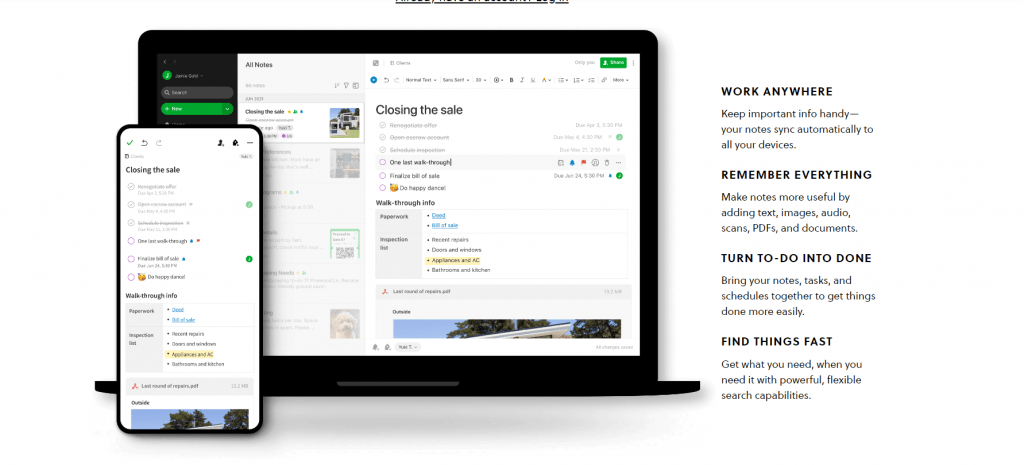 Evernote helps you ensure that all your project needs are in a single place. Whether it is taking notes, making lists, reading content online and looking at something that you have written before. All these things can be done easily with the help of this project management tool. 
Salient Features
Keep your notes handy
Bring your team together
A save button for the web
Find text in any note
Make better notes, faster
Go paperless with Evernote
Find information anywhere
Connect your favorite apps
What makes it Special?
With the help of Evernote, you can save, sync and share it all to your team very conveniently.
10. Teamweek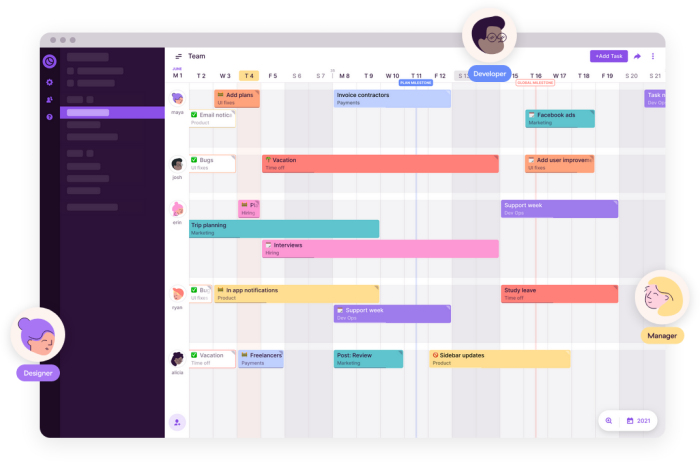 Teamweek is an effective time-based project management tool that allows your team to schedule their upcoming meetings and tasks in the shared calendar. 
Salient Features
Extremely easy project management
Gantt-chart interface
Drag-and drop task management
Schedule work on an hourly basis
Check on your team member's availability
What makes it Special?
Teamweek perfectly fits into the role of a sidekick in comparison to other comprehensive project management tools. It makes time-scheduling an effortless job. In case you are looking for a cool time planning tool, it's perfect for you!
11. Teamwork

The amazing thing about Teamwork is that it has so many powerful features yet it is so simple to use, in fact their motto is "Powerful when you need it to be". It is feature rich but boasts an intuitive user interface and is a great choice for those looking for an all in one project management solution that will continue to have all bases covered as their business continues to grow.
It is trusted by over 20,000 businesses and 6,000 agencies worldwide.  In fact we believe it is perfect for agencies. Features such as time tracking, individual workload management and client permissions management are ideal for agency requirements.
Salient Features
Manage multiple complex projects with ease
Scales into a platform with everything you need to run your company
Time Tracking
Workload Management
Client Permissions Management
Team Chat
Gantt Charts
Software Integrations
Fantastic customer support
What makes it Special? 
Easy to use but powerful when you need it to be. If you need a tool that is scalable, easy to use but powerful enough to do everything you need to do now and in the future, choose Teamwork.
Conclusion
Before making the call of selecting the right project management tool for your business, ensure that you have addressed the budgetary concerns along with the needs and demands of different projects run in your organization.
This will require careful scrutinization of your options. Remember, irrespective of whether your project is big or small, a project management tool can come in handy especially in respect to enhancing all forms of communication for your team.
Also, do comment below and let's know your favorite project management tools from the ones we have mentioned in this write-up.