Big data security has become a rising concern because over time data has become more valuable in monetary terms, and a business can reap its rewards only if they store it efficiently. The problem lies in using open-source Big Data analytics tools that give easy access to cyber criminals to misuse stored data. 
Also, In recent times data volumes have risen and will continue to grow, but this could aggravate a vast data security issue. If you don't implement Big data Security measures, data breaches could result in considerable losses to your business.
What is Big Data Security? 
Big data security is a set of processes and protocols to provide data access to anyone in the organization as it protects the said data from unauthorized access leading to loss, damage, or corruption. The threat is even more significant in businesses that function on the cloud. 
Threats could be theft of data, modification or changing of data or encryption, or destruction of data, and the results could be a breach, inaccuracy, or unavailability of data. Such malicious cyber activity can result in financial losses caused by sanctions, fines, or litigation costs.
It is good to note that hackers need success only once. But, an organization must be persistent in thwarting such attempts because that one breakthrough for the hacker could mean a colossal loss for the organization. There is a need for multiple processes to streamline big data for cyber security; the solution could be big data security analytics.
Why is Big Data Security Important?  
A study on the data breach costs by the Ponemom Institute after research on 537 actual incidents in the USA resulted in the comprise of approximately 25,575 user accounts, and the data breach incidents cost about $8M in damages.
Check the image below to know the coverage of data breach costs from fines or sanctions worldwide.
The figures above are in dollars (millions); the USA tops the chart, and the Middle East is not far behind. 
But the loss from comprising data is not limited to financial losses; it can tarnish the brand image and cause the loss of the reputation it has earned over the years through hard work. The result is consumer trust degradation resulting in loss of business. 
It can also be a compliance issue because of Government imposed regulations concerning securing data. Hence, it is not enough for an organization to work to prevent data theft but must implement big data security analytics to prevent, detect, and respond to threats.
What are the Top Security Issues and Privacy Challenges of Big Data?
Among the Fortune 1000 business leaders surveyed, 90% said that they had implemented big data projects within the past 5 years as per the NewVantage Partners Big Data Executive Survey 2017; however, 48.4% reported that it was challenging and did not give them the desired results. Here is a list of challenges.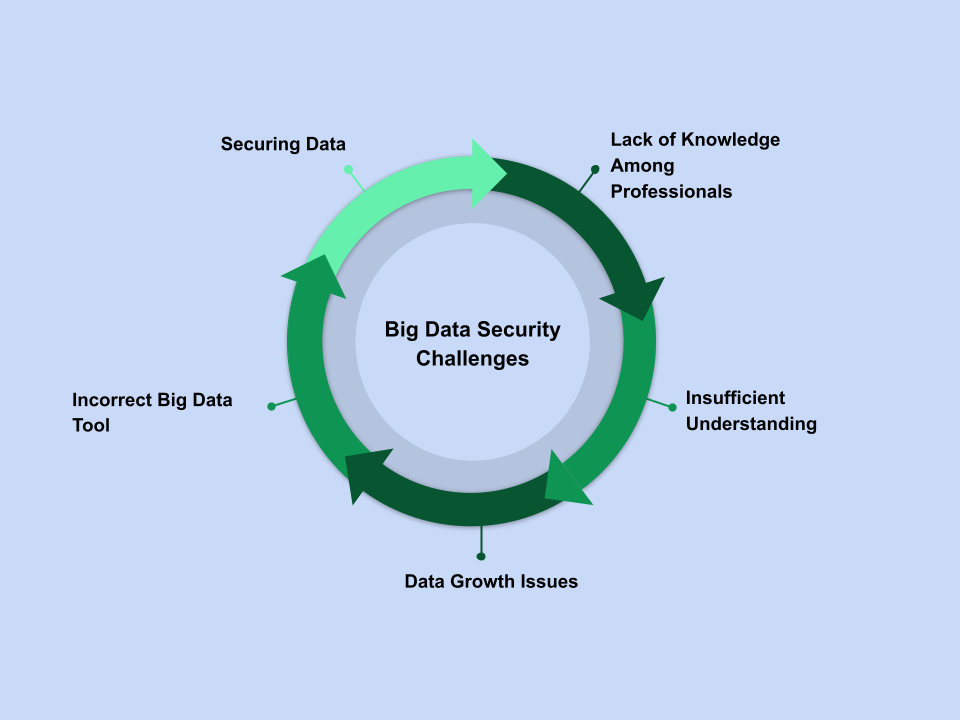 Lack of Knowledge Among Professionals 
Only data scientists, analysts, and engineers can handle big data security analytics. Unskilled personnel cannot make sense of such data sets nor manage the complex and extensive data tools to systemize big data for cybersecurity. The professionals have been unable to keep up with the advancements in big data technologies, stressing the need for qualified professionals.
Solution
Organizations are spending their finances on training professionals or training their existing staff to handle big data security analytics. Another cost-effective solution is to use big data analytical tools that non-professionals can easily manage.
Insufficient Understanding
Many organizations fail in big data projects because their employees do not understand the importance of storing, processing, or handling data. They thus don't take the trouble to back up and store data in the desired location for quick retrieval. 
Solution
The organization must ensure that every team member must have a basic knowledge of the working and importance of big data tools. They can achieve the same by organizing seminars, webinars, and military training for the person who frequently handles data.
Data Growth Issues
Massive data is challenging to handle, and big data are enormous; it expands with time making big data security analytics a challenge to manage. Moreover, it is in diverse forms like video, text files, documents, audio, etc.
Solution
Organizations must resort to compression to condense data, tiering storage data in numerous storage tiers, and deduplication to remove unwanted or duplicate files. They also store data on the cloud, both private and public, and big data tools for quick retrieval of data.
Incorrect Big Data Tool
The lack of knowledge concerning big data tools makes a selection of the correct one challenging. They opt for technologies that may not be suitable for their business resulting in the loss of work hours, efforts and money or even worse, data.
Solution
Organizations must hire professionals who have in-depth knowledge of big data security analytic tools.
Securing Data
When the organization collects data from diverse sources, combining all data to generate reports is challenging, and data integration is essential for analyzing data and business intelligence.
Solution
The simplest solution for this problem is to buy appropriate data integration tools, choose from:
Talend Data Integration

Centerprise Data Integrator

ArcESB

IBM InfoSphere

Xplenty

Informatica PowerCenter

CloverDX

Microsoft SQL QlikView
Big Data Security Technologies
Big data's valuable insights are essential for a business strategizing its marketing campaigns and techniques. The most popular are as follows:
Encryption 
Organizations use machine-generated or user code to encrypt diverse data from different sources or specialized big data files.
User Access Control
Organizations cannot secure big or network-level data without user access control. The access control is granted depending on the job profile of the user in the company and protects their big data from insider attacks.
Centralized Key Management
Centralized key management is a cost-effective means of securing data through automation. The centralized key exclusively performs key management tasks and works on behalf of those systems that use the key to carry out cryptographic operations.
Intrusion Detection and Prevention (IDS &IPS)
IDS and IPS consistently monitor the network's system to detect and prevent intruders from accessing or damaging data by sending an alert the minute they notice malicious traffic.
Physical Security
An organization may have the necessary big data security analytics, but intruders could walk in and damage the system or steal data when you do not have adequate physical security. Employ big data security analytics to protect from attacks by installing CCTV surveillance or employing security guards 
Big Data Security Policy
The big data security policy is a guideline to handle data relating to customers, sensitive information, employees' PII, and intellectual property. Big data security is of two types depending to whom they apply:
People  
The big data security people policy outlines acceptable and unacceptable user behavior to accessing data. It guides employees in email usage and avoids email-based cyberattacks.
The people's policy must contain all information about passwords and clearly state if the organization encourages its employees to use social media networks or forbids it.
Technology
The mobile phone is the primary obstacle in safeguarding data in today's corporate world. Thus technology-based policies must include techniques to maintain maximum caution during backup and cover all datasets that use off-site storage and encryption and other techniques with logical and physical security.
What are the Best Big Data Security Tools?
Suppose the big data for cyber security should do its job; it should meet the following four requirements: authentication, authorization, centralized administration and audit, and data encryption when in motion and at rest.
Go for big data security analytics with a two-level authentication (perimeter and intra-cluster) to necessitate a user to authenticate (reveals his real identity) before the system grants them access. Enforce authorization to follow the security standard already used at varying granularity levels.
Some of the best big data security tools have a centralized administrative system to report the activity as it maintains the system and audits to ensure security requirement compliances. Finally, the Big Data for Cyber security must protect data at the field, network, and file levels to check and prevent unauthorized data access.
Big Data Security Implementation
The timely implementation of big data security analytics offers several benefits to organizations, promoting its rapid performance growth in various sectors. Here are some necessary cybersecurity tools to implement for big data security implementation.
Encryption
Encryptīon offers complete data protection as it protects both input and output data. Data becomes useless unless the user has the key to access it.  
Firewall
A strong firewall is a preventive security tool that filters users as they enter or leave the server and acts as a wall to stop malicious activities.
Tiered Access System
To maximize big data for cybersecurity, only authorized persons can have root access to Business Intelligence tools and big data security analytics platforms. Adopting a tiered access system can significantly protect against threats or cyber-attacks.
Conclusion 
Business entities can implement better strategies by using big data analytic tools. However, the extensive use of such devices may make it easy for cybercriminals to gain access to data, resulting in data breaches. Although Government regulations are in place, cybersecurity is a growing concern because the users do not know where the big data analytic platform stores or handles their data. The only way to ensure the endless benefits of big data is to secure the big data security analytical platform.