The use of smart locks has evidently been increasing. In fact, as per a report by Grand View Research, about 7 million smart locks were sold just in the year 2019, making the industry estimate $1.2 billion in the same single year.
What is a Smart Lock?
A smart lock is a wifi or Bluetooth enabled electronic locking device that opens only at the authorization of the owner. Smart locks are accessed remotely and could be deployed at all kinds of offices, homes, and other institutions.
Smart locks enable house owners to forget about the hassle of carrying the keys & remembering them every day when you drove back from work. Most of the smart locks are voice controlled and can be operated remotely to let a guest in while you are at work.
The need for smart security devices is rising, and we are here to introduce you to some of the best smart locks in the market.
Being one of the safest on our list, SimpliSafe is the most powerful smart locks you'd want for yourself.
With its unbreakable built-in keypad, it's almost impenetrable to any kind of unethical break-ins. These locks could only be accessed with your SimpliSafe key fob on your smartphone, precisely giving you the ultimate control.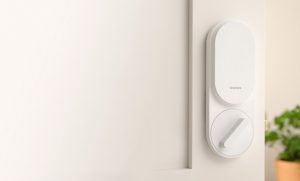 ( Image Source )
It is most compatible with standard door locks. These smart locks have also been tested to prevent your door from any kind of damage. 
How it's done is by not extending the deadbolt until your door is tightly shut, making it one of the most ideal matches for your luxury homes suiting all your security needs.
Features
The Simplisafe smart lock, locks immediately after a time duration set by the owner
Compatible with almost all kinds of smart home assistants like Alexa or Google Assistant
Has multiple ways to lock and unlock.
Pros
Auto-lock and unlock
Compatible with smart home assistants
Affordable with easy installation
Cons
Limited voice control features
Limited to 4-digit PINs only
Pricing
It is available at $99/unit with multiple color combinations.
If changing locks every once in a while doesn't really please you, Wyze Lock is probably one of the most ideal options for you.
Wyze locks are a low-cost, full-featured solution for all your smart lock needs that are popular for connecting to an existing deadbolt and save you from the hassle of breaking and replacing your deadbolts.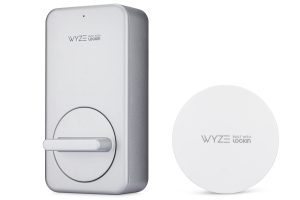 ( Image Source )
Being a wifi smart lock, Wyze includes a useful tiny plug-in WiFi adapter that allows you remote access and smartphone notifications.
With a dedicated smart lock app to access the lock and its features, Wyze locks are potentially one of the best smart locks you'd find on our list. Features such as unlocking with Google Assistance and voice control make it the best match for your security needs.
Features
Built-in presence sensor that notifies you by a chime
Could be accessed through the app
Has an auto-lock/unlock mode that works in proximity of your smartphone.
Pros
Great price with multiple security features
App works precisely
Has the ability to detect if the door is locked or not
Cons
Needs regular security checks
Not compatible with all smart home products
Pricing
Starts at a price of just $99.
The very alluring and nifty Halo Wifi smart lock might be a little over budget, yet it is one of the latest additions to the family of best smart locks.
With multiple options to lock and unlock your door, like entering a code, using your smartphone, or using your smart home assistants, the Kwikset Halo is one of the best solutions to all your security concerns.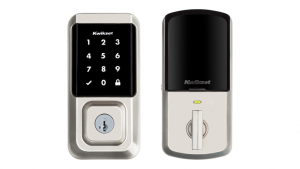 ( Image Source )
It is also equipped with Bluetooth and Wifi radios, which are not only easy to install but also save you a lot of time in understanding its functionalities.
It doesn't allow third-party integration, though, which makes it precisely limited to your commands and even one of the best smart locks for home.
Features
It is the most comprehensive smart lock for doors
Comes with interior and exterior escutcheons, a latch and strike, keys, four AA batteries, and assorted mounting hardware.
Available in four finishes
Send push emails and notifications when wrong passcodes are entered
Pros
Built-in Wifi
Compatible with smart homes devices such as Alexa
Stylish and very easy to install
Cons
No third-party integration
Fairly expensive
Pricing
You can purchase the Kwikset smart lock at $229.
Bragging a powerful home protection system, the Yale Lock Nest connect is one of the best smart door locks that you'd find on our list.
With its rigid tamper-proof system, the keyless deadbolt deters any kind of burglars. Along with that, the real-time alerts provided any time somebody enters your home make it the safest smart lock ever.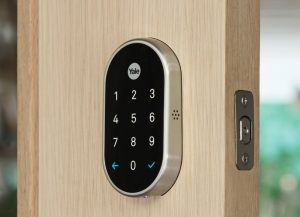 ( Image Source )
As you set it up, you have the ability to use it without even using your smartphone all the time, given you remember a four-to-six digit entry code.
The Yale Lock Nest also comes with a one-touch feature that allows you to lock your door with just the touch of one button. It will enable you to unlock it with its exclusive smart lock app or your voice assistant, making it the best smart lock for home.
Features
Has a tamper-proof design
Sends alerts as soon as somebody opens the door
Integrates with the Nest secure alarm to disable the alarm when the door is unlocked
Pros
Stylish design and easy to install
Works with Nest Secure
Sends alerts when the door is opened
Cons
No Voice Activation
Doesn't work with IFTTT
Pricing
Starts at a price of $259.
The August smart lock is probably one of the most attractive smart door locks on our list. With robust third-party integration and multi-platform support, August Wifi is the most ideal option for the security of your house.
With features such as auto-lock and unlock, support for voice assistants, and other voice commands, the August smart lock also has seamless integration with countless home automation systems.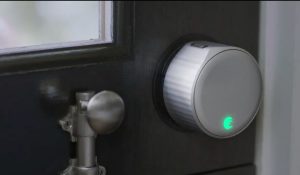 ( Image Source )
This smart lock also comes in matte black or silver with a textured grip and a removable magnetic faceplate. If you want to use it manually, all you have to do is turn the lock to the left to unlock it and in the opposite direction to lock it.
While it may be slightly more expensive than the rest of our smart locks, it does offer additional features equally as well. However, it's always advisable to keep a good supply of CR123 batteries around, since this smart lock could discharge rapidly at times.
Features
Has auto-lock and unlock features
Could be paired with Bluetooth, Apple Homekit, and other smart security devices
Batteries could last up to three months under normal circumstances
Pros
Works with Alexa and other assistants
Easy to install
Ideal smart lock for home and office
Sleek design
Cons
Pricing
Starts at $249 with extended warranty options depending on the price.
The Gate smart lock for home is a part doorbell as well. That's right.
This expensive smart lock not only tracks who comes in and goes out of your home, but it even records clips of who stands at your door and allows a monitor window to speak before you can let them in. Above all, it even brags a doorbell button.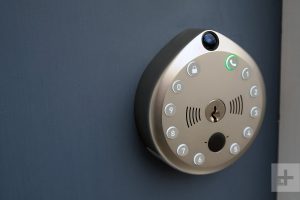 ( Image Source )
The Gate Smart Lock connects to the WiFi of your home and gives you access from anywhere with its smart lock app. The keyless entry and the scheduled guest access make it one of the best smart locks out there.
With the Gate smart lock, you also get a connected door lock that allows you to create temporary/permanent access codes for anybody that's bound to visit you. The unlocking methods include a mobile app, a traditional key, and a backlit keypad.
Features
Has backlit circular keypad and vented speaker grills
Includes a doorbell that sends push notifications to your phone when rung
Motion sensor that records any activity captured
Pros
Has built-in security camera
Very useful for commercial purposes
Extremely quiet
Cons
Very expensive
Additional features require a subscription
Pricing
Could be purchased at $299.
The Ultra U-Bolt Pro would suffice all your security needs.
Quite similar to most of the models, it uses a mobile app that allows you to lock and unlock your door from anywhere. Along with that, it even has a keypad that allows you to use permanent or temporary PIN codes to unlock.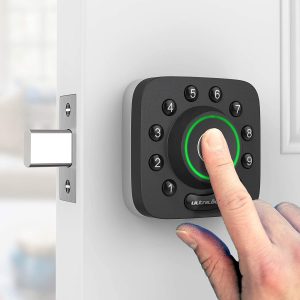 ( Image Source )
Being a smart door lock, it even includes a fingerprint scanner along with a keyed cylinder that's hidden behind the keypad.
You can even unlock the smart lock using voice commands. The Ultraloq U-bolt pro smart lock also comes with a WiFi bridge for remote access and also uses your phone's location services to automatically unlock when you approach it.
Features
Has a plug-in WiFi bridge
Made by rigid Zinc Alloy Material
Has a capacitive fingerprint scanner
Pros
Fingerprint, keypad, and location access unlocking
Includes WiFi bridge
Very easy to install
Cons
Doesn't support Apple HomeKit
Pricing
You can purchase it for $189.
With about a century of experience and millions of customers, ADT, a comprehensive smart lock for doors, has been securing homes for a long time now, more than any other company.
As a smart door lock, it offers home security systems that are tailored specifically to your home and, of course, budget as well.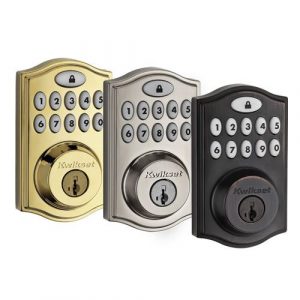 ( Image Source )
The ADT Smart Lock is one of the most secure ventures of the company. These locks are quite similar to any of your conventional smart locks. However, an additional benefit is that the remote access technology easily allows you to open and close your door from anywhere.
The ADT smart door lock also comes equipped with a back-lit keypad that is battery-powered, which also doesn't need you to worry about being locked in or out in case of a power failure.
Features
Backlit keyboard
Remote unlocking
Pros
Allows you to lock/unlock from anywhere
Comes in three different choices
Cons
Requires professional installation
Requires ADT pulse monitoring package
Pricing
To check the price, you can request a free quote.
The Schlage Encode Smart Lock is the latest wifi smart lock that allows you to remotely access your door without any need for a hub. With its easy installation and a user-friendly smart lock app, you can practically lock and unlock this smart lock at your free will with just the click of a button.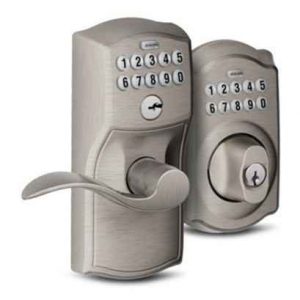 ( Image Source )
It even allows the smart voice assistant functionality, yet doesn't quite have the functionality to support the Apple HomeKit and IFTTT.
Along with that, this smart lock for doors works with Amazon Key to allow access to in-home deliveries as well as ring doorbells and cameras.
Features
Has two trim styles for your styling needs
Includes a deadbolt latch mechanism
Allows unlocking with a physical key as well.
Pros
Very easy to install
Works with the smart home assistants and other devices
Integrated with ring devices
Cons
Doesn't support Apple HomeKit
Pricing
To buy this smart lock, you have to find a retailer among the options they provide.
The Turbolock smart lock for the door is an affordable home security solution that comes with Bluetooth technology, allowing you to unlock your door with your smartphone.
Other unlocking options include a keypad or a traditional keyway. However, it does lack voice control and can't be controlled remotely.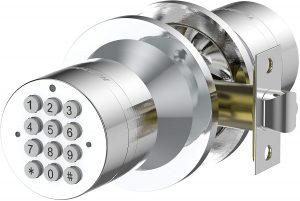 ( Image Source )
Moreover, you can't practically use your phone to lock this smart lock, since it works on manual commands.
You might not also be able to enjoy features such as Wi-Fi connectivity, remote access, or the support of home voice assistants such as Alexa or Apple HomeKit.
In a nutshell, while the Turbolock smart lock is an affordable option, you can still increase your budget slightly to find better locks around this price range. The Kwikset smart lock is still a better option.
Features
Stylish design with inverted round corners
Includes a back-lit lock and unlock buttons
Could be connected to an external power source as well
Pros
Good battery health
Audio alerts for low battery
Has an exclusive Android and iOS app
Comes with an emergency indoor unlocking mechanism
Cons
Needs holes in your door to be installed
No remote access
No support for smart home devices
Pricing
Available at a discounted rate of $129.
Is having a smart lock worth it?
Yes, picking the right smart lock can be worth your investment. Picking the right kind of smart lock boils down to having a great security system with ease of access and assurance of security. 
As per a report by Apnews, the smart lock market is expected to reach a value of US$ 2.7 Billion by the year 2024, expanding at a CAGR of around 13% during 2019-2024.
In this list of smart locks, we mentioned some of the best smart locks that could potentially take care of all your security needs.  We hope this list of the 10 best smart locks has helped you find the most ideal security option for your needs.