Your content needs to be accessible to everyone if you want it to gain enough exposure and be successful.
Inserting subtitles to your video provides an example of how you can make your content accessible to everyone. This will allow people who speak other languages and people with hearing impairments to access your video, for example.
However, transcribing manually every word is quite time-consuming.
Fortunately, there are some software programs that can automate this process, saving you time and money.
Currently, there are many programs available online that auto-generate subtitles, and it's probably hard to choose the right one.
The purpose of this blog post is to bring you a list of the top five automatic subtitle generator software to consider in 2022.
Let's get right to it.
Why you should add subtitles to your content
You should consider adding subtitles to your videos and audio files for many reasons. You'll find a list of some of the most relevant ones below.
1) Enhance accessibility
Today, everyone has access to the internet, and this explains why accessibility has become a significant concern in recent years.
Making your content accessible or understandable means making it available to everyone, including people with disabilities, or considering specific situations (for example, think about people watching videos on their phones in crowded or open settings, where hearing the audio may not be convenient).
Those who speak other languages might also benefit from this, since reading is proven to be easier than hearing for comprehension.
2) Increase in engagement
Subtitled content gets more engagement in terms of views and interactions, especially on social media. There is a possibility that this may be because subtitles are accessible and easily understood by anyone.
3) Captions improve SEO
The addition of text to videos and audio files can also improve SEO. Many factors contribute to this. Users can watch videos on your website for longer periods of time, which will boost your ranking in search results, and your text can address strategic keywords that allow your page or website to rank for a key topic.
4) Increase social reach
Instapage discovered that videos with captions and subtitles have a higher social reach. Instapage reports that captions to your video can boost view time by 12% and only 12% of people who view Instapage videos turn the sound on.
Benefits of using automatic subtitle generator software
There are a number of benefits to using automatic subtitle generator software for you or your business.
1) Saves you time
It takes a lot of time and effort to transcribe each word from an audio or video, and this can take you away from doing more important tasks.
By using automatic subtitle generator software instead, you will be able to save a lot of time, since it creates captions and text automatically.
2) Saves you money
If you don't have time or the right skills to manually transcribe, you'll need to hire a professional or a freelancer to complete the task. In addition to being rather expensive, it might take a while.
Instead, most of the automatic subtitle generator software that is available on the market today is free or inexpensive, so anyone can afford it.
3) Gives you a competitive edge
By using an automatic subtitle generator, you'll be able to produce more content in a shorter amount of time, which will also increase your productivity and efficiency.
It will probably give you an edge over your competitors, and allow you to become an authority in your industry niche.
4) Compliance consistency
Automation offers higher levels of accuracy and consistency in product quality. Because of today's market demands, product quality must be better than ever, and automation is often the only way to achieve this.
As a result, using an automatic subtitle generator will let you ensure the same high quality across all your content, providing your users with professional output.
Best 5 automatic subtitle generator software
The following is a list of the top five free automatic subtitle generator programs that you can use.
1) Happy Scribe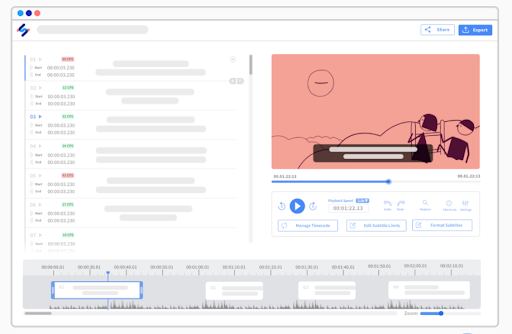 From Happy Scribe's website
Happy Scribe is a popular auto subtitle generator for videos and audio.
It supports over 60 languages and lets you generate accurate subtitles quickly and inexpensively.
It includes a dedicated subtitle editor, which allows you to interact with the subtitles and edit them to your liking.
Among its features are no upload size or length limit, CPS management to ensure viewers have enough time to read subtitles, and multiple export formats (such as SRT, VTT, STL, etc.).
Additionally, it integrates well with popular applications like Zapier, YouTube, and more.
Happy Scribe offers automatic and handmade services, with respective pricing plans, as well as customizable pricing options for large projects.
2) Google Docs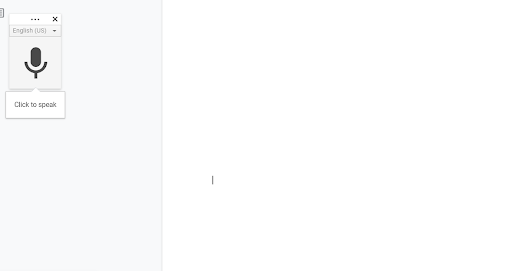 Google Docs is one of the most popular web-based word processors. In addition to offering the option of writing and formatting text in a hundred ways, this processor also has a voice typing feature.
You can use this tool to convert your audio to text. It is very easy to use; simply open a Google Docs document, click on Tools, and then on Voice typing. You can either convert audio into text by playing the audio in the background or by recording your voice.
Although its accuracy is not one of the best, it is a free method of transcribing and generating subtitles for your digital content quickly.
3) Otter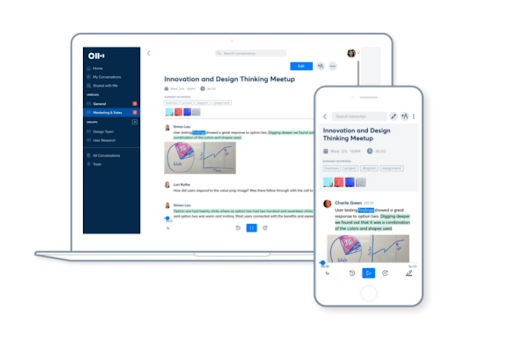 From Otter's website
Another excellent automatic subtitle generator software is Otter, which creates rich notes for meetings, interviews, lectures, and other important voice conversations.
With its real-time streaming transcripts, you get rich, searchable notes with rich text, audio, images, speaker IDs, and key phrases within minutes.
Depending on the client's needs, it provides education, business, or individual services.
Otter Assistant, for example, integrates with Zoom meetings and joins them automatically. It allows team collaboration in real-time by taking notes and sharing them with meeting participants.
Otter also provides meeting analytics and summary keywords automatically.
4) Kapwing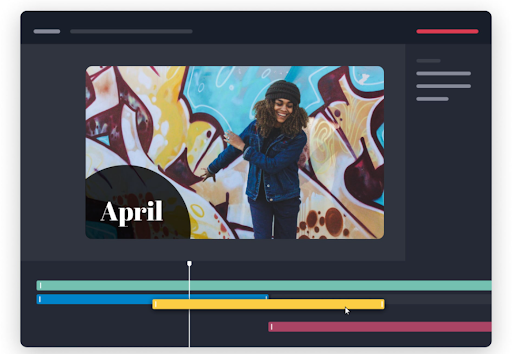 From Kapwing's website
Kapwing offers a wide array of video editing tools, including a subtitler, that allows you to create any kind of video.
It's easy to add subtitles or convert audio into text with Kapwing; you can upload images, GIFs, videos, or paste a link to import media, and it creates subtitles automatically.
In your video, you can then edit the automatically generated subtitles so they perfectly match the audio, and then position them anywhere in the video.
If you choose to generate subtitles for your video, you can also modify the caption style, editing font, position, color, and background.
5) VEED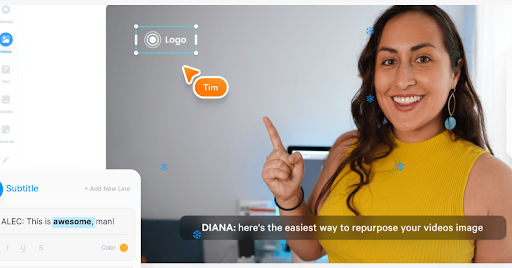 From VEED's website
VEED is another great online video editor that provides a number of tools to meet any need, from translation to transcription.
The program converts audio to text, converts video to text, adds subtitles, and more.
VEED's automatic subtitle generator makes use of artificial intelligence to generate your subtitles with near-perfect accuracy. You can then render them permanently into the video (hardcode subtitles), or download them as separate subtitle files (SRT, VTT, TXT, etc.).
It also allows you to convert subtitles into other languages, such as Arabic, Spanish, Hindi, Russian, Vietnamese, and more.
The company offers solutions for all needs, from a free plan to an enterprise plan with a tailored price and plan.
How to choose the right automatic subtitle generator software
Even though we presented you with a short list of the best automatic subtitle generator software, there are still a few options to consider. Here, we'll provide a quick list of considerations you can consider to make the right choice for your needs if you're still undecided.
1) Consider its cost
When you have a small or limited budget, the price of the software might affect your finances. There are some software products that are more expensive than others, so you can make your choice based on the cost.
2) Explore its features
When you are creating captions and text from audio and video, you may require some specific features, such as editing freedom, the ability to adjust the text to your liking, or the capability to integrate the software with other programs, such as Zoom.
You need to verify that the software you choose has all the features you need if this is your situation.
3) Take reviews into consideration
As you might already know, reviews can help you determine whether a program or tool is suitable for your needs and preferences. Reading and analyzing reviews is one of the best ways to make an informed decision.
Conclusion
This concludes our blog post on the top five automatic subtitle generator software to look for in 2022.
As seen throughout the article, subtitles and written content can significantly increase accessibility and enhance engagement. Consequently, your brand gets a better reputation and more exposure.
There are plenty of software programs that will certainly help you achieve your goals quickly and without hassle, so you don't have to do it manually.
Hopefully, you have found a tool or software that fits your needs among the ones listed above.
Thank you for taking the time to read this article. If you want to read more about automation, check out this article about the top 8 most artificial intelligence trends for 2021.