Artificial intelligence stocks are slowly but gradually, alluring the attention of investors. The U.S. economy is evolving at an unprecedented pace. Companies that fail to innovate disappear, and the companies like those in AI stock trading step in to replace them.
Unlike the tech stocks from the dot-com bubble, ai technology stock companies have plenty of scope to expand and innovate. On the other hand, AI does not have the best reputation. Pop culture often depicts artificial intelligence as an enemy. But let me assure you that artificial intelligence can not take over the world in its current form.
Are AI Stocks A Good Investment?
Technology has evolved drastically from the 1950s till 2021. The current trends of artificial intelligence take over the present stock market. It has been alluring for a lot of companies to adapt to this trend of AI stock trading. This results in driving investments toward them due to their increasing demand in the present and future, which helps do AI stock forecasts. 
Investing in artificial intelligence stocks can result in massive revenue in the coming years. AI companies' stock can end up making a lot of money for you in the form of an intelligent run. This is all possible if you do your research.
Top 11 Artificial Intelligence Stocks to Buy In 2022
1. Microsoft
Market Value
YTD Performance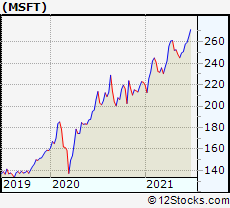 Description
Microsoft is a reputed company that has been leveraging artificial intelligence for a very long time. The company utilizes AI for its cloud businesses, which are entirely dependent on artificial intelligence to deliver goods to different organizations, markets, businesses, and institutions. 
Investors looking to book profit from the AI stock market can invest in Microsoft for its constant progress over time. The market value of the tech company is US $1.9 trillion, with a year-to-date performance of up to 3.9%. Hence, Microsoft is considered to be one of the best AI stocks in the US.
2. Amazon
Market value
YTD Performance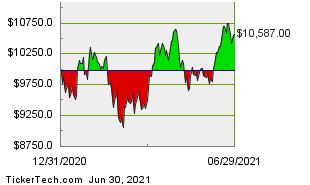 Description
Amazon is utilizing artificial intelligence in the best possible way. It uses AI for voice-activated technology, Amazon Go, and Amazon Web Services. The company has utter dominance in the eCommerce market thanks to its strong grip over artificial intelligence. Drone delivery is another initiative this tech giant takes, which would deliver goods using drones in the coming times. 
Amazon uses artificial intelligence to develop its infrastructure and grow its businesses. The company has a US $1.7 trillion market capitalization with an annual performance percentage of 3.9%. All in all, this is one of the best AI technology stocks available in the stock market today.
3. Alphabet
Market value
YTD Performance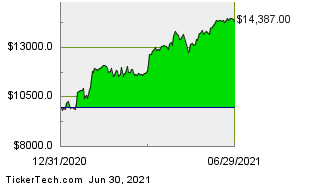 Description
Alphabet (Google's parent company) commenced its endeavors by acquiring smaller, non-public AI companies. To date, it has acquired more of these companies than any other tech company. Imagine how AI can enhance search engines.
And Alphabet owns several companies in the automated driving space that can benefit from breakthroughs in artificial intelligence. This goes to show that Alphabet is one of the best companies in the AI stock market.
4. Nvidia
Market value
YTD Performance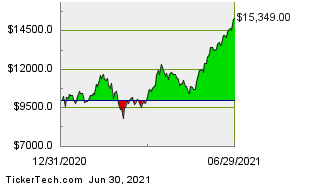 Description
Nvidia is one of the best artificial intelligence stocks of 2021. It is currently the leader in the supplier of graphic cards for computer gaming and AI systems. In addition, its chips specialize in the deep-learning category of AI. This is crucial for the entire artificial intelligence process.
Other companies have utilized Nvidia chips to scrutinize large sets of data to train their models. These systems analyze old data to search patterns that can be applied to new data as it enters the system. Overall, Nvidia is a reputed AI company that can help you reap a good profit if you invest in this artificial intelligence stock and effectively utilize AI stock forecast.
5. DocuSign
Market value
YTD Performance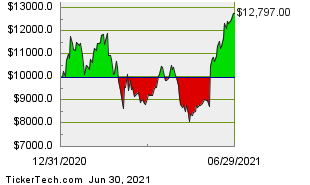 Description
DocuSign is a company that enables organizations to manage their electronic documents. In addition, it provides a mechanism for individuals to sign electronically on different devices. Many companies did not expect DocuSign to grow so fast, but it has grown to US $55.34 billion since April 2018. ItAs a result, it is one of the best AI penny stocks available in 2021.
The company is utilizing artificial intelligence to aid the companies and scrutinize the contractual agreements as well. It employs seal technology to even compare crucial contract clauses and terms and detect risks and opportunities. As a result, the company's revenue has doubled since 2018. It has a market capitalization of US $55.34 billion at present. This makes it one of the best AI stocks to buy in 2021.
6. Twilio
Market value
YTD Performance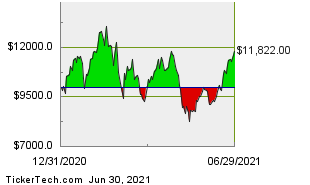 Description
Twilio creates cloud-based application programming interfaces (APIs), enabling developers to build voice, video, and messaging features into their apps. As a result, Twilio has reached unprecedented highs in recent years. Analysts have predicted that they expect this to be one of the best AI penny stocks to compound at 45% annually over the next five years.
7. IBM
Market value
YTD Performance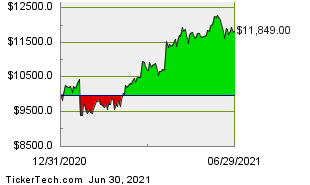 Description
International Business Machines Corp., also known as IBM, employs an exclusive strategy with AI that executes the technology to augment human intelligence, enhance efficiency, and lower costs. For the past few decades, IBM has made strong AI moves and progressed at a fast clip. Now it utilizes this power and insight to deliver AI-powered assistants for business, healthcare, and finance. 
On top of this, IBM bolstered an impressive dividend yield of 5.6% for investors throughout 2020, which analysts expect to grow in the current year. All of this makes IBM one of the best AI companies stock of 2022.
8. UI Path
Market value
YTD Performance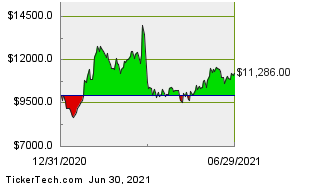 Description
Ui Path is a global software company that performs robotic processes and automation. The company helps clients build artificial intelligence software robots that can learn from human behavior training. This helps them to operate simple to complex business processes. Ui Path has also assisted reputed companies like Microsoft and Amazon to aid with their software. This tech company generated approximately US $186 million revenue, up to 65% in the first quarter.
9. Taiwan Semiconductor
Market value
YTD Performance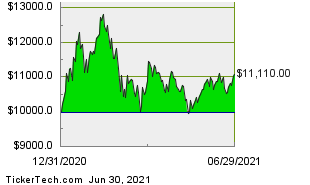 Description
Taiwan Semiconductor is one of the leading artificial intelligence stocks to buy in 2021. The company creates integrated circuits for Nvidia with other tech giants. Taiwan Semiconductor makes up approximately 24% of the world's semiconductors. Its HPC (High-Performance Computing) has grown by 33% since 2020. This tech company is now looking to tackle the demand. 
It announced US $100 billion to spend on increasing demand to support its demand and development in the digital technology front. The company has been growing by more than 22% on an annual basis for the last five years. It has a market value of US $623.52 Billion.
10. Axon Enterprise
Market value
YTD Performance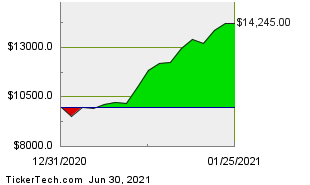 Description
Axon is one of the leading suppliers of conducted energy devices across the globe. The company is also involved in the development of software and sensors utilizing artificial intelligence tools. As a result, the revenue of the company jumped 28% to US $681 million.
Axon is also a leader in marketing body cameras, law enforcement software, and CDs. With the increasing use of AI in its business, it can be one of the best artificial intelligence stocks to buy in 2021.
11. Apple Inc.
Market value
YTD Performance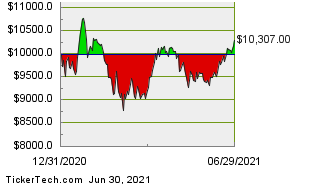 Description
Apple is one company that has been utilizing artificial intelligence technology to enhance the customer experience in different ways. Some of its well-known applications include face recognition, app suggestions, sleep tracking, and handwriting recognition.
The company is also busy searching for ways to broaden the usage of AI. It is estimated that Apple will soon double down on AI research and development. The market value of this tech stands at approximately US $2.275 trillion.
How to pick up the right AI Stock?
These days artificial intelligence companies are creating a rage in the stock market. However, investing in AI technology stocks can be tricky, especially given the warp speed with which AI technology is evolving. Here are some of the factors that you need to consider before investing in AI companies' stocks.
1. Consistent innovation
Several companies leverage AI to solve their problems. Consequently, the quality of solutions that an AI company has to offer becomes a key performance indicator. In addition, several players are working on the same problems in the AI field. Here, complacency becomes a cardinal sin for AI companies as there is always a risk of them being overpowered with better solutions that eat into their market share.
2. Industry
AI has applications across multiple industries. You must have an adequate industry background before deciding to invest in the AI stock market. The risk connected with the industry can spill over to the industry's investment in artificial intelligence stocks. For example, imagine you have invested in an app-based cab hiring company that employs AI for price optimization. Here, you need to consider all the factors affecting the ride-sharing industry, like the COVID-19 pandemic.
3. Strategic Acquisitions
AI entirely depends on other emerging technologies and giant sets of quality data. For example, advances in cloud computing can result in swifter access to data to train AI models. Simultaneously, AI applications can complement cloud services. As the network effects start, the technologies become cheaper.
4. Technology
AI is built using several cutting-edge technologies. Hence, it is wise to brush up on concepts like machine learning, deep learning, and neural networks if you want to invest in the best technology stocks. In addition, you should place an informed bet on how a company deploys its AI, which would help you select the best AI stocks.
5. Ethical AI
Recently several companies have come under the radar for deploying biased algorithms. They put their goodwill in question by being involved in such controversies. Ultimately, this has quite an effect on its AI penny stocks. From an investor's perspective, it's crucial to ensure that they invest in using AI fairly and ethically. Investors also need to watch out if the company is employing AI to misappropriate users' personal or biometric data.
6. Smaller companies
Since artificial intelligence stock is a relatively new field, most AI companies are startups and hence not publicly listed. Such startups' risk/reward ratio is always on the higher side. While investing in a small startup, it's always a good practice to look at its funding history. Investing in companies backed by respectable venture capitalists and angel investors is always safer.
7. Data
Data is essential for any AI company. Just like oil prices affect car companies, the availability of data impacts AI. Companies with access to the best or unique sets of data end up having a sizeable advantage.
Conclusion - Is AI Worth Investing In?
After an entire year of unpredictability and economic turbulence, thanks to the COVID-19 pandemic, we are slowly but surely seeing new technologies continue to emerge, with AI at the forefront. So, now is the right time to invest in artificial intelligence stocks and start AI stock trading.
When you consider smart budgeting and investment choices that are considered the best for long-term financial health, it's hard to ignore AI, which plays a crucial role in decision-making. Moreover, with the growing popularity of Robo-advisors and other technologies, AI is contributing to the changing nature of investment. 
All of these things show that AI is worth every penny of your investment in the long term. Therefore, it is the right time to perform AI stock forecasting and start investing today!
For more such interesting pieces of information on the latest technology, keep following this section.