Facial recognition is actively proliferating the internet and our offline life. There are three main realms where it's evolving particularly fast: entertainment, security, and retail.
Recent iPhone models and almost all social media are equipped with such software. In addition, face scanners are in use in airports, railway stations, and underground around the globe.
Police more and more often turn to this technology for law enforcement. Finally, online and physical stores integrate AR facial recognition to engage customers and increase sales.
Let's observe the latest software solutions that are in use by businesses and governments around the globe.
We'll discuss the major features, benefits, and concerns regarding facial recognition on the whole and in particular cases.
What Is Facial Recognition and How Does It Work?
Facial recognition is a technology for scanning a human face in the photo/video like photo studio softwares and then matching it with images from a database with the help of AI (computer vision and deep learning, in particular).
A face recognition program uses biometrics-specific body characteristics (face, irises, fingerprints, and others). These parameters are widely used for biometric authentication.
Basically, such systems are used for identification and verification.
The process looks the following way:
Face detection. The face is spotted in an image or video.
Face capture. The face recognition system reads the face using dozens of particular landmarks inherent to humans: for instance, the distance between eyes and from forehead to chin. There are 68 parameters for assessment as of today.
Transformation into digital data. The depicted face becomes a facial signature/faceprint and is saved in a database.
Face match. Facial recognition app/software juxtaposes the captured data with a database to find matches. There can be a small company's base of staff photos or a global one with millions of images. Interestingly, the FBI has access to many state databases and 641 million photos.
How Reliable Is Facial Recognition Software?
In the perfect case, a face analyzer can ensure from 94.4% to 99.97% accuracy. However, the correctness of face recognition programs largely depends on several factors:
External conditions: excellent lighting, direct look at the camera, and so forth;
The quality of reference photos in the database;
The age issue when the new shot is compared to the old photo in a database;
Various vendors provide algorithms of different quality.
Best Facial Recognition Software to Explore in 2022
To make it convenient for you to select the best facial recognition software for 2021, we have taken the liberty to divide them industry-wise. Here is the list for your perusal:
AR + Facial Recognition For Retail
A so-called "Virtual Try-on" solution has become an absolute blast for beauty and eyewear brands. It's based on three pillars: facial detection, AI, and AR.
Dozens of cosmetic giants and eyewear retailers have already implemented this immersive technology online (websites and apps) and offline (smart mirrors in stores). Certainly, Covid-19 only accelerated this process.
The only possible obstacle on the way to rolling out the virtual try-on service on an eCommerce website is its poor performance. Thus, examine loading speed and optimize an online store or rebuild it as a progressive web app using Magento 2 PWA Studio or another modern framework.
With this option, customers can try on beauty products/glasses remotely (at home) or just in a contactless manner (in a store). Moreover, this experience feels deeply personalized. It's fun, after all! Virtual try-on became a conversion booster for brands that also increase customers' loyalty and reduced product returns.
Virtual try-on firstly detects faces and then adds an augmented layer that reflects various items like frames and products like foundation, mascara, eyeshadow, lipstick, blush, and so forth. Usually, the process takes seconds, and the shades can be changed in real-time.
1. Ditto
This company provides eyewear retailers with face-tracking software to try on glasses virtually. Ditto's facial tracking software and solutions can be integrated into three ways: in an eCommerce website, brick-and-mortar store, and as an omnichannel option that is accessible both during online and offline visits. Plenty of businesses focused on this product type have already added this feature to their websites and/or in-store tablets.
The try-on solution by Ditto comes in two parts: the Try-On Scan (to capture one's face) and Try-On Overlay (to show frames added onto the face). As stated in the documentation, the product is available through the browser, Android, and iOS SDKs.
Ditto's try-on service tells a user to turn their face side-to-side to make a 180-degree video record of achieving higher accuracy. Then they are offered to hold any standard card against a forehead to determine the right scale of the future frames. Finally, the customer can see a video piece with an augmented pair of glasses on their face.
There are several additional options, such as Face Insights and Frame Recommendations. Due to facial data analysis (a shape and core measurements), these features give wholesome style prompts. In addition, they're aimed at helping people understand which frames fit their faces better. As a result, leads perceive the overall experience as genuinely personal. Below are the examples from an eyewear brand Ace & Tate.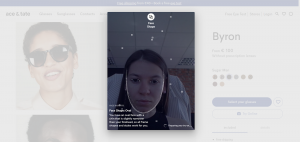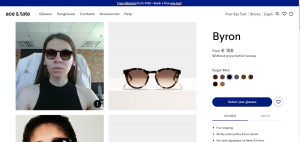 From a user's perspective, the service is handy and straightforward. You should follow clear instructions, and in about a minute, the algorithm will show off how the chosen glasses fit you. The short video that was created once can be reused to try on dozens of frames. You can move it to see the 180-degree view of you in glasses.
Using a card for proper scaling improves the accuracy of measurements. Nevertheless, insights are not correct sometimes. For example, my colleague who assisted me with examples noticed that her face shape was identified as an oval the first time, while the second time as a heart.
2. ModiFace
This face tracking software provider focuses on beauty try-on for live videos and photos. It allows customers to see makeup and hair simulations with products they would like to try. According to the company, over 70 top beauty brands have already applied this technology, making it the most popular AR solution in the industry.
Its Beauty AR SDK can be used for an eCommerce website (desktop and mobile versions), mobile apps (iOS, Android, and Windows), and various models of in-store AR mirrors. Moreover, ModiFace can customize any solution to meet the specific requirements of a merchant.
Put simply, the face recognition software by ModiFace is a blend of Artificial Intelligence and Augmented Reality. A face tracking algorithm detects facial features and adds virtual makeup pretty precisely. This solution boasts 16 million colors, 68 eyeliner, and 44 eyeshadow styles, as well as countless brow styles.
Below is the screenshot from NYX that illustrates how the try-on feature by ModiFace works. 100% of products (eyeshadow, lipsticks and lip gloss, mascaras, and other items) in this online store are available for virtual testing. So you can get an idea not only about colors but also finishes (matt/glossy/shiny). You can also apply a full makeup template and buy the entire look in one click.
At the start, you should opt for one of the following options: use a live camera, upload a photo, or choose a model. Then, while playing with shades, you can use the before-and-after slider, make a screenshot, and share the shot via social media.
This try-on shows fast performance. In the meantime, the color rendering on a desktop computer is questionable. However, this might depend more on the camera parameters and illumination level. I assume that results will be far more accurate on mobile.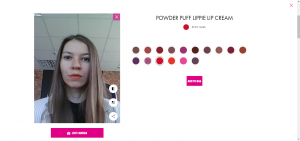 3. Beauty By Holition
This company develops another AR beauty tool based on AR, AI, and machine learning that is also demanded amongst prominent beauty giants. Its offerings include a web app (for the rapid deployment without a website) and Beauty Engine (an SDK for the seamless integration with mobile apps and sites; eligible for browsers, iOS, Android, and Windows).
By tracking numerous points on the face, Beauty by Holition ensures precise augmented visualization. In addition, this solution offers to enable a virtual try-on for 10+ kinds of beauty products.
We've tested the try-on feature on the mobile version of the Max Factor online store. Firstly, it allows trying on foundation and lipstick simultaneously. Secondly, all available items for the virtual try-on are already shown at the bottom of the page. Thirdly, the before-and-after slider is present to compare your look with and without makeup. Fourthly, you can check product info and order an item straight away. Lastly, the augmented elements overlay exceptionally accurately, and colors are rendered correctly.
But there is a lack of a couple of options. You can't upload a photo for further processing, and you can't save a photo with your makeover and share it on social media.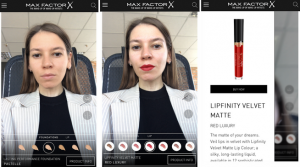 Facial Recognition Software for Security Purposes
Further, we'll talk about full-fledged facial recognition. There are plentiful ways to use this technology, and all of them are related to either national/international or private (business) security. Border control, criminal investigations, access granting are the most sought-after use cases.
4. Vision-Box
Let's start with border control systems that are in use in Australia (SmartGates), the UK (ePassport gates), New Zealand (eGate), France (PARAFE), and some other states.
These services have a similar operating principle. For example, a face analyzer checks the data from a biometric passport (ePassport) and vets whether this traveler is in databases related to crime/immigration. Then, using facial recognition, it verifies the person's identity and automatically passes the person through passport control. Thus, the arrival and departure processes become faster. Such systems have been proliferating airports since the noughties.
Australia has recently changed its service provider, and the new one is called Vision-Box. Its primary focus is automated border control systems and electronic identity solutions on the whole. This vendor claims that 80+ international airports use their face recognition software. Moreover, the company offers Smart Government and Smart City solutions and integration APIs and a management platform Orchestra.
The company uses not only traditional technologies that we discussed above but also IoT. In addition, Vision-Box underlines the cutting-edge nature of its options: self-service, seamless, contactless, and paperless. The concept behind Vision-Box's solutions is to create a convenient environment for passengers, a smart operation system for the staff, and the highest level of overall security.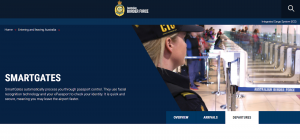 5. BioID
This company provides a bunch of solutions for authentication, identity, and liveness proofing based on biometrics. Main customers are businesses of all sizes that can purchase either a cloud version or a self-hosted one.
The Web Service (BWS) by BioID allows facial and eye recognition to be integrated into websites and mobile apps. APIs can be configured to the particular requirements of any platform. The company guarantees easy and fast deployment that needs just a few lines of code. In addition, the vendor underlines that its biometric technology strictly abides by the principles of privacy and security.
Basically, services by BioID (BioID Web Service, PhotoVerify, liveness detection, and facial recognition app) can be used separately or in a complex for automated identity proofing through photos and/or videos. Moreover, the liveness detection solution can protect an entity from fraudsters who try to grant access using photos, videos, and 3D graphics.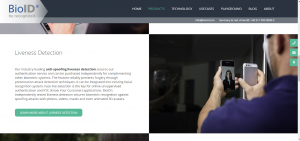 6. Face API
This API by Microsoft Azure Cognitive Services analyzes faces in images with the help of AI. The capabilities of Face include:
identification against the database of up to 1 million people;
emotion/gender/age recognition;
face detection.
The company ensures high compatibility of their solution (supported SDKs are .Net, Python, Java, Node.js, and Go) and easy integration that does not require deep knowledge of machine learning.
There is a paid and free version with limitations (up to 30,000 free requests a month). A business can choose from SaaS or self-hosted options. Among those who leverage Face API is Uber that verifies their drivers to increase the level of security for passengers. Every driver has to pass an ID check (take a selfie) before they're able to accept the next order.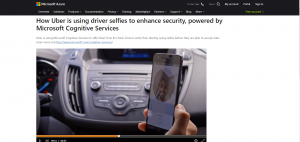 Facial Recognition for Other Businesses Needs
Face detection and recognition technologies can facilitate many more business processes such as payments, photo and video analysis (labeling, content moderation). Let's consider a couple of services that provide this type of feature.
7. FACE++
This company provides an API and SDK (supported ones are Python, PHP, Java, Javascript, C++, Ruby, iOS, and Matlab) in the cloud and self-hosted versions. Face++ has a free plan as well, but with quite tangible limits. The company serves both businesses and the public sector.
Face++ leverages a number of technologies in its face recognition system: deep learning, computer vision, IoT, and so on. Reportedly, now this is the world's biggest authentication software provider that offers face detection, comparing, and searching solutions.
Alibaba Group is one of the most renowned brands that use facial recognition software by Face++. Alibaba implemented facial recognition into their payment system called Alipay. The "Smile to Pay" service allows shoppers to verify transactions via a selfie. Another use case is confirming the IDs of those who want to open an online bank account.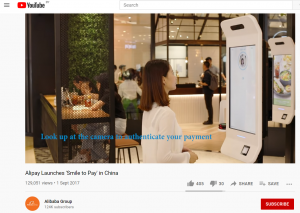 8. Rekognition
This is a service by Amazon that offers many options linked with facial and object recognition. The product can be tested during a free trial period, and then a business owner can opt for a plan that fits their scale and goals. Rekognition provides SDKs for Java, .Net, and Python.
Amazon Rekognition uses deep learning to detect, identify, and analyze data from images and videos. For instance, media outlets apply it to process information (tag and index content to make it searchable; find inappropriate content). As such, financial organizations automate the credit takers' verification process and the analysis of documents.
Wrapping Up
Biometrics are regarded as the most accurate means of identification. Since algorithms are getting more and more precise, companies and governments accelerate the implementation of the best facial recognition software. After all, it is a huge aid in automation.
Indeed, there are reasonable concerns that face recognition spreading can violate human rights. For instance, law enforcement authorities have a huge temptation to use it for surveillance at a massive scale (e.g., to identify protesters). That's why facial recognition is still a subject of great controversy. Several US cities have recently banned this technology for police, governmental, and municipal use. There is a need for legislative regulation of facial recognition in such cases.
However, the real advantages of face recognition seem to outweigh shortcomings. The level of proliferation into social media, border/access control systems, and business processes points out that the future is facial recognition. Furthermore, the possibility to combine AI with IoT and AR only broadens the range of possible use cases.