Low code platforms allow you to build applications with minimal coding requirements. This helps in the development of the code at a fast rate and reduces the traditional programming efforts.
1. Visual LANSA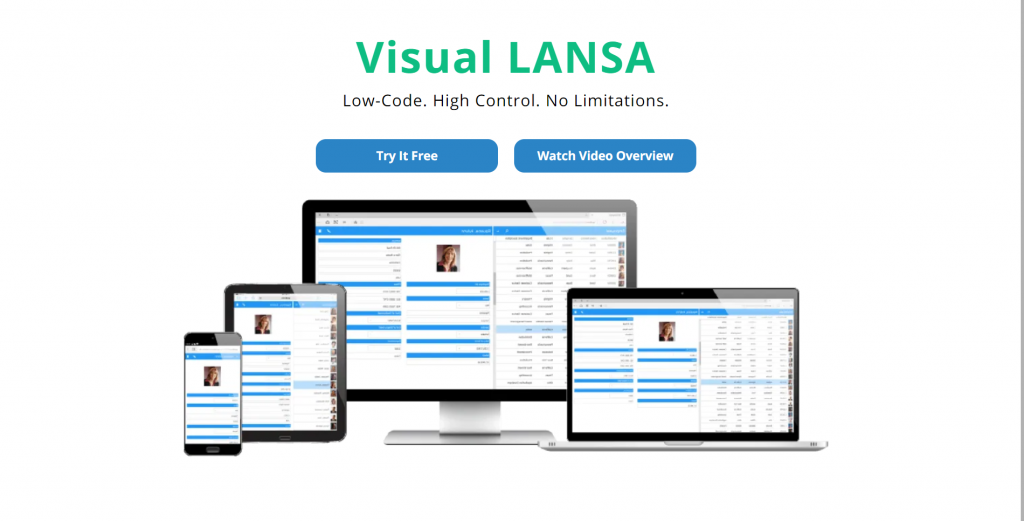 Visual LANSA is a low code development platform that allows individuals and businesses to improve their IT processes and operations while reducing their technical debt and risk. In addition, this low code app development platform allows any developer to work on any part of an app, reducing your requirement for a specialized team of developers. 
You can utilize it to upgrade your manual processes into the web, mobile, and cloud-based applications to enhance the productivity of your venture. Visual Lansa is regarded as one of the best low code platforms as with its help, you can deploy apps to IBM and Windows servers or upload to the cloud to provide your team remote access to business-critical data.
Features
Offers advanced visual development and DBMS support
Builds apps quickly with minimal fuss and at a cost-effective price as compared to traditional development
Features extensive testing, deployment, and integration controls
| | |
| --- | --- |
| Pros | Cons |
| This platform can write code within the IDE | IDE can be a bit slow at times, especially at the start |
| Only low-code to run on IBMi, windows, and web | It is also not as good as a visual studio type interface |
Ratings
Visual LANSA receives excellent reviews in general, with an average rating of 4.5 out of 5 stars. Unfortunately, it does not have many reviews, but the user satisfaction rate is approximately 90%.
Key Takeaway
Visual LANSA will enable professional developers to create applications much swifter than traditional coding. It will also provide an amount of control which is much more than usually seen in low code platforms.
2. GeneXus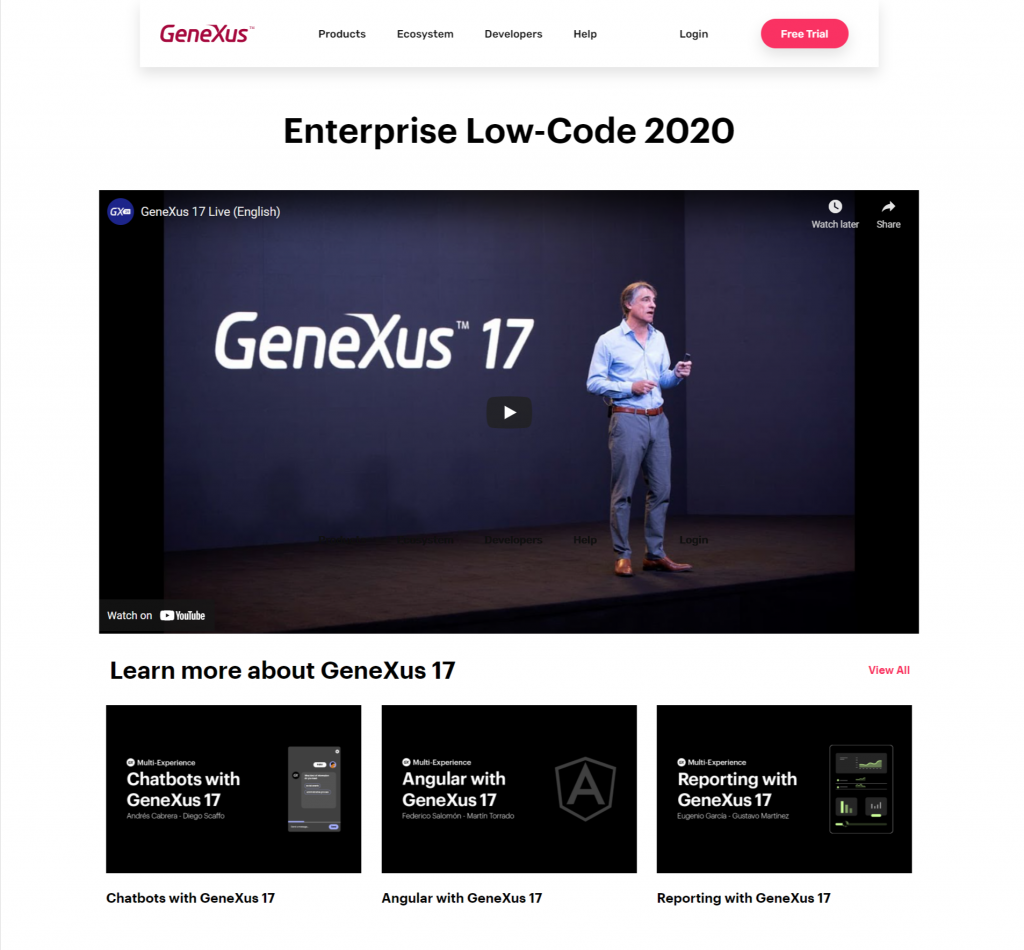 GeneXus provides an exclusive platform that captures users' requirements and creates applications for present-day and future technologies. All this is done without any need to learn new technologies. Instead, it enables pragmatic developers to evolve swiftly by responding to market and technological changes in an agile manner.
Features
Prototypes are always 100% functional.
Generates and deploys web and native mobile applications for the most significant platforms and scenarios
Maximum flexibility for creating sophisticated, integrated solutions quickly
Systems construction is done in a technology-independent manner which makes them future-proof to new technologies or changes in the current ones. 
| | |
| --- | --- |
| Pros | Cons |
| Best code generators across the globe | It is improving but still is not a visual-oriented platform |
| Cost is by developer seat | Documentation reflects it is not a native English solution |
| The size of the generated solutions or the number of its users does not matter | More substantial presence in Latin American countries and Japan instead of USA |
| IDE in several languages like English, Spanish, Japanese, and Chinese | No managed hosting is currently being offered for deployments. Only prototyping cloud is available. |
Ratings
GeneXus receives excellent reviews in general, with an average rating of 4.5 out of 5 stars. Unfortunately, it does not have many reviews, but the user satisfaction rate is approximately 90%.
Key Takeaway
GeneXus is an excellent choice when you require productivity in the short term, when you are contemplating evolving your solutions over extended periods, and when you require to integrate to different kinds of systems.
3. Oracle APEX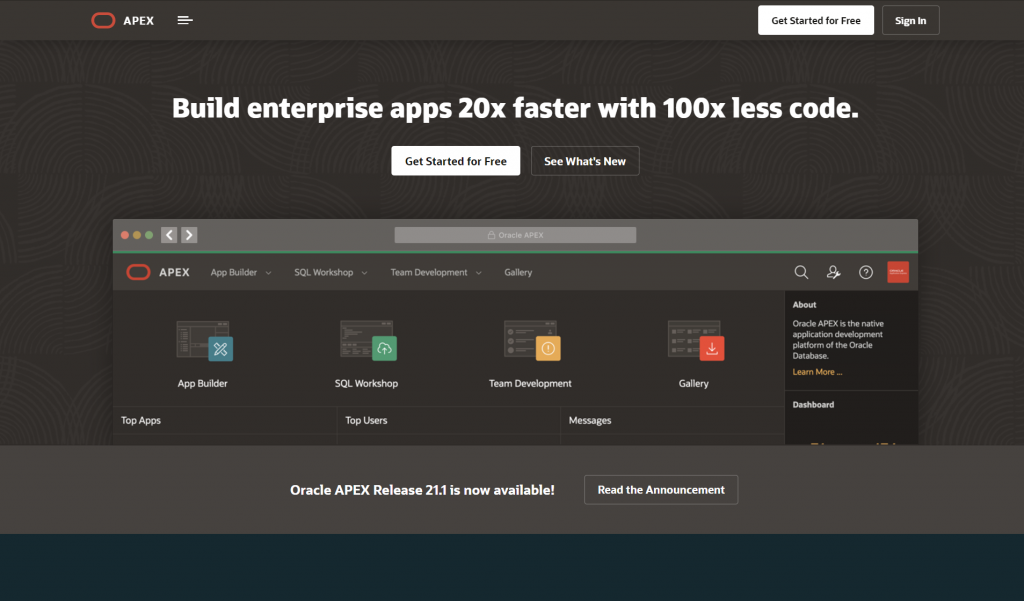 Oracle APEX is the short form of Oracle Application Express. It is yet another Rapid App Development (RAD) tool with significant features and excellent reviews. The good news is Gartner named Oracle as the Customer's Choice for Enterprise Low-Code Application Platforms in its November 2019 Gartner Peer Insights.
Features
Comes in the form of block-based coding
Utilized to create secure enterprise apps
Completely scalable
It can be deployed anywhere.
Provides lots of community resources and events
Provides tutorials and documentation
| | |
| --- | --- |
| Pros | Cons |
| If you already have access to Oracle Database, you can integrate Oracle APEX for free. | It can be challenging to deploy with an on-site database. |
| Effortless to test | Needs some programming skills, especially for developing complex apps |
| Single-click page execution |   |
| Effortless to administer |   |
| Highly customizable |   |
Ratings
Oracle APEX receives excellent reviews in general, with an average rating of 4.5 out of 5 stars. Unfortunately, it does not have many reviews, but the user satisfaction rate is approximately 90%.
Key Takeaway
With a well-designed architecture, Oracle APEX is a simple 3rd party application. Therefore, it is recommended for organizations looking to execute agile project development. 
4. Zoho Creator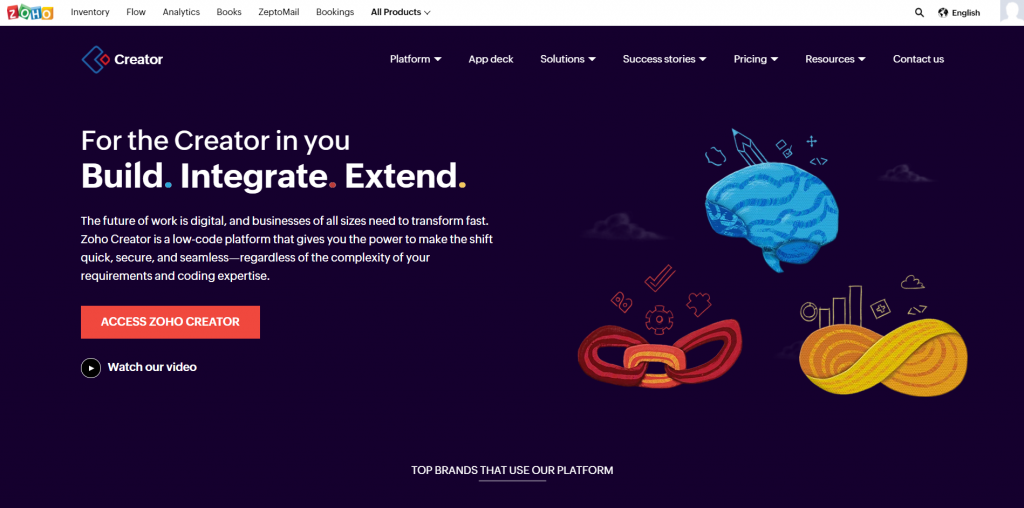 Zoho Creator's cross-platform app builder assists in making native mobile applications swiftly. You can develop apps on the web, publish and utilize them on your iOS and Android devices with multi-platform access. The company comprises App Deck with more than fifty ready-to-use business apps. The good thing about Zoho Creator is that it utilizes its scripting language known as Deluge. 
Features
Comes with a drag and drop builder
Workflow builder
Mobile builder
Roles and permissions
| | |
| --- | --- |
| Pros | Cons |
| Mobile apps are above average | Comes with limited GUI customizations |
| Effortless in creating forms | Manipulation of data is not easy |
| Dashboard and reporting features are a class apart |   |
Ratings
There are few ratings for this software as of yet. But, it is well-liked by those who use it.
Key Takeaway
This low code app development platform is renowned for its pre-built business template and marketplace of integrations.
5. Creatio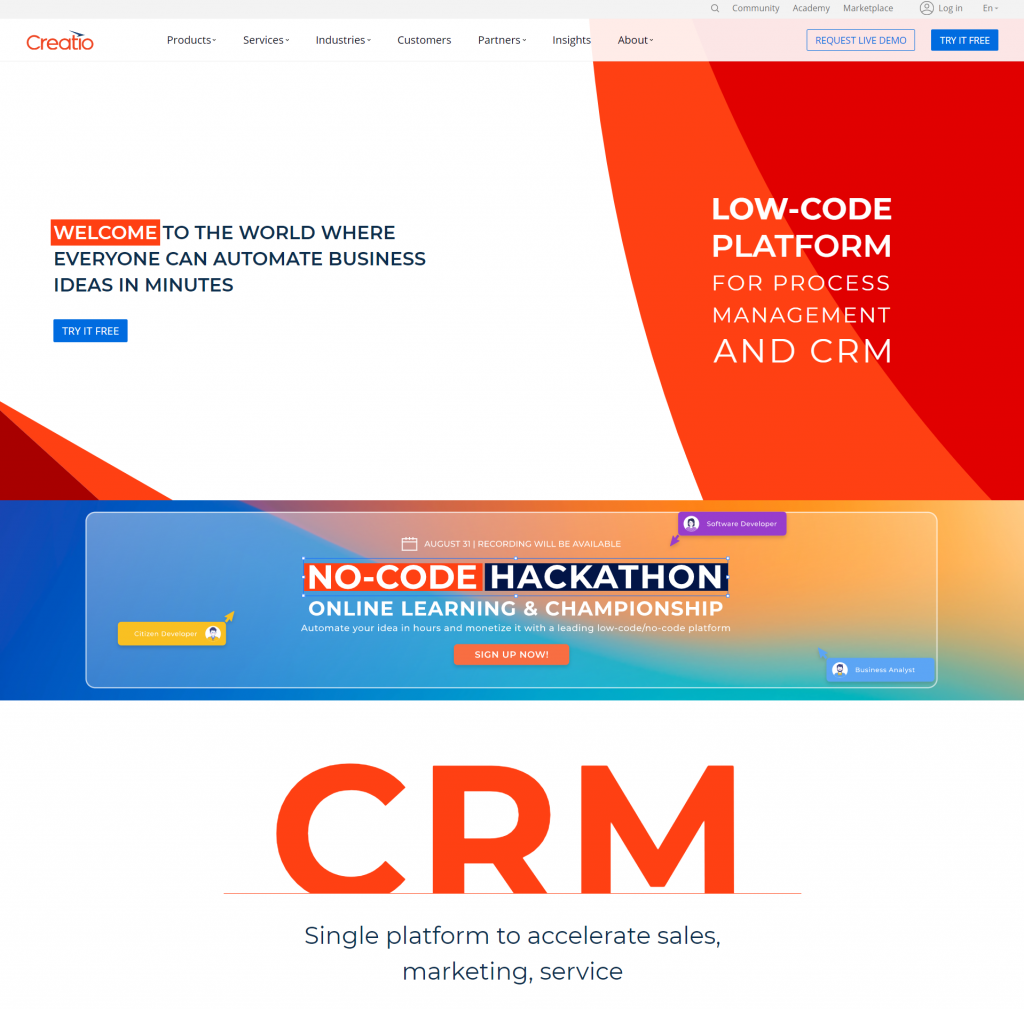 Studio Creatio is one of the best low code platforms with innovative solutions and templates to excel in process management platforms. Moreover, Creatio Marketplace already consists of various ready-to-use apps and solutions that extend the platform functionality.
Features
Comes with user-friendly productivity tools for sales agents
Provides robust vendor support and intelligent analytic tools
A unified platform for different functional areas and teams. 
Class-apart overall functionality
| | |
| --- | --- |
| Pros | Cons |
| Comes with user-friendly dashboards and KPIs | Comprehensive reporting is not present in this low code app development platform |
| Provides high-level customization | Certain functions need dedicated expertise |
| High user adoption | Requires a steep learning curve for certain users |
Ratings
Creatio is top-rated with 4.5 stars out of 5. Hardly a few users have complaints to offer.
Key Takeaway
Creatio provides handy graphics and dashboards. When you use this low code development platform, it will accelerate your routine operations. It will also assist you in managing different types of cases and regulating timelines, making it one of the best low code development platforms available in the market.
6. Appian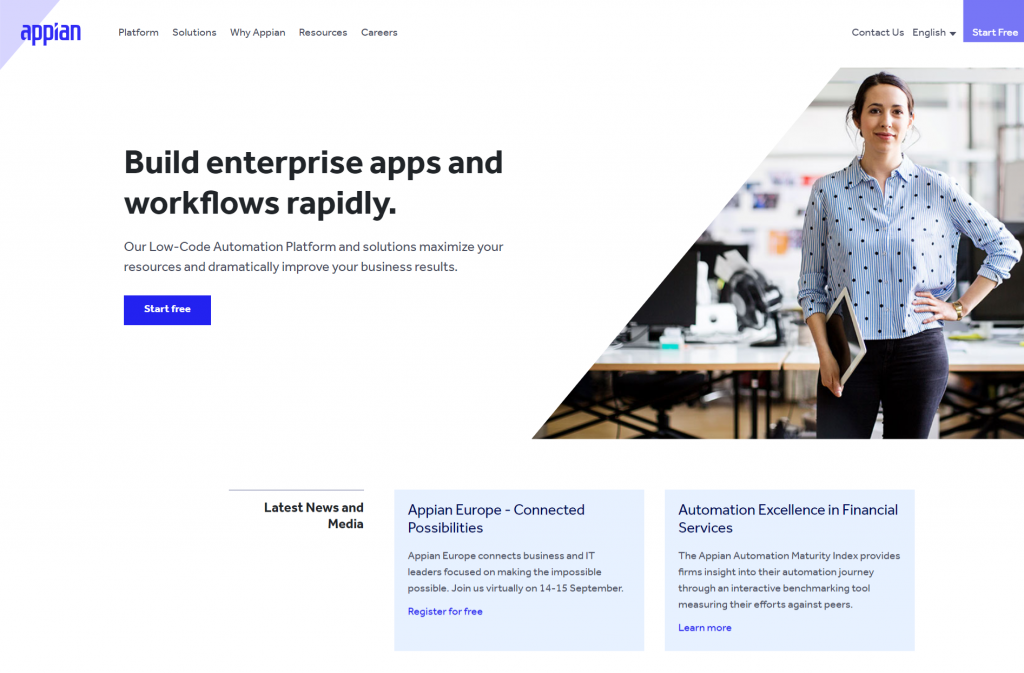 Appian's intelligent automation platform assists organizations in building smart applications that will improve their business, customer engagement, and worker efficiency. It also ensures the security of your critical applications. 
Features
Drag and drop tools
Provides native AI services
Unlike no-code platforms like Zendesk, Shopify or Elementor, it offers no-code integration to AI/ML platforms to integrate through Google Cloud, Amazon AWS, and Microsoft Azure
Without any need to write codes, you can integrate enterprise data, systems, and web services
| | |
| --- | --- |
| Pros | Cons |
| Rich feature set | One of the most high-priced low code development platforms |
| Quick and very easy to use | Sometimes error descriptions come up which needs improvement |
| Real-time visibility |   |
| Quick deployment |   |
| Dynamic reporting |   |
Ratings
It has an average of four stars out of five from several hundred reviews. Some prominent companies have also used it.
Key Takeaway
Appian is one of the best low-code development platforms as it combines intelligent automation with low-code development. 
7. KiSSFLOW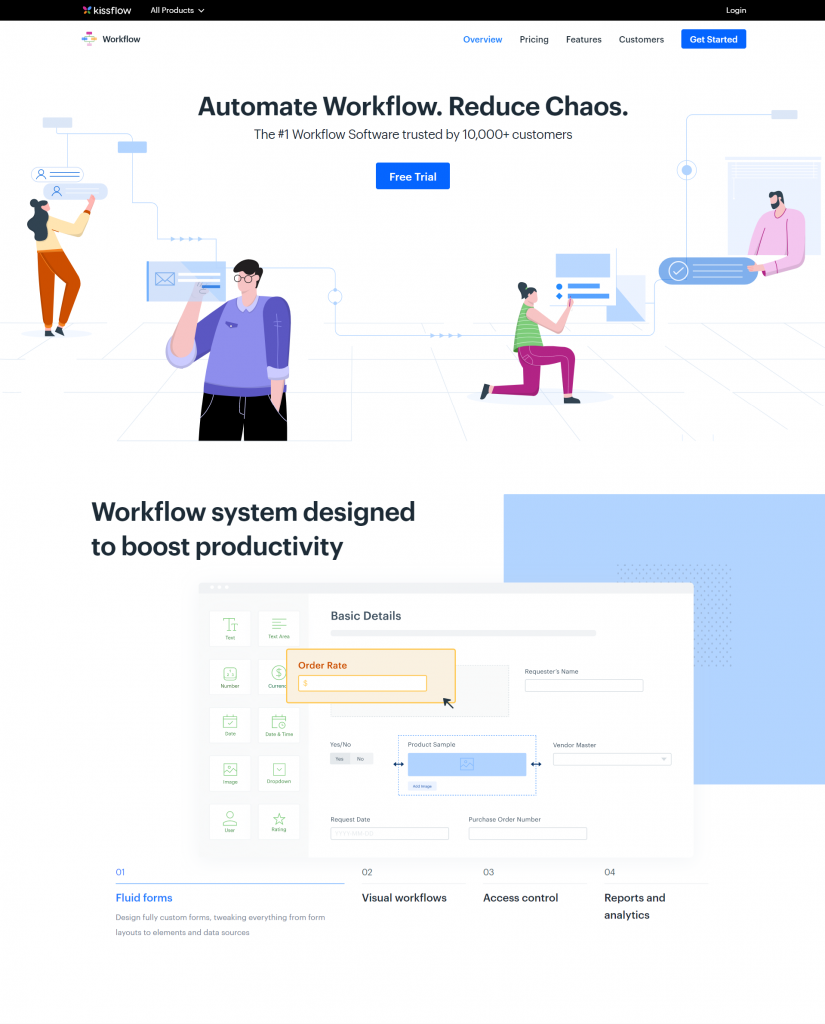 Kissflow is one of the best low code platforms that allows anyone to create an automated process, build a project board, handle a case flow, and collaborate on work topics - an all-inclusive intelligent, and easily integrated platform.
Features
Exclusive 5 Step App Wizard
Easy to follow workflows
Zapier support for SaaS integration
Collaboration features
Compatible with Android or iPhone app
| | |
| --- | --- |
| Pros | Cons |
| Very user-friendly | Certain users complain that the app is buggy. |
| Comes with an excellent user interface | Gives a hard time to save work |
Ratings
Kissflow has thousands of reviews and averages approximately 4.5 out of 5 stars.
Key Takeaway
Kissflow is one of the best low code platforms for those companies that have decided to create a digital workplace through a single tool.
8. Mendix
Mendix is one of the best low code platforms that assist enterprise businesses to create applications quicker as a service tool. The ultimate objective of the company is to not only target people without tech skills but also those with proper development skills. 
Features
Contains offline mode
Comes with multi-channel deployment
Consists of several collaboration features
Available in the app store
| | |
| --- | --- |
| Pros | Cons |
| Highly scalable | Quite costly in comparison to other low code platforms mentioned in this list |
| In some instances, no coding is required. | Several companies have observed performance issues while handling large datasets. |
| Data management system |   |
Ratings
Mendix is one of the most favored low code platforms by Gartner and Forrester. It is recognized as a leader in the space of low code development platforms. The user rating it typically gets is 4.5 stars out of 5.
Key Takeaway
Mendix is a tool that serves the purpose of creating apps primarily for enterprise companies. 
9. OutSystems
OutSystems has been developed keeping in mind the users that wish to create enterprise-grade apps quite swiftly. According to the company, their low code platform is ranked number one by Forrester. With the help of this low code app development platform, users can visually create their entire application, effortlessly integrate with the prevailing systems, and add their own custom code when they require it. However, the only loophole of this platform is its non-suitability for individual use.
Features
Provides a visual development environment
Ability to deploy to any device
No technology lock-in
It can be used as an offline mode.
| | |
| --- | --- |
| Pros | Cons |
| Effortless integration with your custom code | Not suitable for SMB |
| Great support | The tool is not flexible enough. |
| Highly scalable | No macOS client |
Ratings
The overall rating of OutSystems is quite positive. The company has an average rating of 4.5 stars out of five with hundreds of reviews. 
Key Takeaway
OutSystems is a great low code platform for developing enterprise-grade applications. In addition, the company has existed for the last 18 years, so there is no risk whatsoever of losing any application because of company fault.
10. DWKit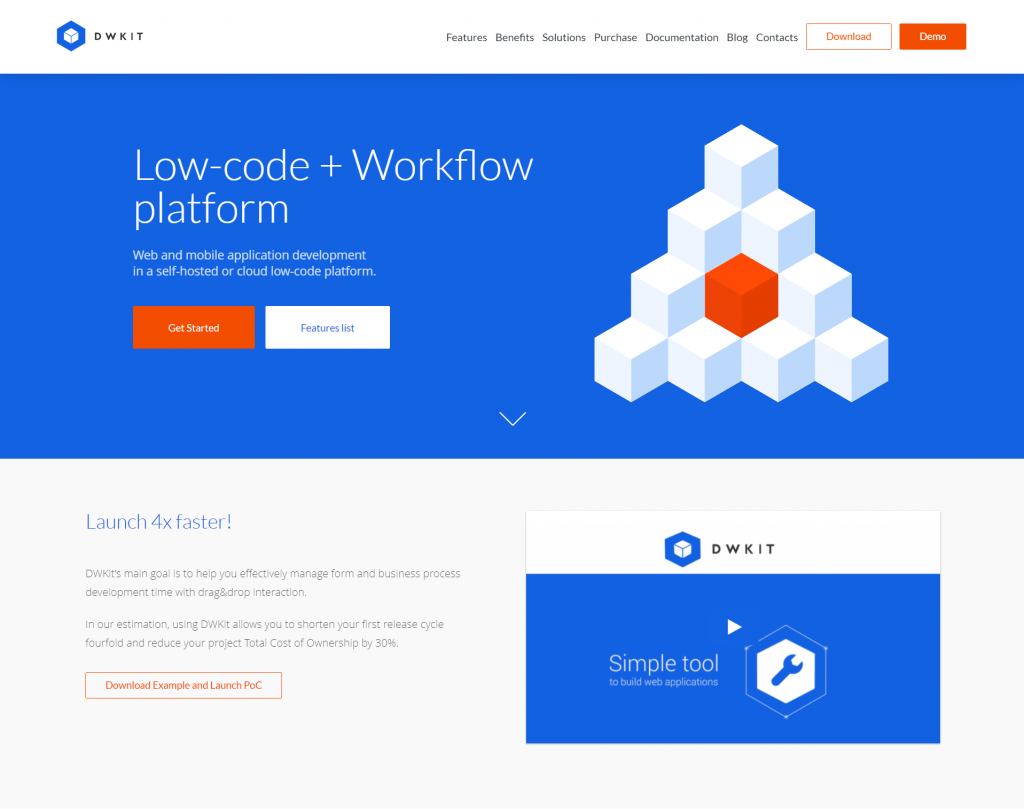 DWKit is the short form of Digital Workflow Kit, which aids you in effectively managing form and business process development time with drag and drop functionality. DWKit is an accumulation of form builder, workflow, security, and data mapping from the technical perspective. 
Features
Provides robust technical support
Features drag-and-drop coding functionality
Comes with a free and low-code open-source alternative
Self-hosted and cloud-based options are available
Drag-and-drop form builder
Consists of a fully customizable end-user interface
| | |
| --- | --- |
| Pros | Cons |
| Provides effortless customization alternatives | Less relativity because the platform is relatively new and less renowned |
| Allows users to launch their apps swiftly | The website is not well-managed. |
| Provides developers access to source code |   |
| Provides database support |   |
Ratings
There are very few ratings for this software. But, it is well-liked by those who have used this software.
What Can You Create Using Low-Code Development Platforms?
Low-code platforms provide visual interfaces with drag-and-drop functionality that enables users to build apps for various business tasks, from customer-facing apps to integrations with third-party solutions. 
With the help of low-code platforms, users can create several types of business applications like:
1. Customer engagement apps
Build any enterprise-grade app for various business tasks. These apps can range from customer-facing applications to complex business processes for more effective and personalized customer engagements.
2. Operational efficiency optimization apps
Create applications that automate processes to enhance the efficiency of operations. These apps provide various advantages to businesses like reduced cost and reduced risk or error via automation.
3. Business processes
Define workflows and build processes for tasks of any complexity to automate operations across different departments.
4. UI, data model, and business logic
Define and configure data models, UI, and business logic for web applications and mobile devices.
5. AI-based solutions
Build applications that utilize AI and machine learning algorithms to process data efficiently to minimize manual operations and increase efficiency.
Benefits of Low Code Development Platforms
From enhancing productivity to making maintenance hassle-free, the benefits of low-code platforms are many. These benefits have been designed to aid business users to maximize the workplaces' efficiency without sacrificing usability from these platforms.
1. Improves productivity
Enabling business users to create apps on their own saves a lot of time for developers. It also improves productivity for business users too. They don't have to wait for developers to get to their requests. Business leaders have the opportunity to create their own apps, so there is no waiting in the middle between the idea and execution.
2. Saves money
Talented developers are already in short supply and command a premium package. But their talents are wasted on several projects. Now regular business users have the opportunity to do the same thing as long as they have the tools to do it. A low-code platform is just the tool that can work for them.
3. Improves development speed
Low-code development platforms take less time for an individual to get the application started. Whether you are a seasoned developer doing the coding or a layperson, it does not take as much time as traditional hand-coding. 
4. Makes maintenance an effortless process
With traditional apps, maintenance and upgrading can take a lot of time. Developers have to fix bugs and add new features manually. But with low-code application development, there are very few bugs to deal with. Moreover, since the modules accessible on low-code platforms are pre-tested to work together seamlessly, any new features can be integrated without worrying about compatibility.
How To Choose The Right Low-Code Platform?
With so many low code platforms available in the market, selecting the best one from the rest becomes challenging. Here are some points to consider while choosing a low-code platform.
1. Quicker delivery
While selecting a low-code platform, search the company's track record of delivering applications at speed. Often companies will give you timescales for their most simple app. However, it is equally important to look at the time the company takes for complex apps.
2. Functionality
To get the most out of the low-code platform, you want the platform to do whatever it is that the company may need. Therefore, look at the widest range of functionality to ensure that the low-code platform is future-proof. This way, it will keep up with the ever-changing demands of the market.
3. Responsive
Smart devices like smartphones and tablets have become an essential element of our day-to-day lives. This is where it becomes vital to ensure that the low-code platform you select offers responsive features. This way, you can always stay ahead of the market trends and plan for the future.
4. End-to-end integration
The low-code platform you choose should easily integrate with other systems.
Key Takeaway
DWKit provides an efficient low code platform with comprehensive capabilities to alter this tool in your Visual Studio Designer . DWKit is more complex to understand than other low code platforms mentioned in this list. It requires more than just an average developer's skills. But the enhancement opportunities it provides make up for this limitation. It is a perfect tool for companies that are looking to build products of their own. 
Conclusion: Future of low code platforms
There is a strong feeling that low code usage will continue to evolve as time goes by. This is especially true for enterprise-wide initiatives and specific projects in business units. For this, there will be help required from pro developers and even more line-of-business (LOB) workers. Enhancements in low-code platforms will also increase their prospective use cases. This will help businesses to shift their work to the cloud. 
However, traditional application development is not going anywhere. Enterprises will continue to use high code apps that require optimization and control, like deployment to specific architectures or environments.