According to Allied Market Research, the global smart car market was valued at $63.03 billion in 2019 and is predicted to reach $225.16 billion by the year 2027, registering a CAGR of a massive 17.1%. Smart cars are the future & self drive car companies are on a mission to deliver the future.
But before that let's start with the basics -- the definition.
What is a Self Driving Car?
A self driving car is also known as a driverless car, or a smart car is a vehicle that doesn't require a human driver. It can travel from point A to point B with the help of sensors and software. 
What is a Self-Driving Car technology? 
Self driving car technology is an advanced smart car technology that primarily removes the need for a human while driving a vehicle.
Removing the need for human intervention sets it apart from current Advanced Driver-Assistance Systems (ADAS) that provides functions such as pre-collision warnings, steering assistance, and automatic braking. 
A driverless car uses the following technology the remove the need for human intervention: 
How Does a Self Driving Car Work?
self driving cars run on software, sensors, actuators, artificial intelligence, machine learning, and powerful processors.
Read more: Top 8 Artificial Intelligence trends for 2022
Smart cars have a variety of sensors installed on them to make sense of their surroundings. More precisely…
Radar sensors monitor the position of vehicles in proximity
Video cameras detect read road signs, traffic lights, track other vehicles and look for pedestrians 
Lidar (light detection and ranging) sensors bounce pulses of light off the car's surroundings to detect road edges, measure distances, and identify lane markings 
Ultrasonic sensors in the wheels detect curbs and other vehicles while parking 
Then sophisticated software processes all this sensory input and sends it to the car's actuators, which control steering, acceleration, and braking. Other technical specifications help the software follow traffic rules and navigate obstacles.
Now that you know what a self driving car is and how it functions, let us see the top 7 best self driving car companies that have their smart cars running on the road.
The 15 Best Self Driving Car Companies of 2022
Back in 2009, Google started its Self Driving Car Project, discreetly. Google used a modified Toyota Prius combined with its driverless technology and got a license to deploy this self driving car on the streets of Nevada. 
Six years later, in 2015, Google managed to run the world's 1st fully self driving car on roads. This car, which had no steering wheel or brake pedal, ran on electricity and was renamed Waymo in December 2016. Waymo has two self driving cars to its name. Waymo One, a self driving taxi service used on the roads of Phoenix, Arizona, and Waymo Via which is a self driving heavy vehicle/truck service that is still being tested.
It is to be noted that during the testing phase, these self driving car companies always had a human backup driver in their self driving vehicles as a safety precaution.
These smart self driving vehicles, in addition to housing a camera, have LiDAR and radar sensors. Waymo cars also have microphones to detect sirens from ambulances and firetrucks. 
Cruise is a self driving car company of the American automobile giant General Motors. The self driving vehicle unit, GM Cruise, has one of the world's largest self driving vehicle fleets of 180 vehicles undergoing testing. So far, the cumulative distance traveled by this fleet is more than 1.6 million kilometers or 1 million miles. 
GM cruise got good press attention in 2016 when it bought Sidecar's assets and invested half a billion dollars in Lyft. 
In 2018, it launched a semi-autonomous Super Cruise, Cadillac CT6. In January 2018, GM filed a petition to run a commercial ride-sharing business through autonomous Chevrolet Bolts. And has received $2.25B from SoftBankto support autonomous work. The company aggressively competes with Waymo. 
Recently Cruise has partnered with the retail giant Walmart to get items delivered to Walmart customers by self driving cars.
Read more: How Voice Searches Revolutionize Online Shopping
Zoox is a self driving vehicle manufacturing start-up based out of Australia, founded in 2014. Since 2014, Zoox has been developing the world's first fully autonomous, ground-up vehicle fleet with the mandatory ecosystem needed for the real-time application of this technology to the public.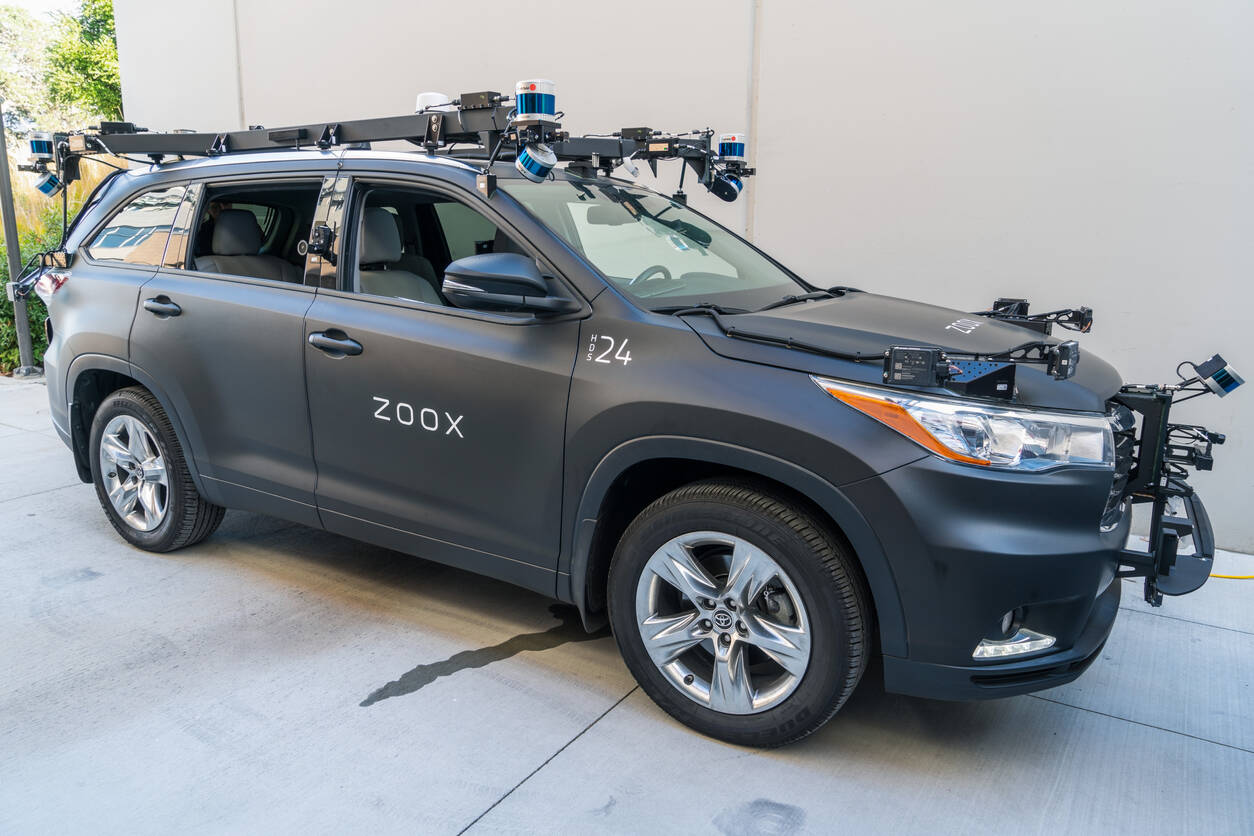 This self driving vehicle startup stands at the threshold of artificial intelligence, robotics, and design. It aims to provide future generations with smart mobility-as-a-service in urban settings. This self driving vehicle's prototype self driving vehicle runs fully on electricity. It is bidirectional, which means it can move at right angles without actually having to turn. Another outstanding feature is that this vehicle is not even equipped with a steering wheel! Instead, two seats facing each other are installed to provide space for humans. 
The people at Zoox are also aiming to take self driving car technology to taxis that would carry passengers across cities incessantly.
In July 2020, Amazon acquired Zoox for $1.3 billion. 
Voyage has a novel goal for its operations. This self driving car company aims to bring the self driving car technology to the retirement communities to help the senior citizens travel safely and better across the city too affordably. The company's choice to begin implementation in retirement communities is because these communities generally transit at a slower speed than the rest of the drivers in other neighborhoods. 
Solving the mobility woes of senior citizens is one thing. Voyage also takes pride in getting all their passengers to their destination safely, efficiently, and affordably.
Recently, this socially responsible self driving vehicle company Voyage has raised $31M in Series B funding. This round had significant contributions from Jaguar Land-Rover's InMotion Ventures, Khosla Ventures, and Chevron Technology Ventures. In total, Voyage has brought the total capital raised to $52M. 
Their latest self driving car is Robotaxi G3 that is specifically designed for COVID Times. 
Voyage partnered with GHSP, a leading supplier of vehicle systems. GHSP's grēnlite solution uses ultraviolet-C (UV-C) light to destroy pathogens automatically after each ride inside the vehicle by inactivating the pathogen's DNA and curbing its reproductive cycle. You can see this in action in the image above. 
Pony.ai is one of the oldest self driving car companies that aims in bringing breakthroughs in smart driving technology with Artificial Intelligence assistance. Pony.ai wants to revolutionize the transportation system by developing fully autonomous self driving smart vehicles. The self driving car company promises for the vehicles to be reliable, safe, and cost-effective.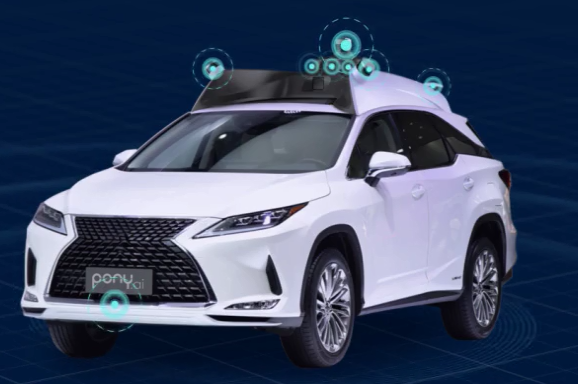 The AI technology makes these smart vehicle technology apt for busy city environments; it takes into account variables like other vehicles, cyclists, and pedestrians. 
Pony.ai believes that a practical engineering approach is the most feasible path to bring the first generation of self driving vehicles to market.
Founded in 2016, Nuro is another self driving car company that wants to revolutionize E-commerce through driverless delivery. Nuro develops and operates a self driving vehicle fleet that makes door-to-door delivery of all kinds of daily items, from food, medicines, and documents to laundry. Nuro's self driving cars help merchants reach out to even more customers easily. Nuro makes the delivery of goods to customers safe and affordable as well. 
Led by industry-leading experts in robotics, artificial intelligence, and product design, the company's motto is to use robotics to make everyday lives easier. Their self driving vehicles began making driverless deliveries to the public in 2018.
Their latest model R2 comes with no pedals or steering wheel to have maximum room for packages. 
This self-driving car company has been proactive during the pandemic and has got $500M as e-commerce gets a huge boost from the pandemic.
Overall, Nuro has raised more than $1 billion from investors like Softbank and Greylock, and it also shares partnerships with leading brands such as Dominoes and Kroger.
Founded by Elon Musk, Tesla happens to be the most popular and the first operational self driving car company.
Tesla runs on Tesla Autopilot, which is an advanced driver-assistance system that houses a host of smart self driving features like traffic-aware cruise control, lane centering, automatic lane changes, self-parking, semi-autonomous navigation on limited-access freeways, amongst other things.
Elon Musk first publicly discussed the Autopilot system in 2013, stating,
"Autopilot is a good thing to have in planes, and we should have it in cars."
Tesla cars define smart cars for everyone. While riding a Tesla, a rider needs to do the minimum. All you need to do is get in the Tesla and tell where to go. Even if you don't say anything, the smart self driving vehicle will look at your calendar and take you there. If there is nothing on the calendar, it takes you to your home. It will also choose the best route to navigate, and efficiently manage complex traffic-light intersection. It will adhere to all stop signs and roundabouts and swiftly move through densely packed freeways.
Once you reach your destination, all you have to do is get out of the car, and it will automatically find a spot and park itself. You can also summon your Tesla from the parking space or garage by its smart summon feature with just one tap. 
Founded: 2016
Headquarters: Pittsburgh, US
A collaborative project of Ford and Volkswagen, Argo AI is an independent project that was kicked off in the year 2016.
Argo-AI vehicles are known to have an exterior that houses a combination of sensors that include LiDARs and radars, making it one of the smartest automated cars. 
The LiDAR technology in this car can easily locate the distance of the objects from the car quite similar to the Tesla models. At the same time, the cameras help with depth perception.
Backed by investments from Ford Motor Company, Argo AI isn't actually a stand-alone AI-powered car production company. Instead, it focuses on manufacturing self-driving technology for other companies.
However, the brand predicts that there won't be any self-driving passenger cars for possibly till the next decade from Argo.
This entire project brings Ford and Volkswagen a step closer to be the leaders in the mass market self-driving car industry.
Founded: 1948
Headquarters: Minato city, Japan
Back in 2018, Honda and GM signed a 12 year autonomous vehicle partnership, with $2.8B. 
While both these companies were already in a joint venture to develop hydrogen fuel cell systems by 2020, GM backed out to just opt for battery electric vehicles.
After receiving its approval to test autonomous vehicles on public streets from California, Honda has started its testing already with restrictions on the number of vehicles.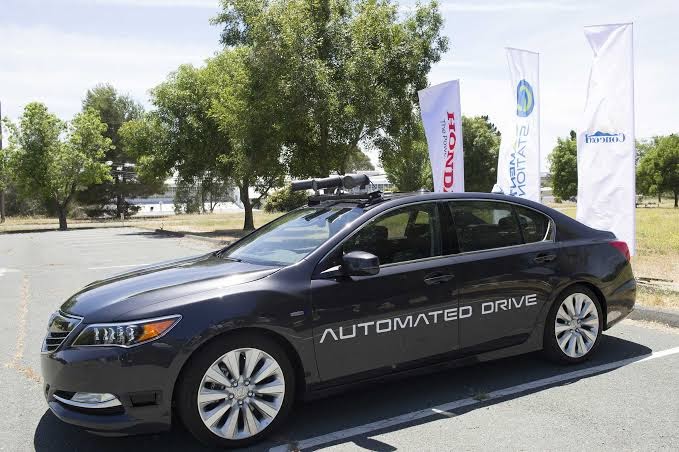 Quite similar to Apple, Honda is using the GoMentum Strain proving ground to conduct its self driving operations.
Honda also introduced its semi-autonomous Advanced Driver Assistance Systems (ADAS) on its entry level  vehicles. This offers features such as:
Lane keeping
Automatic braking 
Adaptive cruise control functionality
And while these features are a major attraction of the company, they could be seen on the luxury models offered by popular brands like Mercedes.
Founded: 1933
Headquarters: Yokohama, Kanagawa, Japan
When in 2016 Nissan introduced its self-driving system, known as ProPilot, it was a major landmark for the company. The reason was that Nissan had been working on this autonomous vehicle technology for a long time now.
The ProPilot is an Advanced Driver Assist System (ADAS) which not only is very convenient to use, but also eases most of the functionalities of a self-driving car. 
Fast forward to 2022, these technologies are now abundantly available. 
However, Nissan is still providing something revolutionary, as the new ProPilot 2.0 has been introduced with 3D mapping navigation. This technology has advanced sensors and cameras which even recognizes the pedestrian's faces.
Most importantly, it also provides 'semi-autopilot' features in its cars which could also be found in the Tesla automobiles. 
This still is a technology that's improvising, which makes Nissan one of the most looked up to autonomous vehicle companies at the moment.
11. Baidu
Founded: 2000
Headquarters: Beijing, China
In 2013, Baidu, one of the emerging self driving car companies announced the development of self-driving vehicles. Further, this project of Baidu reached the workforce of more than 10,000+ developers with 50+ partners around the world, including BMW and Mercedes. 
Baidu integrated its AI system to drive independently without a safety driver inside the car. To ensure public safety in extreme road conditions, Baidu integrated 5G-enabled teleoperation into its autonomous vehicles.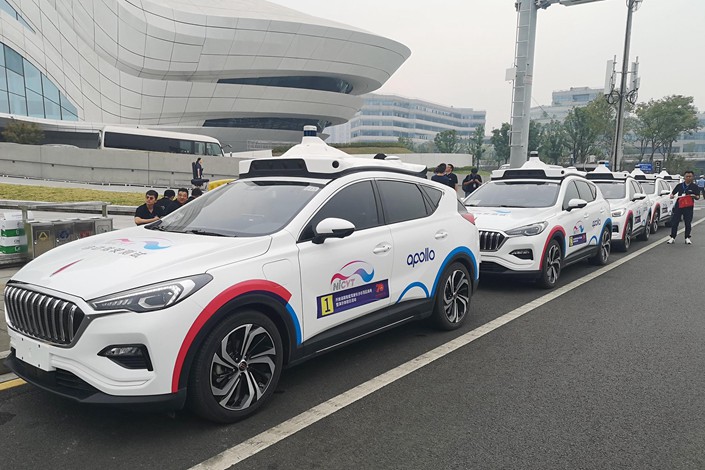 Currently, there are over 500+ autonomous driving vehicles that are known for their reliability and track record. Baidu cars have driven more than 7 million kilometers with a zero accident record and have safely carried more than 210,000 passengers. 
As the leading self-driving player in China, the company has made significant progress in building public trust in its autonomous vehicle technology.
Founded: 2013
Headquarters: Cambridge, Massachusetts, United States
nuTonomy was a startup company that made software to build self-driving cars and autonomous mobile robots. In August 2016, the automotive company launched its Robo-taxi service (pilot project) in Singapore. They work with major automotive manufacturers and small, disruptive startups to remap personal mobility for the 21st century. It began testing its software on cars in early 2016. 
NuTonomy-fitted cars use "formal logic" to decide maneuverability, motion, and speed. 
nuTonomy was later acquired by Delphi (now, Aptiv) in 2017.
Aptiv announced the launch of a fleet of 30+ driverless vehicles in Las Vegas. These vehicles will operate on Aptiv's fully-integrated independent driving platform and be made available to the public in partnership with Lyft.
Founded: 2007 
Head Quarters: Phoenix, Arizona
LM (Local Motors) is a ground mobility company that is focused on shaping the future for the better. 
The company had a belief in open collaboration and co-creation. Local Motors began to manufacture low volume vehicles with the help of open-source designs using multiple micro-factories.
The automotive company aims to drive the future as it launched the world's first cognitive autonomous shuttle in National Harbour, MD.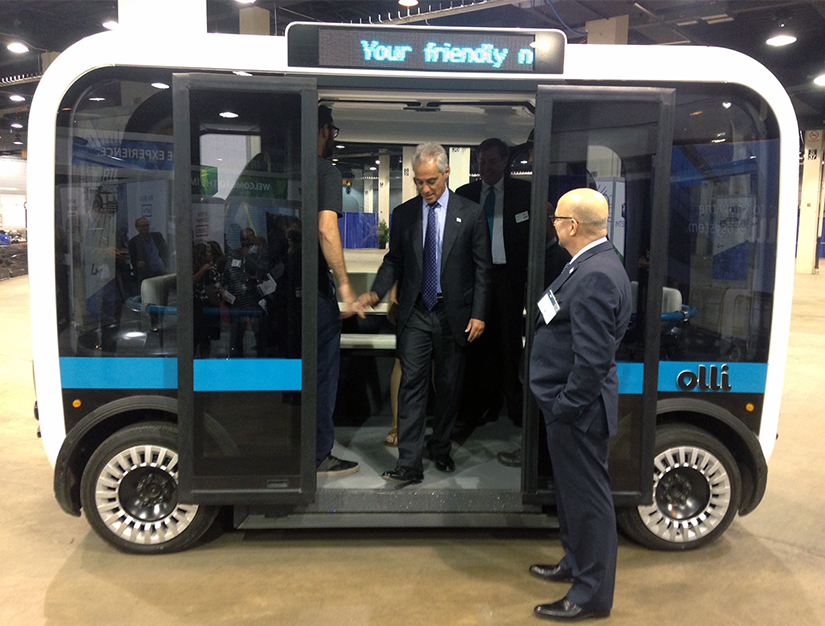 Local Motor's self-driving shuttle, Olli, is designed for campuses, and low-speed environments that include hospitals, military bases and universities. Olli has IBM Watson technology installed to provide a personalized experience for riders.
Founded: 1916
Headquarters: Munich, Germany
There's no introduction needed to BMW and how flawless all it's past cars have been. Now, it's stepping into the autonomous car industry with a pompous show and display.
BMW started pushing its autonomous strategy since its reveal of the i8 concept at CES 2016.
And in July 2019, BMW partnered up with Daimler (A German automaker) and promised to commit 1200 technicians to develop the new autonomous systems and introduce them by the year 2024 at least.
However, due to the expenditure involved, the collaboration ended a year later. 
That still didn't stop them, since they also announced an alliance with Intel and Mobileye, later joined by Chrysler and Magna. 
This collaboration plans to create an open standards-based platform that introduces self driving cars into the market. The BMW iNext is a result of this collaboration.
Founded: 2015
Headquarters: CA, United States
Precisely specializing in AI, Nauto is one of the most advanced self driving car companies.
Nauto is renowned for developing its very own self driving cars along with helping other major companies in the industry to improvise and bring advancements in their own vehicles.
Some of the key highlights of Nauto's self driving automated cars include:
Driver behavior tracking alerts
Incident reporting
Predictive Collision altering system
Road view analysis.
This Silicon Valley-based company has an exceptional intelligent driver safety system that helps combine dual facing cameras and deep learning based technologies to gauge how the drivers need to interact with the road ahead.
By providing actionable insights to tackle any kind of crashes and collisions, Naruto's AI-powered data platform offers some of the most valuable insights to train autonomous systems.
Conclusion 
Self driving car advantages are multifold. These advantages make self driving car technology not only a luxury but also all necessary. Times like COVID-19 have made this more apparent. self driving car advantages include safety, efficacy, and better experience of a rider. In other words, it makes the riding experience of a driver overall smarter. 
We hope this list of best self driving car companies has helped you get a glance at how automobile companies are leveraging the power of artificial intelligence, robotic process automation, and machine learning to enhance a fundamental thing of human life -- driving.