What is a Self Driving Car?
A self driving car is also known as a driverless car, or a smart car is a vehicle that doesn't require a human driver. It can travel from point A to point B with the help of sensors and software.
How Does a Self Driving Car Work?
self driving cars run on software, sensors, actuators, artificial intelligence, machine learning, and powerful processors.
Read more: Top 8 Artificial Intelligence trends for 2021
Smart cars have a variety of sensors installed on them to make sense of their surroundings. More precisely…
Radar sensors monitor the position of vehicles in proximity
Video cameras detect read road signs, traffic lights, track other vehicles, and look for pedestrians
Lidar (light detection and ranging) sensors bounce pulses of light off the car's surroundings to detect road edges, measure distances, and identify lane markings
Ultrasonic sensors in the wheels detect curbs and other vehicles while parking
Then sophisticated software processes all this sensory input and sends it to the car's actuators, which control steering, acceleration, braking. Other technical specifications help the software follow traffic rules and navigate obstacles.
Now that you know what a self driving car is and how it functions, let us see the top 7 best self driving car companies that have their smart cars running on the road.
The 7 Best Self Driving Car Companies of 2021
Back in 2009, Google started its Self Driving Car Project, discreetly. Google used a modified Toyota Prius combined with its driverless technology and got a license to deploy this self driving car on the streets of Nevada.
Six years later, in 2015, Google managed to run the world's 1st fully self driving car on roads. This car, which had no steering wheel or brake pedal, ran on electricity was renamed Waymo in December 2016. Waymo has two self driving cars to its name. Waymo One, a self driving taxi service used on the roads of Phoenix, Arizona, and Waymo Via which is a self driving heavy vehicle/truck service that is still being tested.
It is to be noted that during the testing phase, these self driving car companies always had a human backup driver in their self driving vehicles as a safety precaution.
These smart self driving vehicles, in addition to housing a camera, have LiDAR and radar sensors. Waymo cars also have microphones to detect sirens from ambulances and firetrucks.
Cruise is a self driving car company of the American automobile giant General Motors. The self driving vehicle unit, GM Cruise, has one of the world's largest self driving vehicle fleets of 180 vehicles undergoing testing. So far, the cumulative distance traveled by this fleet is more than 1.6 million kilometers or 1 million miles.
GM cruise got good press attention in 2016 when it bought Sidecar's assets and invested half a billion dollars in Lyft.
In 2018, it launched a semi-autonomous Super Cruise in 2018, Cadillac CT6. In January 2018, GM filed a petition to run a commercial ride-sharing business through autonomous Chevrolet Bolts. And has received $2.25B from SoftBankto support autonomous work. The company aggressively competes with Waymo.
Recently Cruise has partnered with the retail giant Walmart to get items delivered to Walmart customers by self driving cars.
Read more: How Voice Searches Revolutionize Online Shopping
Zoox is a self driving vehicle manufacturing start-up based out of Australia, founded in 2014. Since 2014, Zoox has been developing the world's first fully autonomous, ground-up vehicle fleet with the mandatory ecosystem needed for the real-time application of this technology to the public.
This self driving vehicle startup stands at the threshold of artificial intelligence, robotics, and design. It aims to provide future generations with smart mobility-as-a-service in urban settings. This self driving vehicle's prototype self driving vehicle runs fully on electricity. It is bidirectional, which means it can move at right angles without actually having to turn. Another outstanding feature is that this vehicle is not even equipped with a steering wheel! Instead, two seats facing each other are installed to provide space for humans.
The people at Zoox are also aiming to take self driving car technology to taxis that would carry passengers across cities incessantly.
In July 2020, Amazon acquired Zoox for $1.3 billion.
Voyage has a novel goal for its operations. This self driving car company aims to bring the self driving car technology to the retirement communities to help the senior citizens travel safe and better across the city too affordably. The company's choice to begin implementation in retirement communities is because these communities generally transit at a slower speed than the rest of the drivers in other neighborhoods.
Solving the mobility woes of senior citizens is one thing. Voyage also takes pride in getting all their passengers to their destination safely, efficiently, and affordably.
Recently, this socially responsible self driving vehicle company Voyage has raised $31M in Series B funding. This round had significant contributions from Jaguar Land-Rover's InMotion Ventures, Khosla Ventures, and Chevron Technology Ventures. In total, Voyage has brought the total capital raised to $52M.
Their latest self driving car is Robotaxi G3 that is specifically designed for COVID Times.
Voyage partnered with GHSP, a leading supplier of vehicle systems. GHSP's grēnlite solution uses ultraviolet-C (UV-C) light to destroy pathogens automatically after each ride inside the vehicle by inactivating the pathogen's DNA and curbing its reproductive cycle. You can see this in action in the image above.
Pony.ai is another pioneer in self driving car technology that aims in bringing breakthroughs in smart driving technology with Artificial Intelligence assistance. Pony.ai wants to revolutionize the transportation system by developing fully autonomous self driving smart vehicles. The self driving car company promises for the vehicles to be reliable, safe, and cost-effective.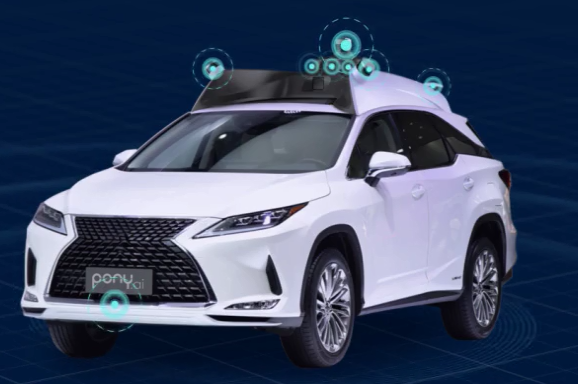 The AI technology makes these smart vehicle technology apt for busy city environments; it takes into account variables like other vehicles, cyclists, and pedestrians.
Pony.ai believes that a practical engineering approach is the most feasible path to bring the first generation of self driving vehicles to market.
Founded in 2016, Nuro is another self driving car company that wants to revolutionize E-commerce through driverless delivery. Nuro develops and operates a self driving vehicle fleet that makes door-to-door delivery of all kinds of daily items, from food, medicines, and documents to laundry. Nuro's self driving cars help merchants reach out to even more customers easily. Nuro makes the delivery of goods to customers safe and affordable as well.
Led by industry-leading experts in robotics, artificial intelligence, and product design, the company's motto is to use robotics to make everyday lives easier. Their self driving vehicles began making driverless deliveries to the public in 2018.
Their latest model R2 comes with no pedals or steering wheel to have maximum room for packages.
This self driving car company has been proactive during the pandemic and has got $500M as e-commerce gets a huge boost from the pandemic.
Overall, Nuro has raised more than $1 billion from investors like Softbank and Greylock, and it also shares partnerships with leading brands such as Dominoes and Kroger.
Founded by Elon Musk, Tesla happens to the most popular and the first operational self driving car company.
Tesla runs on Tesla Autopilot, which is an advanced driver-assistance system that houses a host of smart self driving features like traffic-aware cruise control, lane centering, automatic lane changes, self-parking, semi-autonomous navigation on limited-access freeways, amongst other things.
Elon Musk first publicly discussed the Autopilot system in 2013, stating,
"Autopilot is a good thing to have in planes, and we should have it in cars."
Tesla cars define smart cars for everyone. While riding a Tesla, a rider needs to do the minimum. All you need to do is get in the Tesla and tell where to go. Even if you don't say anything, the smart self driving vehicle will look at your calendar and take you there. If there is nothing on the calendar, it takes you to your home. It will also choose the best route to navigate, and efficiently manage complex traffic-light intersection. It will adhere to all stop signs and roundabouts and swiftly move through densely packed freeways.
Once you reach your destination, all you have to do is get out of the car, and it will automatically find a spot and park itself. You can also summon your Tesla from the parking space or garage by its smart summon feature with just one tap.
Conclusion
Self driving car advantages are multifold. These advantages make self driving car technology not only a luxury but also all necessary. Times like COVID-19 have made this more apparent. self driving car advantages include safety, efficacy, and better experience of a rider. In other words, it makes the riding experience of a driver overall smarter.
We hope this list of best self driving car companies has helped you get a glance at how automobile companies are leveraging the power of artificial intelligence, robotic process automation, and machine learning to enhance a fundamental thing of human life -- driving.