Can you guess the person in the cinematic world that overcame all odds and utilized his knowledge and expertise with technology to overcome his disabilities and emerge as an extraordinary individual?
Yes, that person is none other than Tony Stark, the Iron Man of the Avengers superhero saga.
Apart from the fact that this particular character was a fantastic representation of IoT's cinematic employment, another area where Tony Stark excelled was at human augmentation.
With the help of extensive human augmentation technology, Tony Stark proved that there is a cure for disabilities and an opportunity that enables people to upgrade themselves and put their disabilities at rest genuinely. So yes, yours truly Tony Stark's changeover to Iron Man is a pretty cool example of human augmentation.
Let's now look at the definition of human augmentation.
What is Human Augmentation?
Due to the enhancements in technology in the modern era, we have come to a phase in our lives where human augmentation is the next big thing.
In layman's terms, technologies that boost human productivity and enhance or restore the human body's capabilities or mind in the area of computing can be termed human augmentation. 
( Image Source )
Just like Iron man, another great cinematic example of human augmentation technology is Robocop.
The primary objective of human augmentation is to provide cognitive and physical enhancements in the human experience.
While the concept seems to be vague in the practical world, due to the advancements in technology, we are seeing a drastic growth in various areas like human health, quality of life, and performance, all this thanks to human augmentation technology.
One of the practical examples of various applications of human augmentation includes miners utilizing wearables to boost workers' safety. Yet another one is adopting data and applications for enhanced learning or new experiences in the form of nanorobotics and performance-enhancing surgery.
12 Practical Examples of Human Augmentation in Everyday Life
Let's now divert our attention to the noteworthy examples of human augmentation in everyday life. 
I. Replicating Human Ability
Under this category, the human augmentation technology which restores or replicates mundane human abilities comes into the picture. A good example is hearing aids for the deaf or prosthetic limbs for specially-abled people.
With the help of the replications, you can provide equal opportunities to those who have undergone a life-threatening accident or ailment or the ones who were born with inadequacies facing hindrances to fulfilling their daily tasks. With the help of such devices mentioned below, it provides psychological assistance for its users.
1.   Artificial Limbs
Overview
Whenever a person loses his/her limbs, Naked Prosthetics is a company that assists them by creating custom hand prosthetics for them. It is the first company to provide first finger prosthetics manufacturing to give the users a too high dexterity level.
( Image Source )
They do it to provide artificial limbs to the concerned person in the form of finger prostheses.
Features
Provides four-finger prostheses in the form of artificial limbs: PIPDriver, MCPDriver, ThumbDriver, and GripLock Finger
Price
For pricing details, contact Customer Care at 360-915-9724 or U.S. Toll-Free at 888-977-6693 or email at info@npdevices.com. 
2. eSight
Overview
eSight is a wearable device that is the same as glasses that enable legally blind people to see their environment. The device contains cameras on the front that provide information about the near-eye quality environment and depict it on a screen that sits right in front of the wearers' eyes.
Features
Comes with electronic glasses
Lifetime software upgrades
Customized prescription lens inserts
TV Kit and cable splitters
Warranty of one year
Price
The price of the Sight 4 is $5,950.
3. 3D Bioprinting
Overview
3D Bioprinting is creating materials that feel like human tissues like bones, organs, skins, etc., with 3D printing techniques. This human augmentation technology is still in the infancy stage.
( Image Source )
However, it has loads of potential to completely redefine the medical industry and the way we perceive healthcare.
Features
Helps create artificial bones – a regenerative structure for long-term healing
Develops 3D printed artificial corneas to replace human donors 
Makes synthetic corneas to use in surgery for cataracts and other sight complications
Creates 3D printed fully-vascularized heart with the help of fat tissue cells of the donor
Prints skin cells straight on a burn wound
Price
You can get 3D Bioprinting done by getting a good quality 3D Bioprinter at a minimum price of $20,000.
4. Cochlear Fix
Overview
Cochlear is the first company to develop a product that aids in hearing without needing any external hearing device to be worn.
( Image Source )
Features
Gives you the ability to hear speech without needing visual cues like reading lips
Recognition of day-to-day environmental sounds
Gives you the ability to listen in a noisy environment
Let's you find where the sounds are coming from
Gives you the chance to hear television programs, music, and telephone conversations
Price
For pricing details, call +91 20 67082935 or send an email at cincustomerservice@cochlear.com.  
II. Supplementing Human Ability 
5. Plastron
Overview
Plastron or exoskeletons are employed within the construction industry. These exosuits are metal frameworks that get fitted with motorized muscles to multiply the wearer's strength. Also known as exoskeletons, Plastrons' metal framework somewhat replicates the wearer's internal skeletal structure.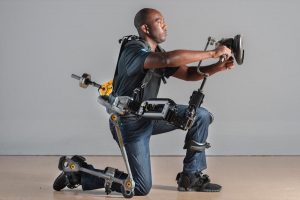 ( Image Source )
This suit makes lifted objects feel much lighter in weight. This helps in reducing injuries and enhancing compliance.
Features
Wearable devices that work in conjunction with the user
Placed on the user's body and act as amplifiers that augment, reinforce, or restore human performance
Made out of rigid materials like metal, carbon fiber, or entirely out of soft and elastic parts
Can be powered and equipped with sensors and actuators; alternatively, they can even be entirely passive
Can be mobile or fixed/suspended (particularly for rehabilitation or teleoperation)
Price
Approximately $45,000 per exoskeleton (The cost driver is based on quantity)
6. Mixed Reality Smart Glasses
Overview
With the advancement of technology today, mixed reality Smart Glasses have become a new reality device. It offers the most comfortable and immersive diverse reality experience that you can ever get. It employs industry-leading solutions to deliver in a quick turnaround time.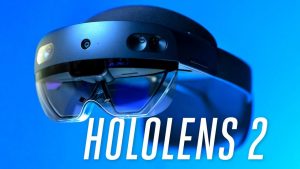 ( Image Source )
All of this is enhanced by the security, reliability, and scalability of cloud and A.I. services from Microsoft.
Features
Utilizes immersive technology, which helps you see holograms at once through the significantly increased field of view.
Aids in reading text and viewing intricate details on 3D images in a hassle-free manner with the help of industry-leading resolution
You can wear it for a pretty long time
Comes with a dial-in fit system that is designed for extended use
Keep the glasses on – the headset slides right over them
If you wish to move out of virtual reality, flip the visor and get back to the real world
Gives you the scope to touch, grasp, and move holograms that seem natural – a lot like real objects
Move freely with no wires or external packs to get in the way
Comes with a headset which is a self-contained computer with Wi-Fi connectivity which means everything you need goes with you while you work
Price
$3,500
7. Translation Tool
Overview
Here's one of the highest quality translation tools available for professionals from all backgrounds. You can use this tool from training to travel, in groups to solo; this translation tool enables you to have smooth communication without any language barriers.
( Image Source )
Features
Available in black and wine red colors
Comes with light and ergonomic design for comfortable wearing
Comprises of over-the-ear form factor that aids in hygienic sharing and uncompromised antenna strength
Consists of three translation modes: listen, lecture, and converse
Translates in a total of 20 different languages and 42 dialects, including English, German, French, Italian, Spanish, Portuguese, Arabic, Greek, Russian, Hindi, Turkish, Polish, Chinese Mandarin, Korean, Japanese, Hebrew, Cantonese, Thai, Dutch, and Vietnamese
Comes with continuous and Push-To-Talk translation settings
Compatible with iOS and Android app
Battery life lasts for a maximum of 6 hours
Comes with two ambassador units, a carrying bag, dual micro-USB charging cables, and a user manual
Price
$179
8. Neuralink
Overview
Elon Musk recently announced a breakthrough in his endeavor to sync the human brain with artificial intelligence. During a live-streaming demonstration involving farm animals and a stage, Musk said his company Neuralink had created a self-contained neural implant that can wirelessly transmit comprehensive brain activity without needing any external hardware help.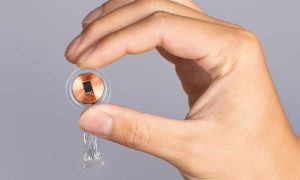 ( Image Source )
The main objective behind creating such a device is to sync up the human brain with A.I., which will ensure humans control computers, prosthetic limbs, and other machines using only their thoughts.
Features
You can use it to provide a visual prosthesis for people having retinal injury or blindness as a result of eye injury
Plug in a camera directly into the visual cortex and simulate a large number of electrodes to recreate a visual image
Telepathy is the next frontier for Neuralink
Neuralink devices can shed light on various functions of the brain in the same way oscilloscopes provide visual information on printed circuit boards (PCBs)
Get nostalgia on demand and even cure cognitive disorders like dementia
Helps you to predict disease in future
Manage and cure mental illnesses
Price
A Neuralink chip costs $10-20 million.
III. Exceeding Human Ability
This section of human augmentation enables humans to exceed normal abilities. For example, flying is considered to be an add-on activity that transcends human ability.
This is one of the most exciting forms of human augmentation. The reason is, that it consists of some of the best futuristic examples (which are quite a few, to say the least!)
The majority of the time, you will see its current application revolving around special use cases like the military or specific industries.
Such augmentations have become a possibility and could become a new normal in the coming times.
9. Artificial Blood Cell
Overview
Since the early 1980's we have seen human blood substitutes in the pipeline. However, due to a combination of political and scientific reasons, there was none available in either Europe or the U.S. There is still ongoing research to develop platelet substitutes in pre-clinical animal testing.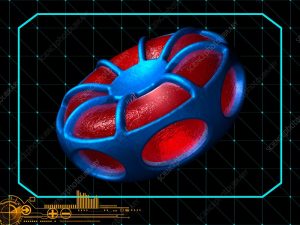 ( Image Source )
Currently, the only clinical product in practice is saline solutions to expand blood pressure maintain blood pressure and enable red cells to keep working and regenerating. These artificial blood cells can come in handy during medical emergencies in saving the lives of patients.
Features
Helps in preventing complications of red blood transfusion like immune reactions to blood, and risk of infections
With the increase in the number of surgeries, the number of patients needing blood has gone up; this is where artificial blood cells can come in handy
In remote areas or emergencies, artificial blood cells can save lives since it is sterile and no blood type matching is needed
Artificial blood cells can potentially deliver oxygen at a quick pace than real blood during an emergency and may minimize injury to the tissue, specifically during a heart attack
It can come in handy for patients suffering from blood disorders requiring long-term blood transfusions like patients with Myelodysplastic syndrome (a type of cancer that prevents immature red cells in the bone marrow from maturing) and Aplastic anemia (a condition where the bone marrow does not produce adequate new blood cells)
Artificial blood cell might be the only option for certain ethnic and religious groups of people having concerns over human blood-derived products
Price
$1000
10. Artificial Chip
Overview
An artificial chip known as Optogenetics is a human augmented technology used to mimic the human brain. With the help of the artificial chip, you will store, delete, and process information crucial for computing.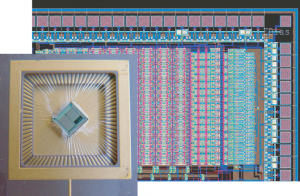 ( Image Source )
This makes your brain super-efficient. This new artificial chip employs light to create and modify memories, moving the human race closer to A.I. to replicate the human brain's sophistication.
Features
Employs electrical impulses to make memories
Based on an ultrathin material that alters electrical resistance in response to different wavelengths of light
Made up of a material known as black phosphorus
Price
Approximately $40,000
11. Nano Bugs
Overview
Nano bugs are small robots in the range of 0.1-10 micrometers that carry specific functions. They are specifically designed in the range of 50-100 nm in width. They can be employed to carry out drug delivery effectively.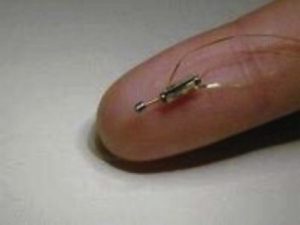 ( Image Source )
Typically it has been observed that drugs need to travel through the entire body before reaching the disease-affected area. However, with Nano-Technology, the drug can be targeted to reach a specific location, making the medication more effective and reducing side effects.
Features
An effective medium in the future to deliver medicine directly to the cells that need them in the medical field
Equipped with sensors, nano bugs can be employed to monitor the changes in the region of the cells, reporting changes at the first sign of damage or malfunction
Price
$20
12. Flyboard Air
Overview
Flyboard Air is the latest human augmentation offering that comes in the form of a turboprop board capable of unprecedented mobility. It consists of an advanced stabilization system in conjunction with propulsion, control, and stabilization system to reach aviation safety standard protocols.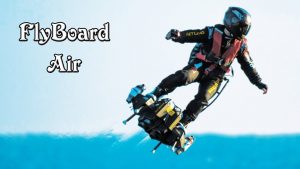 ( Image Source )
It is the most compact redundant aircraft ever created.
Features
Swift mobility in special operations
You can use it for Jettisoning from a helicopter or plane
You can use it for airshows and leisure activities
Highly recommended for security purposes since it consists of comfortable opening boots, an independent fuel system, status indication through telemetry in the display integrated into the smart helmet, and five isolated turbines
You can access it on steep terrain
Flights in strong and turbulent winds
A performer can control it with the help of a joystick or by a person on the jet
Price
The approximate price per unit might be $250,000.
Concluding Thoughts
As we can see from the examples of human augmentation given in this write-up, the future of augmented humanity in terms of health and performance is very bright.
For more such exciting write-ups on upcoming technologies, please keep following and reading this section!