Businesses are willing to adopt machine learning with open arms. Are you one of them? Professionals across industries who have understood machine learning power are looking for the best machine learning training for themselves. 
Also, curious learners across the globe are trying to find the best employment opportunities.
Is Machine Learning a Good Career Choice?
According to International Data Corporation (IDC), spending on artificial intelligence and machine learning is forecast to grow from $12 billion in 2017 to $57.6 billion by 2021. This makes machine learning a lucrative field for everyone, making it one of the best career choices. 
If you're starting to take up a machine-learning career path, I have listed the best machine-learning certificates and courses for you here. But, first, some basics...
What is a Machine Learning Certification Course?
A machine learning certification course is a short-term course that is either offline or online. At the end of the certification courses, learners are given a shareable certificate that can help them get placed as CIOs, Data Analyst Heads, and Data Scientists at reputed companies. 
Top 10 Best Machine Learning Certification Programs That Make You Job-Ready
Here are the top 10 machine learning certification programs to make you job-ready in today's market that has been reviewed and rated by our editors. 
1. Professional Certificate Program In Machine Learning By MIT
This certificate by the Massachusetts Institute of Technology, USA, equips you with the latest best practices and actionable knowledge. Both of which will help you leverage the power of artificial intelligence and machine learning into your business and organization. 
This is an on-campus course. You must attend a minimum of 16 days of this course, including electives and compulsory subjects, to get a completion certificate and enjoy other benefits. 
1. Key Benefits
Get trained by a well-known MIT facility and industry experts on-campus
Opportunity to network with accomplished peers in ML from around the globe
Be eligible to earn Continuing Education Units
Exclusive membership of MIT Professional Education LinkedIn group
Free 1-year subscription to MIT Technology Review after course completion
2. Prerequisites
Professionals with a minimum three years of experience who hold a bachelor's degree at minimum in computer science, statistics, physics, or electrical engineering
3. Ideal for whom?
Anyone indulged in data analysis which requires deeper knowledge of main concepts, formulae, algorithms, real-time examples, and possibilities in machine learning and artificial intelligence
4. Duration
Minimum 16 days to be completed over three years 
5. Fees
$325 application fees
Fees for 2 Mandatory courses: $2500 (2 days) and $3500 (3 days)
Fees for electives range from $2500 to $4500
6. Final Verdict: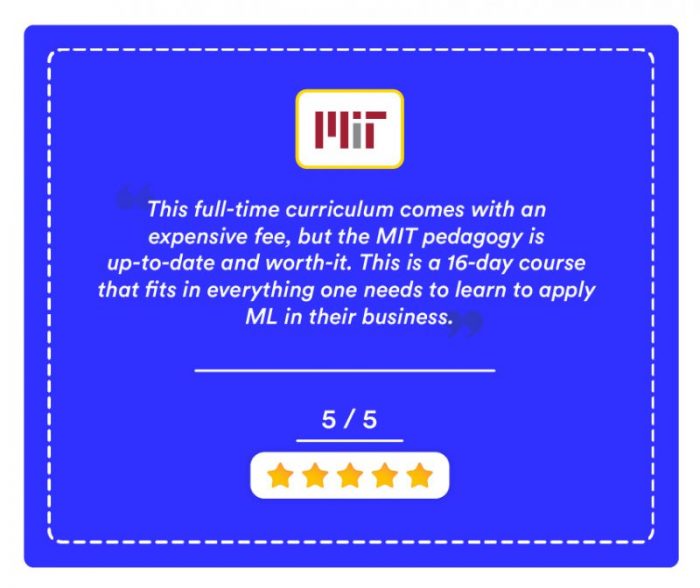 Click here to sign up for the course.
2. Professional Machine Learning Engineer Certification By Google Cloud
This machine learning certificate exam is in the form of multiple-choice questions or multiple options. It comes without any Google Machine Learning course. You can directly take this examination in two ways: online and offline. 
Learn how to take the online exam here. You can take the offline exam at any of your nearby local test centers. 
1. Here are some of your skills that will be assessed:
Framing machine learning problems
Architect machine learning solutions
Preparing and processing data
Developing machine learning models
Automating and orchestrating machine learning pipelines
Monitoring, optimizing, and maintaining machine learning solutions
2. Prerequisites
None, but 3+ years of industry experience, including 1+ years designing and managing solutions using Google Cloud Platform, is recommended.
3. Ideal for whom?
Aspiring Machine Learning Engineers who want to be proficient in model architecture, data pipeline interaction, and metrics interpretation.
ML engineers who need familiarity with application development, infrastructure development, infrastructure management, security, and data engineering.
4. Duration
2-hour exam to be finished within 90 days
5. Fees
$200 plus taxes
6. Final Verdict: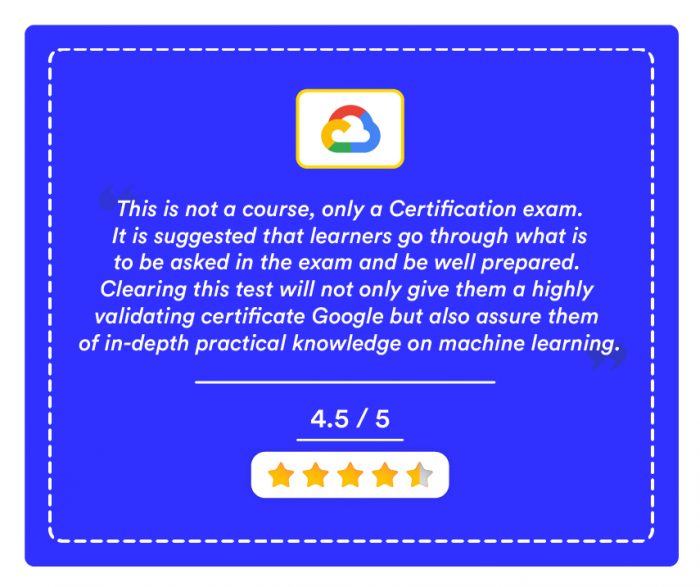 Start your machine learning certificate examination here.
3. AWS Certified Machine Learning
Another highly rewarding machine learning certification is by the e-commerce giant's cloud-based services -- Amazon Web Services. One thing that stands out about this machine learning certification is it allows you to take a trial assessment test at $40. This test helps you understand what you will be asked in the machine learning certification exam. It will, therefore, help you score well in the real exam. 
This exam will be in the form of Multiple Choice, Multiple Answers and can be given online or offline at the nearest test centers.
1. Your following skills will be assessed
Ability to select the right machine learning approach to solve a business problem
Ability to identify the right AWS services to implement to leverage machine learning
Efficiency in developing cost-effective, sustainable, and secure machine-learning solutions 
2. Prerequisites
1-2 years of experience in running or developing, and architecting ML/deep learning workloads on the AWS Cloud
Having intuitive knowledge of basic ML algorithms
Experience in performing basic hyperparameter optimization
Experience with deep learning frameworks
Efficiency in following model-training best practices
Efficiency to follow the best practices of deployment and operations
3. Ideal for whom?
For individuals in data science roles
4. Duration
3 hours
5. Fees
$300 for machine learning certificate examination
$40 for Practice Exam
6. Final Verdict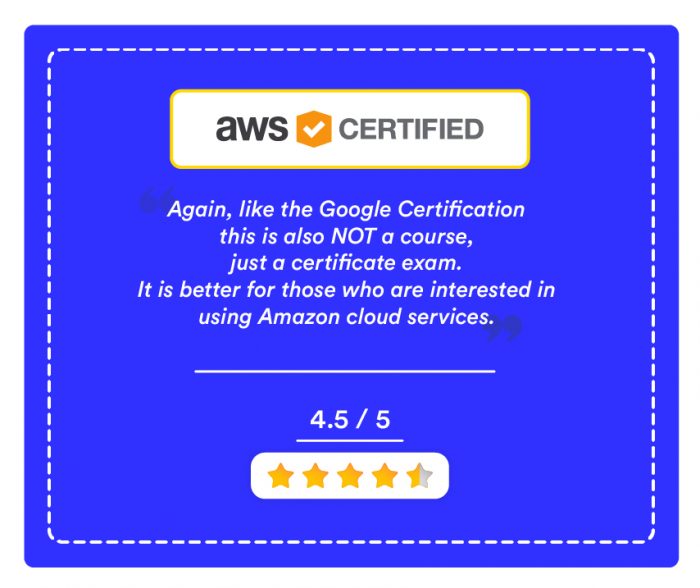 Sign up for this machine learning certification exam here.
4. Machine Learning With Tensorflow On Google Cloud Platform Certification
This machine learning certification course offered by Google can be taken on Coursera. It is a suitable course for learners at beginner and intermediate levels.
This is a specialized machine learning certification course in the parts of 5 modules. All modules, plus the machine learning certification exam, are taken online.
Much like other specialization courses, this specialization course on machine learning comes with hands-on project training.
1. Key Benefits
Get to solve a real-time business machine-learning problem
Gain the ability to recognize biases that machine learning can amplify
Get hands-on experience with labs available in the Google cloud platform and enhance your skills
Learning skills like Tensorflow, Machine Learning, Cloud Programming, Bigquery, Inclusive ML, etc.
2. Prerequisites
None, but a computer science or engineering background is preferred
3. Ideal for whom?
Individuals interested in machine learning from basics
4. Duration
5 months, 5 per hour per week
5. Fees
$42 to $45 on Coursera
6. Final Verdict: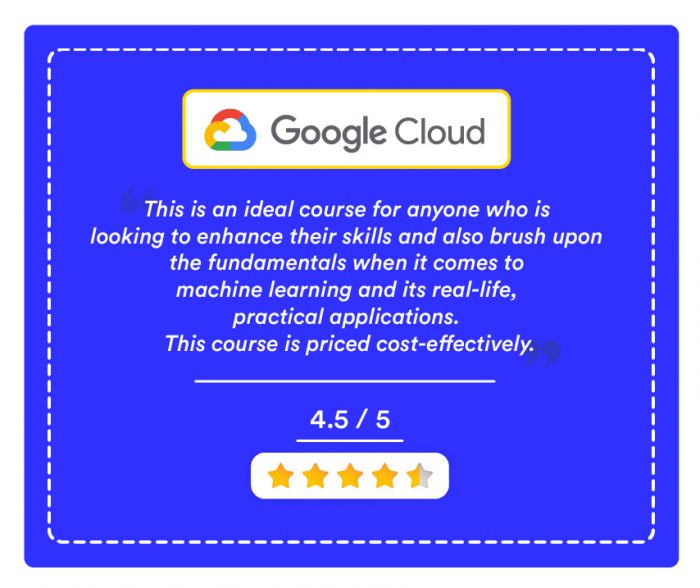 Sign up for this machine learning specialization course here.
5. ECornell Machine Learning Certificate
Here's another good course for machine learning training.
Cornell's Machine Learning certification program helps you to implement machine learning algorithms using math and Python.
You will also get two self-paced lessons under this machine learning certification course, which will include linear algebra computations, which you can refer to at any time before or during your Machine Learning program.
This program uses the NumPy library and Python for projects and code exercises. Projects need to be completed using Jupyter Notebooks.
1. Key Benefits
Ability to redefine problems through machine learning terminology and its concepts
Learning to develop a face recognition system using algorithms
Implementing the Naive Bayes algorithm and estimating probabilities distribution from data
Creating an email spam filter by implementing a linear classifier
Improving the prediction accuracy of an algorithm using a bias-variance trade-off
Using an effective hyperparameter search to select a well-suited machine learning model and implementing machine learning setup from start to finish
Training a neural network
2. Prerequisites
Prior experience in math, including familiarity with Python, probability theory, statistics, multivariate calculus, and linear algebra.
3. Ideal for whom?
Individuals are interested in getting hands-on experience in machine learning and its applications and with prior knowledge of mathematics and Python.
4. Duration
3 and a half months, 6 to 9 hours per week
5. Fees
$3,600 or $565/month
6. Final Verdict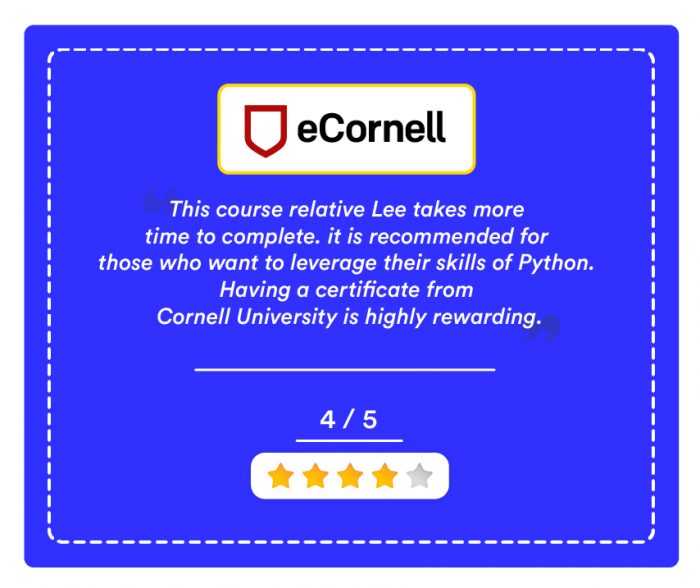 Sign up for the machine learning certification course here.
6. Machine Learning Certification By Stanford University
Having a machine learning certificate from Stanford University is one of the most prestigious feathers on the hat.
This 100% online Stanford class helps learners understand machine learning and statistical pattern recognition. It also helps learners to differentiate between supervised and unsupervised learning. It teaches reinforcement theory and control. 
1. Key Benefits
Get clear on the basic concepts of machine learning
Learn generative learning algorithms
Learn to evaluate and debug learning algorithms
Learning about Value and policy iteration, Q-learning, and value function approximation
2. Prerequisites
Linear algebra, basic probability, and statistics. 
Stanford University strongly recommends that you go through the first problem set first. If this pdf looks strange or too challenging, the machine learning course may be too difficult.
3. Ideal for whom?
Working professional interested in machine learning and its applications.
4. Duration
3 months
5. Fees
$5040
6. Final Verdict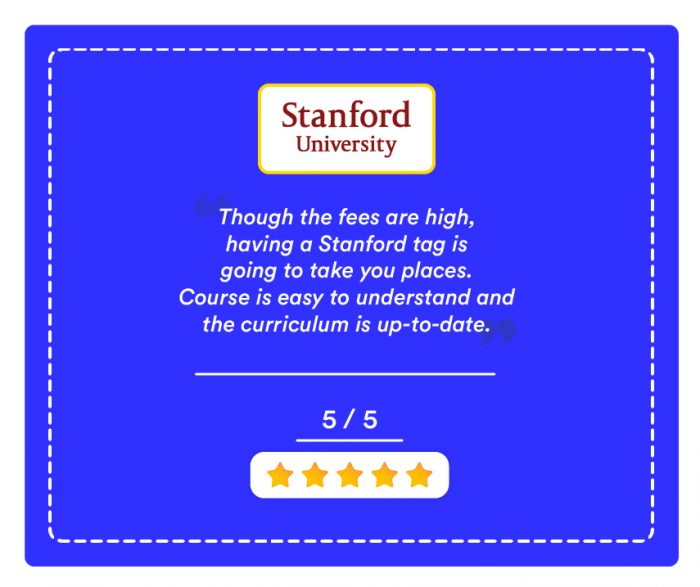 You can sign up for this machine learning certificate course here.
7. Machine Learning Certificate Course By Harvard University
Harvard, the top Ivy League University, also offers a machine learning certification course. This course aims at teaching the learner popular machine learning algorithms, principal component analysis, and regularization by using a use case of building a recommendation system for movies.
After this course, you will be able to use a set of data to discover potentially predictive relationships. With the recommendation system for movie uses case, learners can understand how to train algorithms with the help of data sets to predict future outcomes. This course also focuses on techniques to avoid over-training.
1. Key Benefits
Learning the introduction to machine learning
Learning how to perform cross-validation to avoid overtraining
Getting accustomed to several popular machine learning algorithms
Knowledge of building a recommendation system
Knowing the importance of regularization and how to administer it
2. Prerequisites
None, though knowledge of Python is preferred.
3. Ideal for whom?
Professionals interested in using the questions of machine learning in solving business problems
4. Duration
8 weeks
5. Fees
Free course, but you need to pay around $100 to get a certificate on edX.
6. Final Verdict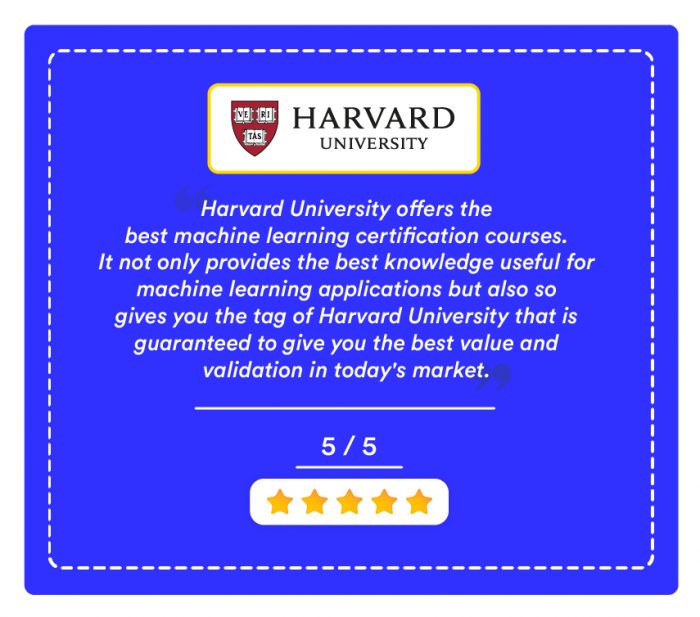 You can sign up for this machine learning certificate course here.
8. Certificate In Machine Learning By the University Of Washington 
The University of Washington is offering one of the most thorough machine learning certification courses. This course requires eight full months to complete.
This machine learning training course machine is divided into three parts; both the mathematical and applied aspects of machine learning will be examined.
Learners will study the underlying algorithms and statistical methods that are at the core of machine learning. Machine Learning techniques learned will be put into practice using popular tools and platforms. Learners will be able to develop judgment and intuition by dealing with use cases of real-time business needs and real-world challenges.
1. Key Benefits
Work with open source tools such as TensorFlow, scikit-learn, and Keras
Participate in code reviews
Develop solutions to real-world machine learning problems
Get knowledge of essential concepts of statistical analyses, probability, mathematical modeling, and optimization techniques
2. Pre Requisites
Learners are scored on their skills and background, and everyone is required to take a programming test 
3 years of professional programming experience in C, C++, Java, or Python or equivalent personal projects such as in Kaggle
Undergraduate mathematics courses covering calculus, linear algebra, and probability
Undergrad in statistics (or completion of the Foundations of Statistics course)
Two years of experience as a data scientist, statistician, or applied mathematician, a Ph.D. in a quantitative field. 
Knows to program in a high-level language, as demonstrated by the programming assessment
Admission rules for international students: Click here.
3. Ideal for whom?
Software programmers, statisticians, experienced applied mathematicians, and data scientists who want to become machine learning scientists.
4. Duration
8 months
5. Fees
$4548
6. Final Verdict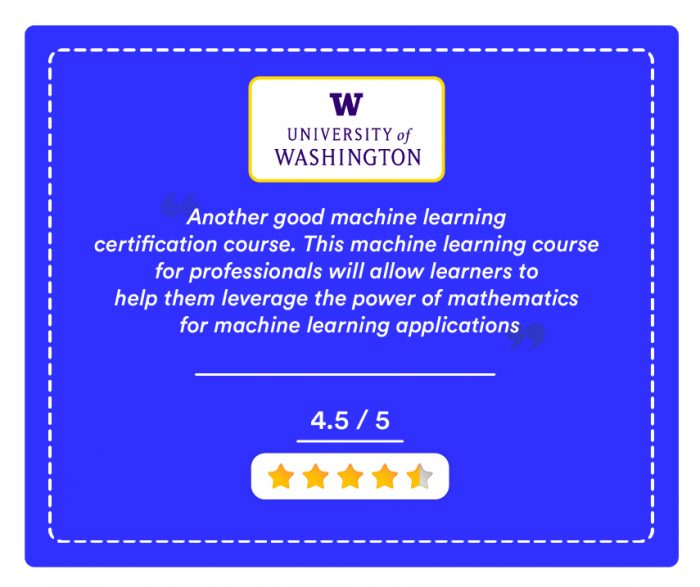 Sign up for this machine learning certification course here.
9. Machine Learning Free Course By Udacity
If you're looking for a free machine learning course, Udacity is one of your best options. Udacity is teaching this free machine learning course, which is a class offered at Georgia Tech as CS7641, which is a part of the Online Masters Degree.
The first session of this course covers Supervised Learning. And the second part deals with unsupervised learning. The third focuses on reinforcement learning. 
This completely online course is best for people who are trying their hands at machine learning for the first time and do not want to spend huge amounts of money on fees. This makes it a good option if you're not sure about choosing a machine learning career path in the future.
1. Key Benefits
In Supervised Machine Learning, you will learn Machine, Learning is the ROX, Decision Trees, Regression and Classification, Ensemble B&B, Kernel Methods and Support Vector Machines (SVM)s, Computational Learning Theory, Bayesian Learning, Bayesian Inference, etc.
On the other hand, In Unsupervised Learning, you will learn Randomized optimization, Clustering, Feature Selection, Feature Transformation, Information Theory, etc.
In Reinforcement one, you will learn Markov Decision Processes, Reinforcement Learning, and Game Theory
2. Pre Requisites
None
3. Ideal for whom?
Beginners and intermediate-level learners of machine learning enthusiasts looking for a free machine learning course. 
4. Duration
Four months
5. Fees
Free
6. Final Verdict
You can sign up for this course here.
10. Machine Learning Certification: From Data To Decision By MIT
This is another machine learning training course by MIT. It is a more practical course on machine learning. Learners will gain a practical understanding of the machine learning tools and techniques in this course.
Learners will learn how to leverage data and not gut feelings or guesswork. The tools and techniques in this machine learning program can help businesses meet the challenges of various industries like pharmaceuticals, retail, banking, marketing, etc.
1. Key Benefits
Learn how to visualize one-dimensional & multi-dimensional data
How to use PCA, Clustering, K-Means, and, Topic Models
Structured vs. Unstructured Data
Learn using Model Predictive Control, Markov Decision Process, Multi-Armed Bandit, and Reinforcement Learning
Understand regression, classification, and neural networks
2. Prerequisites
There are no mandatory prerequisites in terms of math or computational science, although some experience with introductory-level statistics is helpful.
3. Ideal for whom?
Aspiring Data and Analytics Managers, CEOs, Managing Directors, DIOs, etc.  
4. Duration
8 weeks, 6-8 hours per week
5. Fees
$2300
6. Final Verdict
You can sign up for this machine learning certificate course here.
Conclusion
Whether you choose a machine learning career path or not, these machine learning courses will help the machine learning enthusiast get satiated. Also these courses can also help you know if you want to take machine learning as a career path or not in the first place.