You might be wondering why do I need to use data mining tools, Right?
Well, as per a report by Betanews, about 7.5 septillions (7,700,000,000,000,000,000,000) gigabytes of data are generated worldwide each day.
Yes, and that's quite a number! 
Storing such huge volumes of data is as inconvenient as it seems. 
Countless relational database servers are continuously built for the same purpose.
These very systems are responsible for storing huge volumes of data that are extracted from the smallest of the transactions made into the database.
Also, Techjury claims that 95% of businesses cite the need to manage unstructured data as a problem for their business.
The raw form of data isn't as beneficial for businesses. Not unless the analytical insights are associated with it that ultimately makes it more informative and useful.
( Image Source )
Data gathered from these sources needs to be analyzed to enrich ourselves with the knowledge that would help us make the right calls. The data available is so enormous that it's humanly impossible to make sense of.
That is where data mining steps in.
Let's start with understanding what data mining is.
What is Data Mining
Coined by Gregory Piatetsky-Shapiro as "knowledge discovery in databases" for the first workshop, the term was soon referred to as "Data Mining" due to the influence of AI and commercial applications.
It refers to the detailed analysis of data filtered out from raw data. This process allows you to find patterns and test the working models.
Data Mining previously was a manual coding process that allowed people to interpret useful information from raw data. Due to advancements in technology, the entire data mining process has been improvised and basically automated.
It includes statistics, Machine Learning, as well as database systems that make it possible to make the raw data useful.
The entire process of data mining includes a variety of data projects. 
Working collaboratively with predictive analysis, data mining uses complex algorithms designed to work with a special group of problems.
The use of predictive analysis identifies the patterns in huge chunks of data generalized by data mining for predictions. Data Mining identifies the patterns in datasets for a set of problems pertaining to a specific domain.
How Does Data Mining Work
Data mining for any kind of industry starts primarily with data collection from multiple sources.
Industries begin their data collection journey by collecting visitor logs, website visitors, sales data, application data, and a lot more to gain valuable insights from this data. 
This step is the most important to understand what could be achieved with the data obtained.
The Cross Industry Standard Process And Its 6 Steps
The Cross-Industry Standard Process for Data Mining (CRISP-DM) is one of the best ways to kick off the data mining process and is considered to be one of the best methods for organizations that are kicking off. 
CRISP-DM involves the following 6 stages: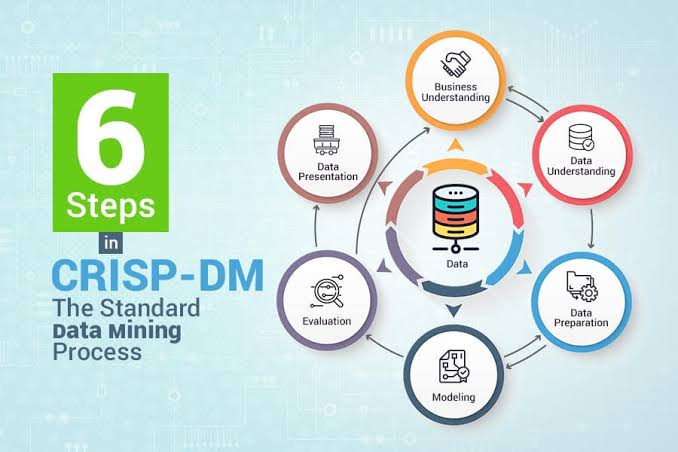 ( Image Source )
1. Business research
You need to have a detailed understanding of the available resources and the current scenarios of the business.
The most ideal data mining projects start by identifying the objectives and the scope of the data obtained. 
In this stage, all the questions would be raised by the stakeholders that data mining can solve.
2. Data Understanding
As all the business aspects are understood, the data is collected, checked, and matched to ensure no amounts of over information and bottlenecks within the organization.
The data (structured and unstructured) originates from a variety of sources. To analyze this data, the exploratory analysis could be used to uncover some preliminary patterns. Towards the end, the data mining team selects the subset of data for proper analysis and modeling.
3. Preparing the data
At this stage, most of the essential work is involved. Data preparation is a detailed process that involves preparing the final data set that includes all the relevant data needed to answer the questions raised about the business.
At this point, the stakeholders identify all kinds of scenarios and prepare the final data set for model creation.
4. Modeling and transformation
During this stage, you have to pick between some of the most used modeling techniques for the given data.
Techniques involved are:
Clustering
Classification
Predictive models
Estimation
Combination
This stage includes settling for the processes involved in preparing the data for the final sets.
5. Data Evaluation
As the models are prepared, they have to be tested and identified to suffice the problems raised. 
However, the model might answer a few aspects, which minimal edits could solve. 
Data Evaluation is a phase where you could practically look at the progress made so far and ensure that the model can achieve exactly what it has set its course for. 
If not, then there might have been errors in the previous steps of data mining. The pre-requests are very important to be solved before the project is sent to the deployment phase.
6. The Deployment
As the model becomes more accurate and aligns with the needs of the organization, it's deployed.
This deployment could involve within the organization or even be shared with customers, depending on the needs of the organization. 
However, deployment is a process that requires a structured plan and pertinent information to the people that are supposed to interact with it. Usually, data mining teams are situated to take care of the audience's understanding of the project.
Advantages Of Data Mining
As countless businesses used data mining process, it has its own share of benefits to look forward to.
By utilizing the data mining tools and data mining software, organizations can learn more about their customers to provide them more insightful results and develop efficient business strategies.
Data mining software is also used to develop a bunch of Machine Learning models. Let's get you introduced to some of the key benefits of using data mining tools for your business.
1. It's a go-to method for researchers
One of the fundamentals of running a business is understanding the buyer persona and how a shopper of your business behaves and interacts with your products.
However, with data mining software, all the information on these shopping patterns is revealed, thus leveraging the entire research process for your business.
Data mining also creates a space for calculating unexpected shopping patterns, which could help identify how new customers are interacting with your products.
2. Successful marketing 
A successful marketing campaign is only successful when it knows its target audience.
The target audience plays one of the most critical roles in any marketing campaign of a business. By understanding your target audience, you can identify who your customers are, what age group they belong to, what regions they belong to, and most importantly, save money by channeling your campaigns to a specific group of people.
And to make the identification of the target audience possible for businesses, data mining models are deployed.
Not only that, but these models also allow businesses to forecast who will respond to new marketing campaigns they promote.
3. Better Decision-Making
Data mining doesn't directly provide better decision-making. Rather, it provides the data fed to ML and AI models to give them better insights on how to respond.
Remember the classic "Hey Siri" command we use to wake up our virtual assistant in the Apple devices?
With the help of better decision-making, these assistants can listen and respond to the appropriate commands and provide the best possible results. 
This means that nowadays, determining results and choosing between two options has become more effective for computers than before.
4. Bifurcating customers into groups
Data Mining helps segregate the right kind of customers into the right kind of customer base.
With the help of mining tools, businesses gather the information to identify different customer groups for targeted marketing campaigns.
Usually, surveys are used to target the right kinds of customer groups. As we mentioned above, such types of investigations are a popular working method to identify data from data mining.
Let's take a look at some of the best data mining tools for your business.
Top 10 Data Mining Tools For The Year 2022
Based on Java, Rapid Miner is probably one of the most useful data mining tools. 
Rapid Miner works on predictive analysis systems and provides a very integrated environment for deep learning.

Being one of the best mining tools, Rapid Miner offers on-premise and public/private cloud infrastructures with a server model as its base.
Rapid Miner also provides template-based frameworks that are perfect for speedy delivery. Its applications also include being deployed for company uses, commercial purposes, training, Machine Learning, and application development.
Features
Interactive and responsive dashboards
Helps build and validate predictive models
Has applications across a variety of industries
Has the ability to be integrated with in-house databases
Boasting an excellent dashboard, real-time reporting, and a suite of tools for data mining, Dundas is one of the best data mining tools available in the market.
With its easy integrations and quick insights, Dundas provides unlimited data transformation patterns composed of attractive tables, charts, and graphs to help you gain insights from your data.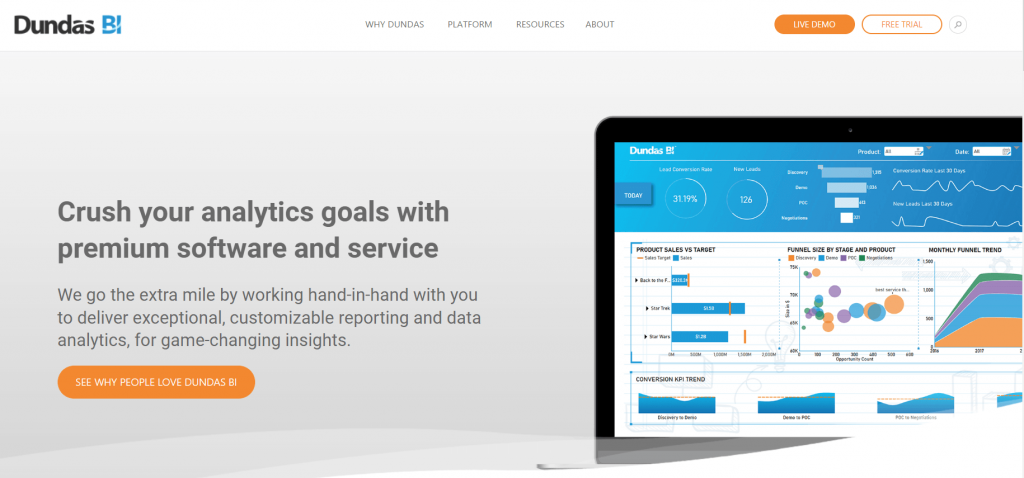 It even provides data accessibility options that put data in well-defined structures and ease the entire processing for the users.
Dundas even consists of methods that allow multi-dimensional analysis and helps in the right kind of decision-making.
Features
Integrates and accesses all types of data sources
Provides smart drag and drop tools
Also provides predictive and advanced data analytics
Statistical Analysis System or SAS is a product of the SAS institute created for analytics and data management.
SAS is popular for mining data from countless sources, managing information, changing it, as well as analyzing it thoroughly. With the help of a graphical UI for non-technical users, this data mining software is one of the best data mining tools for beginners as well.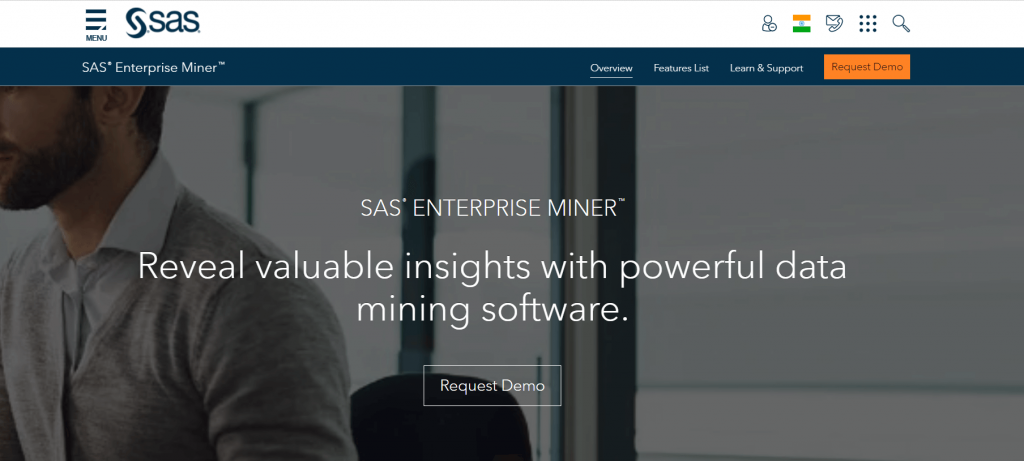 The SAS data miner also allows you to analyze big data to provide accurate insights for a precise decision-making process ultimately.
It has distributed memory processing architecture that is not only just scalable but also suitable for data mining and text mining purposes as well.
Features
Can analyze the Big Data
An ideal tool for data mining and general optimization
Also offers distributed memory processing architecture
Being a very comprehensive data mining tool, R allows you to perform a variety of tasks within a single platform.
R Programming could be used for data manipulation. The developers could also cut enormous datasets rapidly, considering a format that's difficult to analyze.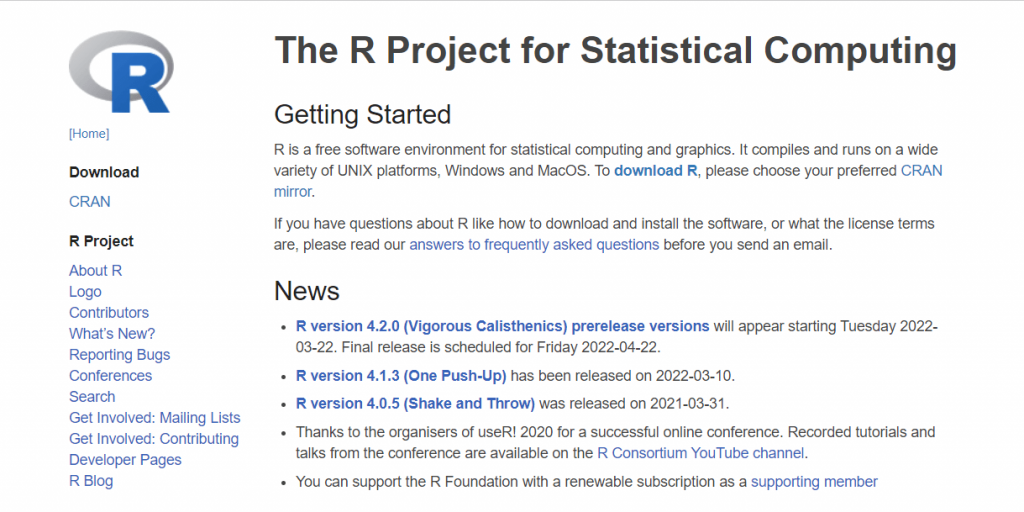 The data visualization also becomes easy with R. 
Once the dataset has been cut, you can deploy the shelf graph functions in the R to visualize the information, incorporating a wide range of animated and intuitive graphs.
Features
Has an excellent, comprehensive UI
Advanced Optimization features
Can perform complex statistical calculations
Being a Machine learning platform, BigML allows you to create enterprise-grade predictive applications. Not only is it easy to use or visually appealing, but even so comprehensive that there's no need to have the in-depth programming knowledge to create models with this data mining tool.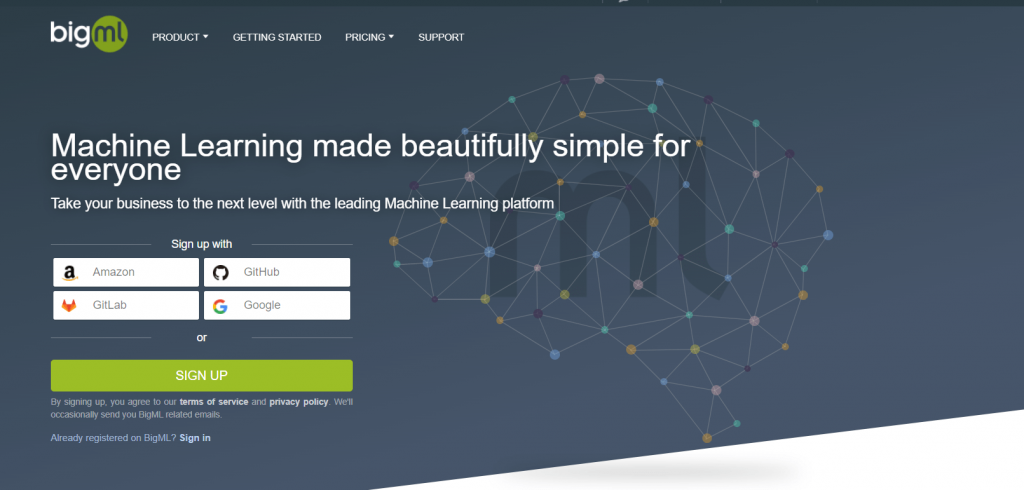 Along with this, BigML also provides a suite of tools that allow them to explore the platform's functionalities without necessarily being on a dedicated web UI.
The efficiency provided by BigML could also be utilized across a variety of industries. It even allows organizations to create predictive analysis models at an affordable price.
Features
It has abundant bindings and libraries
Comes with Google Sheets Add-on
Python is an open (and free) source language, easily downloadable and deployed on even basic computers.
It is often matched with R due to its similar nature and a short learning curve.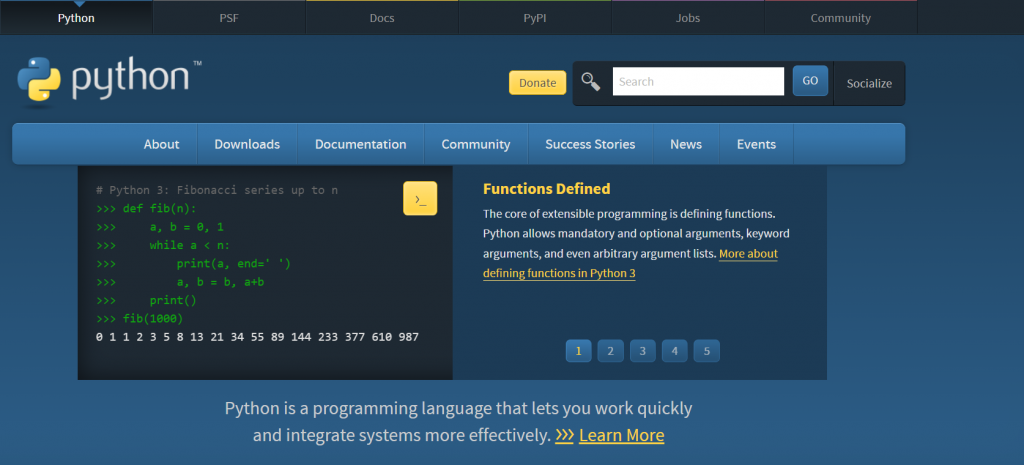 It has abundant users that find it easier to build datasets and perform some of the most complex affinity analyses in a matter of a few minutes, making it the most convenient data mining tool.
Even the most advanced businesses deploy Python for their data mining needs.
Features
Open and free source language
Works well on all kinds of computers
Abundant uses across a variety of industries and programs
Orange is one of the most popular tools for data mining on our list. It is a perfect software suite for machine learning and data mining.
Since it is a component-based software, Orange also aids data visualization. Being a data mining software, the components, also called the widgets, offer major functionalities that include reading and analyzing the data, providing data tables, and even comparing learning algorithms.

Along with this, Orange also features a more interactive suite of dull analytic tools, making it enjoyable to operate.
Features
Supports hands-on training and visual illustrations of concepts from Data Science
Component-based algorithm for data mining and machine learning
Interactive dashboard
Oracle BI is a component of Oracle Advanced Analytics that provides the most comprehensive data mining algorithms.
The algorithms that are designed inside the ODM leverage the strengths of the Oracle database.

As a tool used for data mining, it can dig the data out of the database tables and schemas.
Oracle's GUI data miner is a sub-set of Oracle SQL developer, which provides a facility of 'drag and drop' of data. This gives the uses a better insight into the data they are dealing with.
Features
Allows an interactive data visualization
Supports hands-on training from concepts of data science
Offers interactive data exploration
KNIME tops the list of data mining tools with its amazing features that primarily include data analytics.
It operates on a popular concept of the modular data pipeline. It has a suite of machine learning and data mining concepts working collaboratively, making it one of the best data mining tools.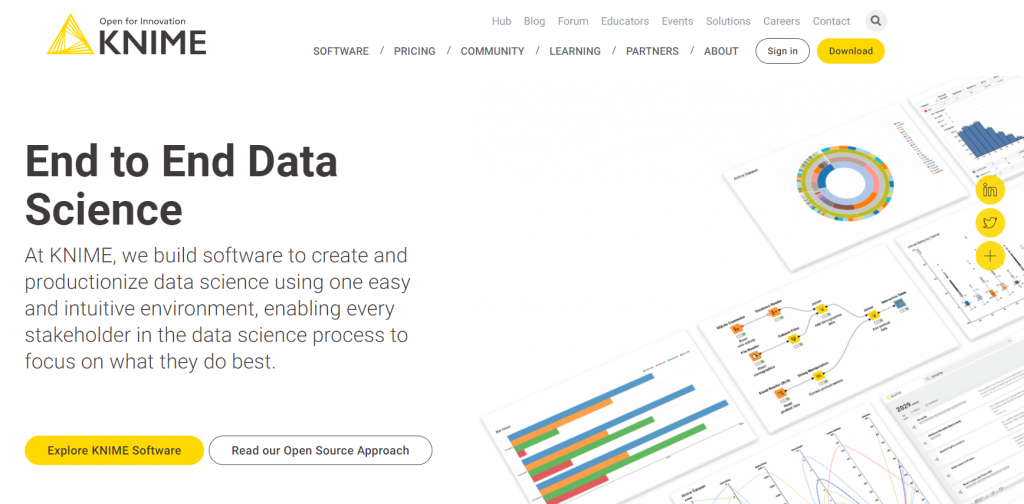 The medical industry uses KNIME tool and it performs customer data analysis and financial data analysis.
It also has features such as quick deployment and scaling efficiency and has a short learning curve.
Features
Helps build a Machine learning model.
Has a short learning curve
Works on the concept of the modular data pipeline
Apache Mahout, a project developed by Apache Foundation, serves the primary purpose of creating machine learning algorithms.
This data mining software focuses mainly on data clustering, followed by concepts like classification and collaborative filtering.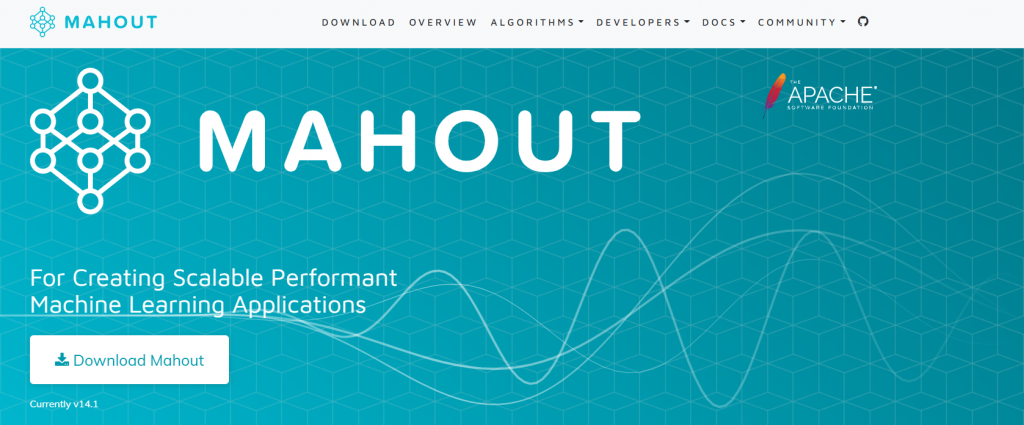 Written in JAVA, Apache Mahout also features JAVA libraries that are popular for performing mathematical operations efficiently, including statistics and algebra.
Mahout is growing continuously and multiple industries have been using it due to its applications and efficiency.
Features
Contains JAVA libraries and pre-made algorithms
GPU computes for performance improvement as well
Conclusion
Data Mining is one of the most useful processes for businesses and organizations to extract useful information from raw data.
As per Forbes, about 53% of the global companies use data mining to provide better features and services, making data mining one of the best go-to solutions for commercial purposes.
Data Scientists are significantly dependent on Data Mining for extracting, manipulating, and generating predictions out of data.
For the same purpose, there is a requirement for data mining tools.
We hope our list of the best data mining tools helped you find the right kinds of tools for your organization's data needs.