"Life is all about perspective" - anonymous
Life is all about perspectives and the more perspectives we get, the more we get out of life. This is generally the idea brought about by video games and other recreational programs. Bringing something extraordinary to a monotonous life.
As an example, classic arcades are where kids used to run for a taste of fun and a little escape from school. Getting a fresh perspective or having a new experience makes life worth living.
An example of a program that does great in this area is VR or Virtual reality. This is a concept that is slowly taking over various sectors from education to recreation. VR can be seen as the new iPhone. Sooner or later you just have to have it.
What is Virtual Reality?
Virtual Reality or VR is a technologically advanced method to introduce users to a new perspective. Despite a complicated process, the concept is simple: transport the user into a whole new virtual world.
Virtual Reality Services:
-Educational Programs
-Immsersive Video Games
-Work or Productivity Related Applications
-Adjustable Worlds
-Scenic Views
 Virtual Reality offers a ton of potential and their services are continuously expanding as time passes. With more and more companies popping up and even more investors showing money, VR is expected to grow in the coming years.
The future of virtual reality may hold programs dedicated to education, healthcare, recreation, or even productivity. The fact of the matter is that VR is a great tool to make an industry thrive
How Does Virtual Reality Work?
Virtual Reality provides an incredibly immersive experience with the use of some simple tools. Generally, you're going to need some virtual reality goggles and a pair of controllers. These tools act as your eyes, ears, and even hands to help you navigate this virtual world.
The virtual reality goggles shine light in a way that stimulates your eyes to be in the virtual world. Through these goggles, you can see and examine the incredible details in this immersive world. It feels just like you were teleported to this whole new reality.
The controllers act as your hands and let you interact with the program. The goggles show you the world while the controllers show the world what you want. 
These VR goggles can be manufactured by different virtual reality companies and still allow you to use most VR programs out there. Imagine a cellphone, it can be an iPhone from Apple but you can still dial your friend's phone even if it was from Samsung.
Virtual Reality technology is developed by different vr companies all over the world and they work towards providing the best vr experiences. These VR companies, whether new or old, may very well be the future of virtual reality.
You may be looking to invest in VR or maybe just want to learn more about the behind-the-scenes of the wonderful VR programs. Either way, this list of virtual reality companies will give you a great idea of who are the big dogs when it comes to VR.
Biggest Virtual Reality Companies of 2021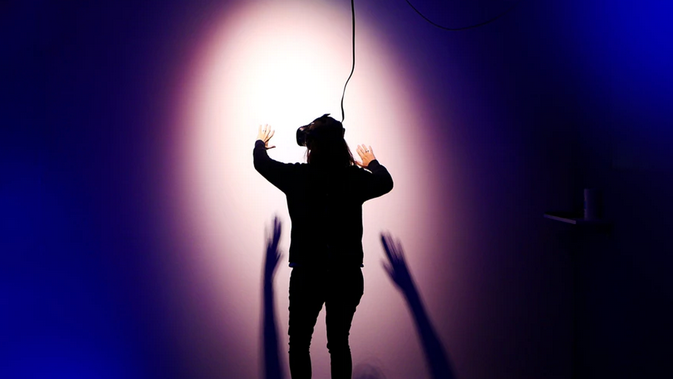 Being "big" in an industry can depend on many different criteria. Being a big virtual reality company can be based on employee size, profits gained, or contributions to VR. There are many ways for a company to be considered "big".
With that in mind, this list is in no particular order. These are simply companies that instantly come to mind when the words "Virtual Reality Company" are mentioned.
This might be because they were one of the first or maybe one of the best. No matter the context used, these are the big virtual reality companies that keep the virtual reality sector running.
1. Oculus
Founded: 2012
Location: Irvine, California, United States
Core Services:
Virtual Reality Systems
Application Programming
Game production
Oculus is a brand under Facebook that can be considered one of the founding fathers of VR. They manufacture virtual reality headsets that have been the staple for many of the first VR programs.
Oculus also produces programs and games in VR. They have been one of the most common brands highlighted by gaming YouTubers as they first got the public interested. 
VR was highly supported by the gaming community with all of the new games in VR. The best Oculus Quest 2 games were all the buzz when YouTubers started exploring VR. There were also remakes of classic programs that showed up along with the new ones. What's awesome is that these games just keep coming and coming.
Thanks to this virtual reality company, a ton of VR titles have gained popularity such as Beat Saber, VR Chat, and Job Simulator. These are one of the first programs that made the public interested in virtual reality.
This brand is relatively new and started around 2014. Despite them being new as a brand, they are still one of the first that helped cement virtual reality into its stable foundation today.
2. iTechArt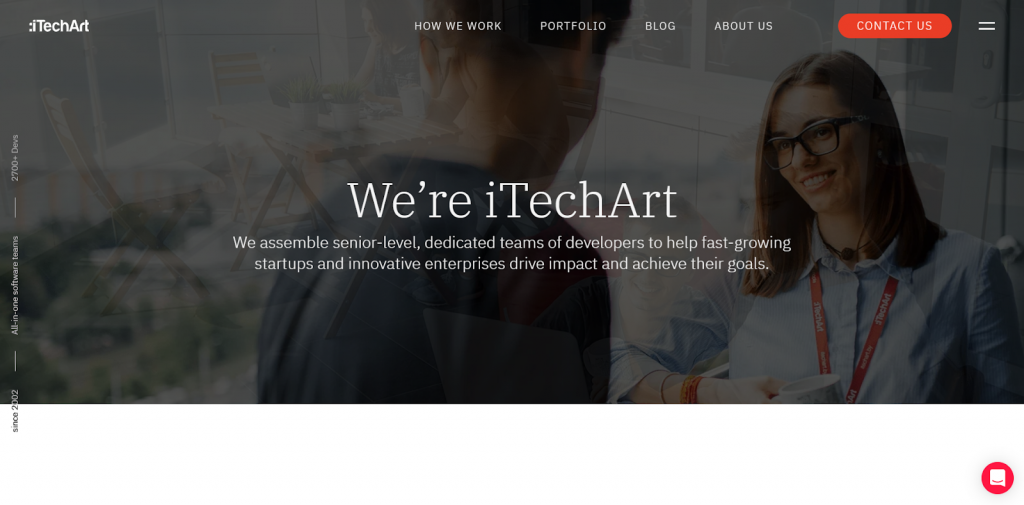 Founded: 2002
Location: New York, United States
Core Services:
Cross-platform AR and VR Experiences
3D rendering
Application Programming
Testing Services
Software Production
iTechArt prides itself on its custom AR or Augmented Reality development and Virtual Reality software. iTechArt lets users make the most out of VR and AR by providing them with the tools to make whatever they want.
iTechArt doesn't simply provide the tools for users to make what they wish with VR. iTechArt also has renowned customer service. They are a company that teaches users how to make the most out of their service.
This is achieved with their virtual reality software that teaches users how to play, experience and create with their VR programs. iTechArt is also known for allowing users to use different devices and thus being cross-platform as they support 360 videos.
3. Samsung
Founded: 1938
Location: Varying locations around the world such as Korea, California, New York, Canada, Europe and many more
Core Services:
Virtual Reality Systems
Mobile Devices Capable of Running VR
Software Production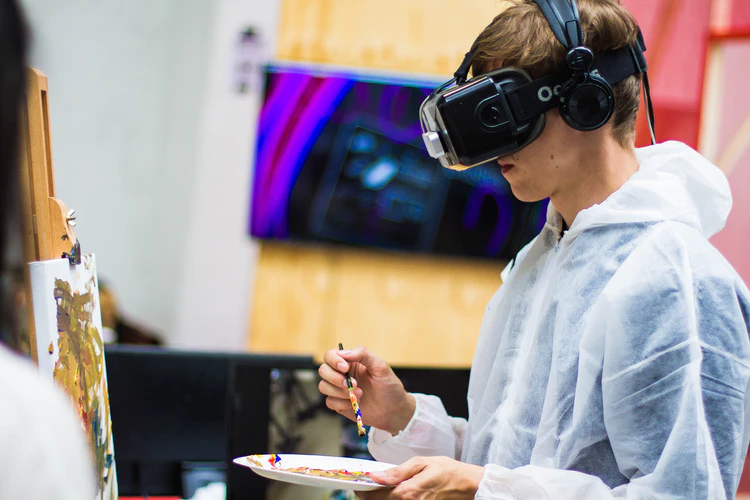 Yes, the same company that makes television sets, phones, and even home appliances. Samsung may not be well known for its contributions to VR but those contributions have helped VR grow.
Samsung manufactured their headsets that allowed for more people to get their hands on a VR experience. Along with manufacturing headsets, they also helped develop programs and other applications for VR.
The company often remembered for competing with Apple in terms of phones, will always have the recognition of being a huge virtual reality company.
4. Unity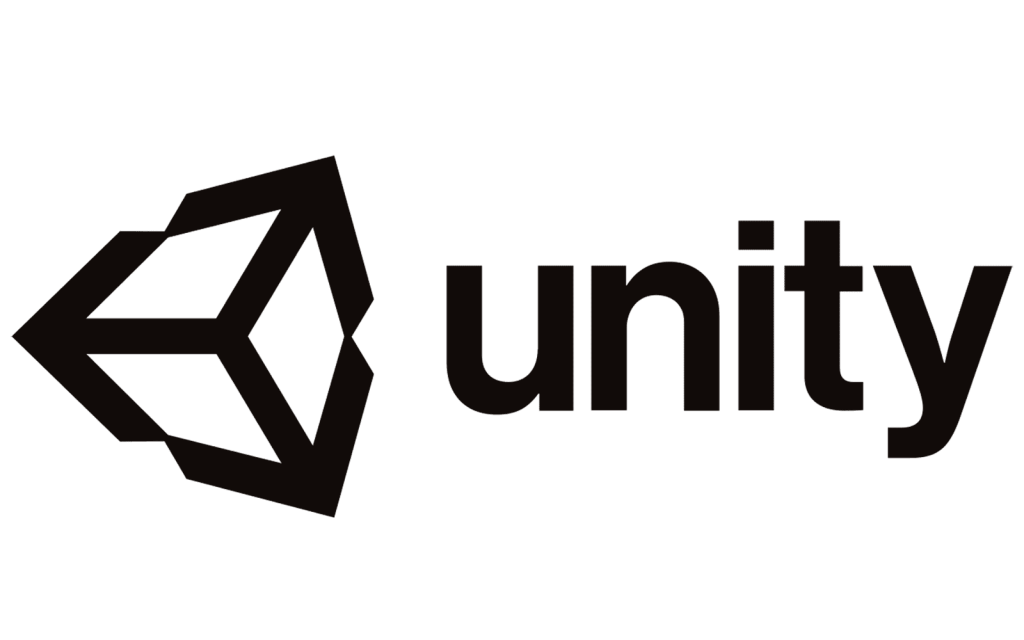 Founded: 2004
Location: Varying locations around the world such as San Francisco, China, Finland, Singapore, and many more
Core Services:
Game Development
Software Production
Unity is a company that has been responsible for immersive and high-quality games for 16 long years. Just a handful of their successful titles would include:
Assassin's Creed: Identity
Satellite Reign
Escape plan
Temple Run Trilogy
Rust
Battlestar Galactica Online.
Considering their reputation for producing high graphic quality games, it is no surprise that they made their way into the VR business. Just like other Virtual Reality companies, Unity provides users with the opportunity to make high-quality and immersive VR programs.
Not only does Unity allow such creations, they even encourage it by providing creators with Unity Learn. Unity Learn provides creators with live sessions and over 750 hours of videos to help hone their skills.
They also allow people to submit their work and have Unity check out their potential.
5. Magic Leap
Founded: 2010
Location: Varying locations around the United States such as Florida, California, New texas
Core Services:
Virtual Reality Systems
Software Programming
This company is the newest one being founded in 2010. Despite beginning 2010 as a startup (like most big companies do), they have begun to make a name for themselves. They are listed here due to their potential.
Magic Leap may not be well known to the public, but its concepts and ideas may very well be the future of education and healthcare. They provide doctors with training with operation simulators. 
These act just like flying simulators for in-training pilots, but in this case, it's for doctors. This allows for those in training to get the experience without the risk of someone dying.
In some cases, these programs do better in terms of education because they can further examine things clearly, unlike a messy human body would.
6. Google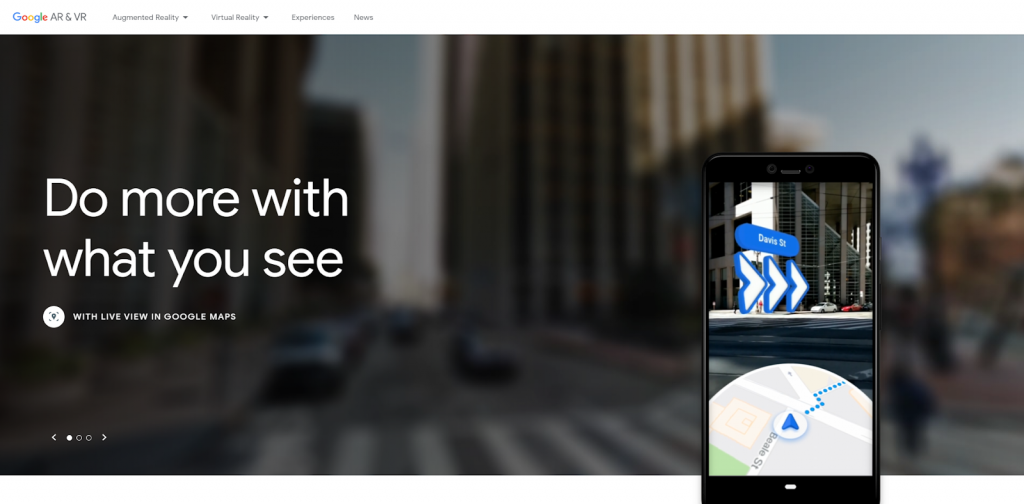 Founded: 1998
Location: California, United States
Core Services:
Virtual Reality Systems
Software Production
Investment in Smaller Virtual Reality Companies
It is hard to mention anything technology-related and not mention the behemoth that is Google. Google has always been making strides in terms of modern technology and innovation. Google is a giant company that has a different approach when it comes to VR and AR.
Google has been implementing these concepts in their already famous programs such as Google Maps and Google Search. These programs allow users to be directed with giant holographic signs in the right direction.
Augmented reality in Google Search shows users more detail about a specific subject. This can be useful when you're trying to learn more about an animal and words don't exactly paint the perfect picture.
Other than integrating AR and VR into their already widely used services, they are manufacturing their kind of headsets. Google Cardboard is supposedly a user-friendly headset that turns your smartphone into a VR projector.
With a little bit of origami and a 15 USD piece of cardboard, you get to experience virtual reality for yourself, anywhere and at any time
7. Firsthand Technology
Founded: 1995
Location: Seattle, Washington, United States
Core Services:
Educational Programs
Health Care 
Software Development
This may not be a company that has billions of dollars to its name but it may be one of the biggest companies in VR for its approach. Firsthand Technology is at the forefront of using VR for healthcare.
This company focuses on education, training, business, research, and therapy. Being a VR company that isn't focused on gaming or recreation already shows its uniqueness. 
Firsthand Technology uses VR to help relax and stimulate patients for therapy. This shows another side of VR that doesn't involve shooting or playing. It shows the serious and helpful side of VR.
Key Takeaways
Perspective is a wonderful thing, it shows how we see life and thus how we can live it. There are many ways to change our perspective and even more ways to learn from it. 
Virtual Reality is a rapidly growing sector that is approaching every other industry out there. It may very well be the future for education, healthcare, and even economics. With the companies and brands listed above, you are well aware of how VR can be effective in different sectors.
Virtual Reality seems to have a bright future no matter what it steps into. It is essentially a whole new medium with unlimited possibilities. Even with the few decades, VR has been active, VR has let businesses and brands cement themselves.
This is a new medium that a bunch of Virtual Reality Companies have intended to maximize.
The world of VR will only grow as time passes and it might very well be the new normal. You can ride this VR train by investing in stocks before they become the "next Facebook'' or maybe investing in some startups. 
These startups may be on the next list of "Biggest Virtual Reality Companies in 2030". Pushing the boundaries of what you believe is possible with technology.
Whether you're reading about VR for profit or recreation, VR is an amazing concept and you should make the most out of it. After all, you only live once.