For several small businesses, ascertaining your marketing budget is most likely an afterthought. In reality, spending money on advertising or other marketing costs is a daunting proposition. However, brand exposure and strategic targeting are critical steps for growth, so it is better to outline your marketing budget earlier rather than later.
However, the question is, where do you start with the marketing budget allocation? How do you ensure you derive the maximum out of the marketing spend? This is where the role of artificial intelligence starts.
AI or artificial intelligence is a modern-day technology that lets machines work with the same proficiency as humans. With the help of ML or machine learning, AI can assist in channelizing your marketing spending in the right direction, which results in a higher return or investment (ROI).
Before we discuss the different ways to optimize the marketing budget with artificial intelligence, let's first of all divert our attention toward the definition of the marketing budget.
What is a Marketing Budget?
A marketing budget summarizes all the money a business intends to spend on marketing-related activities over a quarter or years. Marketing budgets typically include paid advertising, new marketing staff, a registered blog domain, sponsored web content, and marketing automation software.
It is quite difficult to do marketing budget allocation for both small and large businesses. If you are a small business owner, you might ponder on which marketing expenses to start. If you're a large business owner, having multiple marketing teams or operations makes it difficult to ensure everyone gets what they require.
So, what should you spend on your marketing budget for small businesses? The very first thing that you need to do is create a digital marketing budget. This includes spending on social media, video streaming platforms, mobile devices, and desktop computers.
Given the successful marketers have seen using digital marketing, I recommend spending a minimum of half of your marketing budget on the digital marketing budget.
The next question that comes to mind is: Why is the marketing budget essential? Let's find that out in our next section.
The Importance of Marketing Budget
Every business needs to spend a certain amount of cash to earn revenue. This is especially the case with startups. Hence, it becomes imperative to have a startup marketing budget. Remember, as a startup, you cannot increase your income if you do not get out of your comfort zone and take risks.
Marketing is an investment where every penny you spend to acquire more customers for your business; results in higher profits and more revenue. Here, it is essential to plan for a startup marketing budget.
Here are some of the top reasons for creating a marketing budget.
Assists in setting goals and KPIs (Key Performance Indicators)
A marketing budget assists you in setting specific goals and meeting KPIs (Key Performance Indicators). If no KPIs are set, measuring what's working well becomes difficult.
Attracts more customers
Marketing has the power to bring in new clients to your business. In case you do not set a marketing budget and make it a priority, it might seem like an unnecessary expense that needs to be removed.
To compete with your competitors.
Remember, your competitors are already advertising to your customers. This is the prime reason for you to compete with them. With the help of industry benchmarks, you can comprehend how much businesses within your industry spend.
Assists in inter-departmental collaboration
Once a marketing budget is prepared, it becomes easier to coordinate with your marketing team or contract agency. Having budgetary guidelines and objectives makes it effortless for other departments in your organization to collaborate on projects and share resources. Once you have better coordination, you will naturally be more productive.
Makes you plan for the future
Like sales and operational expenses, having a preliminary marketing budget helps make forecasts and set objectives for the upcoming months, quarters, and years.
Pitch to the investors
In case you are looking for funds, it becomes imperative to outline your marketing spending. You must also provide information about the channels and campaigns you intend to run. Without a marketing strategy or budget, if you walk into a pitch meeting will make them believe that you do not have any vision for your business.
Sample Marketing Budget
Here's a marketing budget sample that will give you a fair idea of how a marketing budget plan needs to be created. In most cases, the marketing budget of businesses falls between the range of 6-20% of business revenue. In that case, if we assume that your annual revenue is $2,00,000, your yearly marketing budget should be in the region of $12,000 to $40,000 ($1000 to $3000 every month). This is the safest way to arrive at a marketing budget. 
If you wish to learn "how much do I want to earn this year?" you need to set a goal to earn $2,00,000. If we imagine you earn $200 on every sale in revenue for your products/services, you'll need to make 1000 sales to achieve your objective.
In case you perceive that it is possible to convert 2% of people coming to your website or landing page into sales, you'll need 50,000 pages to visit your landing page to reach the objective of 1,000 sales. This means more than 4000 people need to visit your website every month. Alternatively, if your landing page is converting at a better rate, suppose 5%, then you will need only 1700 people to visit monthly. This is all about your marketing budget plan.
Let's now look at the different ways to optimize the marketing budget with artificial intelligence.
4 Exclusive Ways to Optimize Marketing Budget with Artificial Intelligence
You must ensure that your marketing budget is not wasted. When you employ artificial intelligence to perform tasks that directly impact your marketing spending, it becomes easier to fine-tune and optimize these expenses.
Here are some ways AI can help you optimize your marketing budget.
1. Identifying the right channels to market the products
It is a critical component of effective advertising to identify the right marketing channels. If you opt for a platform where your target audience is not there, your marketing campaigns will become quite expensive and fail to deliver.
Mercato is one such platform that employs AI and Machine Learning (ML) to ascertain the right ad choices at the right and appropriate times.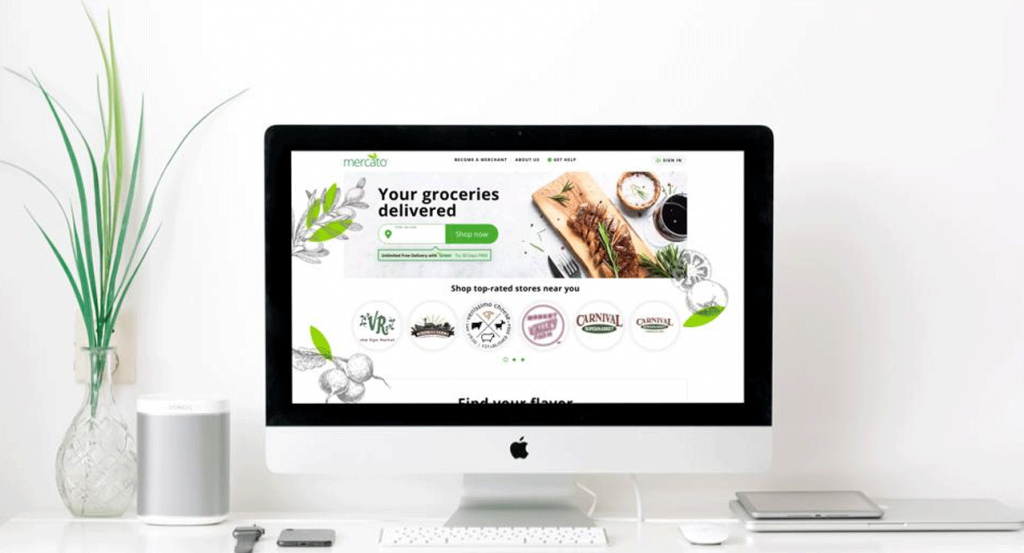 Automatic bids are then sent depending on factors like the prospect's location, purchase history, buyer intent, and persona. Hence, it is possible to select the advertising channel with AI tools and allocate a budget automatically.
You can even utilize Adohm, a comprehensive marketing suite that enables you to run multiple campaigns with a single platform.
With its help, you can automate the entire media buying process on channels depending on your target audience's persona and location. It consists of features like autonomous targeting and cross-channel execution that are powered by AI. It enables you to target the preferred marketing based on the set KPIs and the available performance data.
2. Smart cost calculation with AI
Today, AI can automatically ascertain the marketing channels where your ads perform better and adjust marketing spending. Suppose Google Ads are generating maximum ROI between Google and Facebook Ads. In such a situation, you can utilize smart AI tools to increase the budget for AI ads and reduce Facebook Ad spend. Similarly, in case you wish to cut down on your marketing spending. In such a case, you can continue running Google Ads with a total budget while cutting down on Facebook's ad budget to half.
With tools like Adext, it is possible to link your campaign advertising accounts to the Adext AI dashboard and predict the conversions. It can precisely select a maximum of ten different budgets daily and optimize your campaigns based on your objectives.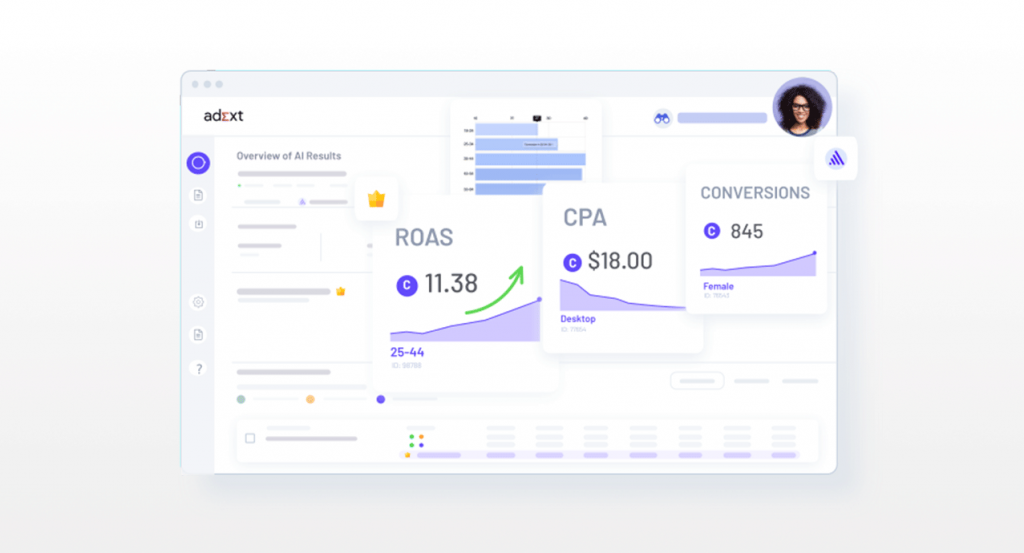 3. Identification of the right influencer
AI can also come in handy while identifying the influencers most likely to support your brand cause. This way, you can set your influencer marketing budget so you do not overspend on approaching influencers.
A prime example of that is IBM Watson Personality Insights. This tool helps you ascertain how your influencer responds, what they perceive, and their personality traits. This can save you time reaching out to influencers and avoid unnecessary partnerships.
4. AI-enabled predictive analytics help in better forecasting
With AI-enabled predictive analytics, marketers can ascertain where to concentrate on the ad spend. Predictive analytics helps you identify the advertising channels and times that guarantee enhanced marketing spending and resources and reduced investments. A prime example is data for an ice cream brand that will showcase that the marketing efforts in the northern template areas are more likely to yield better summer results. This will enable them to save most of their ad spend for the summer.
Let's look at the practical marketing budget example in the last section.
Real-Time Marketing Budget Example
If you are a marketer looking to work with teams, optimize budgetary spending, and achieve organizational goals, then Plannuh is the right AI marketing budget tool. It is a cloud-based cognitive marketing platform that helps you swiftly and effortlessly create winning plans, maximize budget impact, and improve ROI.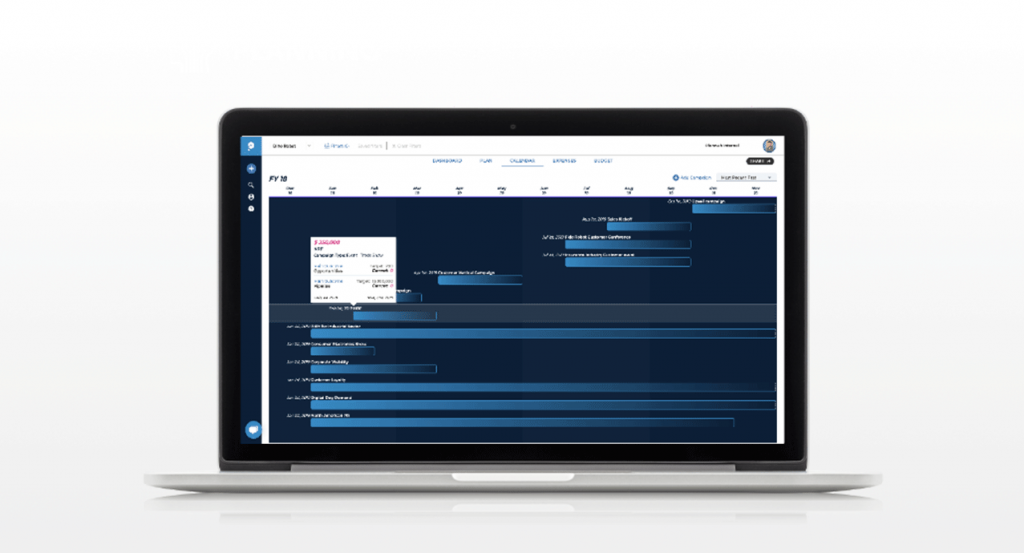 The good thing about Plannuh is that it differs from other disconnected, static spreadsheets and disparate tactical marketing systems. It is a unified, collaborative platform that provides AI-driven recommendations, benchmarks, and process automation to help you achieve industry-leading marketing performance.
Salient features of Plannuh
Simply email the vendor quotes, invoices, and expense receipts to Plannuh, and its AI automation will put all the data in the right place.
Plannuh automatically reconciles expenses by getting relevant standard reports from your financial systems.
With the help of Plannuh alerts, marketers can identify when they are going over budget or leaving some money unused.
With Plannuh, it is easier for you to leverage a past budget or even re-budget it due to changing economic conditions.
Currently, Plannuh is available for marketing teams and agencies in North America, Europe, and Asia.
Final Words
Artificial intelligence has become the go-to thing for businesses nowadays. We are now seeing businesses using both AI and ML to power up their marketing budgets. Even as a startup business, you can leverage AI to optimize your marketing spend and bring in more revenue. Can it get any better than this?