In a project, you invest a massive sum of money, time, and a whole lot of things. You even plan it accordingly. But are you sure enough to tell your project is to be successful? The answer will be a 'Big No' as always.
No matter how precisely you plan and calculate everything related to your project, things will turn ugly, and you'll face hurdles for it.
Thus, in projects, risks are obvious things. But how you plan for the counter steps to tackle them; is what matters the most and makes you stand out from the rest. And that's the difference between a fresher and a seasoned project manager without and with PMP certification.
And if you don't have a PMP certification yet, the sooner you get, the better your career. Here is your valuable resource on how to crack PMP certification.
This blog is all about that. Here, you learn a seven-step approach to identify risk factors before they threaten your project investment. So let's dive in.
Decision Making in Projects and Risks Involved in Them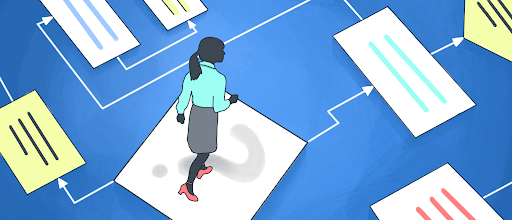 A project involves a series of processes connected. If one fails, the whole project makes a lot of differences in output. So managing risk is equally crucial from the beginning and making decisions accordingly if that involves monetary investment.
Ever thought about how business executives make investment decisions? Any deep process that helps them make intelligent acquisitions, launch new products, revamp from the scrap, or avoid overcapacity, financial risks are involved everywhere. You never know when a small mistake that pop-up will significantly impact the financial investment.
Of all the business executives' decisions, nothing is more challenging than making an investment plan for a project, as great investors know that managing risks is more crucial than making profits. High returns lie in managing the risks efficiently, no matter whether the risk is minimal or substantial.
To Make Sure Your Project Investment is Secure, Follow These Seven Tips to Minimize Risks.
New Technologies And Methods Might Ease Your Work But Add Flaws When Followed Blindly
Although we live in the era of technology, you'll always witness frequent updates and the arrival of new systems and approaches to the work. And these frequent changes increase the risk, flaws in the technology. It's true, technologies ease our work process but totally on individuals to master it as you can't master it overnight. It takes some good time to get adapted to it. But blindly implementing without the proper training will lead to many fatal risks.
Thus, while planning, make your objectives very clear. Please do not get overwhelmed at the last moment to help with specific technologies that ease your work process and add many flaws to it.
Inaccurate Functional Requirements Lead to Developing a System on Weak Pillars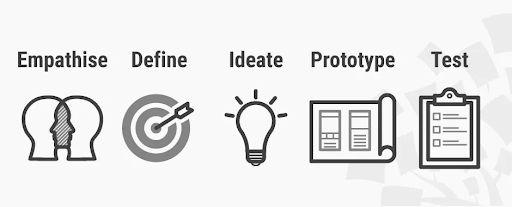 Managing a project singlehandedly is never an easy or go-to task. You need to consider many things at once and plan accordingly. When developing a project, you must consider the end-users and how they can get benefits from there. If you couldn't identify functionalities, accessibilities, create a prototype of it, make sure you're developing a system on weak pillars.
Resource Allocation (Having a Team of SMEs or Domain Experts
Resource allocation is one of the most critical aspects of every project. As the complexity of the projects increases, the resources allocated to them also increase. But you know they might vary from time to time. You never know when your most reliable person gets sick or walks out, and you suddenly need to hire an expert in that case.
Thus, it would help if you considered every odd case to manage your risk efficiently in the meantime. It's because when you have a team of inexperienced people. Lack of reviewers and SMEs or domain experts, chances are high that you might not hit the project efficiently and end up feeling like a scam.
Identifying Potential Risks and Prioritizing them (With Consequences, Impact, and Probability of happening)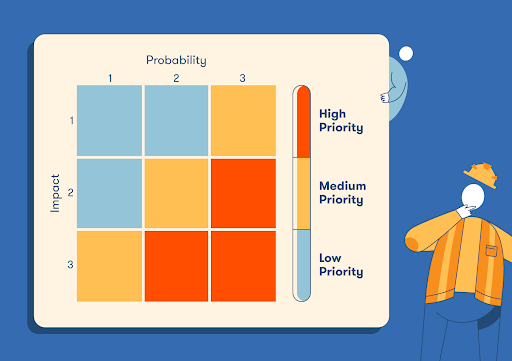 In a project, risks are obvious things, and if we briefly categorize them, they fall into four major categories: technical, management, organizational, and external threats. Identifying risks is the second most crucial step in projects. All you have to do is dig into the above four categories.
And to get those started, here are a few tips to ease your process.
Conduct interviews, brainstorming sessions to get more profound knowledge about various potential risks. And if you know any related project to what you plan to do, it's better to look for the dangers that evolve in the way, so you can be ready when that arrives in your case.
And if you're a PMP certified project manager, you already have a risk management sheet; use that risk checklist to get factual information about the risks and analyze how they can have the most negligible impact on your project.
For consequences, impact and probability of happening imply the importance of risks. Thus, it's better to rely on the likelihood and risk impact scores from low to high scales.
And you can determine with the below three questions:
- What will happen if the error takes place?
- How likely are they about to happen in the entire project?
- How badly will it leave an impact on the project?
Assign role and responsibility to each risk, and come up with preventative measures
Risk management is a cyclic process. It's not like you pen down all the possible risks and won't come. But to take better care of risks, it's even better to assign individual risk to each person and resources to handle the risk efficiently. And each person must take responsibility for solving it before it becomes an actual issue.
These team players must understand risk triggers as warning signs and when to jump into action. Next comes the preventive measures categorized into four categories: avoid, accept, mitigate, and transfer. You can step into anyone as a preventative to risk based on the scenario.
But you can always escalate a risk if the response feels beyond the scope of the project.
Continuous Monitoring and Reporting On Each Risk (As Deadlines are Always Deadlines)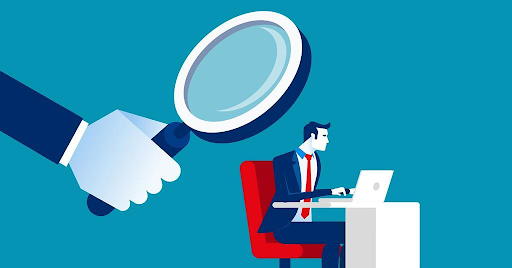 If you see risk management, it's more like a circle that keeps iterative than a linear path. After each process, you must complete risk analysis, and if you see any probability of happening, you must measure its impact and consequences.
Because you never know when a small risk will suddenly become big, and merely you need to finish it before the deadline. Therefore, having a project management tool like Trello, Asana will help you see things practically and get updates, as they are in-built project time management tools to ease your whole process involved there.
But by using agile concepts, you can break the project into smaller projects and help you transform the risk through the feedback from SMEs and stakeholders.
Project Investment and Funding is Equally Essential as Keeping its Track
Getting funds for investment in lower interest is always challenging as it involves multiple risks. But with minimum collateral, fair chances, investors can help with long financing periods compared to bank lending. Having such investors for your project is highly crucial.
Experienced project managers rely on a cost sheet to track all the investments, and so should you. You might cross the estimation, but the real problem is if the margin is big enough. Therefore, always have a plan and take into account every investment precisely. If you feel stuck deciding whether to invest or not, take the help of experts in that case and look if that leads you to the direction of overinvesting.
Final Words
You got to know all the insider steps to follow in project management to keep your project away from risk and crisis management. But what happens is you take these seven steps lightly. Your planning as a project manager makes you feel like a scam. You forgot to overlook some risks and their severe consequences, which now cost you so much.
Now the capital invested won't be sufficient, and the time taken will be longer. But when you follow these seven steps, you already have a well-developed roadmap, and chances are significantly less to get into a higher risk of enormous investment.