According to Coursera, 87% of Google Cloud Certified working professionals feel more confident in their cloud computing skills than they felt without a cloud security certification.
In this blog, I have listed the best cloud security certifications of 2022. Please note that I have not ranked these cloud Certifications in any way, and this blog will only give you an overview of all certificates that will help you enhance your business or career.
This list of cloud security certifications is designed for IT professionals whose roles are/involve:
Cloud computing
Cloud migration
IT and information security management
Network administration
Chief Information Officer (CIO)
Chief Information Security Officer (CISO)
Cloud engineers
Cloud Security Officers
If you're a beginner in cloud computing security, here's what I mean by cloud security first:
What is Cloud Security?
Cloud computing is overall the delivery of hosted services, including the software and hardware along with the storage, over the Internet. Factors like low up-front costs, rapid deployment, flexibility, and scalability, have made cloud computing virtually made it a go-to choice for businesses of all sizes and types.
Cloud computing security refers to the technologies, processes, policies, controls, and services that will provide security to applications, cloud data, and infrastructure from online threats.
Now, let's understand why it is important.
Why is Cloud Security Important?
The 5 main reasons cloud computing security is important are:
Guard Against Security Breaches that costs business is around the world millions of dollars.
Allows for the capacity to work from home.
Easy to backup and replicate your data, thereby reducing the risk of losing it completely.
Eliminate all the possibilities of data leaks.
Helps you be compliant with data regulations like HIPAA and GDPR.
Top 9 Cloud Security Certifications for 2022
Since you have got a sense of what cloud security is and why is it important. Let's take a look at the top 9 hand-picked cloud security certifications for 2022
AWS provides many cloud Certifications. And, one of the best cloud security certifications is AWS Certified Security– Specialty. This AWS security certification is specifically designed for working professionals who are in a security role and have at least two years of hands-on experience securing AWS workloads.
This AWS security certification looks great on your CV it will also help boost your career ahead, helping you get the salary you deserve and the position you wish.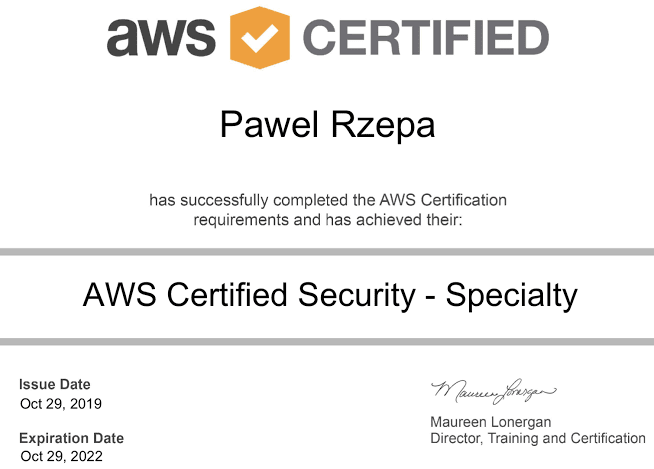 According to an independent salary survey by Amazon: 70% of all AWS working professionals interviewed reported a salary hike of up to 20% after receiving the AWS security certification.
Having said that, getting your hands on this cloud security certificate is easier than the Professional exams and harder than the associate exams.
Depending on the amount of current experience you have, you can learn on the entire AWS in only 72 hours with their instructor-led courses that have full 18 hours of training. But, passing the AWS security certification will take you more time as it will include the time you will need to prepare for the exam.
Abilities Validated by this AWS security Certification
Overall understanding of specialized data classifications along with AWS data protection mechanisms
Knowledge of data encryption methods and how to implement them using AWS mechanisms
An understanding of secure Internet protocols and AWS mechanisms to implement them
The ability to make tradeoff decisions with regard to cost, security, and deployment complexity is given a set of application requirements
Working knowledge of AWS security services and features of services to provide a secure production environment
An understanding of security operations and risk
Prepare for Your Exam
The best way to prepare for this cloud certification is by getting hands-on experience. There are many relevant AWS Training courses and other resources to help you acquire additional knowledge and skills to prepare for certification.
1. Download the exam guide from here.
2. Download sample questions from here.
Another cloud security certification is the CCSK certification. It is an individual certification that can be obtained after clearing an online exam.
CIO.com has ranked CCSK as #1 on the list of Top Ten Cloud Computing.
There are thousands of security and IT working professionals who have gotten their CCSK certification.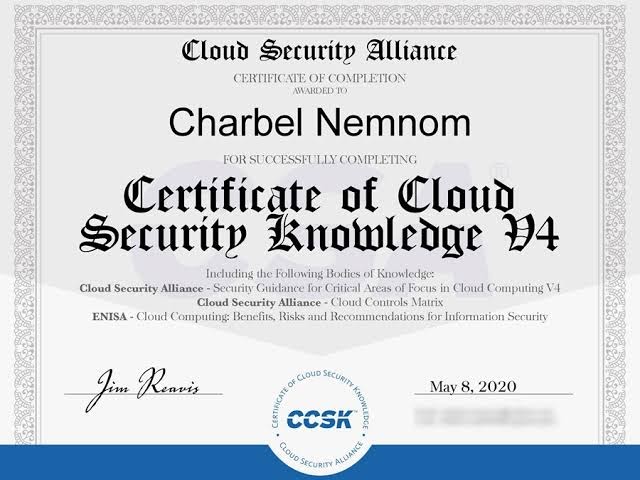 CCSK also has an option for group training. Their website mentions that when a team acquires CCSK training together, the collaboration between them improves. With this, they get on the same page and work effectively as a diverse group. This is what any enterprise would want for its workforce.
CCSK is of fundamental importance for many consumers as well as vendors for risk and assurance aspects of a business. CCSK is also the foundation for the STAR (Security Trust Assurance Registry) and the CCM (Cloud Controls Matrix)
Abilities Validated by this cloud security Certification
Getting this certification will help you validate the following particular knowledge about cloud security:
Knowledge of the fundamental aspects of the CSA guidance
Knowledge of ENISA whitepaper
Working knowledge of the CSA Cloud Controls Matrix
In-depth understanding of Cloud architecture, infrastructure security for the cloud, managing cloud security and risk management, application security, Identity and Access Management (IAM) for cloud computing, and cloud security operations
Ability to configure security and enable MFA and basic account monitoring practically, configure virtual networks (VPC) and implement baseline controls practically
Ability to enable encryption and storage security and implement security federation practically
Prepare for your exam
Get on their website to see different ways you can prepare for your cloud security certification exam. They have a multitude of options to choose from according to your convenience.
This course offers working professionals a methodological way to give them in-depth specific knowledge on all things cloud security.
T-shaped cloud engineers are in the new. They bridge the gap between specialists and generalists. And this cloud security certification promises to help you do just that.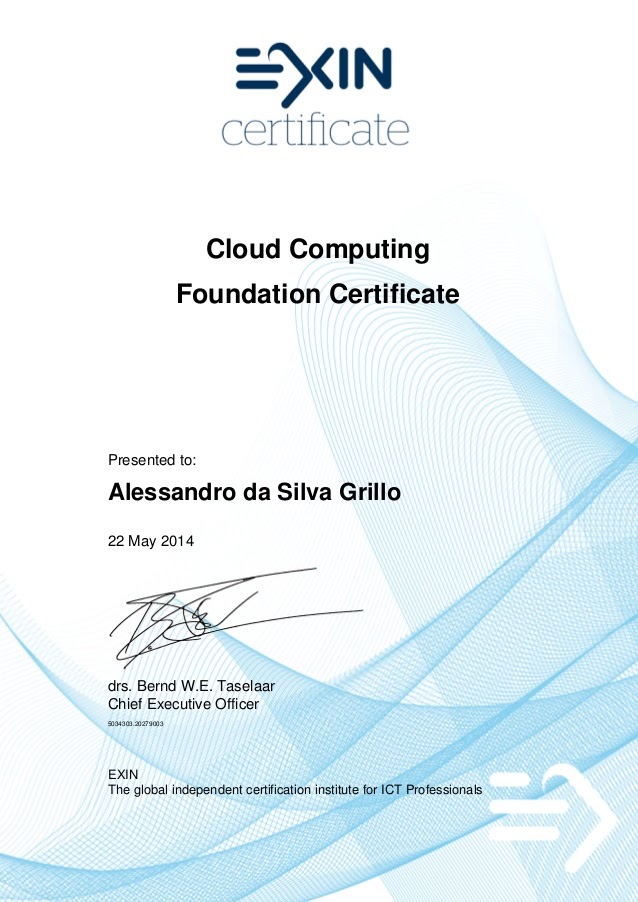 Cloud engineers who intend to begin their career in the cloud security domain have the benefit of standing out with a specialized certification like this. It will create a foundation for them to grow on with a specialism in cloud security.
The EXIN Certified Integrator Secure Cloud Services covers knowledge in 3 domains.
It is important to note that professionals will need to successfully obtain at least one certificate in order to become certified. The three certifications are as follows.
Service Management: EXIN IT Service Management Foundation or VeriSM Foundation or EXIN SIAM Foundation
Cloud Computing: EXIN Cloud Computing Foundation
Security Management: EXIN Cyber & IT Security Foundation
Abilities Validated by this cloud computing Certification
You are a specialized cloud security person
You have a vast knowledge of the context of your own cloud security role in your organization
Prepare for your exam
Please check out individual module pages for more details on how to prepare for each exam on their website.
Another best cloud security certification is by CompTIA Cloud+. This certificate validates the skills that are required to optimize and maintain cloud infrastructure services.
CompTIA Cloud+ helps you gain a diverse set of skills, knowledge, and abilities required by the system administrators to scrutinize what is needed to administer correctly in cloud cybersecurity jobs.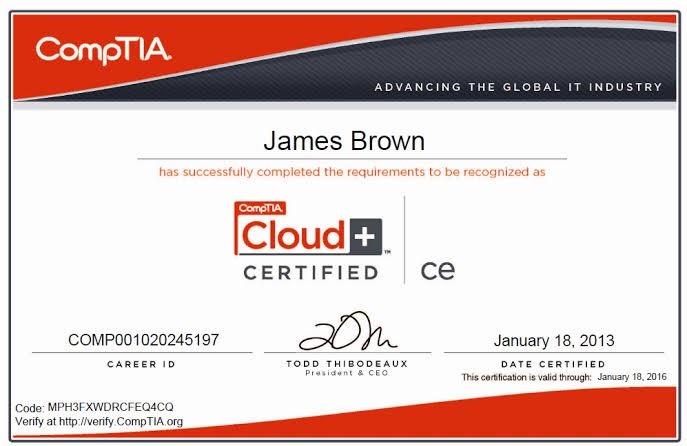 According to their website, CompTIA Cloud+ is the only vendor-neutral, performance-based certification. It covers more than just a single function or a specific vendor like security or networking. This helps working professionals increase their understanding of the return on investment of cloud infrastructure services.
Note that CompTIA Cloud+ is now compliant with ISO 17024 standards and approved by the US DoD to meet directive 8570.01-M requirements.
Abilities Validated by this cloud computing Certification
Successfully execute workload migrations to the cloud by analyzing system requirements
Ability to determine proper allocation of cloud resources and apply necessary changes based on performance data
Knowledge to apply appropriate processes and technologies, including orchestration and automation, to ensure desired system performance.
Be able to implement appropriate security controls given the requirements
Have the capacity to troubleshoot capacity, automation, connectivity, and security issues related to cloud implementations
Prepare for the exam
You can email and start preparing for your CompTIA Cloud+ by downloading the mock exam objectives from their official website here at no cost. This can easily help you get the hang of what is going to be asked in the real exam.
CCSP is a globally recognized organization. They offer various highly rewarding certifications around the security aspects.
This recognized CCSP cloud security certification is a sure-shot way to grow a career and in the field of cloud security. 
The CCSP Cloud security certificate will help you portray that you have high-level knowledge and advanced technical skills to manage, design, and secure data, infrastructure, and applications in the cloud. You do this by using the best policies, practices, and procedures, all of which are learned under the guidance of cybersecurity experts at (ISC)².
The CCSP exam sees your expertise along with six different security domains. Think of these domains as topics you will need to master based on your education and professional experience.
The 6 CCSP Domains for cloud computing security certification are as follows:
Domain 1. Cloud Concepts, Architecture and Design
Domain 2. Cloud Data Security
Domain 3. Cloud Platform & Infrastructure Security
Domain 4. Cloud Application Security
Domain 5. Cloud Security Operations
Domain 6. Legal, Risk, and Compliance
Abilities Validated by this cloud computing Certification
Ability to quickly communicate your knowledge in a way that will earn you trust of your clients and senior leadership
Having an efficient working knowledge of cloud security
To see if you are in touch with the latest trends in the current evolving cybersecurity technologies
Efficiency to use cloud security knowledge across myriad different cloud platforms.
Capacity to protect sensitive data in a global environment.
Prepare for the exam
Here is how you can prepare for this cloud security exam:
Download the CCSP free guide from here.
Take a prep course here.
This Google Certified Professional Data Engineer certification course will aid you in preparing for the certification exam. The Certificate by Google will help you take that next step in your Cloud career and display your expertise in the most in-demand disciplines of today's information technology industry.
Learning for this Cloud security certification exam will help you increase your knowledge in machine learning and data engineering.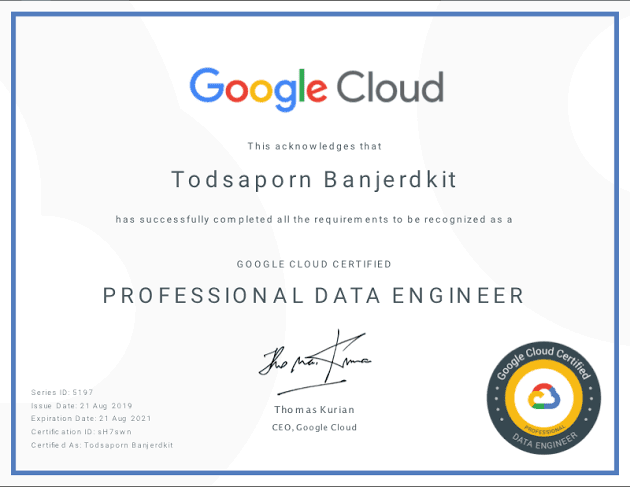 It will also ensure that you will build and design, operationalize machine learning models, and data processing solutions to gain a working knowledge of relevant GCP data processing technologies and tools by the end of this course.
Abilities Validated by this cloud security Certification
Deep understanding of all the core services needed to know for the Data Engineer Certification
Ability to move forward architecting real-world data engineering solutions
Knowledge on how to navigate Google's Cloud Platform
Knowledge of how to use Google's Big Data Services on the Google Cloud Platform
Ability to design, build and operationalize data solutions
Capacity to process data streams in real-time
Efficiency to store and access data in the cloud
Knowledge to use the GCP pre-trained AI APIs (vision, speech, and text)
Ability to train and operationalize ML models
Prepare for the exam
Find the complete list of topics that may be included in the exam in this exam guide.
Check out sample questions here.
Follow the learning path here.
It is not okay to rely on AWS Certified Sysops Administrator dumps. You need to learn it the right way. This cloud cybersecurity certification is the ultimate AWS Certified Sysops Administrator certification exam.
All Amazon Web Services (AWS) Certifications are quickly becoming highly-rewarding certificates for any IT professional working with AWS.
This Certificate course is exclusively designed to help you pass the AWS Certified SysOps Administrator Associate Exam.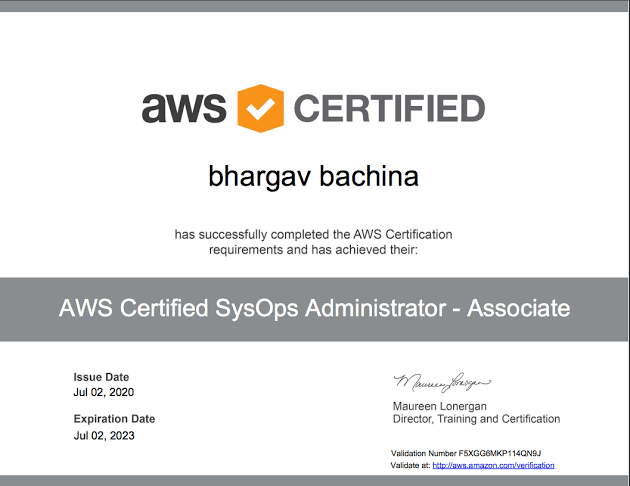 This certificate talks about the most advanced aspects of the AWS platform from an Administrator's point of view. Therefore, it is recommended that you only opt for this course after completing the AWS Certified Solutions Architect course or AWS Certified Developer Course.
Abilities Validated by this cloud computing certification
Ability to get up and running scalable and fault-tolerant systems on AWS
Estimating AWS usage costs also identifying operational cost control mechanisms
Capacity to implement and control the flow of data to and from AWS
Knowledge to select the appropriate AWS service based on compute, data, or security requirements
Migrate on-premises workloads to AWS
Ability to identify the best AWS operational practices
Prepare for the exam
1. Download the exam guide here.
2. Download sample questions here.
Yet another best cloud security certification is by Google.
The Associate Cloud Engineer Certification Exam by Google will surely help working professionals create a successful Cloud computing career.
When you have the badge of Google's Associate Cloud Engineer, you can monitor operations, design applications, and manage enterprise solutions. As a cloud professional, you have the efficiency to use Google Cloud Console and the command-line interface to perform common platform-based tasks.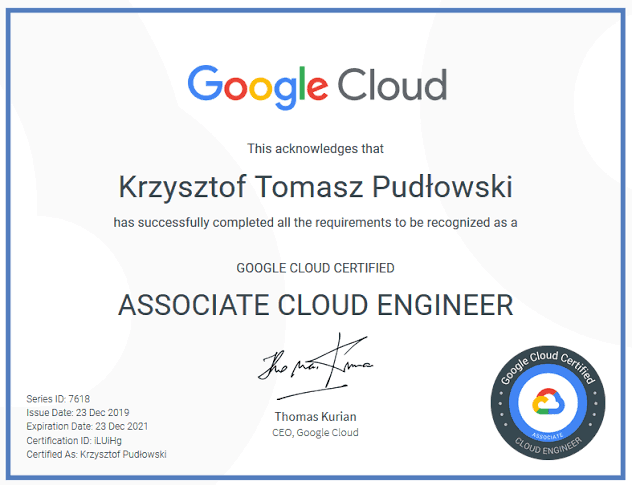 You have the capacity to maintain one or more deployed solutions that leverage Google-managed or self-managed services on Google Cloud.
The main benefit of this cloud security certification is that your credentials will be included in the list of Credential Holder Directory, where you will be listed along with other cloud-certified professionals.
You can take up learning paths/courses that will help you get Certified by leading MOOC providers like Coursera and Udemy.
Abilities Validated by this cloud computing Certification
Ability to deploy a cloud solution environment
Design and manage a cloud solution
Implement a cloud solution
Capacity to successfully operate a cloud solution
Configure access and security
Prepare for the exam
1. Download the exam guide from here.
2. Download the sample questions from here.
Did you know that The Google Cloud Professional Cloud Architect certification was named as the top-paying IT certifications of 2019 by Global Knowledge?
By clearing the exam, you gain the skills you need to advance your career in cloud architecture.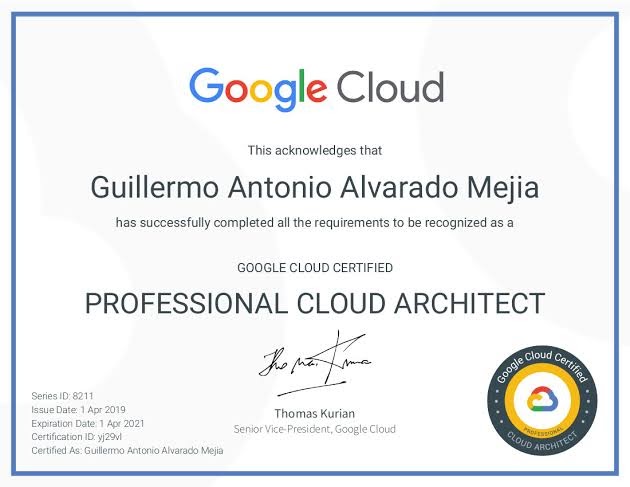 You will gain insights on how to deploy solution elements, including infrastructure components such as application services, networks, and systems.
You can take up learning paths/courses that will help you get Certified by leading MOOC providers like Coursera and Udemy.
Abilities Validated by this cloud computing Certification
Working knowledge to plan and design cloud solution architecture
Ability to manage the cloud solution infrastructure
Knowledge to design for security and compliance
Capacity to optimize and analyze technical and business processes
Ability to manage the implementations of cloud architecture
Capacity to ensure solution and operations reliability
Prepare for the exam
1. Download the exam guide from here.
2. Download the sample questions from here.
Conclusion
According to Gartner, the worldwide public cloud services market is forecast to grow 17% in 2020 to total $266.4 billion, up from $227.8 billion in 2019.
With the increasing adaptation of cloud computing services, cloud security frauds and mishaps will also increase.
Here's proof:
In the first quarter of 2022, Statista surveyed technical executives, managers, and practitioners of cloud technologies across the world. And they indicated that the topmost challenge of implementing cloud technology within their organizations was related to cloud security!